A Tribute to a Maine Fisherman
By Linda Clancy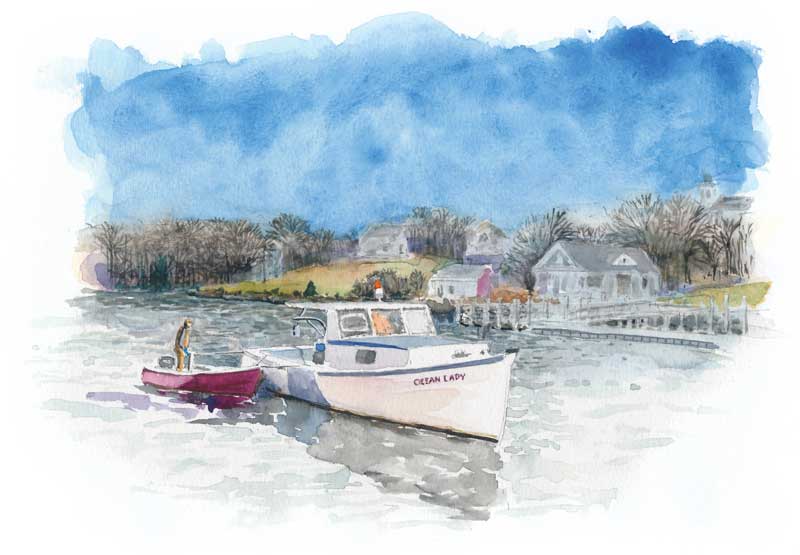 Illustration by Ted Walsh
Danny Dodge died recently. For those who did not know him, he was a lobsterman at Rockport Harbor, Maine; a quiet man with a gentle smile, who loved his dog, Boone. Danny got ill and he slipped away not soon after Thanksgiving. His boat, Ocean Lady, was still on the mooring in early December, while others were being pulled out with winter storms looming on the horizon.
But the waterfront community took care of Ocean Lady in a most understated and elegant way. To someone unfamiliar with the ways of a small yet busy working harbor, it may have seemed a simple act. But it was so much more.
The red Rockport Marine launch went out and slipped Danny's boat from its mooring and towed it around to the public launch ramp, where Walter Gray was waiting with his large transport trailer.
Usually, there's a lot of cheerful joking around the boats, especially on a sunny morning when people are getting things done, or walking dogs and talking about getting things done. But this was different. The air was somber because everyone who happened on that particular spot at that particular time knew why the boat was being pulled. And we were sad. Even the dogs stood quietly to watch.
"Where you taking Danny's boat, Walter?"
"Just to the other side," Walter signaled, over to the east side of Goose River, where boats were lined up on stands for the winter.
He attached his chains and pulled the Ocean Lady onto the trailer, climbed into the truck, and drove the boat up the hill and over the bridge. But instead of driving head first down the steep hill to the other side, he made a left onto Main Street, and proceeded to turn around and go in reverse. He then backed his big rig down the narrow road, past the busy hotel construction site, past Rockport Marine where a crane was lifting a mast off a large yacht, and around the sharp curve toward the bait shack.
Seeing Walter coming, Alex Whitman hopped into a couple of trucks and tucked their trailers out of the way, clearing a path by the Rockport Boat Club, and another sharp corner.
It was crowded, it was tight, and Walter had little room to maneuver. But he did it all with expertise and without any fuss, backing slowly to the snug spot made just for the boat. There, he situated Ocean Lady on blocks, level and secure.
Hauling and storing the boat was not something that demanded a lot of noisy attention. But it was so necessary. Danny's immediate community knew that a man's boat—his life's work—needed tending to. Those guys did right by him, with strength and grace. 
---
Lynda Clancy is Editorial Director of  Penobscot Bay Pilot.
Share this article:
2023 Maine Boat & Home Show

Join Us for the Maine Boat & Home Show!
Art, Artisans, Food, Fun & Boats, Boats, Boats
August 11 - 13, 2023 | On the waterfront, Rockland, Maine
Click here to pre-order your tickets.
Show is produced by Maine Boats, Homes & Harbors magazine.