Gardiner: River Town Revival
By Mimi Bigelow Steadman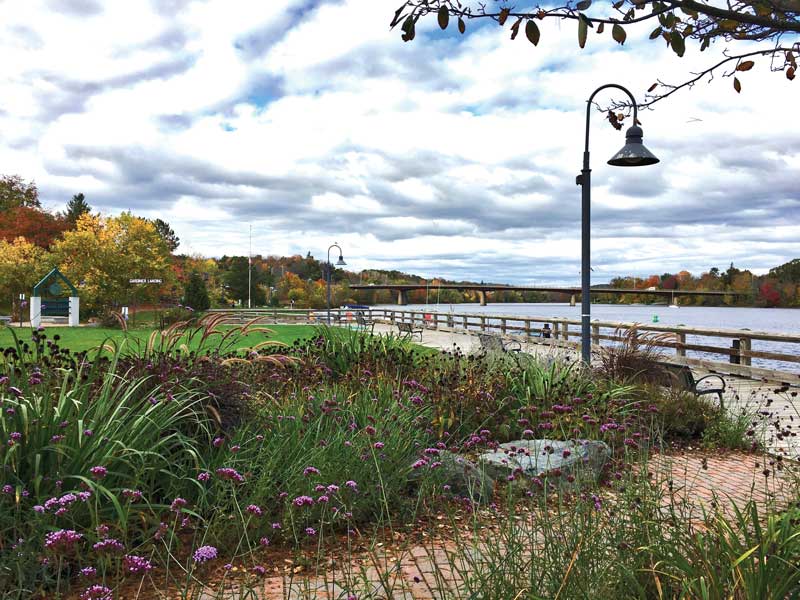 Gardiner's Waterfront Park showcases the community's prime setting on the western bank of the Kennebec River. Photo by Mimi B. Steadman
Honey-hued leaves crunched on the granite pavers beneath our feet as we sat in downtown Gardiner's pocket-sized Dearborn Park. Lingering over brunch served at a picnic table by The Blind Pig Tavern, we were enjoying watching the world go by on Water Street. On the corner, a young woman with bright magenta hair chatted with a friend wearing Daisy Dukes and torn black tights; a greying couple with a golden retriever strolled the brick sidewalk; and people of all ages flowed in and out of the food co-op across from us.
On that autumn Sunday, it seemed everyone was happy to be in this charming little city, one of several historic communities strung along the western bank of the Kennebec River south of Augusta. It was easy to understand why: In recent years, an energetic revival has enlivened Gardiner's spirit and beauty.
A cornerstone of that transformation is the restoration of Johnson Hall Performing Arts Center, a three-story brick building beside the park. Opened in 1864, Maine's oldest operating opera house originally hosted vaudeville troupes before being used as a movie theater, events venue, and department store. The third-floor theater had stood abandoned since 1956, leaving only a small performance space downstairs. But now, a successful $7-million fundraising campaign is spurring the construction of a new, 400-seat theater.
"We're part of the resurgence of a vibrant arts scene," Michael Miclon, Johnson Hall's executive artistic director, told me. "The vibe is growing. The theater will draw people to our beautiful downtown and create even more need for restaurants and shops."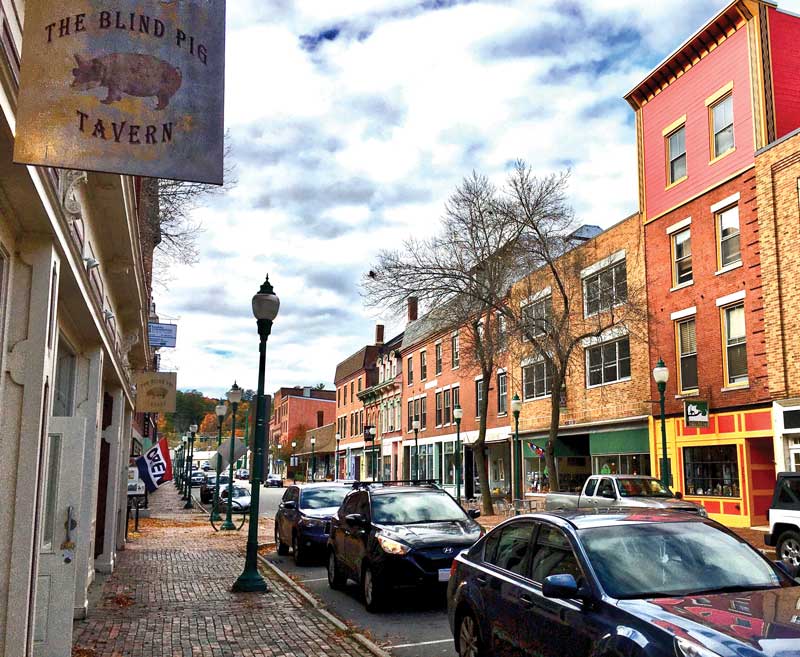 Noted for its restored 19th century commercial buildings, Water Street's handsome downtown district is listed on the National Register of Historic Places. Photo by Mimi B. Steadman
Setting off to explore the businesses already tucked into the handsome, restored storefronts of Water Street's 19th-century commercial district—listed on the National Register of Historic Places—we came to shops, galleries, a Renys department store, cafés, and a bakery.
Bateau Brewing stands at the southern end of the stretch, across from Gardiner's lovely, century-old Queen Anne-style public library. Its name recalls the 200-plus boats constructed in 1775 by local shipbuilder Reuben Colburn and his crew. Narrow, flat-bottomed, and open, the 18- to 25-foot-long vessels were intended to carry heavy cargo while being rowed, paddled, or poled in shallow water by five or six men. The bateaux were hurriedly built in less than three weeks to transport Colonel Benedict Arnold and 1,100 troops up the Kennebec River and into Canada in an attempt to defeat the British at Quebec City during the American Revolutionary War. Colburn and his shipwrights followed behind to handle any repairs en route. Challenges navigating the river, spoiled rations, sickness, floods, difficult portages, and desertions doomed the expedition. It's said only seven of the bateaux arrived in Canada. And Colburn? He made it back to Gardiner but never received full payment for the job, leaving him financially ruined.
Just beyond the brewery, we turned left and headed down to Waterfront Park, a grassy, landscaped expanse beside the waters traveled by Arnold and his men. Today, this inviting space encompasses gardens, a boardwalk, boat launch, and marina. Gardiner's Historic Downtown Walking Tour, featuring a series of illustrated informational panels, begins here before continuing up on Water Street.
The Tilbury Town Walking Tour, another self-guided walk, honors Edwin Arlington Robinson, a prominent and prolific poet who grew up in Gardiner and won the Pulitzer Prize three times in the 1920s. He's thought to have depicted his neighbors in his cynical, irony-filled portraits of residents of the imaginary town of Tilbury, but he never confirmed or denied it. Disillusioned with life in Gardiner, Robinson moved to New York as a young man and spent the rest of his life there. If he could see how his hometown is blossoming today, he'd surely want to return. 
---
Contributing Editor Mimi Bigelow Steadman lives on the Damariscotta River in Edgecomb.
If You Go to Gardiner
On the Water
Offering the northernmost deep-water harbor on the Kennebec, Gardiner welcomes visiting boats to its Waterfront Park and launching ramp. Tie-up at the docks (mid-May to mid-October) is free for up to three days, though a permit from the Gardiner Police Department (207-582-5808) is required for stays of more than a day; for four days or more, the daily fee is $10. Monthly and seasonal slip rentals are also available.
Eat & Drink
The Blind Pig Tavern, at the heart of Water Street, blends a menu of good pub food with a casual, welcoming atmosphere; there's outdoor dining in season. Up the street, El Oso Taqueria is a Mexican eatery, art gallery, and gift shop all in one. Also on Water Street, the recently opened Goldfinch Creamery serves ice cream, sweets, soups, and sandwiches. Ruby's Place is the go-to for bagels, scones, breakfast sandwiches, and other sweet and savory baked goodies. The granddaddy of Gardiner restaurants is the A1 Diner, an authentic 1946 chrome Worcester diner car that has perched on a bridge over the Cobbossee Stream for decades. Grab a stool or booth in the tiny space and select from a menu of traditional diner food amped up with a few internationally flavored dishes. At Bateau Brewing, you
can pair an excellent craft beer with a sandwich from Millers Pride Food Trailer, which is parked on the patio. For a quick meal, pick up soup, sandwiches, quiches, and other items at the café at the Gardiner Food Co-op.
Shop
Downtown Water Street's must-stop shops include Monkitree for handcrafted home accents, jewelry, and art; Purple Shed Woodworks for handmade cutting boards and cheese boards; Cobalt Moon, for antiques and collectibles; Niche for all things music-related; and Costell & Costell Art Gallery for paintings by two talented sisters. The Gardiner Food Co-op and Café stocks a full range of fresh and frozen products from nearly 100 Maine farmers and producers.
Hike & Paddle
Places to stretch your legs include a walking path around Gardiner Common, a wooded riverside path called Steamboat Lane that begins at Waterfront Park, and the paved, 6.5-mile Kennebec River Trail, which edges the river between Gardiner and Augusta. For an enlightening stroll through downtown, take the self-guided Historic Downtown Walking Tour, which begins at Waterfront Park. There's also a canoe and kayak put-in at the park for those wanting to paddle the river (mind the current). To explore Cobbossee Stream south to Pleasant Pond, look for a put-in spot on Old Lewiston Road.
Share this article:
2023 Maine Boat & Home Show

Join Us for the Maine Boat & Home Show!
Art, Artisans, Food, Fun & Boats, Boats, Boats
August 11 - 13, 2023 | On the waterfront, Rockland, Maine
Click here to pre-order your tickets.
Show is produced by Maine Boats, Homes & Harbors magazine.