Boatyard Profile: Riverside Boat Company
Sixth-Generation Boatbuilder Thrives on the Damariscotta River
By Ted Hugger
Photos by Ted Hugger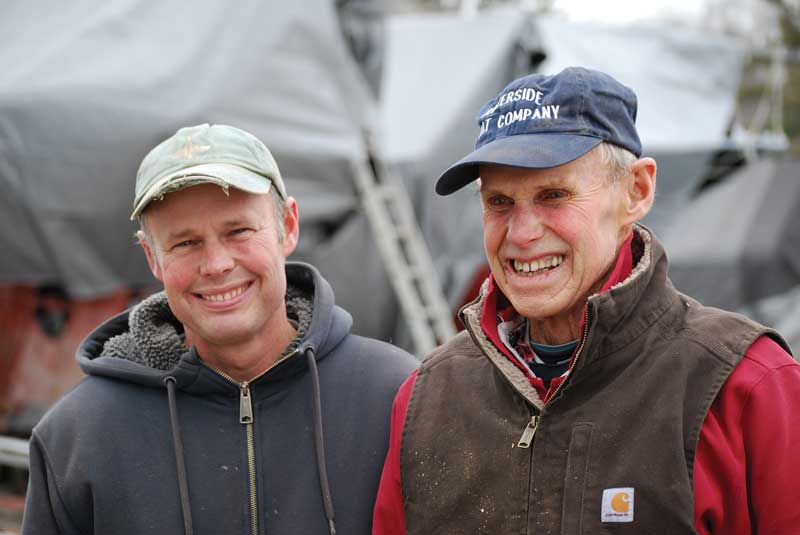 Nat Bryant, sixth generation, and Paul Bryant, fifth generation, carry on the family's boatbuilding legacy at the Riverside Boat Company on the Damariscotta River.
The arc of six generations of Maine boatbuilders in the Bryant family can be traced through common threads: a love and commitment to their Newcastle, Damariscotta River waterfront property, uncompromising standards of workmanship, the Lincoln Academy, the Landing School in Kennebunk, and wooden boats. But mostly wooden boats.
Nathaniel Bryant arrived in Newcastle from Massachusetts in 1765. By the late 1800s, the family was involved in shipbuilding on Great Salt Bay and had a business buying and selling Maine property.
In 1932, Nathaniel's great-great-great grandson Creston Bryant graduated from Damariscotta's Lincoln Academy. In 1946, he hung out his shingle as Riverside Boat Company on Liberty Street in Newcastle on the Damariscotta River. In the beginning, his focus was on designing and building small sailboats. The most popular was his 12' Skipper class sloop—seven or eight were built in the late 1940s, mostly for members of the local yacht club. Another success was a flat-bottomed, 14' Scottie class skiff with a catboat rig.
Soon after Creston's son Paul graduated from Lincoln Academy in 1961, he took a course at the Westlawn School of Yacht Design and soon went to work for his father in the family  business. When Creston died in 1971, Paul took over the shop. His son Nat followed in his father's footsteps, and graduated  from Lincoln Academy in 1993, attended the Landing School in Kennebunk, took the Westlawn design course, and then joined the family boat yard.
Today, the five-person Riverside Boat Company crew includes Linda, Paul's wife and Nat's stepmother, who is the chief painter/varnisher/bookkeeper. She began working with the father-and-son team in the mid-1990s.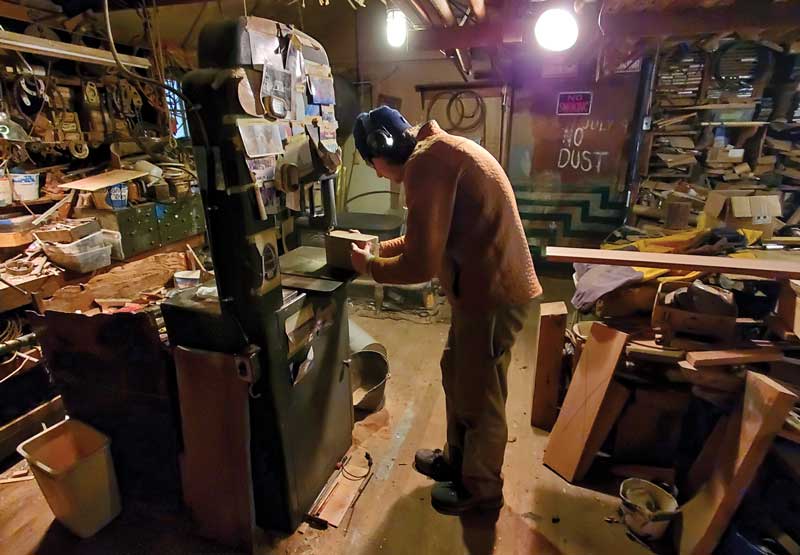 The shop dates back to 1946, replete with 76 years' worth of vintage tools, equipment, and materials.
Sitting around the workshop's barrel stove on a cold December morning, Paul reminisced: "Another popular boat that my father designed and built was a 15' Valentine-class sloop. In fact," he added proudly, "Nat built a Valentine eight or nine years ago."
Nat quickly chimed in: "But what my Dad didn't tell you is that he built a Valentine when he was just 14 years old and a sophomore at Lincoln Academy."
Both Valentines, father's and son's, are still sailed locally on the Damariscotta River and are among the fleet serviced by the Newcastle yard.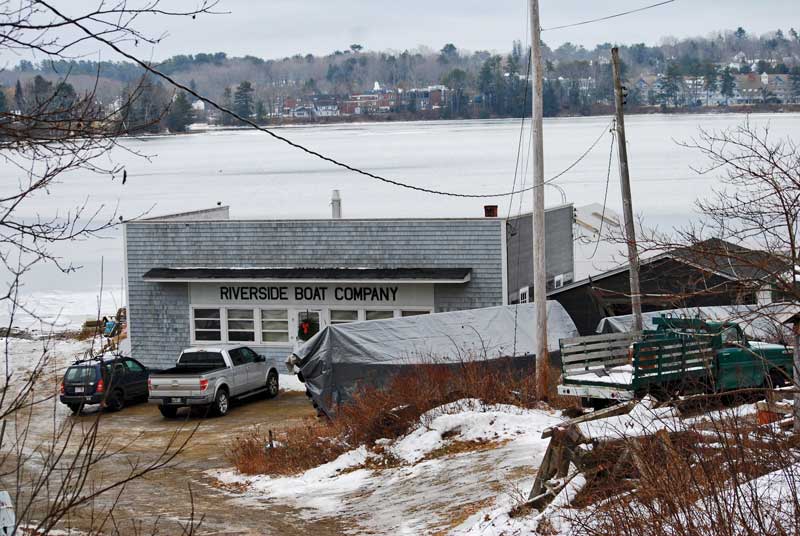 After Nat took the Landing School's design course, he spent a year building a 26' sailboat at the school. In his second year, he and another student built a cold-molded 19' Lightning-class centerboard sloop that was featured in an article Nat wrote for WoodenBoat magazine.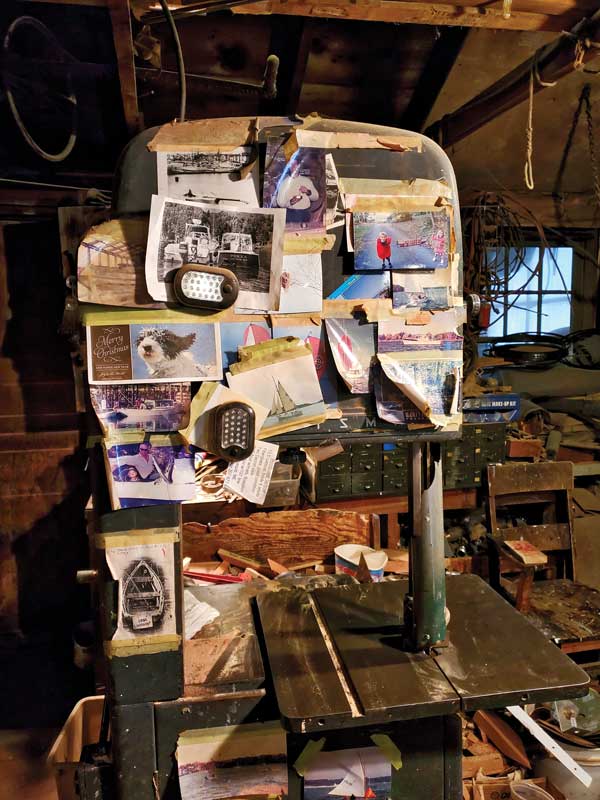 While they'll work with fiberglass, wood is the Bryants' medium of choice. The elder Bryant doesn't mince words about it: "Fiberglass stinks. The layup isn't too bad, but sanding it is terrible. We specialize in wooden boats. Fiberglass is just not our thing," he said.
"It's a pleasure to work with wood—to shape it, sand it, mold it into whatever three-dimensional shape you'd like," Nat added. "And as long as you're careful with a wooden boat, protect it, keep it sealed, painted, and varnished, it can last forever."
One of the more successful Bryant designs is a 24' wooden powerboat called a Striper. The yard has built several iterations of the Striper in 24', 29', and 32' versions. The Bryants are preparing to start a commission on a 21' Striper this year, with a projected launch date of 2023 or 2024.
"The Striper is a downeast hull with a cut-away skeg, good flare, and little bit of tumblehome. She's mostly an open boat with a windshield and a small cuddy forward," Nat explained. Power in the new boat will come from an inboard gas engine in the 100-hp range, depending on what's available given current supply-chain problems. Nat anticipates a top speed around 20 knots.
To date, there have been 18 of the 24' Stripers built off the same molds. A 24' boat runs about 2,000 man-hours to build, Nat said, while the new 21' boat should require between 1,700 and 1,800 hours.
Other projects in the works include repairs and refit work on a handful of boats, including a Rhodes 36, a Rosinante, a 34' sloop, a 21' launch, a 24' daysailer, and a Whitehall rowboat.
Back around the woodstove, I asked Paul and Nat about the challenges of growing a niche business such as theirs. "The wooden boat fleet in general is aging, and with that, repairs that were somewhat minor tend to increase in size and scope," Nat said. "As they become more involved, they take a little longer, they cost a little more to complete."
But there are a lot of sentimental wooden boat owners, he added, "so that's a good start; owners who really care about their boats, and who appreciate the work that we do."
According to the Bryants, finding workers with the right skill set is always a challenge.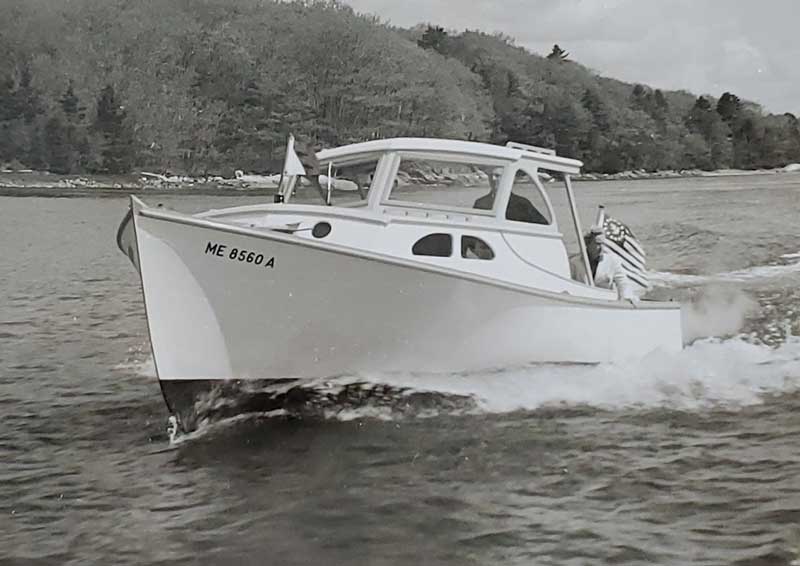 Papoose, a 24' Striper, was built for actor Robert Montgomery in 1960. The Bryants are building a 21-foot Striper this year for a customer. Photo courtesy of Riverside Boat Company "We tell applicants when they start here that it's going to be a decade-long training process," Nat said. And the Bryants expect to invest that time in their employees. Ben Andrews was a furniture builder in Vermont when he signed on at Riverside four years ago. "His furniture skills converted to boat repair and building applications quite nicely," Paul said. And then there's new employee Cole Huston, who is a graduate of Michigan's Great Lakes Boatbuilding School. "Cole came to us knowing quite a lot already and he's very capable and eager to learn," Nat explained.
If you can judge the capabilities and workmanship of a boatyard by its customers, Riverside Boat Company is at the top of the list. Legendary Dodge Morgan (who was the first to sail solo/non-stop around the world aboard American Promise) chose to store his beloved Eagle, a 30' Murray Peterson-designed, Camden Shipbuilding-built, Malabar Jr. at Riverside for some 28 years. And when it was time to choose a yard for extensive deck work on Eagle, Morgan tapped the Bryants.
"Eagle had a pine deck on her that was pretty tender," Paul recounted. "We took the deck off her, and at Morgan's request, we replaced it with a teak deck. That was the first teak I'd ever dealt with. Every single joint on that deck, you'd have to resharpen your plane—it's crazy how teak will dull a plane."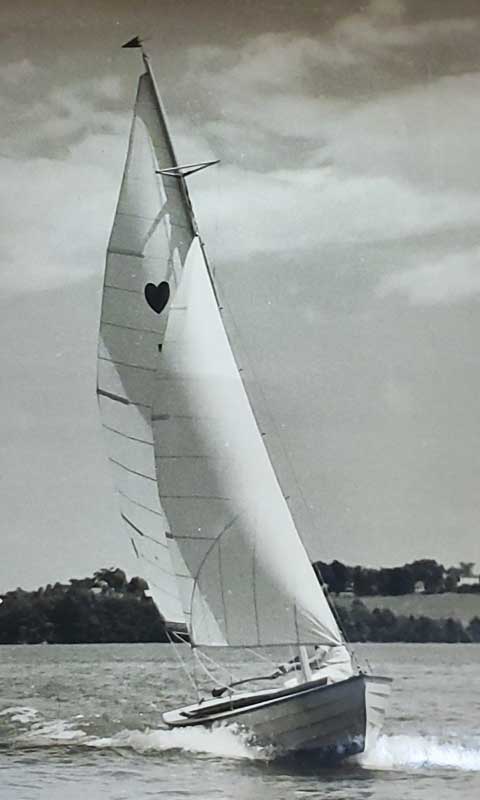 Creston Bryant designed the 15-foot Valentine sloop. Versions built by Paul and Nat Bryant are still being sailed by their owners. Photo courtesy of Riverside Boat Company While Morgan's teak deck tested the resolve of the veteran builder, the Anne T, a Concordia 31 sloop the yard was commissioned to build in 2014, ranks at the top of their "challenging jobs" list. "We had 5,800 hours in building her," Paul said. "She was double-planked, native cedar on the inside and mahogany on the outside with a varnished hull."
While boatbuilding and repair are the king-plank of the company's business, storage is an important part, as well. Nestled on the banks of the Damariscotta River, the yard includes a half dozen aging buildings; a stunning variety of vintage boats on cradles (Paul is proud of the fact that the yard doesn't own a single jack-stand); and, everywhere you look, a piece of Maine boatbuilding history.
From frames and jigs to a home-built, diesel-powered sawmill; from the 44-year-old Ford F600 fire truck that Paul converted into a winch truck (you can still read "Stockton Springs No. 6" under the green paint) to the 1934 Ford that was the family car before being converted by Creston as serve as the yard's first winch truck: it's a boatyard junkie's paradise.
"We have about 50 boats—half power, half sail—out there in the yard that will need maintenance and small repairs as spring rolls around so they can be launched. The storage boats range from dinghies to vessels over 40 feet," Nat said. The biggest boat the yard ever hauled and stored was Silverheels, a Murray Peterson-designed, Malcolm Brewer-built coastal schooner. She weighed 38,000 pounds and was 43' on deck and 56' overall.
"She was up at our capacity," Paul said. "We probably shouldn't have even tried!"
The Bryants, father and son, are confident in the future of the yard.
"I don't ever want to see this yard turn into one of those condominiums; I just don't ever want to see that," Paul said with unflinching resolve. "We're a niche business for sure—but as long as we have good boat owners who appreciate their boats, and who want to take care of them, business will be good.
Specialization is our strength, carrying the yard forward." 
---
Ted Hugger owns and operates the Cod Cove Inn in Edgecomb and the Cedar Crest Inn in Camden with his wife Jill.
---
For More Information:
Riverside Boat Company
31 Liberty St., Newcastle, ME
207-563-3398
Share this article:
Digital Edition Available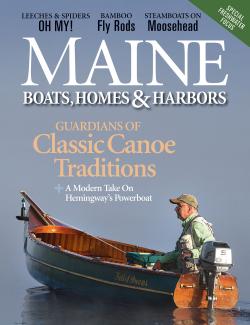 Can't get to the store to buy your magazine? We deliver the stories of Maine's coast right to your inbox. Sign up here for a digital edition.