Waldoboro
Under the radar
By Mimi Bigelow Steadman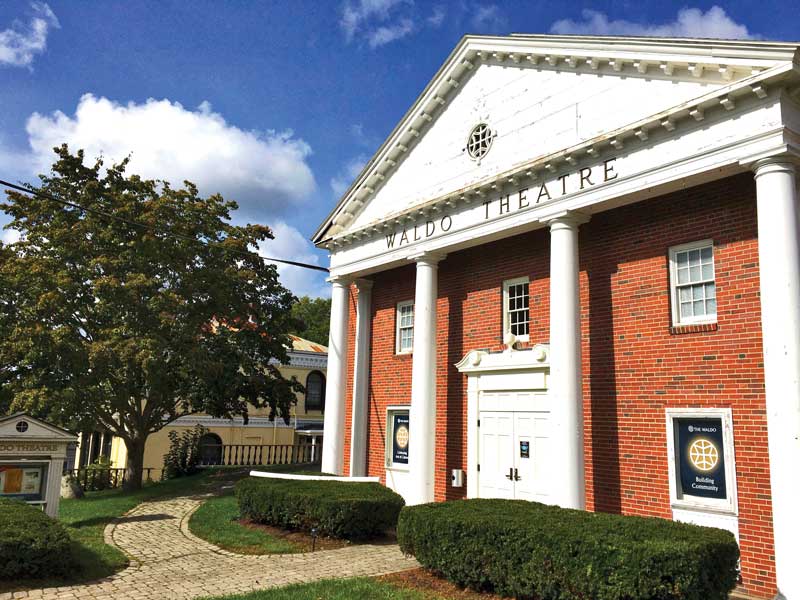 Dating from 1936, the once-closed Waldo Theatre has arisen from Maine's List of Most Endangered Historic Places to again assume a leading community role. Photo by Mimi Steadman
Just up the hill from the Medomak River, the Waldo Theatre's lights glowed warmly through wide-open doors. On a soft evening last June, we joined a steady flow of guests arriving for the first play produced in eight years at this white-columned landmark in the heart of Waldoboro village. It was a time for celebration: Thanks to impressive fundraising and a cadre of volunteers, the 86-year-old theater was again open after a near-decade-long closure.
Residents hope the revitalized theater will help raise awareness that there are many reasons beyond the iconic Moody's Diner to visit this historic town at the head of Muscongus Bay. A short detour off Route 1 leads to a village of Victorian and Greek Revival structures, Friendship Street's short lineup of storefronts, and scenic byways tracing the southern shoreline and looping north into gentle farmland. Tucked along those back roads are the homes of enterprising artists, artisans, farmers, and small business owners.
Among them is Sara McNeil, who with her husband, John, moved here in 2018 to open the warm and welcoming Odd Alewives Farm Brewery. "Waldoboro is a little bit off the radar," McNeil told me. "People are finding it quietly. New locals are moving here because you can live affordably. That allows people to pursue their projects." Customers often ask McNeil about the town. "I profess my love for Waldoboro," she said. "About a dozen of them have come back to tell me they've bought homes here."
Caterer Laura Cabot first established her business in Waldoboro four decades ago and has recently opened a downtown space for pop-up dinners and private events. "There's a lot to love here," she said. "It's full of beautiful, sleepy little hollows. There's all sorts of opportunity for success with a business or to have a nice retirement."
Waldoboro's makers can take inspiration from a long heritage of exceptional local craftsmanship. Settled in 1748 by more than 1,000 German immigrants recruited by land proprietor Samuel Waldo, the community developed a reputation in the late 1800s and early 1900s for fine shipbuilding, and lays claim to having built the first five-masted schooner, the Governor Ames. In addition, antique Waldoboro hooked rugs, known for distinctive sculptural effects, are prized by collectors.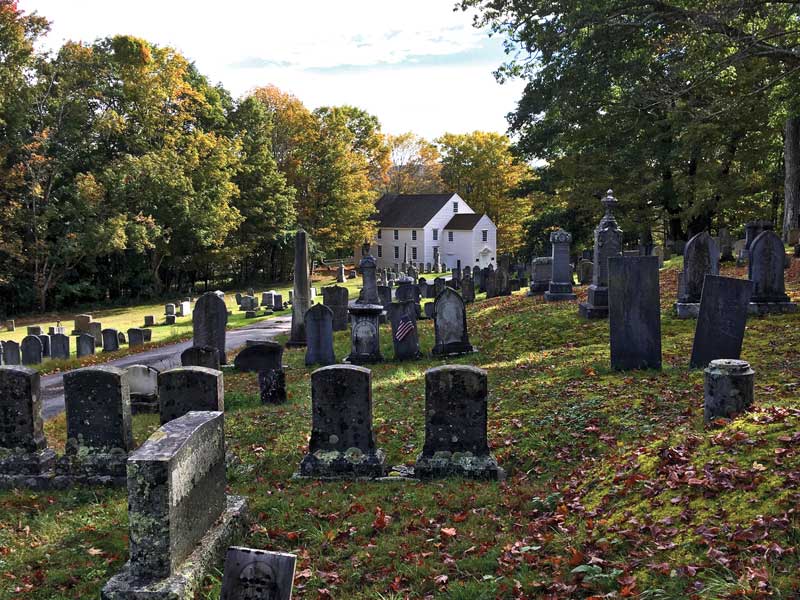 Old headstones behind the German Protestant Church chronicle Waldoboro's earliest days. Photo by Mimi Steadman
Waldoboro's hollows and byways called us back on a warm autumn day. Cruising down to the town's southern tip, we passed restored capes and farmhouses on Dutch Neck, and simple homes of lobstering families on neighboring Gross Neck. Heading up Route 32, we pulled through stone pillars at the German Protestant Church, an imposing white-clapboard building. Erected in 1772, it was moved across the ice to its current location in 1794. Wandering among moldering headstones in the large graveyard, I searched unsuccessfully for a stone I'd read about that recounts the town's settlement "...by Germans who emigrated to this place with the promise and expectation of finding a prosperous city, instead of which they found nothing but wilderness." We studied many markers, which date as far back as 1797, and paused quietly at one that listed a family's loss of six children, all under the age of four.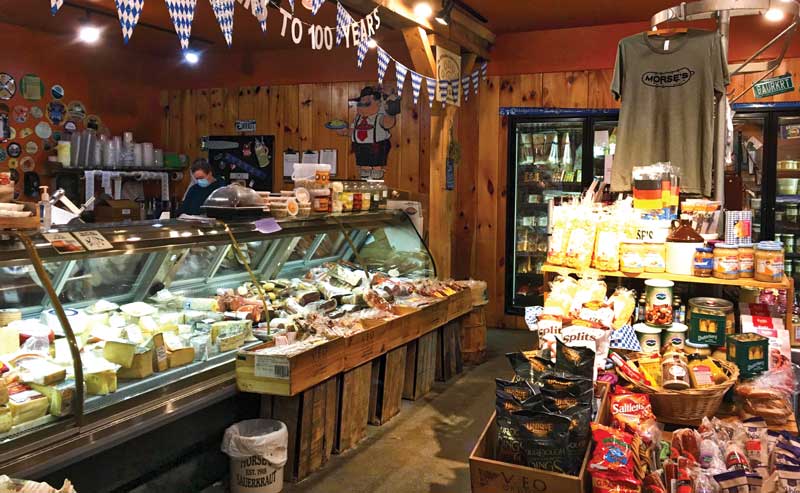 Long a sought-out destination, Morse's Sauerkraut's shelves and cases overflow with an international array of goodies. Photo by Mimi Steadman
Then it was on to East Forty Farm, where we bought Lakin's Gorges cheeses from a help-yourself fridge. Some 10 miles away at the northern edge of town, we stopped for treats at Morse's Sauerkraut, long known for house-made kraut and an international array of cured meats, cheeses, and specialty groceries. Jars of fresh, pale-yellow sauerkraut and a case of sausages reminded me of those intrepid German settlers of yore. How fitting it is that even though nearly three centuries have passed since their arrival, artisanal endeavors and the foods of their home country are both still celebrated here in Waldoboro. 
---
Contributing Editor Mimi Bigelow Steadman lives on the Damariscotta River in Edgecomb.
---
If You Go to Waldoboro
On the Water
While Waldoboro does not have a harbormaster, Glen Melvin, the vice-chair of the Waldoboro Shellfish Committee, offered valuable local knowledge. He advised that the channel, marked seasonally by buoys, narrows dramatically during the lower three hours of the tide cycle. For this reason, boaters are urged to exercise extreme caution if they anchor; there are no transient moorings. Visitors may tie up at floats (about 10 feet at low) at the Pine Street Landing, near the center of the village, for up to 24 hours. The broad clam flats are a boon to the town. Melvin, who has dug clams here for more than 40 years, proudly shared that Waldoboro has 152 commercial diggers whose haul has made Waldoboro the state's largest supplier of soft-shell clams.
Food
Settle onto a stool or into a booth at Moody's Diner and dig into such comfort foods as gravy-gilded turkey sandwiches, mac and cheese, New England boiled dinner, and meatloaf. There's lots of fresh, fried seafood, too. Leave room for a house-made donut or slice of pie. Inside the bright-purple barn doors at Odd Alewives Farm Brewery, you'll find a selection of unique ales flavored with ingredients grown on the property, plus a rotating choice of wood-fired pizzas. Downtown, The Narrows Tavern dishes up burgers, soups, and sandwiches along with a lineup of live music. Beautiful Food is the latest endeavor of longtime caterer Laura Cabot, who ran Waldoboro's much-missed Pine Cone Café for 23 years. She's now offering pop-up dinners and private events, and may transition to a restaurant in the future. Roadside Eats combines fun 1950s-era decor with a menu of burgers, pizzas, sandwiches, and fried seafood. With internationally sourced sweets, condiments, spices, mixes, pastas, breads, and more, plus an array of fine cheeses and cured meats, Morse's Sauerkraut is a wonderland of indulgences. There are plans for an al fresco beer garden next summer. More delectable cheeses await at East Forty Farm, whose Lakin's Gorges cheeses are made from the milk of resident cows, and Coppertail Farm, purveyor of goat cheeses. While there is no retail shop at American Unagi, this impressive aquaculture enterprise, the first of its kind in the country, offers online shopping for eel in several forms, including smoked fillets.
Shop for Crafts
While these Waldoboro artisans are not usually open to visitors, it's worth seeking them out online. Accomplished woodworker Valdemar Skov is known for intricate ornamental carvings and fine furniture, as well as engraving. Among his most impressive projects is a set of 24 Sheraton-style chairs created for the Blaine House dining room. Erica Moody, a highly respected metal smith who in the past has crafted architectural installations, now specializes in artful serving ware including a pie and cake server, ladles, and oyster knives. Knitting designer and pattern-book author Hunter Hammersen has developed an enthusiastic following for her imaginative designs. Fiber artist Sara Hotchkiss weaves colorful geometrically patterned rugs and wall hangings. Long Winter Soap sells an appealing selection of soaps, lip balms, and perfume oils.
Do
Join the audience at the Waldo Theatre for a play, musical performance, film, or class. While there, spend some time in the art gallery, which exhibits the work of talented local artists. Visit the Waldoborough Historical Society's appealing small buildings, including an 1857 one-room schoolhouse, for exhibits on shipbuilding, hooked rugs, old tools, and antique fire engines; admission is free.
Hike and Paddle
The Medomak River offers a protected waterway for paddlers; you'll find a convenient launching ramp and parking at Dutch Neck Marine Park. Kayaks and SUPs can be rented at Maine Kayak in nearby New Harbor. Kayaks, SUPs, and canoes can be rented at Midcoast Kayak in Damariscotta. Waldoboro is home to a variety of nature preserves that are threaded with scenic hiking trails. Among them are the Osborn Finch Preserve on Dutch Neck, the 320-acre, town-owned Quarry Hill Farm, and the adjacent Medomak Valley Land Trust Founders Preserve. Morse's Sauerkraut is just up the road from the 371-acre Riverbrook Preserve, offering a rewarding stop after hiking the 2.6-mile trail.
Share this article:
2023 Maine Boat & Home Show

Join Us for the Maine Boat & Home Show!
Art, Artisans, Food, Fun & Boats, Boats, Boats
August 11 - 13, 2023 | On the waterfront, Rockland, Maine
Click here to pre-order your tickets.
Show is produced by Maine Boats, Homes & Harbors magazine.