Night Train
A Hinckley 41 returns to the family fold
By Laurie Schreiber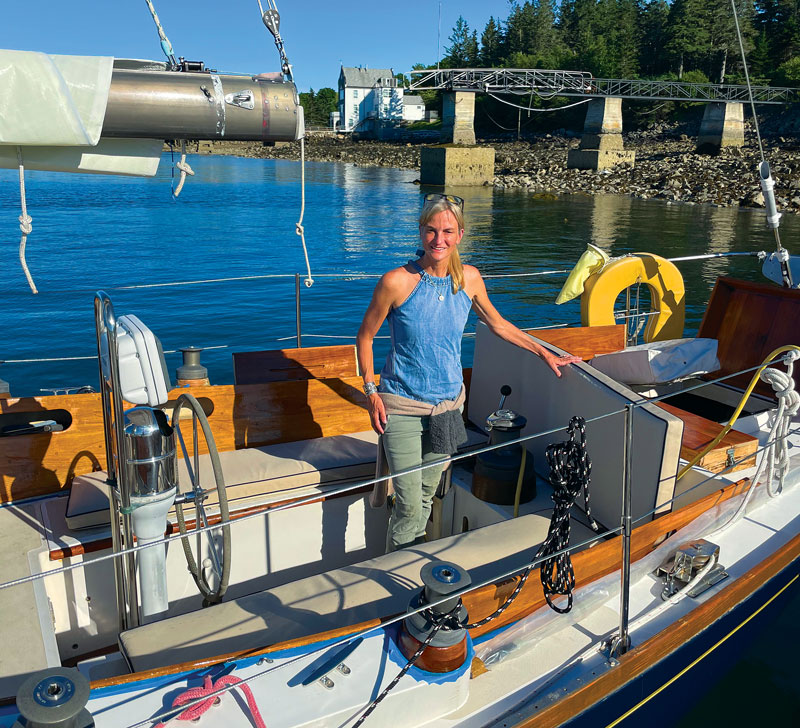 Lizzie Hinckley gets Night Train ready for the sailing season. The boat had belonged to her family when she was a child. Photo courtesy Lizzie Hinckley
Elizabeth "Lizzie" Hinckley always dreamed of owning a sailboat designed and built by her grandfather, Henry R. Hinckley, a Maine pioneer in the world of fiberglass boat design and construction.
In 2020, that dream came true when she discovered that Night Train, a Hinckley Competition 41, was on the market. And this wasn't just any Hinckley. Lizzie had spent the first half of her childhood sailing on Night Train with her parents and siblings.
"The best childhood memory was learning to row the dinghy, so I could go adventuring on my own," she said. "There's a shot of me in the cockpit, after one of my rowing adventures, holding a bucket of creatures found in the tidal pools, circa 1975."
Henry Hinckley started his company in Southwest Harbor in 1928. Thanks to his background studying aeronautical and mechanical engineering at Cornell University, he pursued innovations that made his boats light yet strong. In  the 1950s, he was one of the first boatbuilders to adopt fiberglass as his primary boatbuilding material.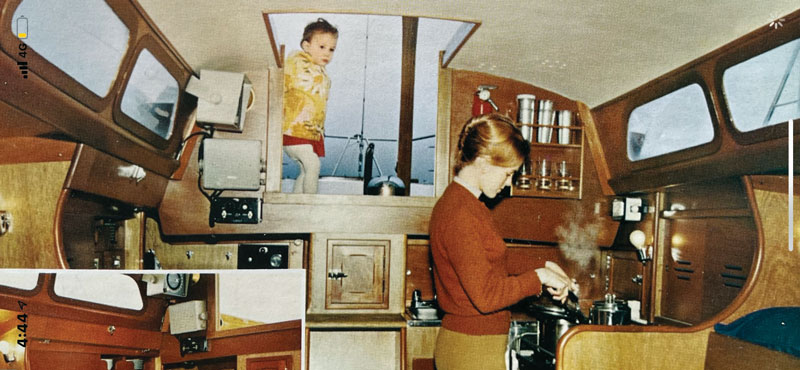 Lizzie Hinckley's mom, Tina, cooking in the galley of Night Train while her sister Jill looks on. This photo was used in an early brochure for the Hinckley Competition 41. Photo courtesy Lizzie Hinckley
In 1964, he debuted a standard Cruising 41. The model was popular, with a dozen sold in just two years. Two years later, his son Bob (Lizzie's father), who grew up working at the yard and would eventually lead it, developed a competition version, which was marketed as "truly the ultimate combination of cruising pleasure and racing performance" with "critical innovations that give the racing skipper that vital seconds-per-mile performance edge over competition."
The Competition 41 also retained cruising amenities of the standard model, including six spacious berths, a large galley and head, ample storage space, and finely crafted teak, holly, and mahogany throughout. Production of both models ended in 1972, with 24 built all together.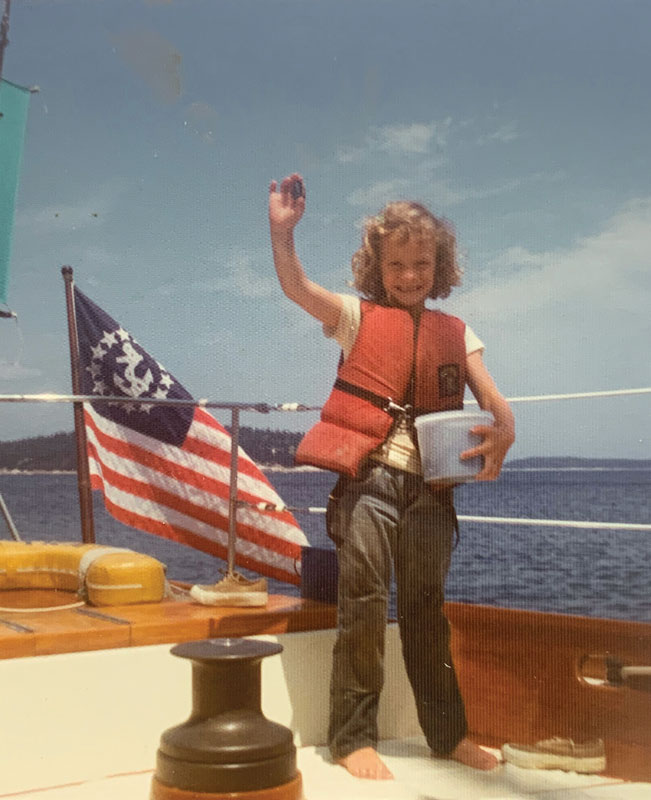 Lizzie on Night Train circa 1975. Photo courtesy Lizzie Hinckley Night Train was built in 1969, the same year that Lizzie was born, and the boat was an integral part of her childhood.
"I spent the first decade of my life sailing on Night Train with my family," she said.
According to family lore, the name came about when her father and his crew were in New York City for a boat show, went to a club one evening and heard James Brown perform the blues classic. While Lizzie was growing up, the family had four successive Hinckley boats named Night Train.
The design of a racing yacht suited Bob's love of competing. The Competition 41 quickly took its place in the fastest company. For example, it was first in class three years in a row in the Monhegan Island Race, dating back to 1928 as one of Maine's premier ocean races, with a 141-nautical-mile course "for the die-hard offshore folks," as the event's website reads.
"She's a real passagemaker, as my dad likes to say," said Lizzie.
Bob sold Night Train in 1980—this one was the second of the family's four Night Trains, and, according to Lizzie, it was her dad's favorite. The boat went through a couple of owners but was largely kept in the Hinckley yard's care in the years since, serving in the company's charter fleet under the name Eagle Wing for part of that time.
The boat hadn't been in the water for several years when the owner decided to sell it. The listing came to Lizzie's attention circuitously. She hadn't been on the water in years. Growing up as a competitive ski racer, she graduated from Middlebury College in 1990 with an MBA in finance, and stayed in Vermont to work for a medical device company and to raise her two daughters on a farm. In 2018, she moved to Palm Beach, Florida.
But she had a yen to get back to sailing and started looking for a boat to buy.
"My dad was playing tennis with Bob Pooler, a yacht broker at Hinckley, and Bob said, 'I think there's a boat called Eagle Wing at the yard, and it appears to be the old Night Train,'" Lizzie related.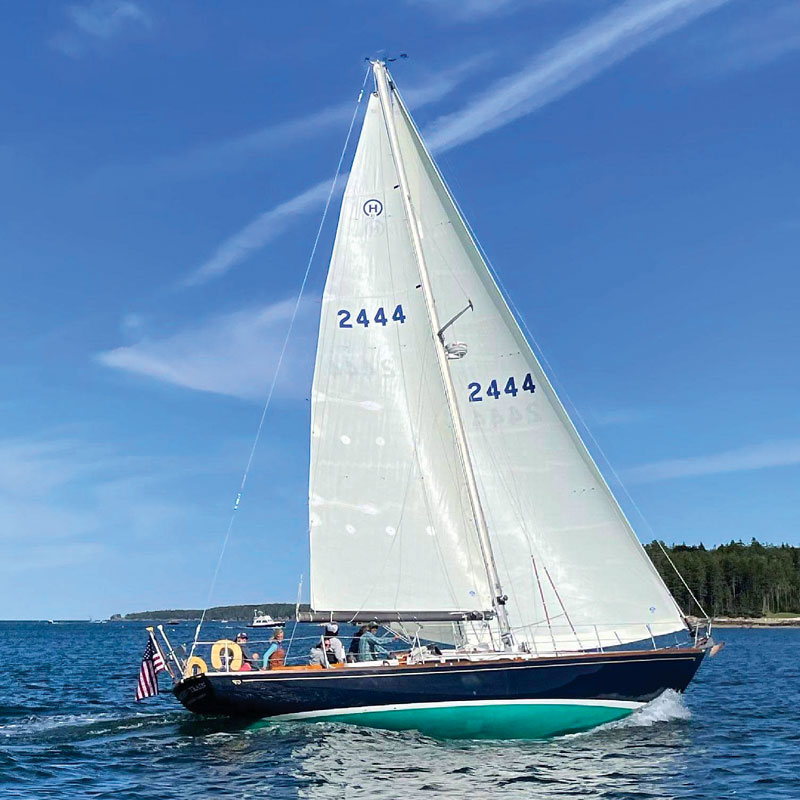 Lizzie Hinckley sailed Night Train last summer with friends and family, as well as on single-handed cruise. Photo courtesy Lizzie Hinckley She jumped on the purchase.
"It was more or less serendipity that she came into my life," she said. "She was out of the family for over 40 years."
The boat was in great shape, but needed a little upkeep. So when the sale finalized in October 2020, Lizzie moved the boat to her parents' driveway in Southwest Harbor and began restoring the brightwork.
The skill came naturally.
"As a teenager, I worked under Frank Hodgdon, in the paint department at the yard," she said. "Sadly, he's not around anymore to personally inspect my work before the 3:30 whistle. But I suspect he's raising a glass of his favorite pink-grapefruit-cocktail and vodka… at least I hope so.  What a gift, learning from the master."
After a winter hiatus, she picked up the work again in April, peeled back the storage shrink-wrap, and continued scraping and sanding down old layers of Captain's Varnish and Cetol, right down to the original 1969 teak boards that her father handpicked over half a century earlier.
After sealing the coamings and toerails, she got the boat in the water by June to get sailing—continuing to lay down a few more coats over the summer.
"My father and I have had so much fun working together on her over the past year," she said. "My favorite memory of this summer was watching my dad—aka 'Chief'—at the helm, 15 miles offshore, flying the new spinnaker."
She took Night Train on numerous outings over the summer.
"I probably went around Duck Island 25 times," she said. "I sailed her solo to Camden and back. She's a really easy singlehanded sailing boat. The way her cockpit is arranged, the helm is very close underneath the dodger so there's protection, and the jib sheets are on one winch behind the helmsman so you can tack the sails just standing at the helm—one person can do everything. It's a unique layout that my dad designed."
As she got back into the swing of sailing, Night Train made her feel safe. "To be back to sailing along the Maine coast is such a treasure," she said.
Then there was the nostalgia of comforting discoveries, like the woodstove and her dad's racing plaques down below.
"We have the original Scrabble board down below that's been on the boat all these years," she said. "I remember playing Scrabble with my family. We used to have a drawer on her called the goody drawer; if we were good, we were allowed to have a candy." It's a tradition she made sure to follow with her guests over the past summer.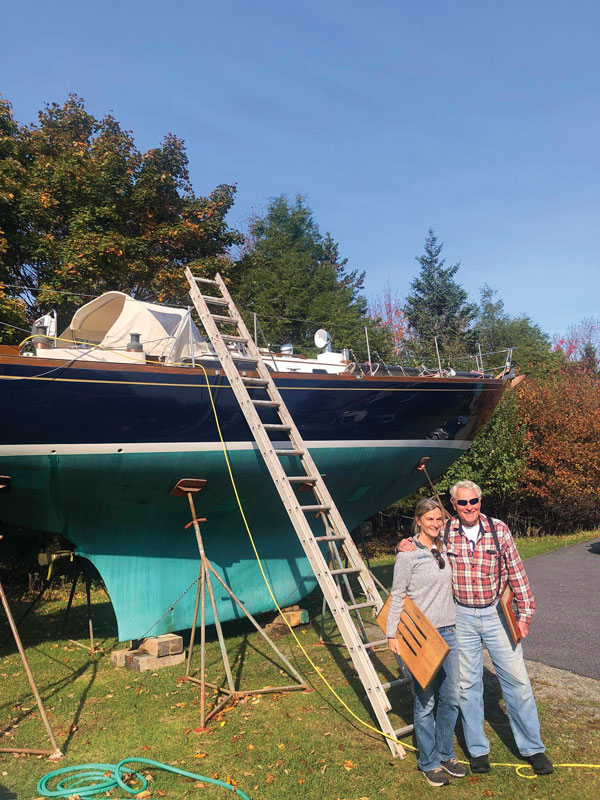 Hinckley had help on the project from her father, Bob Hinckley, who had owned and sailed Night Train when she was young. The two are shown here together as Lizzie began work on the boat. Photo courtesy Lizzie Hinckley Hinckley's goal is to bring the boat back to her original glory. This winter, the Hinckley Company is scheduled to Awlgrip the hull jet black, her original color. New life rings, lines, sails, and interior cushions will be installed. Perhaps over time, she'll replace the rig and put in an electric engine, before passing the boat to her daughters, Lily and Daisy.
"I couldn't have taken on this project without the help of Bob Pooler; Will Welles of North Sails, who outfitted her with a brand new main, genoa, and asymmetrical spinnaker; Carol and Ron Gonzalez at Blue Atlantic Upholstery in Southwest Harbor, who re-upholstered the interior cushions; and John Pratt at The Hinckley Company, who guided the re-commissioning of Night Train after seven years on the hard," she said. "And most of all, I am so thankful to my dad for building her to last." Larry Turner of Camden and Manset neighbor Peter Howard also helped with the project.
In 2021, Night Train and Lizzie were both 52.
"I'm planning for her to outlive me and to remain in our family forever and ever," she said. "She's a real Hinckley, built to last."  
---
Contributing Editor Laurie Schreiber is also a Mainebiz staff writer and has covered topics in Maine for more than 30 years.
---
Hinckley Competition 41
LOA:  41' 2.5"
LWL:  29' 10"
Beam:  10' 3"
Draft:  6' 2"
Displ.:  19,000 lbs.
Sail area:  735 square feet
Keel:  Lead 8,500 pounds
Hull:  Molded fiberglass with end-grain balsa core
Year built:  1969
Designer:
Henry R. Hinckley
Builder:
Hinckley Company
Southwest Harbor, Maine
Share this article:
Digital Edition Available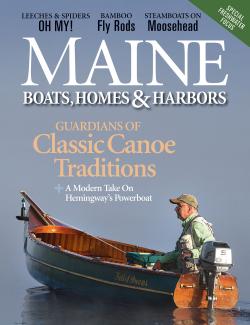 Can't get to the store to buy your magazine? We deliver the stories of Maine's coast right to your inbox. Sign up here for a digital edition.