New & old boats, awards, and magnetic forces
By Polly Saltonstall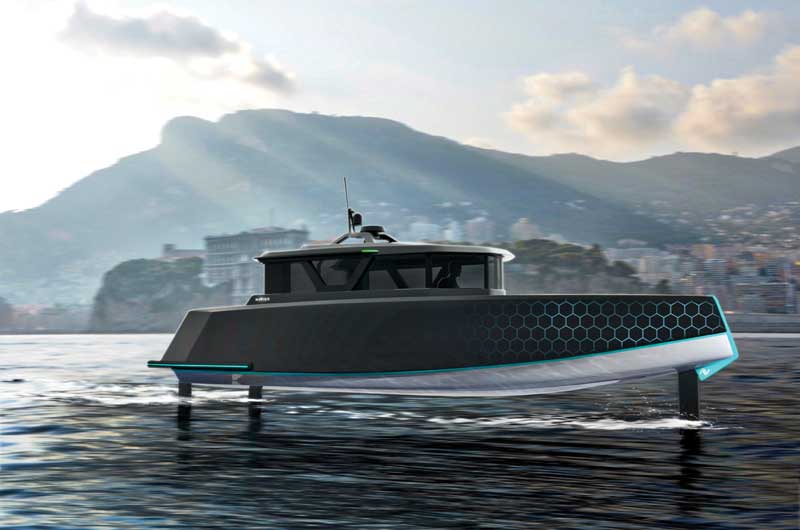 A concept drawing of the Navier 27. Image courtesy Lyman-Morse
High-tech electric boat with foils
Lyman-Morse Boatbuilding has partnered with Navier, a new West coast-based company, to build an all-electric, hydrofoil performance craft outfitted with a highly advanced autopilot.
Navier is a Silicon Valley startup that's building technology to increase the efficiency of small powerboats by 90 percent while ensuring zero emissions and superior ride performance, according to a press release from the start-up. Company co-founders Sampriti Bhattacharyya and Reo Baird have contracted with Lyman-Morse to build a pre-production model and the first year's production run of what they call the Navier 27. The first models, produced under what the company is calling its pioneer program, will be delivered to customers in 2023, according to the release.
Lyman-Morse has experience in working with high-tech, carbon composites. A bonus is the shipyard's location in Maine, an up-and-coming tech hub with a strong boatbuilding heritage, Bhattacharyya said.
"Very few shipyards have the extensive experience, in-house capabilities, and deep interest in high-tech projects as Lyman-Morse," he said.
The 27-foot foiling performance vessel will be capable of a range exceeding 75 nautical miles, and will feature a highly advanced auto pilot. When it launches during the Fort Lauderdale International Boat Show in 2022, it will be the longest-range electric boat in the world, according to the company. If anyone is capable of making this vision come to life, it's Drew Lyman and his team, Bhattacharyya said.
Lyman, who is president of Lyman-Morse, said he is excited about the chance to develop something that is cutting edge and certain to be the future of yachting in this type of market. "To build a carbon fiber, foiling, all-electric boat fits well with what we do at Lyman-Morse, plus it's a boatbuilder's dream project," he said. "We [Lyman-Morse] have built a reputation for beautifully crafted boats, and we are extremely proud of our ability to implement advanced systems and technology. This is exactly what the Navier project embodies."
---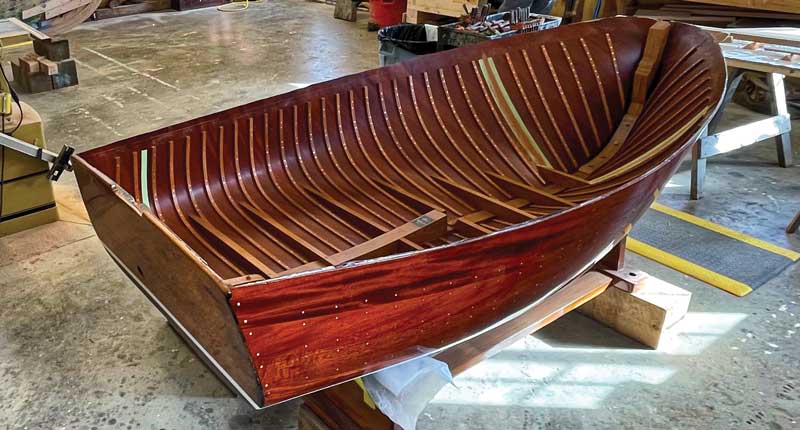 The Bugatti YOU-YOU at Artisan Boatworks. Photo by Polly Saltonstall
Rare Bugatti powerboat in Maine for a rebuild
There's nothing like a visit to a boatyard to brighten up the early winter doldrums. During a recent visit to Artisan Boatworks in Rockport to check on my vintage Dark Harbor 17 Frolic, which is stored there, I got a peek at some cool projects in progress. Taking up space in a main bay was an open wooden power launch built by J.O. Brown and Sons on North Haven in the 1920s. Named Grampus, the 26' 7" launch is getting new frames, a new keel, a new stem, new deck, engine, and generally a new lease on life.
One bay over was a diminutive brightwork skiff with wide rounded sides, shaped pretty much like a little wooden watermelon. Believe it or not, it's a Bugatti, one of just a few boats built by the famed car designer. During the German occupation of France, Ettore Bugatti purchased a small shipyard northwest of Paris on the Seine River and started building boats, according to Artisan's President Alec Brainerd. The little tenders were called YOU-YOUs, and Bugatti built 9-, 11-, and 13-foot models. Brainerd said it's possible just a single prototype of each was built before Bugatti's death in 1947.
The smallest of these prototypes was owned for many years by Tom Perkins and kept aboard his classic 122-foot motoryacht, Atlantide. Recently bought by Internet pioneer Jim Clark, Atlantide is being restored at Royal Huisman in Holland. The YOU-YOU did not fare well over many years on Atlantide's upper deck, and her double-planked, copper-riveted, mahogany hull planking and backbone structure were deteriorated beyond repair. The crew at Artisan was hired to restore the hull—her original Bugatti 170 cc single cylinder engine is being restored by Leydon Restorations in Lahaska, Pennsylvania.
The hull consists of two layers of Honduras mahogany planking over closely spaced thin frames—the inner layer is diagonal, the outer horizontal. The hull gleamed under its 14 coats of varnish, and the dozens of tiny new copper rivets glinted like little pink stars. It's mostly new construction, except for a Bugatti stamp in the keel and the Bugatti name plate on the dashboard.
---
Fast sailing
A Northeast Harbor skipper and his crew won the International One Design World Championship title in Bermuda last summer. Tom Fremont-Smith, 48, is the first to ever win the trophy for Northeast Harbor, the Ellsworth American reported.
"I've always dreamed of the world championships—and holy crap, we did it," he told the newspaper.
The IOD sloop was designed by American yachtsman Cornelius Shields and first built in Norway. The boat first appeared in the late 1930s and the inaugural world competition was held in the 1950s, the newspaper reported. The sailboats must be almost identical between competitors, making the competition based more on skill than the ability to pour money into the boat.
Fremont-Smith's team in Bermuda included Rob Van Alen, Allison Gingerich, Peter Ill, Ned Herrington, and Will Welles.
"No one's ever won the thing, so we tried to put together a crew that could just compete," he said.
---
No container backup in Maine
You might have read about backlogs in container ports on the west coast and elsewhere, but in Maine, the state's only container port in Portland is busy and running smoothly.
According to an article in the Portland Press Herald, at least 36,700 shipping containers are expected to cross the docks at the International Marine Terminal in Portland this year—five times the number of containers that came through the port in 2013, when the Icelandic shipping company Eimskip opened new headquarters in Portland. The volume of containers moving through the port has more than doubled since 2017, the newspaper reported.
Eimskip's ships sail from Portland once a week, on a route that includes stops in Atlantic Canada and Iceland, and connections to northern Europe and Asia.
Eimskip operates its own containers and trailers, so it can turn around shipments quickly and dependably, drawing in more business from clients getting blocked at bigger container ports, according to the Press Herald. These days, the company turns around 125 containers a day. The value of goods imported and exported through Portland has surged along with the increase in container traffic.
Last year, commodities and finished goods and materials worth $882 million crossed the docks, a 75 percent increase from just four years before. Frozen fish is by far the most imported material by value, but top imports also include machinery, apparel, beverages, minerals and metals, according to the Press Herald. Exports through the port were valued at $269 million last year, more than twice the total export value in 2017. They included ammunition cartridges, prepared fruits and vegetables, wooden medical instruments, industrial and electric machinery, and pulp and paperboard.
---
The lure of magnetic forces
Eels live incredibly mysterious lives. They grow to maturity in rivers and ponds and then swim all the way to the Sargasso Sea where they spawn. They return as tiny translucent slivers known as elvers and swim back up to those same freshwater places where the cycle begins anew.
But despite many studies, no one has yet captured a sexually mature eel from the wild, nor observed the species in the act of spawning, according to an article in the Portland Press Herald. And until now, researchers had no idea how eels navigate all the way to and from the Sargasso. Caroline Durif of the Institute of Marine Research in Bergen, Norway, has done studies indicating that like many other animals which migrate long distances, eels can sense Earth's magnetic field. According to the article, her hypothesis is that eels can detect not only the direction of the field, but also its strength which varies according to latitude. Dr Durif and her colleagues argue that eel larvae travel to regions of higher strength (which tends to propel those from the Sargasso northward) while adults do the opposite. Her hypothesis is that eels retain both a memory of the flux at their hatchery and a recollection of the details of how it changed as they migrated. Then, when mature, they invert that pattern and use it as a navigation aid to return whence they came.
The research, which could have huge implications for eel conservation, is still ongoing.
Why, you might wonder, do we report on research like this? It's because the elver fishery has a very high economic value in Maine, where a pound of the slippery little slivers can sell for close to $2,000.
---
May day, NOT
Be warned, trying to trick the Coast Guard with fake distress calls can be a very costly game. The Bangor Daily News recently reported that while a Rockland man will not serve any additional jail time for making a fake distress call last year, he must repay the Coast Guard a hefty sum for the resources the agency spent on the search the call spurred. In handing down the sentence, the federal judge said the $17,500 fine represents a fraction of the actual cost of the search.
The incident began around 6:30 a.m. on Dec. 3, 2020, when the Coast Guard received a distress call claiming a boat was taking on water and the crew was preparing to jump ship. But, after several hours of searching, the Coast Guard called off the search, after finding no indication of anyone being missing or in distress in the area. The caller indicated that he was trying to get the vessel to Atwood's Lobster Co. in Spruce Head. A Maine Marine Patrol officer went to the neighboring Spruce Head Fishermen's Co-op and made contact with the suspect, who worked at the co-op, according to court documents. While at the co-op, the officer spoke to another co-op employee and played the recording of the call. The employee said the man on the call sounded like the suspect. The officer also discovered the co-op had a VHF radio dialed into the same channel on which the distress call was made.
---

The MJM 4z. Photo courtesy MJM
MJM announces new model
MJM's latest high-tech performance yacht: the all-new 4z made its world debut recently at the United States Boat Show in Annapolis, Maryland. The new 4z is a blend of the popular MJM 3z Dual Console and the liveaboard express cruiser, MJM 40z.
With an LOA of 46' 8", the 4z is a crossover model designed as a day yacht with four social zones, a galley-up layout, and overnight accommodations. The galley-up design is a first for MJM, but it's a common-sense layout that keeps everyone at the center of the action.
The open bow and aft cockpit offer spacious outdoor seating, while the indoor/outdoor pilothouse provides protection from the elements. Electrically activated windshields, sliding side windows and back all open effortlessly for a partly or completely open-air voyage. Below deck is a large V-berth and a double berth amidships. Special attention has been dedicated to the yacht-sized head with glass enclosed shower.
The 4z will initially be offered with the option of triple 300-hp Mercury outboards or twin 600-hp Mercury Verados. Twin 440-hp Volvo DPI sterndrives will be offered for the 2024 model year.
---
Squid like to eat shrimp, too
Scientists believe that the chief culprit in the collapse of Maine's prized shrimp fishery could be a voracious species of squid that has thrived in the region's warming waters.
Ten million pounds of Maine's small shrimp, known as Pandalus borealis, were harvested annually earlier in this century, according to a recent report in the Bangor Daily News. But in 2012, the population collapsed and federal regulators closed the fishery.
Pandalus borealis prefer cold water—Maine was always at the southern edge of their range—and the 2012 crash coincided with warming of the Gulf of Maine's waters to the highest temperatures since the 1950s, the BDN reported.
Anne Richards, a fisheries biologist based in Woods Hole, Massachusetts, told the newspaper that at the same time the number of shrimp shrank, the population of longfin squid exploded, which demonstrates that even when warming waters aren't necessarily directly killing temperature-sensitive animals, climate change can drive important shifts in the relationships between prey and predators. Regulators were planning to meet this winter to determine whether or not to reopen the shrimp fishery.
---
Non-profit to the rescue
Union Wharf, at the heart of Portland's working waterfront, is being purchased by the Gulf of Maine Research Institute in a transaction that aims to maintain access for fishermen, oil spill responders, lobster wholesalers, and other maritime businesses, according to a recent story in the Portland Press Herald.
The wharf has been in private hands since it was built more than 200 years ago.
Some had feared the prime waterfront parcel would end up with an out-of-state developer. But members of the Poole family—which has owned the wharf outright since the 1950s—agreed to sell the property to their immediate neighbor, GMRI, a marine research institution that purchased and rehabilitated Wrights Wharf just to the west and has specialized in research relevant to fisheries, aquaculture, and other maritime industries. GMRI's bid wasn't the highest, Charlie Poole told the Press Herald, but the family chose to sell to the institute because of its commitment to remain long-term stewards of the pier as the anchor of the working waterfront.
Meanwhile, GMRI was awarded $749,815 for its Blue Economy Initiative, which is developing a collaborative commercialization platform for the marine-related startup sector.
The money follows a federal grant of $749,856 awarded to the initiative in April to help seafood businesses recover from the pandemic.
The new funding, from the federal Economic Development Administration, aims to enhance the global competitiveness of the Gulf of Maine seafood industry, create high-quality jobs, and generate blue economy entrepreneurship, according to a news release.
---
The CAT prowls back
The CAT high-speed ferry from Maine to Nova Scotia, Canada, is set to resume service next spring, according to a report in the online version of Mainebiz. The high-speed CAT travels between Bar Harbor and Yarmouth, Novia Scotia, in three and a half hours.
Bay Ferries, the Canadian company that runs the ferry, suspended its 2021 operating season early last winter because of COVID-19.
For 12 operating seasons going back to 1998, the CAT transported 1.7 million passengers from Maine to the fishing ports of Nova Scotia's southern shore. Originally traveling from Bar Harbor, the service added Portland to the route in 2006 and later traveled only from Portland until a terminal lease with the city expired in 2018.
Service from Bar Harbor was to have resumed in 2019 after the town bought the terminal where the CAT docked there, only to be held up by construction and permitting delays.
---
MBH&H writers honored by peers
Maine Boats, Homes & Harbors magazine and its writers were honored recently with a handful of prestigious awards from two national magazine associations. MBH&H won one first-place Eddie and four honorable mentions in Folio's 2021 Eddie and Ozzie contest. The magazine also collected a gold, a silver, a bronze, and an award of merit in the International Regional Magazine Association's annual contest.
The Eddies and Ozzies recognize excellence in journalism and design across all sectors of the publishing industry. IRMA members include state, province, and regional publications from across the United States, Bermuda, and Canada.
The Folio first place Eddie in the category of essays and criticism in regional magazines came for an essay by Dr. Elizabeth Burgess, a research scientist at the Anderson Cabot Center for Ocean Life at the New England Aquarium, "Ocean Health, Monitoring Large Whales in a Changing Ocean."
Other Folio Eddies included honorable mentions for: an essay in consumer-oriented publications for Cig Harvey's piece "Why I Love My Pontoon Boat;" Single story in a regional publication for Rich King's feature article "Holly Martin and Solo Sailing Women;" and in the consumer magazine category for a series of stories of interesting 2021 boat launches.
Awards from the International Regional Magazine Association, included a first in the general feature category for magazines with a circulation under 35,000 for a story by Wendy Arundel about her grandfather's adventures in Nova Scotia, "The Strange Tale of Outer Baldonia." "Okay, I really liked this one," wrote the judge. "Just a delight!"
Other IRMA awards included:
Historic Feature, 35,000 or less circulation: An award of merit for "A Year in the Life of a Lighthouse," by Ronald Joseph.
Nature and Environment Feature, 35,000 or less circulation: Bronze for "Leeches, Snappers, Spiders, and Snakes Oh My!" by Ronald Joseph. "Gory details compel further reading (at least they did for me)," wrote the judge.
Reader Service: Silver for the magazine's series on aquaculture by Nancy Harmon Jenkins. "Beautifully reported and written. Brava! This piece effortlessly (well, it seems effortless but I know it was a lot of hard work) fuses themes of climate change, culture, innovation and survival. Stunningly good," was the judge's comment. The series by Jenkins also won an honorable mention Eddie from Folio in the analysis category for consumer-oriented publications.
---
Over the bar
Maine has lost a national treasure, literally. Boatbuilder Ralph Stanley, who was known for his beautifully constructed wooden vessels, from 10-foot rowboats to elegant Friendship sloops, died in early December. He was 92. In addition to his boatbuilding, he also played and built fiddles and spent much of his free time researching and writing histories of his town, his family, and boats. In 1999 the National Endowment for the Arts recognized his importance to Maine and the nation by naming him an NEA National Heritage Fellow. I served for years on the board of the Penobscot Marine Museum with Ralph. Extremely dedicated, he rarely missed a meeting, always arriving with his patient wife, Marion, in tow. He listened carefully and moved the discussion along when the time was right. After sitting next to him at countless meetings, I was persuaded to have him build me a rowboat. It was a beauty. You could stand on the gunnel with both feet, and it still would not flip. Many times, we loaded it up to the brim with dogs, kids, and bags but never saw a drop of seawater seep over the edge. A veritable encyclopedia of the history of his hometown Southwest Harbor and the larger community of Mt. Desert Island, Ralph was a quiet but forceful presence in the world of wooden boats. Farewell, Ralph. We will miss you. 
Share this article:
2023 Maine Boat & Home Show

Join Us for the Maine Boat & Home Show!
Art, Artisans, Food, Fun & Boats, Boats, Boats
August 11 - 13, 2023 | On the waterfront, Rockland, Maine
Click here to pre-order your tickets.
Show is produced by Maine Boats, Homes & Harbors magazine.