Finding joy on the water
By John K. Hanson, Jr.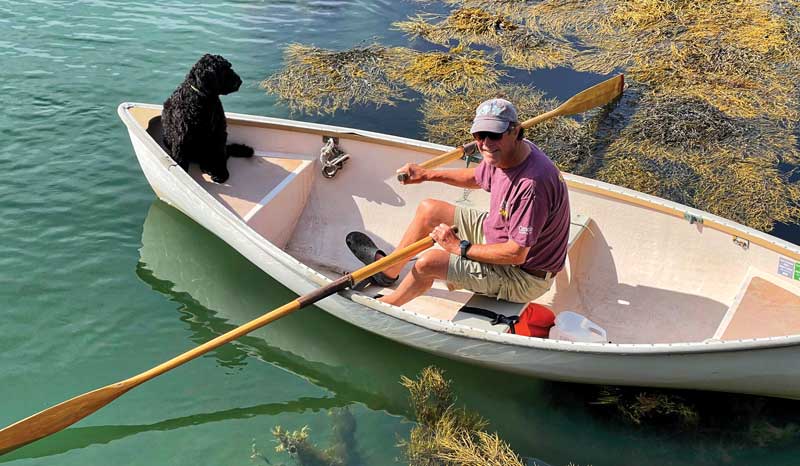 Recently, my wife and I went to San Francisco to see our son Jack, a student at the University of California at Berkeley. Among our weekend of small adventures, I got to go on a couple of boat rides.
Jack is on the Berkeley rowing team, and the coach let Polly and I ride with the assistant coach in one of the multihull coaching launches to watch an early morning practice on the Oakland estuary. These launches are not much to look at, but they are stable, leave no wake, and go fast—an eight-man shell with strong young oarsman can reach speeds of 14 miles per hour or more.
More impressive were the young athletes pulling their hearts out on that grey, cold morning. We watched a series of pursuit races each 5,000 meters long. Exertion and competition, speed and grace, dedication.
Later that morning, I met up with my friend Charles and his crew at BAADS, the Bay Area Association of Disabled Sailors, a group of sailors, and volunteers who help out ashore and in the chase boats. Charles and his colleagues sail a range of small boats from Hansa, an Australian boatbuilder. Set-up for disabled sailing, these boats have ballasted centerboards, and wide side decks that make them extremely difficult to swamp or capsize. Some of the boats are set up with electric motors to facilitate sheet management and steering for those sailors with limited upper body strength.
The well-designed shore set-up at BAADS efficiently moves sailors on and off their boats.
Charles was loaded from his wheelchair into a sloop-rigged 303 with me, and we sailed out into the harbor. With the two of us onboard, we weren't as fast as some of the other boats with solo sailors, but the views of the San Francisco shore line were just as beautiful.
Both Charles and I love the act of sailing and just being out on the water. "When I go sailing, my world goes from black and white to color," Charles said. Likewise, my son at Berkeley and other rowers have told me that while the rowing can be hard and painful, just being on the water sooths the soul.
Thinking back on that weekend, I realize that while the Cal rowers and the BAADS sailors experience the water in very different ways, the joy they find is similar. So, the moral of this story is that it doesn't much matter how you get there, what counts is that you do it! Let's go boating! 
Share this article:
2023 Maine Boat & Home Show

Join Us for the Maine Boat & Home Show!
Art, Artisans, Food, Fun & Boats, Boats, Boats
August 11 - 13, 2023 | On the waterfront, Rockland, Maine
Click here to pre-order your tickets.
Show is produced by Maine Boats, Homes & Harbors magazine.