Ebbe and Sophie
By The Editors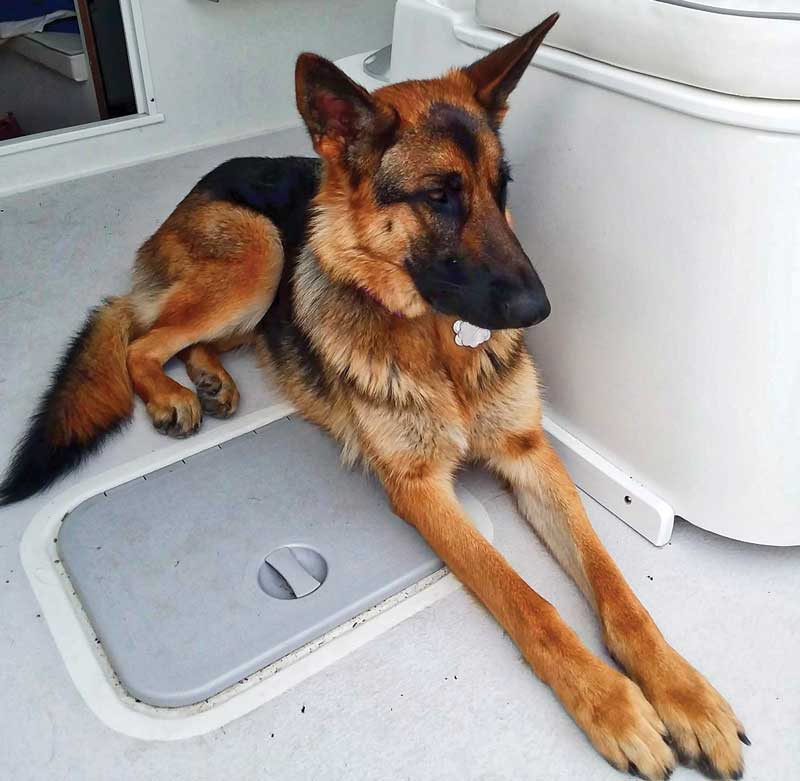 Ebbe
Meryl and Ted Freeman say they should have known better than to have named their German Shepherd pup Ebbe, which means "low tide" in German. Now approaching two years old, she seems to want to prove the name's accuracy by splashing through muddy low tide water (and mud) as often as she can. She also loves to play stick games with the grandkids or tug-of-war with anyone she can entice with her hunk of old dockline. But mostly, she loves to be with the Freemans whether on land or at sea.
As the family cruises Penobscot Bay region in their Seaway 24 hardtop, she usually settles in on her blanket and naps. But as they approach shore she is always quick to bark at seals, or at the foghorn at Mark Island Light (West end of Deer Isle Thoroughfare, just south of Stonington). "She makes a great cruising companion for us," the Freemans said.
✮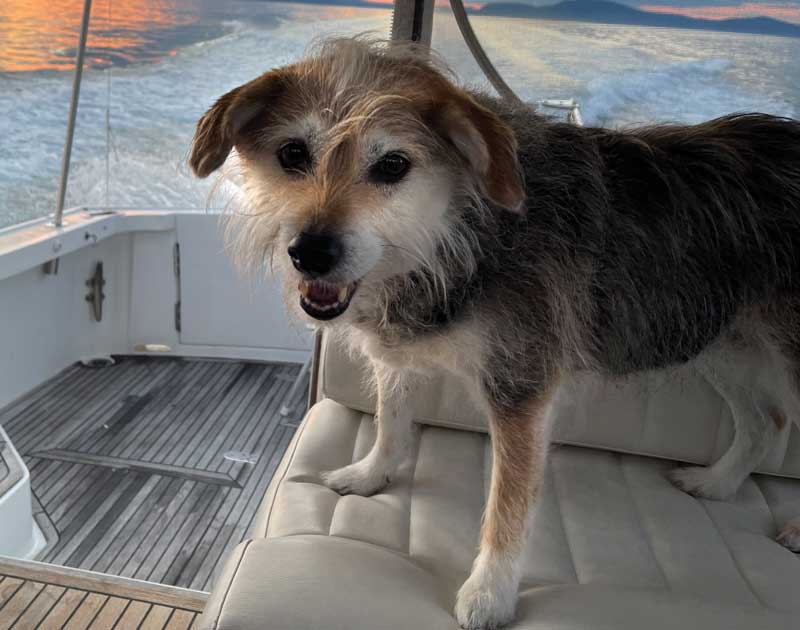 Sofie
A rescue dog found wandering the streets in South Jersey, Sofie's lineage is uncertain, but the vet proclaimed her "all the right kind of breeds" on her first appointment. What we do know, is that she was born a landlubber, and hated water. That changed in 2021 when Sofie went cruising on her humans' new boat, a Grand Banks Eastbay 38 named Brilliant.
Sofie quickly found her footing. "Every time we turned around she was at the bow of the boat, wind in her face, the perfect figurehead," said her human Kat Stuart. "One of my first purchases was a doggie life jacket because she was so fearless and clueless about boat safety."
When Sofie realizes she has arrived at the dock, she whines to get down the ramp ASAP, and then inspects every foot of the boat before it leaves the harbor.
"Whether she is snuggling into our bunks, greeting guests when they come aboard, or forcing us to explore islands because we have not trained her to relieve herself on fake grass, she is one of the crew," Stuart said. "I never understood why so many folks brought their dogs on the water, until now." 
✮
Share this article:
2023 Maine Boat & Home Show

Join Us for the Maine Boat & Home Show!
Art, Artisans, Food, Fun & Boats, Boats, Boats
August 11 - 13, 2023 | On the waterfront, Rockland, Maine
Click here to pre-order your tickets.
Show is produced by Maine Boats, Homes & Harbors magazine.