The Zurn Daychaser 48 designed for concierge yachting
By Art Paine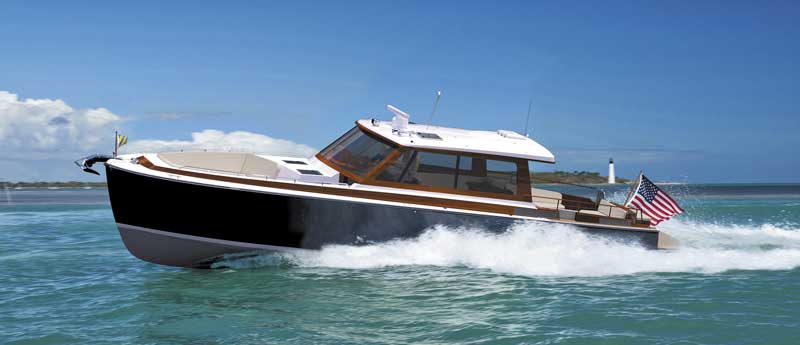 The Zurn Daychaser is designed specifically to be used as a charter boat for the Barton & Gray Mariners Club. Image courtesy Doug Zurn The Zurn Daychaser 48 is a boat that you won't likely ever own. You won't choose its color or upholstery fabric, or dream up a witty name and have it painted on the transom. Nor will you take the helm or handle the dock lines—passengers are discouraged from touching them. This is a boat designed for a whole new means of pleasure boating.
This Doug Zurn design was custom drawn for the Barton & Gray Mariners Club.  The concept of shared boat ownership, time-share chartering, and joint-use clubs cropped up about 20 years ago. The idea was to get maximum usage out of a boat rather than just having it languish at a marina, as well as to spread out the costs of ownership. Members of the Barton & Gray Mariners Club neither own the boats nor worry about maintaining them; they just take day trips within restricted boundaries on boats with captains, every trip structured to include whatever it takes to provide maximum enjoyment and luxury. The company began with one Hinckley Picnic Boat located in Nantucket during the summer and Palm Beach during the winter. But as the idea took hold, boats were added in other ports and the club now owns 60 Hinckleys.
According to company co-founder Doug Gray, starting with the snazzy Hinckley Picnic Boat was key to success. The Hinckley drew a clientele that wanted the ultimate in styling, safety, and comfort. The ideal size to date has proven to be between 36 and 44 feet, small enough for an intimate group and big enough for six passengers. The new Zurn Daychaser will expand significantly upon that template, but still feature plenty of luxury touches.
The origins of the Daychaser go back to 2019, when Barton & Gray began to consider securing a roomier, custom-designed yacht crafted specifically to meet their mission. Their boats all were run by captains, and the boat they had in mind would be capable of accommodating more passengers. A capacity of 12 guests argued for full Coast Guard certification as an inspected vessel. That, and a liking for his artistic style, led them to Zurn.
While researching the ergonomics and spatial requirements for such an excursion boat, Zurn rounded up some sailing buddies for a catered day cruise off Nantucket. He discovered that a blend of sampling fine wines and great food, topped off with sun, swimming, and beach time made for a convincing experience. His reaction alternated between, "I could get used to this!" and "I'm going to get to design a whole 'nother animal of a poweryacht!"
Providing captained boats, essentially for hire, and anticipating as many as a dozen passengers, required inspections by the Coast Guard all through the building process. The Zurn design office was experienced at this. They'd overseen the conversion of an MJM 40z into a ferry serving a casino in Chelsea, Massachusetts, to the same certification. As had been the case with that project, Boston BoatWorks was chosen as builder for the new Zurn Daychaser. To satisfy the Coast Guard, hulls must be brutally strong. BBW uses post-cured epoxy resins—pretty much the gold standard for durability.
In addition to being strongly built, this is probably the most purpose-built design I've ever reviewed. For instance, it has no fewer than three freezers in separate locations. Ice will never be far from drinks. It's also got three refrigerators, to keep the customarily shore-catered food at perfect freshness. The main galley space is "up," so no one needs to go below for food and drinks. There's no provision for a charcoal or propane grill, since the Coast Guard looks askance at open flames or any source of heat in a warm-weather excursion vessel.  There is a small bar in the pilothouse and comfortable chaise lounges on the aft deck as well as up front.
When Zurn sat down to draw, he first harked back to a previous 50-footer that looked like a blown-up Picnic Boat. But he soon figured that a big party boat would benefit from the most commodious piloting/shelter/mingling space. The  shelter house in the Daychaser spans nearly the entire beam of the hull. Safe passage forward is through a door in the windshield. That way, people can roam from the stern platform to the bow in perfect security, instead of teetering on skinny side decks. Zurn also envisioned the big pilothouse as a great place to embellish with a warm glow of brightwork. That's one thing clients had always gushed about with the Hinckleys.
The Mariners Club base of operations shifts with the seasons. The biggest market, the East Coast, sees the fleet snowbirding from New England in the summer to Florida in the winter. All the company's boats have always had shallow draft, capable of beaching stern-to  so that passengers may alight into shallow water. And all have utilized waterjet propulsion.
Zurn often urges clients away from waterjets, feeling they're only at their most efficient going close to flat-out. But besides swimmer safety and beaching, jets have another big advantage. Captains of a jet-drive boat can skim to a new assignment day or night with much less concern about flotsam or fishing gear. The two Cummins diesels, of 550 horsepower each, drive Hamilton HJ322 jets, which indicate a top speed of 35 knots or higher anywhere below half-load.
The boat is configured for high-powered people, too. For example, in addition to a large shower stall, the head contains assets more like a hotel than a boat. There's space to lay out or stow city clothes, and storage for briefcases and documents. Tucked out of the way, athwartships, is the sole sleeping berth. It's there for anybody who just wants a rest, or for the crew to catch a snooze during a delivery. Finally there's a large, multipurpose desk where someone can deploy a laptop and lots of paperwork and finish up on, well, whatever it is executives do when they'd really rather be out on deck letting loose.

The spacious layout includes plenty of room for comfortable lounging. The boat is designed to carry parties of up to 12 guests. Image courtesy Doug Zurn
The design calls for one floor level throughout, including the swim platform. So there will be less concern about landlubbers tripping or falling. Much thought has been given to maximizing every possible element involved in human activity. This includes chases and channels for wiring, hydraulic lines, controls, and even the knuckle-room required to pour a can of oil into a funnel. The boat's 15 feet of overall beam allowed Zurn to find room to fit heavy 8-D batteries outside the engines, along with sufficient access for when those big batteries need to be replaced.
There will be some teak on the boat, but most of the flooring will consist of composite decking, not so dear or environmentally scandalous as tropical wood, and more easily replaced after seasons of wear. There will even be some "faux teak" employed to draw your eye fore and aft. Like Maine lake party pontoon boats, the Daychaser has cup holders everywhere.
Zurn said the aspect of design that means the most to him is a boat's looks. His designs are quite recognizable, and this boat is no exception. It features a slight reverse sheer and an extravagance of varnished wood. The wide-flared bow tapers into a tumblehome stern. This hull design can push the side decks away from a dock. Modern marinas often provide a long row of fat balloon fenders, which nicely protect the hull but create even more of a gap between boat and dock. That can require a fairly long jump, even for experienced boaters.  I'm surprised that some designer hasn't invented a "slide-out" short gangplank for hulls like this. That said, a dedicated pass-through for the cockpit coamings on both sides is definitely a step in the right direction.
The cavernous house has big glass windows, and, as noted earlier, the left-hand portion of the Daychaser's windshield hinges outward for access to the "forward lounge."
Mariners Club membership runs around $39,500 a year. In addition to straight memberships, Barton & Gray is also offering members the opportunity to buy a Daychaser, or invest in a club-operated yacht, resulting in lease income and tax benefits, along with membership.
Though I think of myself as an old mariner, and I'm trying my best to save money, I don't think I will join right now.
But I get the Mariners Club/Daychaser logic. It would take a lifetime of those membership fees to buy a new and perfect twin-inboard 48 foot powerboat, and years to visit all the Barton & Gray home ports.
The B&G Daychaser 48 will debut in early 2022, with the first few making their way to and from many of the harbors where the club operates.  
---
Contributing Author Art Paine is a boat designer, fine artist, freelance writer, aesthete, and photographer who lives in Bernard, Maine.
B&G Daychaser 48' 
LOA:  48'
Beam: 14' 11"
Draft: 2' 6"
Engines: twin Cummins 550HP diesels
Propulsion: Hamilton Jet Drive
Top Speed: 35 Knots
designer
Doug Zurn
Zurn Yacht Design
Marblehead, MA
781-639-0678; zurnyachts.com
Operated by
Barton & Gray Mariners Club
www.bartonandgray.com
Share this article:
2023 Maine Boat & Home Show

Join Us for the Maine Boat & Home Show!
Art, Artisans, Food, Fun & Boats, Boats, Boats
August 11 - 13, 2023 | On the waterfront, Rockland, Maine
Click here to pre-order your tickets.
Show is produced by Maine Boats, Homes & Harbors magazine.