Wells: A Day in Maine's Low Country
By Mimi Bigelow Steadman
Wells Beach lies at the heart of the town's seven-mile-long string of beaches. While high tide covers much of the sand, its departure reveals a broad swath perfect for walkers and sunbathers. Photo by Mimi B. Steadman
Halfway along the loop trail at the Rachel Carson National Wildlife Refuge, we detoured onto a small observation deck to take in the vista. My gaze followed a tidal stream snaking to the sea through broad marshes painted in celadon and khaki. Canada geese dabbled in the muddy shallows; a piping plover flitted above pine boughs that sighed in the springtime breeze. The serenity was captivating.
The scene bore no resemblance to Maine's famed rocky coast found farther downeast. Southern Maine's low-lying shoreline instead is a place to appreciate the subtle beauty of wetlands and to explore their vital role in the coastal ecosystem.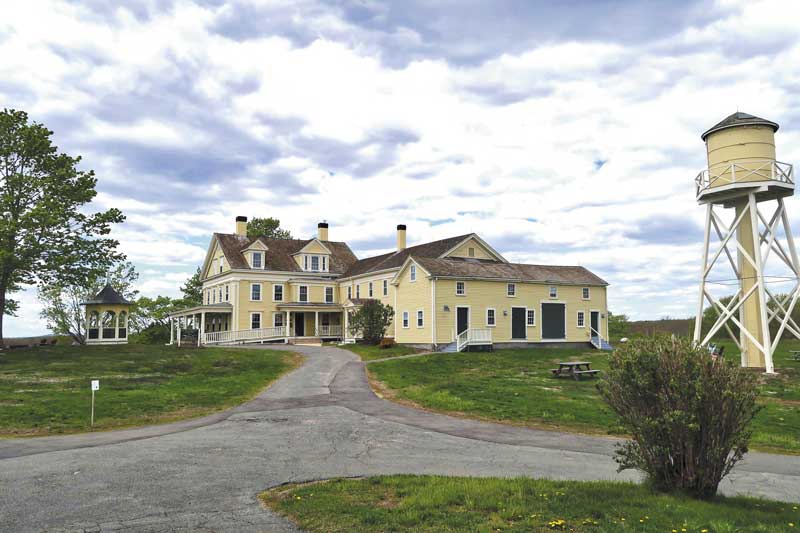 Century-old Laudholm Farm is now home to the Wells National Estuarine Research Reserve. Photo by Mimi B. Steadman
A perfect spot to do both is the Wells National Estuarine Research Reserve, headquartered at Laudholm Farm. Housed in a handsome collection of large yellow buildings dating from the late 1800s and early 1900s when this was a prominent saltwater farm, the organization's mission is the study and conservation of salt-marsh habitats and their fauna and flora. These days, sea-level rise is among its foremost concerns. In addition to a visitor center with exhibits, the 2,000-plus-acre property offers seven miles of trails threading through meadow, forest, freshwater wetland, and salt marsh to an unspoiled beach.
We needed the hike, as when we'd first arrived in Wells that morning, we'd made a beeline for Congdon's Doughnuts, long known for its irresistible goodies. Deciding among both raised and cake-style doughnuts, we'd said yes to a honey-dip doughnut and a wild Maine blueberry fritter. And we didn't regret a single calorie.
We walked some more—or rather slowly prowled—at Reid's Antiques. A large, multi-dealer mall, it's one of at least 25 shops and malls that make Wells a heaven for antiques hounds. Wandering among the overstuffed aisles, I paused to study a World War II Army Air Corps uniform, pondered whether we needed another cast-iron pan, admired a couple of ship models, and smiled at rainbow-colored crockery that stirred memories of my mother's kitchen.
Those retro dishes would look right at home in the vintage cottages out on Wells Beach. As we drove slowly past the cheek-by-jowl lineup, they seemed caught in a bygone time of simple family vacations. Hemming the edge of a barrier peninsula carved from the mainland by long, narrow Wells Harbor, Wells Beach lies at the midpoint of the town's spectacular seven-mile string of low-key beaches that draw tens of thousands of visitors every summer.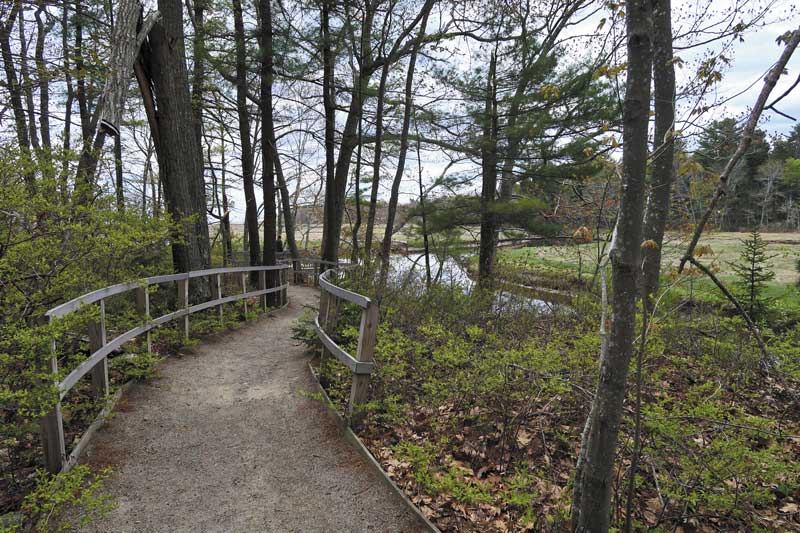 At Rachel Carson National Wildlife Refuge, a trail meanders alongside protected saltwater marshes. Photo by Mimi B. Steadman
We headed back across the Mile Road causeway to explore the docks on the harbor's inland side. Greeted by colorful sea-life murals painted by local high-school students, we were charmed by a series of panels illustrating how to tie various marine knots. Each included a length of line for practicing. At the bowline primer, I paused to send the rabbit up through the hole, around the tree, and back down again.
Wells Harbor seems welcoming and protected. Yet I'd discovered that cruising guides urge caution, describing it as very challenging. So I queried harbormaster Michael Yorke. "It's a great place!" he told me. "Yes, we've got a fast tide and some shoaling. But when people call to reserve a mooring or slip, I tell them what they need to know."
It was well past lunchtime on a weekday afternoon, but we still encountered a wait at the perennially popular Maine Diner. Once seated at the counter, I dug into my lobster pie—nothing but butter-basted lobster chunks topped with Ritz cracker crumbs. It came with a little cup of extra melted butter, just in case I wanted to really drench it. Munching, I reviewed the day's highlights: exceptional nature trails, wide beaches, nice harbor, endless antiquing, killer doughnuts, and a lobster-and-butter bonanza. Michael Yorke is right: This town's a great place to visit.  
---
Contributing Editor Mimi Bigelow Steadman lives on the Damariscotta River in Edgecomb.
If You Go to Wells
On the Water
Wells Harbor is a scenic, sheltered destination for yachts cruising Maine's southern coast. Because of its shallowness, however, vessels drawing more than six feet should avoid it. Be sure to monitor the tide, as transiting the narrow entrance is not possible at all tides. Contact harbormaster Michael Yorke for local knowledge and reservations (207-646-3236; slips and moorings, $30).
Dining
Wells is home to numerous popular restaurants, most specializing in traditional coastal fare. The Maine Diner's lengthy menu of fresh seafood and diner classics inspires dreams of multiple visits to savor all the dishes, many of them served with a signature corn muffin. Be prepared to wait for seating. Down the road at Congdon's Doughnuts Family Restaurant, the delectable doughnuts and all-day breakfasts have been earning customer devotion since 1955. An adjacent food-truck park provides another reason to stop. Open nightly between May and late October, Congdon's After Dark features nearly a dozen trucks, music, a beer garden, and, of course, doughnuts.
Shopping
Wells claims to be the Antiques Capital of Maine, and it just may be. Strung along Post Road (Route 1), more than 25 antiques shops and large, multi-dealer malls lure treasure hunters to delve into a vast array of vintage collectibles, quality antiques, and lots of fun old stuff. Popular stops include multi-booth malls Reid's Antiques, Bo-Mar Hall, and Anytime Antiques, as well as fine period antiques dealer R. Jorgensen.   
Hiking and Paddling
Headquartered on its land in Wells, the Rachel Carson National Wildlife Refuge comprises a total of 11 locations dotting 50 miles of coastline from Kittery to Cape Elizabeth. Its focus is the conservation of salt marshes and estuaries for migratory birds. The mile-long interpretive trail at the Wells location is wheelchair-accessible. At the Wells National Estuarine Research Reserve, visitors are welcome to hike seven miles of boardwalks and trails that lead to a quiet beach. There are also regularly scheduled, small-group activities (by reservation; fee charged), including guided nature walks and kayak tours of the Webhannet estuary. Admission to both properties is by donation. Wells Harbor, and the Webhannet River which flows into its northern end, offer pleasing waters for paddlers. Canoes and kayaks may be rented at Webhannet River Boat Yard, World Within Kayak Rentals, and Wheels n Waves. The latter also offers surfboards and SUPs, boogie boards, skim boards, beachgoers' gear, and bikes.
Share this article:
2023 Maine Boat & Home Show

Join Us for the Maine Boat & Home Show!
Art, Artisans, Food, Fun & Boats, Boats, Boats
August 11 - 13, 2023 | On the waterfront, Rockland, Maine
Click here to pre-order your tickets.
Show is produced by Maine Boats, Homes & Harbors magazine.