Pond racing, whale tales, and floating picnic tables
By Polly Saltonstall

Photo by John Arey
Model pond racers take to the water
Large yachts flock to venues along the Maine coast for racing during the summer, but another group of intrepid midcoast yachtsmen race their smaller sloops here year-round. And these much smaller boats do not even require crew.
Meet the skippers of the Maine Model Yacht Club: They even have a commodore, just like a big boat club. That would be Huck Massey, a Rockland resident who makes his living at a variety of endeavors, including installing vineyards, operating a commercial drone, and building furniture.
The club officially began when Massey became a part-time companion to Jim Dill of Rockport, a naval engineer who had been part of a local group of model sailors a decade or so ago. Dill who was in hospice care at the time told Massey that his greatest wish was to see that model boat club resurrected.
"I told him that if that's what he wanted, we would do it," said Massey. "A year later we have 40 members. Jim is no longer with us, but he got to see us sailing in all our glory in Camden Harbor."
Dill and his colleagues had raced a miniature version of Solings, but since those pond models are no longer readily available, the club now races Dragon Force 65 (the 65 stands for 65 centimeters). The boats carry battery-powered rigs and sailors use remote control to trim the sails and steer.
"These modern plastic hulled boats are engineered to be fantastic remote controlled boats," reported Massey. The boats also are relatively inexpensive—around $295. The club has acquired 10 boats for people interested in trying them, he added.
The Maine club, which covers the east coast region down to New York, is one of seven regional organizations that all race the Dragons. The regional clubs will hold local championships this fall and winners will compete in nationals in Dallas next November. For the local club, nine of 12 races in each quarter are counted toward a points total. In the fall, winter and spring the club holds races on Sundays in Camden Harbor and during the summer they race on Wednesdays on Hosmer Pond—since many club members are busy racing their full-sized yachts on summer weekends.
The club has formed a board and set up a website: Mainemodelyachtclub.org, and they also are on Facebook.
The competition is fierce, and boats have been known to get away, and once one even sank—a battery hatch cover came off. Massey had to dive to recover the boat. That disaster might have been averted if Stuart Little had been on board. Perhaps the club should put out a call for mice who sail!
---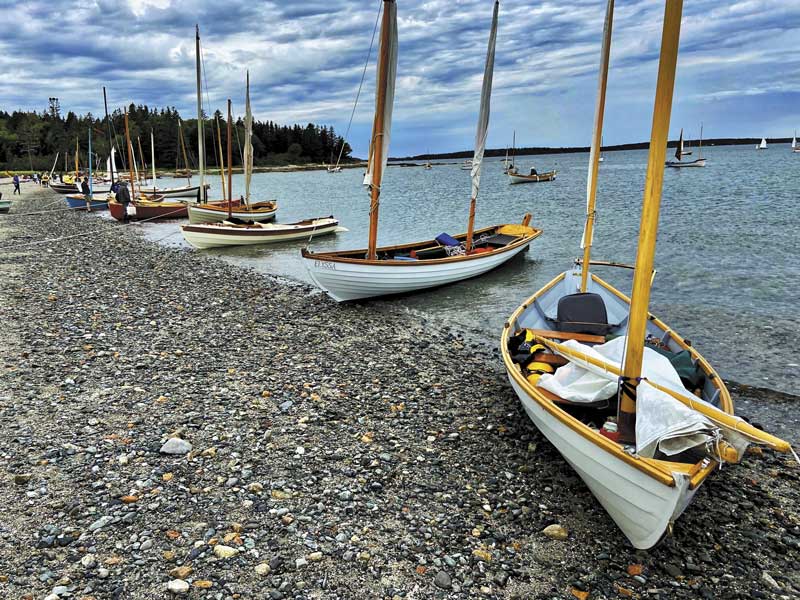 Speaking of small boats
For the past 15 years, small rowing and sailing vessels have congregated for a few days each summer near Brooklin, Maine, for the Small Reach Regatta, which consists of day sails and water camping trips. Sponsored by the Downeast Chapter of the Traditional Small Craft Association, the event this year was held during four days in early July, based at Atlantic Boat in Herrick Bay. But unless a new group of organizers steps up to the plate, this year's event will be the last, according to Ben Fuller, who has been part of the group planning the event in the past.
"The bottom line is that we are all getting old," Fuller said.
When the event first began, it was small with maybe eight or 10 boats, he said. Since then it has grown. This year there were over 80 boats. Fuller and his fellow organizers have asked around to find someone else to organize the regatta with no luck so far. "But we haven't ruled out someone else stepping up," he said. "All the systems are in place."
---
WoodenBoat instructor goes digital
The bad news is that long-time WoodenBoat School Director Rich Hilsinger is retiring next December after 38 years at WoodenBoat. But there's good news, too: he's going digital. The WoodenBoat School is now offering on-line video courses.
Each month Hilsinger hosts a new video episode you can stream from the comfort of your home. The Mastering Skills with the WoodenBoat School series covers a variety of topics pertaining to traditional small boats, their construction, and crafts. You'll learn from seasoned boatbuilders Greg Rossel, Eric Dow, and Milo Stanley.
Throughout the year, Rich and company will provide helpful tips, techniques, and various approaches to building a small wooden boat, as well as other woodworking projects. Topics include reading and understanding boat plans, laying out and cutting a stem rabbet, steam-bending frames, spiling planks, wooden spar construction, scarph joints, interior joinerwork, building half models, and lots more.
Run times are approximately 30 to 60 minutes. The subscription fee is $49.95 a year. For more information: www.woodenboatschool.org.
---
Which way is the wind blowing?
Those following the state's involvement with offshore wind farms might have been confused by two recent, seemingly contradictory developments. Maine Gov. Janet Mills signed a bill into law that prohibits new offshore wind projects in state waters. The prohibition, according to a news release, preserves those areas for recreation and fishing, and calls for locating offshore wind projects in federal waters. The reference to federal waters is key, because Mills also has signed into law another bill, which advanced the state's creation of the nation's first research area for floating offshore wind farther offshore in the Gulf of Maine, which is home to some of the highest sustained wind speeds in the world. The Administration has proposed a small-scale research array, with up to 12 turbines, that will use floating platform technology developed by University of Maine and a public-private partnership with New England Aqua Ventus. The new law authorizes the state to negotiate a contract with a transmission and distribution utility to purchase up to 144 megawatts of energy from the proposed floating offshore wind research array. 
---
A real-life Burt Dow
Many readers will recall the children's book by Robert McCloskey about a fisherman named Burt Dow who along with his boat the Tidely-Idley was swallowed by a whale, but persuaded the beast to spit him out when he splattered its inside with gunk from his bilge, paint, and grease. Fisherman Michael Packard who was diving for lobsters off Cape Cod when he was swallowed by a marauding humpback whale didn't have any boat gunk on hand, but he wiggled frantically and that apparently was enough to get the whale to spit him out.
According to news reports, Packard was swimming along about 45 feet underwater when he felt something hit him hard like a truck and everything went dark. "I just thought, 'Did I just get eaten by a white shark?'" he told the Washington Post. "And then I said, 'No, I don't feel any teeth.' And I said, 'Oh my God, I'm in the mouth of a whale. With his mouth shut.' "
He said he shoved his breathing regulator back into his mouth, and twisted, turned and felt terrible pressure on his legs. Then came the light.
"I just got thrown out of his mouth, into the water—there was white water everywhere," he told reporters. "And I just was lying on the surface floating and saw his tail and he went back down. And I was like, 'Oh my God, I got out of that. I survived.'"
Packard's story made international headlines. Though the whole things seems unreal, his friends, including the one who was fishing with him when it happened, say this is not a "big fish that got away" story. Speculation is that the whale in question was young and didn't really know what it was doing.
---
Keep those balloons inside, please
Party animals take note: A new law in Maine bans the intentional mass release of balloons, due to the impact they have on the environment. Under the new law, first-time offenders who knowingly release between 16 and 24 balloons would be fined between $100 and $500, and anyone who releases more than 24 balloons would face a fine of at least $500.
The goal is to prevent situations where Maine wildlife mistake balloons for food, which can be fatal. "Balloons don't go to heaven—they come down, and they might kill seabirds," said Democratic Rep. Genevieve McDonald of Stonington, who sponsored the bill. "We need to find more environmentally friendly ways to celebrate."
One suggestion, has been to fly kites instead. Or use flying wish paper. "It's similar to tissue paper, you light it on fire, it slides up into the sky. It quickly extinguishes so it doesn't pose a fire hazard like lanterns that travel long distances," said McDonald.
---
New president at The Landing School
Sean Fawcett has been named as the new president of The Landing School. He joined the school in 2013 as Senior Yacht Design Instructor and has served as Dean of Education since 2018.
Fawcett, who lives in Cape Elizabeth, grew up sailing summers on Penobscot Bay and racing out of Marblehead, Massachusetts. After graduating from the University of Pennsylvania, he began his yacht design career with Pedrick Yacht Designs in Newport, RI, where he was involved in the design of IOR maxi boat yachts as well as America's Cup Yachts, most notably Stars and Stripes '87. Fawcett's career spans a number of industries and disciplines including yacht design, yacht construction, yacht charter and CAD/CAM software education. 
He succeeds Richard Downs-Honey who has served as The Landing School's president since 2018 and managed the school through the turbulent waters of a global pandemic, increased enrollments, expanded the school's network of supporters, and steered more than 150 students through learning and into their careers.
Founded in 1978, the school's mission is to prepare men and women for careers in the marine industry. It offers four programs of study—Wooden Boat Building, Yacht Design, Marine Systems and Composite Boat Building.
---
New shark monitoring tools
So, you think you saw a shark. It's that time of year when different species of sharks swim along the Maine coast and out in the Gulf of Maine. Last summer's fatal shark attack in Harpswell prompted the state to step up monitoring of sharks along the coast—the population of white sharks has been on the rebound in recent years. As part of those efforts the Maine Department of Marine Resources has unveiled a new online tool to help people confirm if what they see in the water is a white shark, or something else. A form is now available on the DMR website that provides a convenient way to upload photos, to share videos, and to submit a description of a possible white shark sighting to the Maine DMR science bureau.
"Many people mistake other species of fish for white sharks," said Erin Summers, Director of DMR's Division of Biological Monitoring. "Species like ocean sunfish or basking sharks are often mistaken for white sharks, so this new online tool will help people gain a better understanding of the species found in the Gulf of Maine."
Once the information has been received, a DMR scientist will review it along with any images or video submitted and will respond via email with information either confirming the species or requesting additional information.
Submitters should not expect an immediate reply, as responses may take several days to be returned. 
"This form is also an important resource for citizen science that will help researchers gather information on the presence of white sharks in Maine's coastal waters," said Summers. 
Sightings data gathered through the new DMR form will also be incorporated into research conducted by the New England White Shark Research Consortium which is monitoring the presence of white sharks in Maine coastal waters.
It will also be uploaded to the Atlantic White Shark Conservancy's Sharktivity app. More information on white shark research as well as a link to the form can be found at www.maine.gov/dmr/science-research/projects/whitesharkresearch/index.html
---
Rockland marina update
Safe Harbor, which owns about 100 marinas across the country, plans to expand the marina in Rockland Harbor that it bought last year from Yachting Solutions. Safe Harbor Marinas hopes to have the expansion completed within a year with dredging to be done during the winter, according to a report in the online Village Soup.
The original marina expansion was controversial when it was first unveiled in 2018. The new plan is scaled back, according to the news reports, and was designed to take into consideration concerns raised in the past.
The project includes extending a pier by 250 feet. Overall, the expanded marina will be able to accommodate an additional eight large boats, a dozen 40-foot boats, and a dozen 30-foot boats.
---
Please pass the Grey Poupon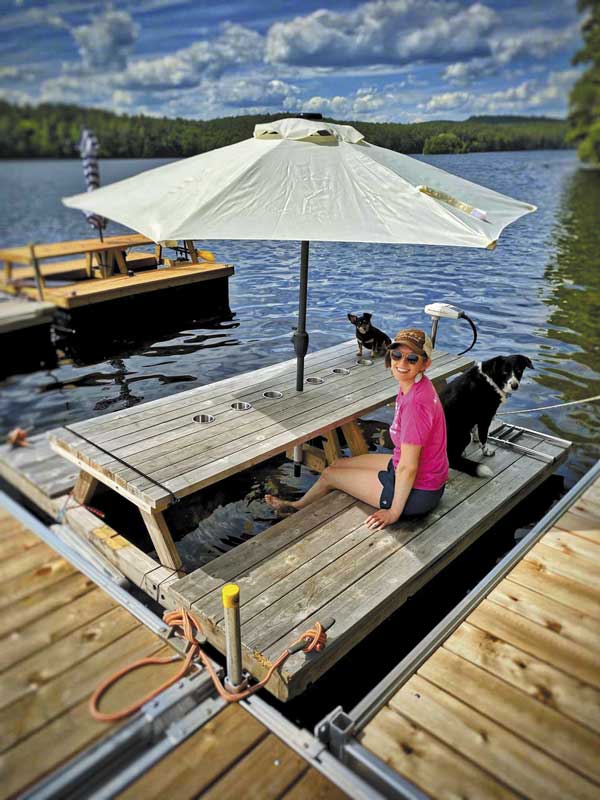 A Winthrop man has come up with a way to take his picnic table boating. According to a report from News Center Maine,  Lon Cameron has built what he likes to call a 'motorized floating picnic table.'
"I took to the internet to find out ways that people were creatively using dock float boxes for projects and I saw several picnic table options," Cameron said.
He decided to engineer his own two years ago. He said he and others love it so much, he decided to start selling them. He told the TV station that his tables take roughly two weeks to make, seat six, and are sold for $2,200. Each 8' x 7' table comes with a 40 lb. thrust electric motor (with battery charge gauge), battery box, deep cycle battery, maintainer, centerboard cup holders, swim ladder, emergency paddles, dock cleats and rope, dock bumper, and crank/tilt umbrella with solar lighting. Each table also comes with unique VIN# and is registered for 2021 season.
"We use our picnic table more than our motorboat," he said. "It's quiet, relaxing, and we can enjoy food and beverages and company with our feet in the water.
---
Hodgdon Yacht Services adds RIBS
Highfield Boats, a leading builder of aluminum rigid inflatable boats and tenders, has appointed Hodgdon Yacht Services, located in the Boothbay region of Maine, as its newest dealer. Hodgdon will represent the full line of Highfield RIBS from 6 to 26 feet throughout its home state.
Hodgdon Yacht Services has two locations: Hodgdon Marina in Boothbay Harbor and Southport Boatyard in Southport. The company offers an extensive range of marine services including fuel, dockage and moorage, boat storage, service, and refit, as well as serving as a dealer for Suzuki and Yamaha outboards.
---
A barometer of the times
Social Distancing was the No. 2 most popular boat name for 2021, according to BoatUS, which keeps track based on requests to its online boat graphics service. The names in the top 10 included: No. 1: Andiamo; No. 3 Grace; followed by Shenanigans, Cool Change, Island Time, Knot on Call, Mojo, Freedom, and Serenity.   
Share this article:
2023 Maine Boat & Home Show

Join Us for the Maine Boat & Home Show!
Art, Artisans, Food, Fun & Boats, Boats, Boats
August 11 - 13, 2023 | On the waterfront, Rockland, Maine
Click here to pre-order your tickets.
Show is produced by Maine Boats, Homes & Harbors magazine.