Boatyard Dog Issue 172 — Novi and Nancy Mizzen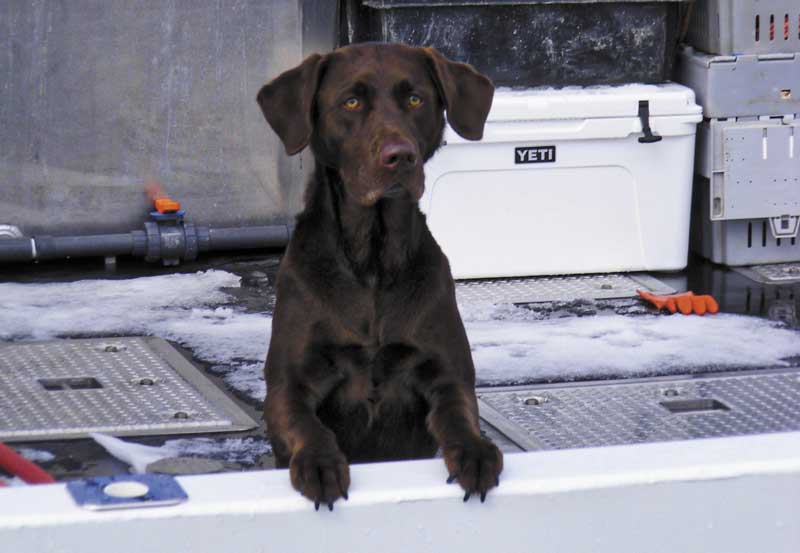 Photo by Brian Robbins
Novi
When Eric Knight, who fishes out of Portland, started thinking about a new boat, he knew it had to have enough room for his most important deckhand, er, deckpaw. Novi is a chocolate lab who goes everywhere Eric goes, including on offshore lobster and tuna trips.
"On my old 38-footer, I was sleeping on the floor of the wheelhouse," Knight said. "Novi's good about staying out of the way when you're setting gear, but the rest of the time if you're out on deck, he's out on deck, and he was constantly tracking water in my sleeping quarters." Knight now has a fold-away bunk in the wheelhouse of his new boat, the 44' Ivy Jean (out of the way of all foot traffic, including Novi's), and all hands, and paws, enjoy a spacious fo'c'sle layout.
---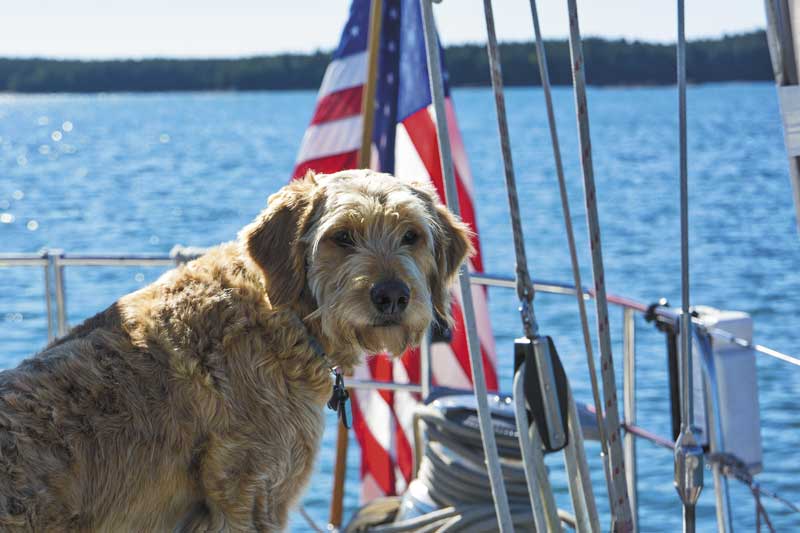 Nancy Mizzen
This golden doodle has grown up around boats and the water. She spent her early years sailing on an Ocean 80 sailboat (her only complaint was that it didn't have a real mizzen), but now cruises on a Marlow 70 motoryacht. She isn't too fond of the new noises, report her humans Kitt, Diane, and Claire Watson, but she is getting used to them, especially if she can get cuddles from her humans. Her favorite boat is the family's tender, Cha-Ching, because it takes her to the beach where she can play. She also loves to look for buoys in the fog and use her canine sniffer to find land. While she is not a big eater, she is fiercely protective of her bone. Get anywhere near that and she will give you the side-eye and you know to back off. "That is our girl, and we couldn't imagine a life without her," the Watsons say. 
✮