A Family-Run Company with Booming Sales and Service Work
By Polly Saltonstall
All photos courtesy DiMillo's Marina and Yacht Sales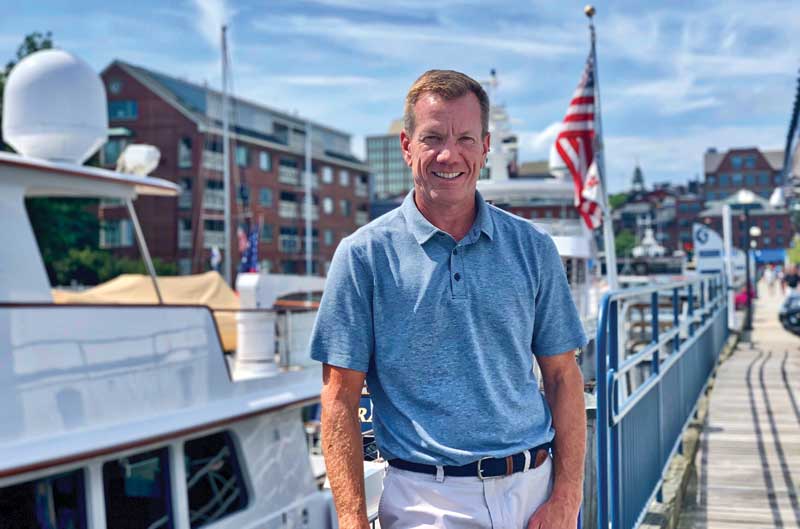 WHEN Christopher DiMillo first took over the marina adjacent to his family's restaurant on the Portland waterfront, it was because he wanted to go into business for himself. He had been working in medical equipment sales in California, but wanted to be his own boss.
He reached out to his father to confer about different entrepreneurial ventures and the elder DiMillo noted that the lease on the marina was coming up for renewal. He suggested that his son start there. That was in 1995. A few years later, sensing an opportunity to expand, DiMillo added boat sales and service, starting DiMillo's Yacht Sales in 1998. In the decades since, the company has grown rapidly and expanded into other locations, with the acquisition of other brokerage firms and marinas. Along the way, boats have become more to DiMillo than just a means to business independence.
 "One of the things about coming back to Maine was to be in business for myself, not necessarily in the boat business," said DiMillo, now 50, who grew up in Portland, and graduated from the University of Vermont, before heading out west. "Now I have grown to have an affinity for boats, and perhaps an affliction."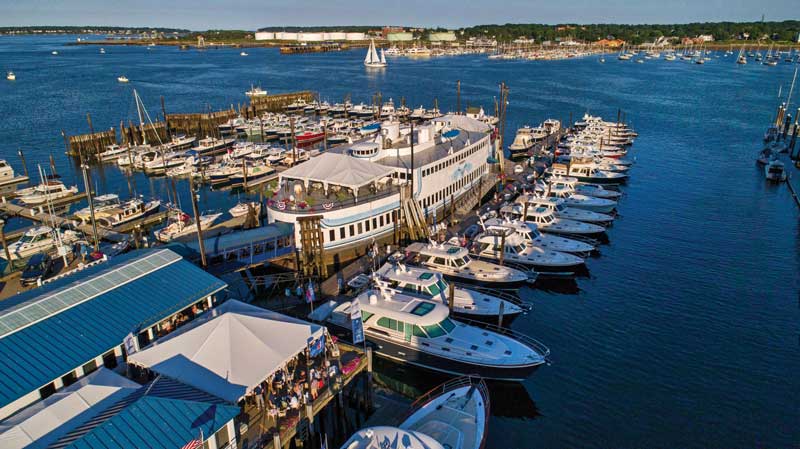 The company's main marina is clustered on either side of DiMillo's on the Water, the family's floating restaurant which is housed in a former ferry.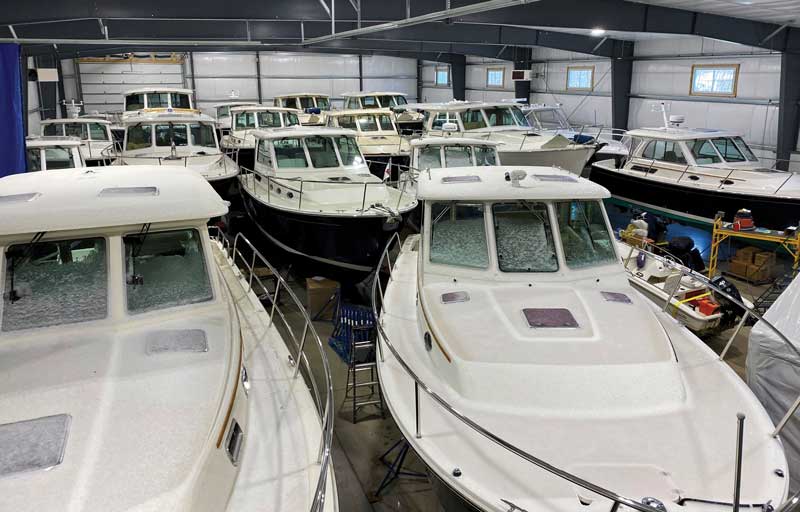 The company's holdings include a storage and service building off Route 1 in Freeport.
DiMillo has become the nation's largest dealer for new and used Sabre and Back Cove Yachts, and for Limestone Boats. The company's locations include a 15,000-square-foot storage and service building on Route 1 in Freeport; the marina at 1 Long Wharf, which includes 125 slips and several face docks and can accommodate eight boats over 100 feet long at a time; a marina in Kennebunk, Maine, with about 40 slips; a facility in West River, Maryland, with 50 slips and an old-fashioned marine railway; a partnership to provide service for clients with Safe Harbor in Glen Cove, New York, and a brokage office at Kittery Point Yacht Yard. And in early May, DiMillo acquired the Hinckley Yacht Company's former yard in Oxford, Maryland, with its service bays, storage, and 60 marina slips. That location has been renamed DiMillo's on the Chesapeake East.
"We're doing somewhere in the neighborhood of north of $50 million in revenue," DiMillo said of his company, which now has more than 40 employees.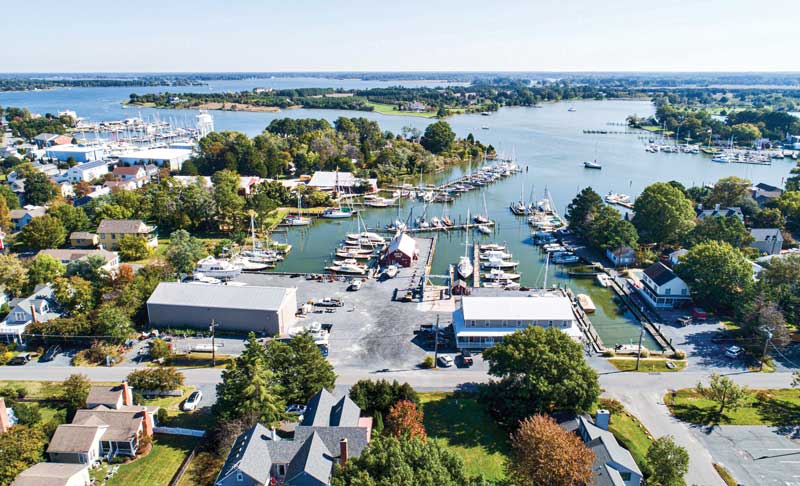 DiMillo recently acquired the Hinckley Yacht Co.'s former yard in Oxford, Maryland, which has been renamed DiMillo's on the Chesapeake East.
DiMillo bought another section of Portland waterfront a few years ago, land and buildings at 400 Commercial Street, but cannot make any changes to that site due to restrictive covenants for another four years. He said he hopes eventually to refit the site for indoor boat storage and service.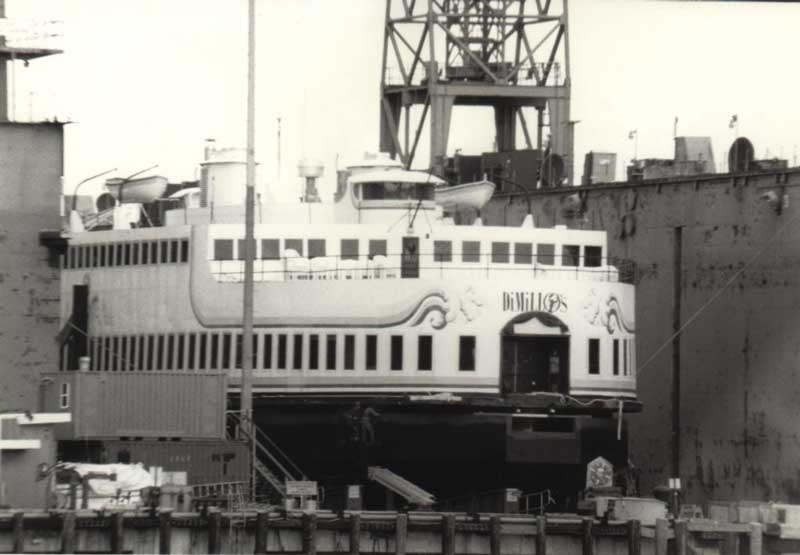 DiMillo's on the Water restaurant was a ferry before its conversion into a restaurant.
It all started back in 1979, when DiMillo's father, Antonio, the son of Italian immigrants, bought Long Wharf to use as a parking lot for his restaurant. Antonio, who grew up across the street from what is now the Fore Points Marina, dropped out of school after the seventh grade to start working. He opened a restaurant he called Anthony's in 1954 on Fore Street, moved the business to Center Street in 1960, and then in 1965 opened DiMillo's on the Waterfront, which was located across the street  from its current location. In 1978, he bought the Long Wharf property and built the marina, which he leased out. Two years later, he bought a circa 1941 ferry boat that had connected the Rhode Island towns of Newport and Jamestown. He refitted it as a floating restaurant, which opened in 1982, replacing the one across the street. Today, Chris DiMillo's siblings, Danny, Steven, John, and Stephanie, run DiMillo's on the Water, while he runs the boat business.
A number of family-owned marinas around the country have been bought up in recent years by big companies, but DiMillo said he has no interest in selling out.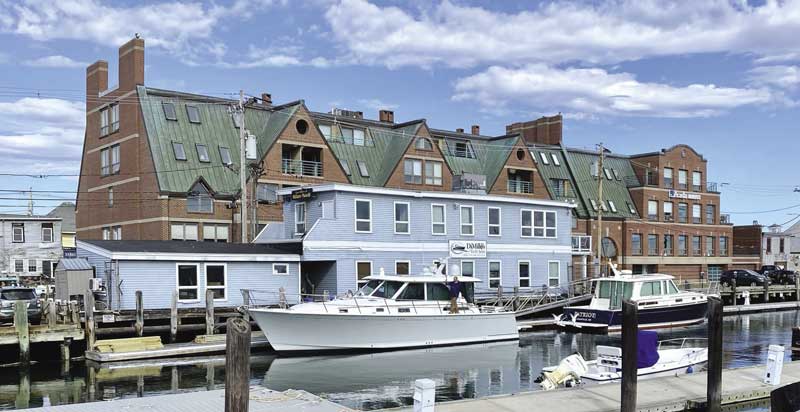 The company's service dock on Portland Pier
"I enjoy what I do and see myself doing it for the foreseeable future," he said. His son, Tiger, 17, has inherited his father's entrepreneurial genes and hopes one day to take over the family business. For now, Tiger works in the marina during the summer.
DiMillo's own boat is a 26-foot Hunt that he bought from Yachting Solutions. His last big boat was a Sabre 48 that he cruised on from Maine to Key West with his family.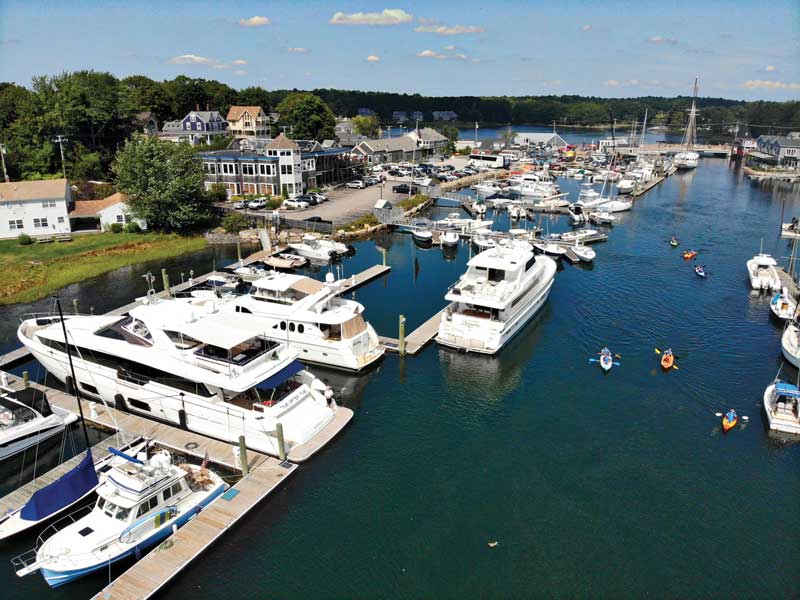 The DiMillo's Marina in Kennebunk has 40 slips.
The past year saw a huge boom in boat sales nationwide—2020 was a record year for sales at DiMillo's. And 2021 started off with a bang, as well, as prices hit an all-time high and inventory an all-time low, DiMillo said. But he predicts sales in the latter half of 2021 and 2022 will be lower because there is not enough inventory to satisfy the demand.
While some have attributed the rise in boat sales to social distancing on the water during the COVID 19 pandemic, DiMillo has a different explanation. The booming economy in the past few years has created a great deal of wealth. In addition to having more disposable income, many of his customers have come face to face with their own mortality as a result of the pandemic. "I have seen more people retire, move, and make life changes," he said. "They are buying boats because they saw the world change; they saw their friends get sick, and realized how fragile life really is." 
---
 ✮
Polly Saltonstall is editor of this magazine.
---
For More Information:
DIMILLO'S YACHT SALES
1 Long Wharf, Portland, ME
207-773-7632
dimillosyachtsales.com
Share this article:
2023 Maine Boat & Home Show

Join Us for the Maine Boat & Home Show!
Art, Artisans, Food, Fun & Boats, Boats, Boats
August 11 - 13, 2023 | On the waterfront, Rockland, Maine
Click here to pre-order your tickets.
Show is produced by Maine Boats, Homes & Harbors magazine.