Doing What Came Naturally
How Bentley Collins turned a love of boats into a career
By Laurie Schreiber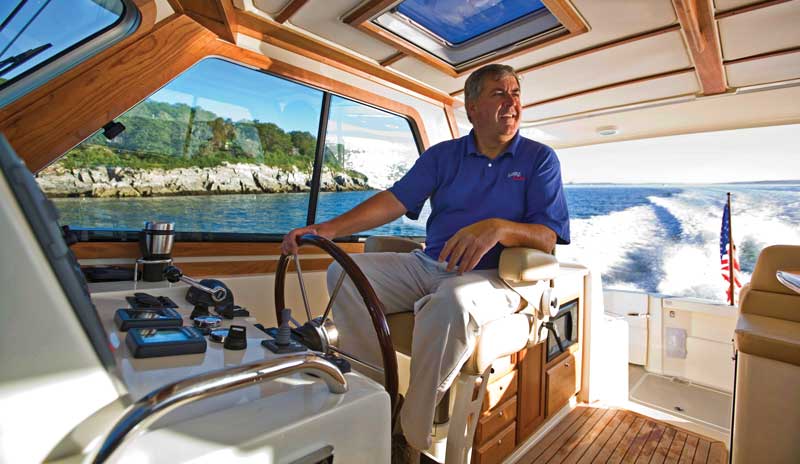 HOW DID an Australian native who grew up in Canada wind up guiding a troubled boatbuilding yard in rural Maine into a world-class powerhouse?
Chalk it up to a blossoming romance that enticed Bentley Collins from a high-powered position with French yacht manufacturer Beneteau USA to an exciting opportunity with Sabre Yachts in Raymond, Maine.
Collins arrived at Sabre in 1993 and helped catapult it from the brink of failure into a premier U.S. builder, at first with sailboats and then with two brands of powerboats, Sabre and Back Cove.
The story of his professional and personal journey to Sabre is filled with plenty of serendipity. Fortunately, his genial nature makes him perpetually willing to embrace life's twists and turns.
After 26 years, Collins recently retired as vice president of sales and marketing at Sabre and its sister company, Back Cove Yachts in Rockland, Maine.
"I'm proud to say I was part of the growth of the company," he said.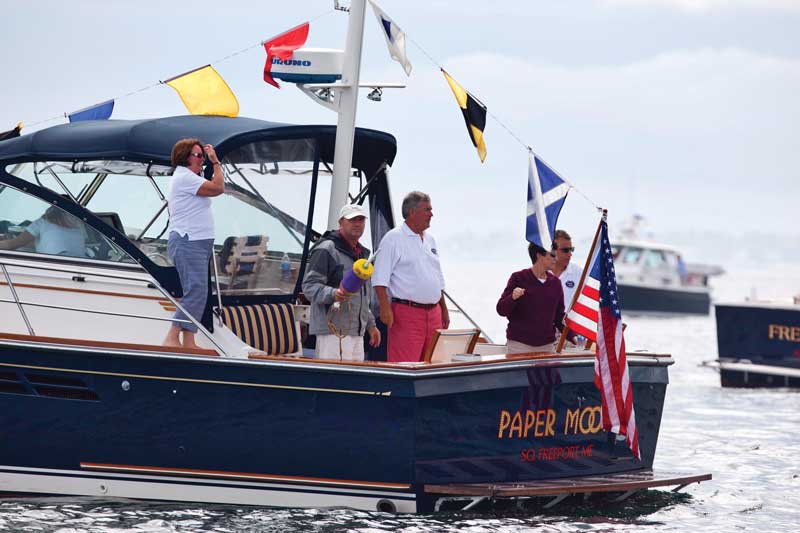 Collins has been an enthusiastic boater, cruising and racing, since he was a kid growing up in Canada. Here he is (center) at a Sabre owners' rendezvous in Boothbay Harbor. "Yes, I did foul a lobster pot!" Collins said, explaining why a lobster pot is being held up in the photo. (Left)  Photo courtesy Sabre/Back Cove Yachts
Born in Adelaide, South Australia, he was 10 when his family moved in 1959 to Montreal, where his father worked for an international management consultancy. 
Young Collins spent his youth as a "yacht club brat"—his words—at Montreal's Royal St. Lawrence Yacht Club, where he learned to sail and worked around the docks. The family cruised on a 21-foot sailboat. Collins and his brothers raced during the summers on a 20-foot Flying Dutchman. 
 "I look back on that period as formative," he said. "That's how I fell in love with sailing and with the concept of being on the water."
In his 20s, Collins took a job with an industrial supply company. Then he set up an independent yacht brokerage that sold boats built by Ontario-based Hinterhoeller Yachts.
In 1981, the French company Beneteau was looking for opportunities to expand in Canada. Collins had dealership experience and spoke English and French. Deemed a good fit, he handled marketing, advertising, and dealer development. Five years later, Beneteau moved Collins to its U.S. headquarters in Charlotte, North Carolina, and expanded his territory. His work entailed a lot of travel around the United States and Canada.
"The boat industry is really very small," he said. "You see the same representatives for the same builders at every show. It's a very close-knit community, more so than the public would know."
One person he regularly encountered on the marketing circuit was Brenda Amato, Sabre's national sales manager. Soon love was in the air.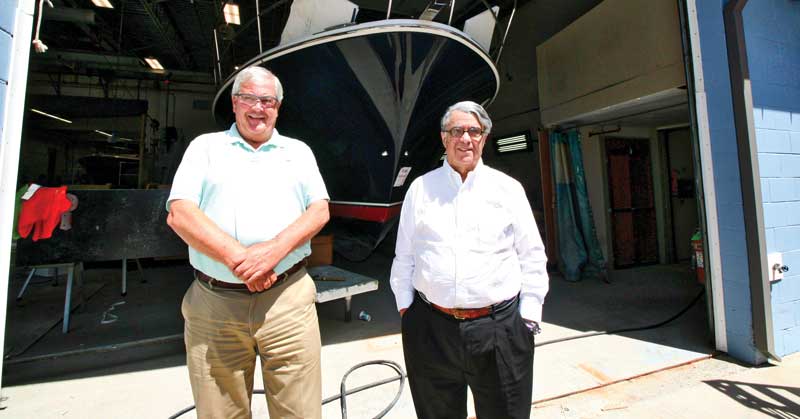 From left, Bentley Collins and recently retired Sabre and Back Cove CEO Daniel Zilkha's complementary talents helped grow Sabre and then Back Cove into powerhouse builders. Photo by Laurie Schreiber
As it happened, Sabre was entering a period of transition. Founded in 1970 by Montreal native Roger Hewson (who had belonged to the same yacht club where Collins worked as a kid), the successful company had turned out hundreds of sailing yachts. But in 1991, it was hit hard by economic factors that included a new tax on luxury goods and a stock market downturn. New investors, Ed Miller and Daniel Zilkha, were working to save the company.
Zilkha had a finance and business background but didn't know as much about boatbuilding. Then, thanks to Amato, he learned about Collins and his career in the boating industry.
Amato had been planning to leave Sabre to join Collins in North Carolina. Instead, impressed with his resume, Zilkha invited Collins to visit Sabre. The visit ended with Collins joining the company, handling similar responsibilities as he had at Beneteau but with the greater pride of shepherding a smaller company to new heights.
"I felt like I could really do something for Sabre," he said. "With Beneteau, you're part of a big organization. You sort of get what you're given. I'm much more passionate about boats than that. Sabre gave me the opportunity to be passionate, to talk with people who are truly in love with their boats and with the activity of boating."
He also took pleasure in getting to know customers, most of them self-made business owners.
"They're not people who would buy a plain vanilla boat," he said. "They're proud of where they've come from and owning a Sabre is part of that."
Ever since, the company's trajectory has been spectacular.
Since 1993, Sabre has grown from 40 people to 350 people, producing powerboat models from 38 to 66 feet long that are sold worldwide, with at least a year-long backlog on most models. In 1995, Sabre acquired North End Marine of Rockland, Maine; under the name North End Composites, the shop produces hulls and decks for Sabre's larger models and houses Sabre's sister company Back Cove Yachts. Back Cove was established in 2003 to meet demand for small to medium-size single diesel engine motoryachts.
"Bentley's knowledge of the market enabled us to very successfully grow our market share and image, successfully introduce new models every year, and, with his unparalleled relationships in the industry, to create a dealer network, national and international, second to none," said Zilkha. "And as a spokesperson for Sabre, then for Back Cove Yachts, he projected the image of excellence and quality that our boats have come to signify in the marketplace."
As someone who loves the inner workings of the business—product and dealer development, market studies, advertising, boat shows, schmoozing—Collins is the kind of person you remember. He's done tons of marketing videos over the years. He recalled one time when he and Brenda were in Cundys Harbor, enjoying haddock sandwiches for lunch.
"I had my sunglasses on and hat pulled over my eyes," he said. "A guy came over to our table and said, 'I know you. You're Bentley from the Back Cove video!'  I felt like George Clooney."
Collins credited Zilkha for his commitment to continual design development, even through economic downturns, which is considered key to the builder's success.
Zilkha credited Collins for setting the company's pace and tone. "We enjoyed some wonderful times along the way, from an efficient yet relaxed working relationship at Sabre (we always joked that we made our best decisions over a BLT lunch at our local diner), to our ability to communicate in French (when needed for confidentiality and sometimes just for showing off), to sharing newly discovered restaurants in Portland or reminiscing of old haunts in Montreal," he said.
In 2019, Zilkha stepped back, handing the CEO position to Aaron Crawford. Anointing himself "chief worry officer," he still runs the firm's management committee and remains involved when needed.
Collins also will continue to consult for Sabre and Back Cove.
Racing and cruising have always been in his blood. Collins spent years racing his Tanzer 22, a popular Canadian design. He and Brenda have owned various Sabres and Back Coves, cruising the Maine coast a fair bit.
"We love the whole thing—go out, pick up a mooring, buy local lobster," he said.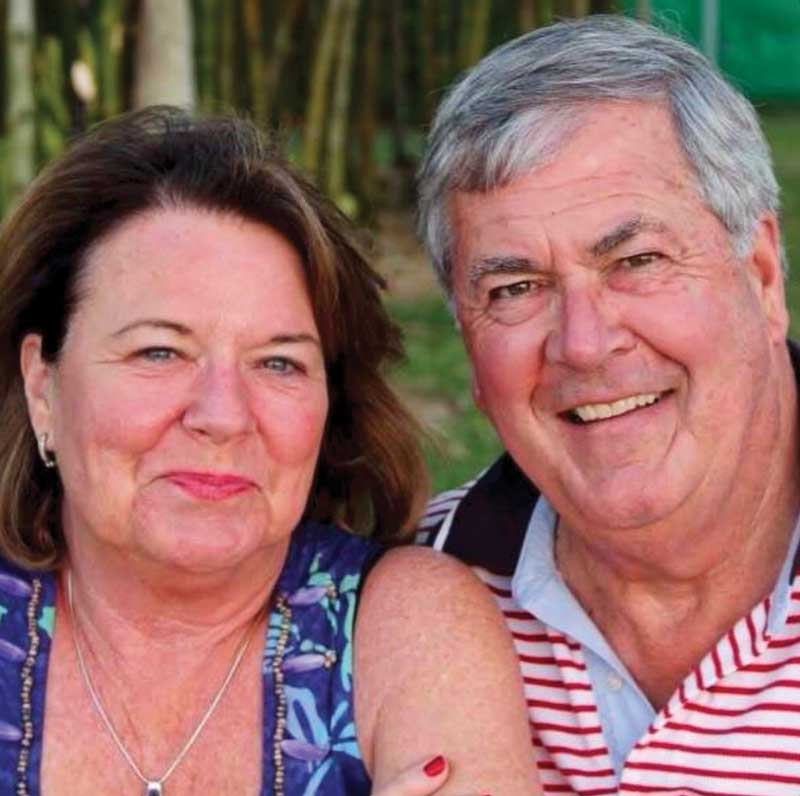 Brenda and Bentley Collins love cruising with friends in Florida aboard their Pursuit 2470. Photo courtesy Bentley Collins Extended cruises down the East Coast as far as Venezuela, and also in Scandinavia, have taken place aboard friends' boats. Now spending most of their time in Florida, the two own a Pursuit 2470 and enjoy outings with friends. Brenda, who retired several years ago, is an active tennis player and golfer. Now Collins looks forward to more time with her and also to seeing their children and grandchildren.
These days, he's glad to see the industry healthier than ever. That became obvious during the pandemic, when demand for Sabre and Back Cove yachts soared.
"We've had a whole new flock of people who have become boaters for the first time," he said. "I think the future of boating is very strong."
As a kid who simply wanted to enjoy being on the water as much as possible, Collins didn't have any particular plan to get into the industry. But he's very glad he did.
"I fell into it," he said. "I've been extremely fortunate. I always managed to take the right turn in the road."
✮
---
MBH&H Contributing Editor Laurie Schreiber is also a Mainebiz staff writer and has covered topics in Maine for more than 30 years.
Share this article:
2023 Maine Boat & Home Show

Join Us for the Maine Boat & Home Show!
Art, Artisans, Food, Fun & Boats, Boats, Boats
August 11 - 13, 2023 | On the waterfront, Rockland, Maine
Click here to pre-order your tickets.
Show is produced by Maine Boats, Homes & Harbors magazine.