Bloodworms, new boats, and old schooners
By Polly Saltonstall
Welcome to the Maine Boat & Home Show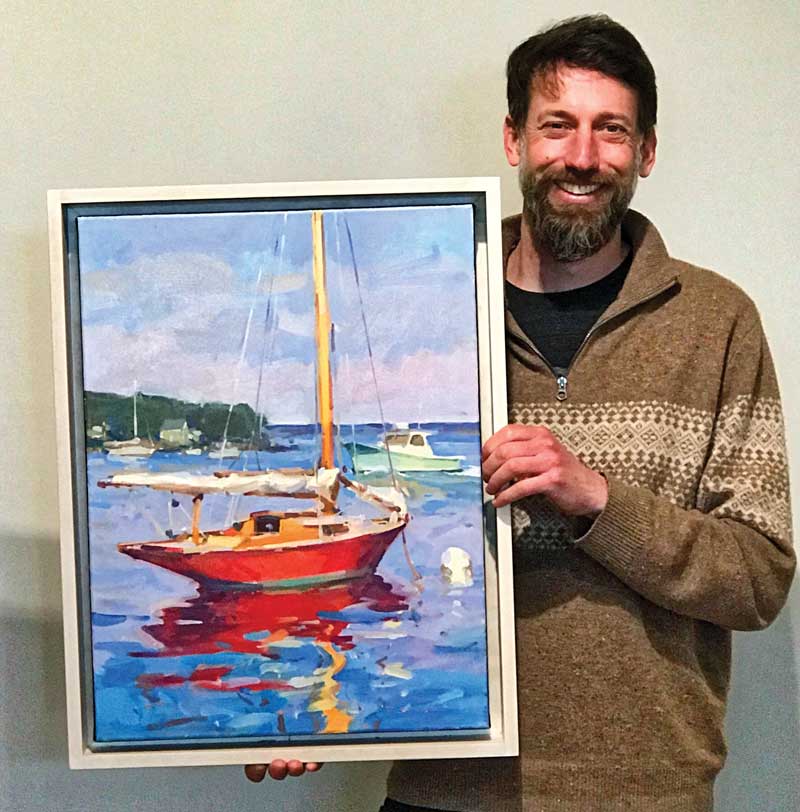 We're back! Produced by Maine Boats, Homes & Harbors magazine, the Maine Boat & Home Show will take place this year from August 13-15 on the waterfront in Rockland, Maine. The show, which was cancelled last year as a result of the pandemic, shines a spotlight on boats, art, marine products, furniture and other fine crafts, many of which are hand-made. In keeping with that tradition, the poster for the show is a special work of art, painted by Camden artist Colin Page. Raised in Baltimore, Maryland, Page studied painting at the Rhode Island School of Design and at the Cooper Union for the Advancement of Science and Art. He moved to Maine in 2002, drawn by the state's rural landscape and thriving artistic community. His paintings are notable for his treatment of light and color in the landscape and in his depictions of the lives of his two daughters. Page opened his own gallery, Page Gallery, in Camden in 2019 where he shows his own work as well as other work by artists working in Maine and elsewhere. He also is represented by Greenhut Gallery in Portland, Anglin Smith Gallery in Charleston, SC, and Huse Skelly Gallery in Balboa Island, CA.
To order copies of the poster, and/or show tickets, and for more information go to maineboats.com/show.
---
New/Old owners at Gamage
The historic Gamage Shipyard in South Bristol has new owners, but customers of the yard will have no trouble recognizing their faces. General Manager Mike Tatro led the purchase, joined by Carol Morrison in Finance and John Vinal in Operations.
They acquired the company from Rory Cowan last spring. "Mike, Carol and John know the operations, the customers, and most of all, they know boats. They all grew up in the mid-coast, so they're familiar with all local opportunities and local customer desires," Cowan said. "I'm delighted to be able to support their vision for the yard, and its next phase of development."
Tatro joined the yard in April of 2015 as a general manager. Under his leadership Gamage Shipyard has been restored to a full-service boatyard, with slips and moorings, seasonal service, refit, repower, restoration capabilities, and the ability to build new. Tatro's vision included bringing the yard back to its roots building boats. In July of 2020 Gamage Shipyard launched the first boat built at the yard in nearly forty years. Currently the yard is in engaged in a second build, with a third on the horizon.
Located in South Bristol on a 6-acre waterfront parcel, Gamage Shipyard is a full service yard with over 25,000 square feet of storage space, 2 rental properties, an office and service building. The yard was founded in 1871. You can read more about the yard and its history in this MBH&H boatyard profile. 
---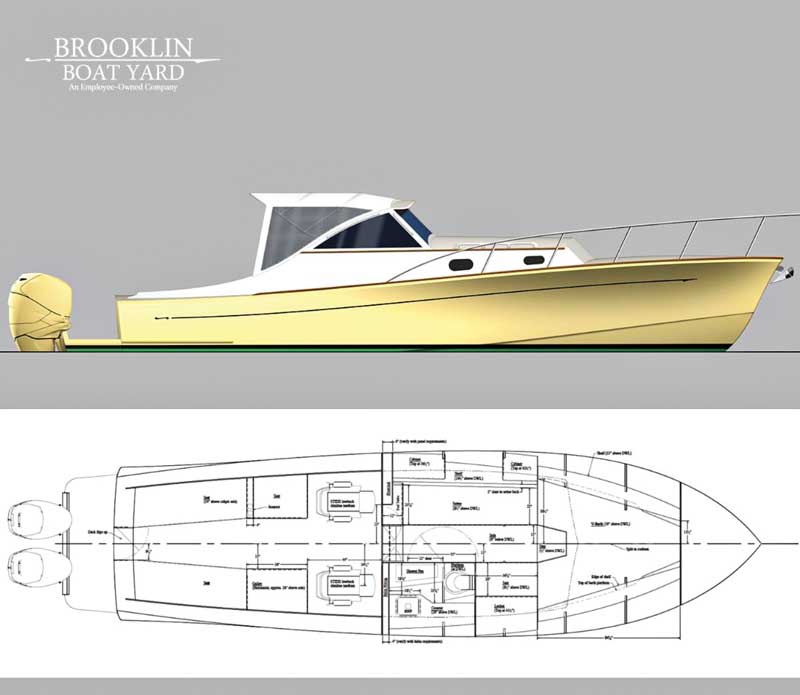 Express Cruiser under construction
Work is underway at Brooklin Boat Yard on a BBY 32 Express Cruiser, designed by the yard's in-house team for a client. With a top estimated speed of 50 knots, this sporty powerboat will be driven by electronically controlled, twin 250hp Mercury outboards. Stidd Captain's chairs and an outdoor galley, along with plenty of bench seating, make the cockpit a great place to entertain. Features include a full head, complete with a hot shower, air conditioning and a v-berth. Docking and anchoring will be made easier with a powered windlass and electric bow thruster. The composite hull is constructed of marine plywood over Douglas fir frames and sheathed with 10-ounce fiberglass.
The BBY cruiser is 34'2" long overall, including the engines, 28'9" on the waterline, with a beam of 9'2" and a draft of 1'3" with the engines up.
In addition to this hull, the yard has another hull of the same design, which is being fitted out as a center console.
---
Bloody valuable worms and worrisome hitchhikers
Around the world, bloodworms fetch a lot of money. In Maine, one of only a few states with an active worm fishery, they're the fourth-most valuable commercial fishery ($17.30 per pound with a $6.65 million total landing value in 2020) after lobsters, soft clams and scallops. When you add in sandworms, another worm used as live bait by salt-water sport fishermen worldwide, the worm family jumped past scallops for a total value of over $8 million. They are harvested the old-fashioned way, by hand-digging in mudflats at low tide. The state's 700 plus licensed harvesters are paid by the worm and for many the work is a nice part-time gig. But the way the worms are packed and shipped has become cause for concern, according to an article in Hakai Magazine. Bait dealers box the worms with rockweed, or what they call wormweed. And that seaweed is often home to other unintended organisms. A recent study has shown that shipments of bloodworms have introduced invasive species, including periwinkles and green crabs to waters on both the east and west coast. Some dealers have switched over to shredded paper, but persuading other Maine dealers to stop using seaweed has been difficult, according to Hakai. They say they have been doing it that way for over 100 years; they also don't want to put the people who harvest seaweed for them out of business. It's an interesting look at how invasive species get around in the unlikeliest ways. And solving the problem is just a bloody dilemma.
New location for boat club
Freedom Boat Club of Maine is expanding to the Boothbay Region, opening its fifth location at Linekin Bay Resort. Fleet vessels include center consoles, dual consoles, cruisers, rigid inflatables, and pontoon boats.
Club locations are at Yarmouth Boat Yard on the Royal River, at Moose Landing Marina in the Sebago Lakes Region in Naples, at Fore Points Marina in Downtown Portland, at Sunset Marina in South Portland, and now in Boothbay Harbor at Linekin Bay Resort as well.
Freedom Boat Club is an option for people who want to spend time on the water but don't want to deal with the cleaning or maintenance involved in boat ownership. The boat sharing model provides access to boating in a wide variety of waterways, and a broad range of vessels.
"We've had a lot of interest to open a club in the Boothbay area so are thrilled to partner with Linekin Bay Resort," explained Steve Arnold, owner of Marina Holdings, which includes Yarmouth Boat Yard, Moose Landing Marina, and Freedom Boat Club of Maine.
The Boothbay club will start out with two new vessels, a Sea Fox 22 foot center console and a BRIG 24' rigid inflatable. All Freedom Boat Club of Maine members will have unlimited access to all fleet vessels at all club locations in the state, plus reciprocal access to boats at the 265+ Freedom Boat Club locations across the U.S., Canada, and France.
---
Good morning, from Rockport
Film crews and a reporter from Good Morning America, the ABC daily television show, set up shop near the bait truck at Rockport Harbor last May, featuring the coast of Maine, and in particular, commercial lobster fisherman Sadie Samuels, as part of the show's focus on each of the 50 states, according to an article in the Penbay Pilot. The series sent reporters across the country to find stories of locals at work as the pandemic wound down.
Work began in Rockport Harbor by 6:45 a.m. as lobstermen were loading bait onto their boats, Rockport Marine was launching boats, and up the hill, a new hotel was under construction, as the film crew ran their cameras, the Pilot reported. Samuels took the crew lobstering on her boat Must be Nice and then treated them to lobster rolls in Belfast, at her Must Be Nice Lobster Shack, on Belfast Harbor. Samuels came to producers' attention as a result of a 2016 mini documentary about her: youtu.be/qvlCGp7Qpcc.
It was indeed a good morning, on a nice boat!
---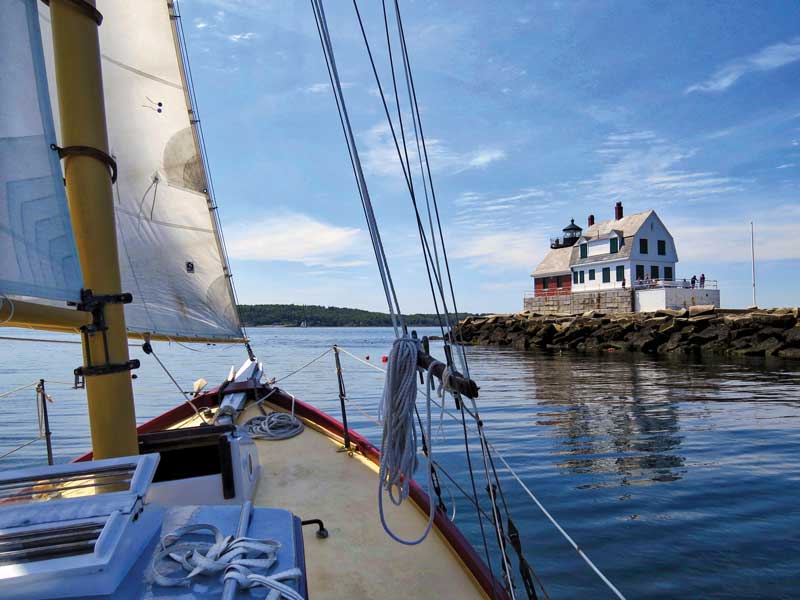 Breakwater immortalized
The Rockland Breakwater in all of its 4,364 feet of granite glory is a spectacular sight. But, like all landmarks, it can fade into the background of everyday life, until a photography book comes along to remind you just how majestic it is. Author Bob Trapani's fifth book, Breakwater: A Journey Through the Seasons, features photos taken in all seasons and weather since 2009. "I've photographed it in all four seasons and the more I visited it, the more I started to realize there is so much more to this place than meets the eye so I knew I had to document it," he said. "It's probably one of the only spots I know of in Maine where you can go out to sea without leaving land." 
In addition to over 100 photos, the book also includes a brief history of the lighthouse and breakwater. It will be available for purchase in November through Moments in Maine. Trapani has served as the Executive Director for the American Lighthouse Foundation since 2005. The organization is the steward of 17 lighthouses throughout New England. He is also a U.S. Coast Guard Auxiliarist and has served as a lighthouse technician for 21 years—presently working with the USCG Aids to Navigation Team Southwest Harbor, Maine. He assists the unit in maintaining the lights and fog horns at twenty-six lighthouses from Port Clyde, Maine, to the Canadian border.
---
Off-shore vaccinations
Federal health officials had plans to get many people vaccinated, but when it came to Maine's inhabited islands and crew on ships at sea, it took a local effort to administer the shots.
The Maine Seacoast Mission stepped up to the plate to help vaccinate island residents, as the Mission's medical team travelled to Maine islands on board the organization's outreach vessel, Sunbeam, and ran vaccination clinics last spring. Then early this summer, Penobscot Bay Harbor Pilot Skip Strong and his wife Annie Dundon came up with a way to help merchant mariners many of whom have essentially been stuck at sea since the beginning of the COVID-19 pandemic, according to an article in the Bangor Daily News. In normal times, sailors usually are allowed to go ashore when their vessels are in port. But due to efforts to limit the spread of the disease, they've been restricted to their ships since last March. When Maine dropped its residency requirement for the COVID-19 vaccine and the state announced that it had a surplus of the shots, Strong wanted to find a way to offer the vaccine to merchant mariners on ships docking in Searsport. Dundon, who works at Mt. Desert Island Hospital, asked her employer for help. The hospital provided doses of the one and done Johnson & Johnson vaccine. And by the end of May the duo had helped vaccinate over 65 merchant mariners on four foreign flagged ships, with Dundon administering the shots and Strong handling the paperwork, according to the newspaper. "They're so happy, just so excited," Dundon told the BDN. "It really could make the difference for them, when they go home and feel like they're not bringing something home to their families. And maybe in some ports, they'll be able to go ashore."
Oyster schooner scheduled for Maine refit
A Lincolnville boatbuilding company plans to restore a near-century-old oyster schooner on grounds the company will lease from the city of Belfast this fall, according to the Bangor Daily News.
The Belfast City Council recently agreed to lease a portion of city-owned waterfront land to Clark & Eisele Traditional Boatbuilding, which plans to restore the AJ Meerwald, an 85-foot schooner built in 1928 on the Maurice River in southern New Jersey. The schooner is New Jersey's official tall ship. A classic example of a Delaware Bay oyster schooner, the ship hosts school groups and visitors at the Bayshore Center at Bivalve, an environmental history museum in Point Norris, New Jersey.
The boatbuilding firm is owned by Garett Eisele and Tim Clark.
The project came here because Maine is one of the last bastions of traditional wooden boatbuilding and restoration firms like his, Eisele told the Belfast City Council.
The lease will begin Sept. 1 and extend to June 1, 2022, with an optional extension for up to three months in the event of delay.
Clark and Eisele plan to build a 32-foot by 100-foot temporary shelter to house the project. Temporary power will be run from Front Street Shipyard, which will also haul out the vessel when it arrives and relaunch it when the job is done.
---
The search for the "great white bird"
One of our favorite tasks when preparing this column is reading local newspapers. A favorite is the Quoddy Tides, a way downeast weekly. The Tides has had several stories over the years about the disappearance 94 years ago last May of a biplane and its two French pilots who were attempting to be the first to fly nonstop across the Atlantic Ocean. The author of the most recent story argues that the plane may have crashed in Washington County and if that is so, pilots Charles Nungesser and Francoise Coli would have beaten Charles Lindbergh, who concluded his famous transatlantic flight from New York to Paris on May 21, 1927.
The two French pilots took off in their biplane—called L'Oiseau Blanc, or White Bird—from an airport outside of Paris on May 8 and planned to land in New York Harbor near the Statue of Liberty on May 9. The pair never arrived, and no remains were ever found. But according to the Quoddy Tides, a man named Arthur Dolan, who died in 2017, believed the White Bird crashed during an emergency landing attempt onto Meddybemps Lake. Dolan's story has never been included in the published history and folklore about the disappearance of the White Bird, the Tides reported. During the fall of 1958, when he and a friend Al Stevens went downeast to go deer hunting they came upon some debris and the remains of an airplane. "There were no wings, wheels, cockpit or fuselage," he said in an early interview. "What remained of the framing were two large beams running parallel to each other and about four feet apart. These beams were slanted and seemed to be connected to an engine. The engine was clearly visible and was about four feet up in the air supported by the frame resting on dead trees and brush, slanted upwards." Assuming local people knew about the wreck, the two hunters returned home. Many years later when Dolan learned about the mystery of the Great White Bird, he realized the significance of what he had seen in the backwoods of Washington County but was never able to find the wreck again. There are rumors in the area that the engine was removed from its crash location intact, hauled onto Route 9 and taken away to Minnesota or hidden away in a building, according to the Tides. Dolan spent years trying to convince organizations to search the site. He always said his most important goal was to gain recognition for Nungesser and Coli for being the first pilots to complete a transatlantic flight.
The pilots' flight plan would have taken them over Newfoundland and Nova Scotia and on the day of the flight residents there reported hearing a pane fly overhead. A Washington County resident also said he heard a plane fly over his home heading in a southwest direction towards East Machias and Machias. And another resident in the area also reported hearing a loud and sputtering plane engine. He said he looked up and briefly glimpsed a white plane heading northward and the sound faded away.
Although there have been many searches in the waters off the coasts of eastern Canada and the United States, according to the Tides, nothing has ever been found. The newspaper published an article in 2015 about the mystery, which included an anonymous donor's offer of a $5,000 reward for the whereabouts of the plane's one-of-a-kind engine. But nothing happened.
So, the call is out, let the Quoddy Tides know if you know anything about that engine or the missing plane. The cash reward may no longer exist, but helping solve this mystery is worth more than any amount of dollars.
---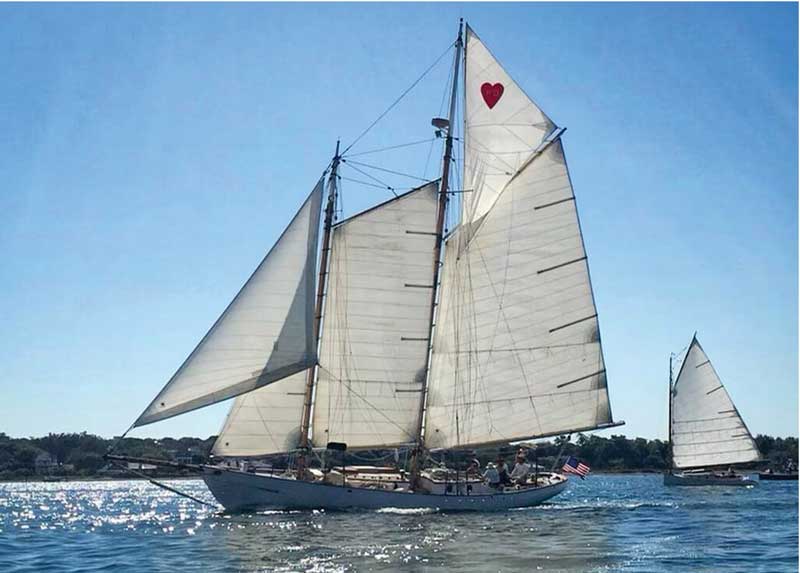 Alden schooner sails home to Maine
A 96-year-old wooden schooner built in Freeport has returned to Maine after a long absence. The 53-foot Alden schooner Heart's Desire has joined the fleet at the Portland Schooner Co., which offers public sails and private charters on Portland's waterfront. Owner Scott Reischmann's other historic vessels include Alden-designed Wendameen and Bagheera, and the former pilot schooner Timberwind. Built at the T.H. Soule shipyard, Heart's Desire has sailed out of many ports including Camden, Maine, New York, New Jersey and the U.S. Virgin Islands, according to an article in the Bangor Daily News.
Bagheera was built at the Rice Brothers Shipyard in East Boothbay in 1923. She came to Portland in 2002, when the Schooner Co. opened on the State Pier, according to the newspaper. The 88-foot schooner Wendameen was built in East Boothbay and launched in 1912. Timberwind is a 96-foot, two-masted schooner built in 1931 by Victor Cole at Union Wharf in Portland. For nearly four decades—until 1969—it was named the Portland Pilot and met incoming vessels outside the harbor, guiding them to their berths, the newspaper reported. All three vessels are listed with the National Register of Historic Places.
---
New Maine-built ferry launched
The Maine State Ferry Service's newest vessel was launched last April by Washburn & Doughty in East Boothbay. The Spear, named for Richard G. Spear, the first employee of the Maine State Ferry Service in 1959, was scheduled to begin regular service this summer, the Maine Department of Transportation said. The 154-feet-long vessel with the capacity to hold 250 passengers and 23 vehicles will arrive in August in Rockland to begin regular service to Vinalhaven, according to DOT.
The total cost of the ferry including all design, engineering, and construction work is $10.9 million, officials said.
---
Carpenter's Boat Shop names new executive director
After a coast-to-coast search, The Carpenter's Boat Shop found its new executive director close to home. Alicia C. Witham, a professional boat captain, educator and longtime manager at the Hurricane Island Outward Bound School, has been named the new executive director of the boatbuilding apprentice shop in Pemaquid.
The Boat Shop, where faculty, staff and apprentices live in community together, dedicates itself to "Building boats, nurturing lives, helping others."
A Maine native, Witham was born and raised in Portland, Maine, and joined the staff of the Hurricane Island Outward Bound School in Rockland, where she alternated between there and the school's winter quarters in the Florida Keys for 13 years. She holds a U.S. Coast Guard 50-ton master's license and a diploma from the Landing School in Arundel, Maine, where she spent a year participating in construction of a 26-foot cold-molded sloop.
After more than a dozen years work-ing in the East, Witham moved to California, where she spent several years as an instructor and general manager at the Olympic Circle Sailing Club in Berkeley and later served as chief of operations at the Northwest Maritime Center in Port Townsend, Washington, before rejoining Outward Bound as an associate program director in Florida and the Bahamas in 2017. She returned to Maine in 2019 and now serves as director of adult programs and charters for SailMaine in Portland.
Witham will succeed Sarah Highland, the shop's senior instructor, who served as interim director during the search. The Boat Shop was founded in 1979 by the Rev. Robert Ives and his late wife.
✮
Share this article:
2023 Maine Boat & Home Show

Join Us for the Maine Boat & Home Show!
Art, Artisans, Food, Fun & Boats, Boats, Boats
August 11 - 13, 2023 | On the waterfront, Rockland, Maine
Click here to pre-order your tickets.
Show is produced by Maine Boats, Homes & Harbors magazine.