A Plucky Build-it-Yourself Design for Lake Sailing
Off the Drawing Board
By Art Paine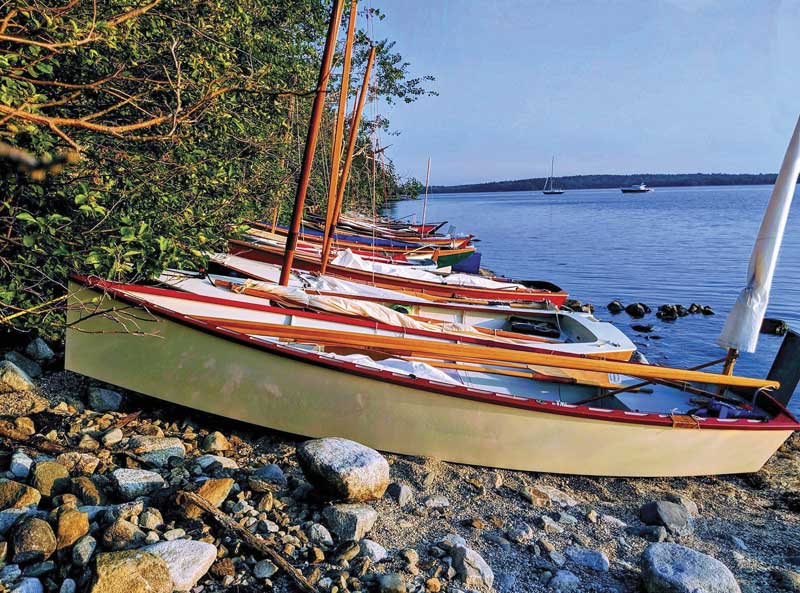 The Goat Island Skiff is ideal for "Raid" or "Small Reach" type races, which start off a beach. Photo courtesy Michael Storer
When I discovered the joys of racing on Great Pond, Belgrade, it was a revelation. Lakes are so different—shorter, livelier waves; changeable breezes; warm water that dries off right away; and no prospect, no matter how I blunder, of being carried away toward Spain.
When it came time to recommend a good boat for using on lakes, I had several criteria. First, for myself and for many others, half the fun of choosing a boat is the prospect of being able to build it yourself. That led me to investigate the growing number of companies offering boat plans and kits. Second, I wanted a boat that I could row to an island if there was no wind. Third, I was looking for high sailing performance. And last, I didn't want some cutesy little "character boat." The search narrowed down quickly to the Goat Island Skiff.
The Goat Island Skiff was designed by Michael Storer, an Aussie and a hot dinghy sailor. He currently lives in the Philippines, but Clint Chase, of Chase Small Craft, builds kits for the Goat Island Skiff right here in Saco, Maine. I talked with him, since my editor declined to send me on a trip to the Philippines to interview Storer.
I don't know for certain if Storer is the original inventor of the several ingenious design tweaks on the Goat Island Skiff. But even if he isn't, it took the keep-it-simple mindset of a dinghy ace to make things both uncomplicated and efficient.
This boat is designed to be super easy to build. It doesn't require a flat floor or a building jig. The kits are made in a very precise way so that the two sides spring together and provide a base for construction. All the broad surfaces, including the sides and bottom, consist of 6-millimeter Okoume plywood, and are cut precisely to their intended shape, with slots and tabs that align for a perfect fit. Chase has his own CNC cutting machine, and he employs a system that he refers to as "tab and lock" that holds everything in place for gluing and screwing.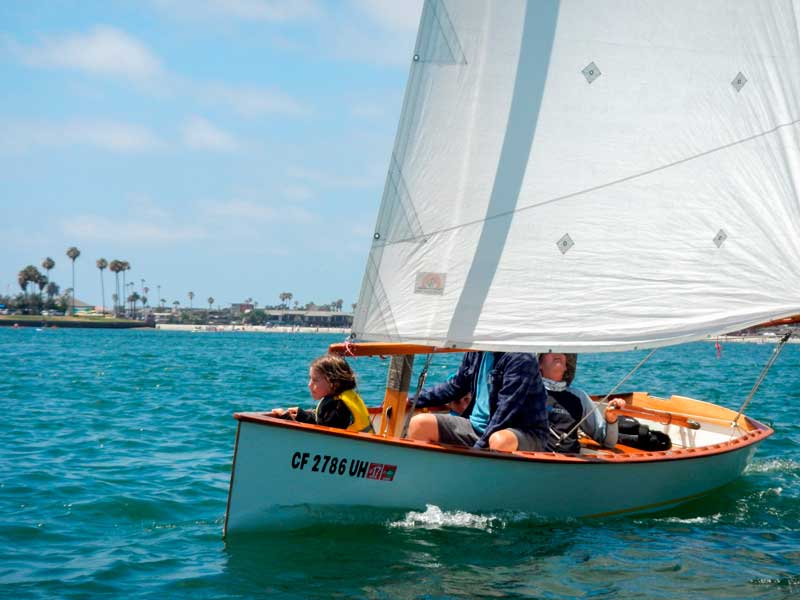 While it might be a little easier and cheaper to build the skiff with a single sail, Clint Chase argues that the boat is much more versatile with the addition of a mizzen. Photo courtesy Michael Storer
The kit includes complete plans, everything you need to construct and rig the boat, and a 78-page instruction manual. The manual features crisp photographs of boats under construction, proving the rule that one photo equals a thousand words. Included in the kit are in-wales and out-wales; stem and transom; stock for the mainmast and mizzen, yard, and booms; West System 600-2 epoxy for the thick gluing; System Three thinner epoxy for everything else; and fiberglass, screws, fittings, cleats, sheets, and halyards. Not provided are flags, anchor, a bailer, or beer. Oh well....
Personally, I'd rather sail than row, and this boat will step lively. It's about the same length as a Laser, but weighs less. The main is a 105 square foot lugsail, and there is 14 square foot mizzen option. The bottom is flat and the hull fairly narrow. With one person's weight at the helm, this hull ought to plane at, or perhaps faster than, the velocity of a lake's moderate waves. I applaud the relatively high sides. Capsizing can be fun in a clean, warm lake, but I prefer not to wash away the picnic basket. Airtight ballast tanks fore and aft make self-rescuing possible.
Although it is not emphasized in the various brochures and videos, a benefit of this boat for me is that it should be car-toppable. I have a rugged old Volvo with robust roof racks. I used to try and put a Laser up there, but the boat's curved decks caused difficulties. This boat has nice flat wales.  I bet I could invent a roller positioned back above my tailgate and heave her up there lickety-split. Without the spars the boat weighs only about 130 pounds.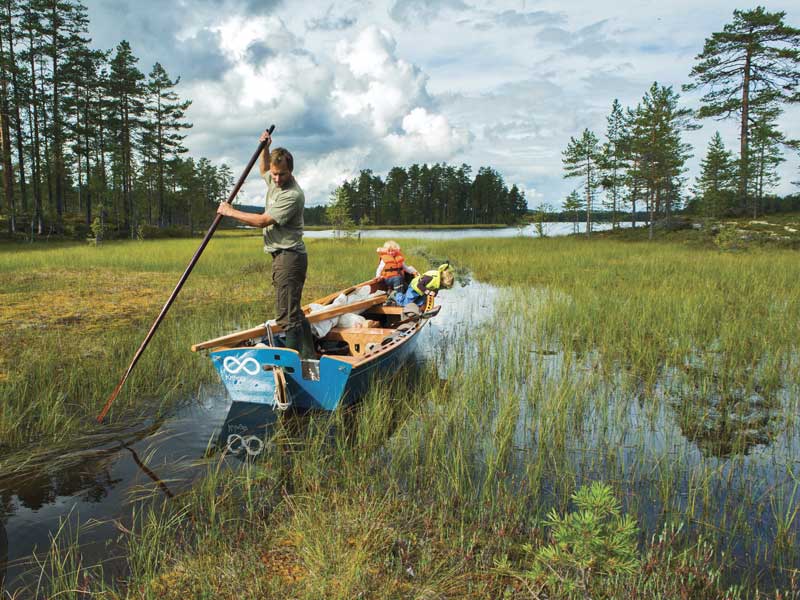 In addition to sail power, the skiff also can be rowed or even poled. Photo courtesy Michael Storer
As a lifelong sailboat racer, I appreciate Storer's attention to detail. In particular, he focused on ways to make the foils efficient. There are two options for foils. One method specifies a plywood daggerboard and rudder, and provides cut templates to guide the sculpting of the front and trailing edges, while a portion in the middle remains flat. There's a more expensive kit that includes multiple pieces of solid wood that are cut in such a way that when you glue all the strips together from front to back, all it takes is a few swipes with 120 grit sandpaper before you fiberglass the whole foil. The result is a 00 foil right out of the NACA book. Foils count for a lot, so I'd go with that option.
One neat invention is the flip-up rudder. The blade portion slides into a box (picture a book binding without the pages), and is held in place by a few wraps of a bungie cord. If, or when, you encounter a beach or a rock, the foil swings backward with little or no damage.
I queried Chase as to whether I could save a bit by ordering the kit without the mizzen. He counseled otherwise. "It doesn't sail as well without the mizzen," he said. "And folks who use the boat as an explorer-camper insist that the mizzen is useful in holding the boat into the wind when you deploy, reef, or furl, the main." People also love the yawl's distinctive look, he told me. As do I.
Michael Storer met Chase in 2008. It turns out that after Storer moved to Batangas, in the Philippines, he set up a sail-making operation called Really Simple Sails. These are available as an extra from Chase. He told me that it isn't easy to configure a sail for this shape, because the mast bends a tiny bit under load and the upper "yard" bends more. The sails from Zamboanga have the luff curvature and broad-seaming nicely balanced to hold an efficient shape throughout the range of wind strength. Closer to home, Gamble & Hunter, in Camden, Maine, also sews good sails for the Goat Island Skiff, according to Chase.
One reason I like to build, or rebuild, a boat is so that I can pay a foolish level of attention to finishing it off like a yacht. The kit that comes from Chase uses high-quality and very pretty species of wood. Boatbuilders like the grain and color of Okoume plywood. When epoxy-coated and varnished, it's about as close as you can get to the honey-tone of Honduran mahogany, which is impossible to find in high quality anymore. The kit uses ash and oak in all the right places, and the out-wale is red spruce. Its outer rim is capped with a plantation mahogany, named Red Grandis, which also is a species comparable to Honduran for beauty. These woods pile beauty upon beauty and just beg to be varnished to perfection.
"I built one for myself five years ago and have used it a lot," said Chase, who tested the boat on Moosehead Lake after meeting Storer. "It's as lively as a racing dinghy. It is always fun, and it's taught me to be a better sailor."
There's a beach above the dam at Grand Lake Stream from which you can cruise 30 miles among pine clad islands, in waters teeming with fish, with eagles flying overhead, and never see another soul. And islands where you can camp for free. What are you waiting for? 
---
Contributing Author Art Paine is a boat designer, fine artist, freelance writer, aesthete, and photographer who lives in Bernard, Maine.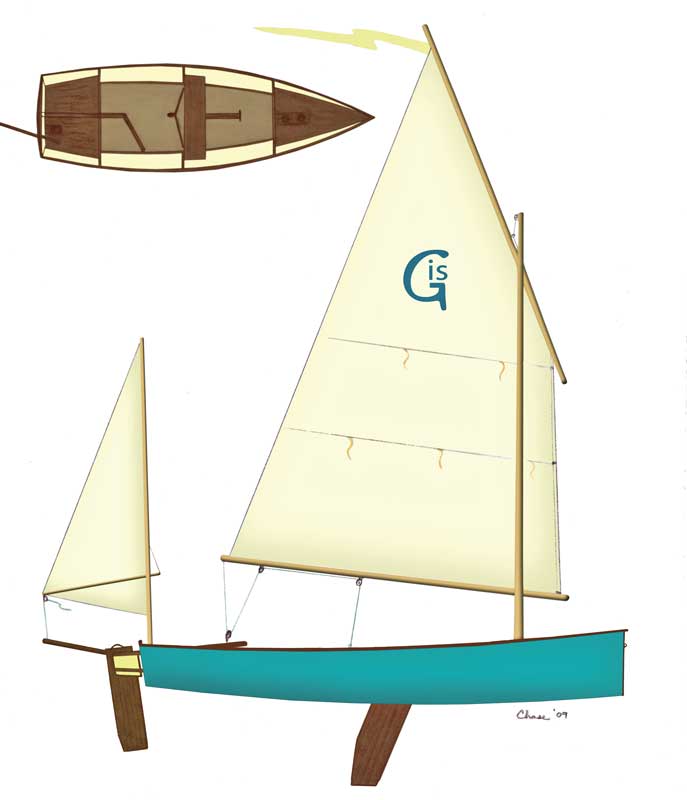 No wonder the Goat Island Skiff is fast. There is lots of sail area for the weight. Image courtesy Clint Chase
Goat Island Skiff
LOA: 15' 6"
LWL: 14' 9"
Beam: 5'
Draft (board up/down): 4"/36"
Depth amidships: 20"
Sail Area (sq. ft.): 105 (lug) 14 (sprit)
Designer: Michael Storer
Builder/Kit:
Chase Small Craft
959 Portland Road, Saco, ME
207-602-9587
Share this article:
2023 Maine Boat & Home Show

Join Us for the Maine Boat & Home Show!
Art, Artisans, Food, Fun & Boats, Boats, Boats
August 11 - 13, 2023 | On the waterfront, Rockland, Maine
Click here to pre-order your tickets.
Show is produced by Maine Boats, Homes & Harbors magazine.