Letters to the Editor — Issue 170
Maine's boatbuilding talent
Just a quick letter to tell you how much I enjoyed the Jan/Feb 2021 issue. From the Paine/French & Webb's Levant 15 to Chris Hood/Stephens & Waring/ Lyman-Morse's 57 LM, and all in between.
It's good to see the craftsmanship/ craftswomanship still thriving in Maine. Like most sensible people, I haven't been traveling at all, so I haven't been able to check out the boatyards of Maine this past year. We all owe you much gratitude for your coverage.
Please keep up the great work of keeping us all informed.
Carl Cramer
South Portland, ME
---
Double-ended error
I want to congratulate you on your most amusing April Fool's joke on page 42 of the March/April issue of Maine Boats, Homes & Harbors, my favorite magazine.
In your article on Holly Martin and Solo Sailing Women, you identify Martin, as the photo caption says, "(standing) on the bow of Gecko…."  You fail to point out, though, the outboard canard rudder on the "bow" of her boat, a most unusual feature for a double-ender. I, too, own a double-ender, a Leigh 30, and am now considering retrofitting one to the bow of my boat. Perhaps it would further improve her windward performance?
No, wait… that's the cockpit and the stern of Holly's boat!
Best wishes, coming and going.
Phelps Brown
Deer Isle, ME
---
Another careful reader
Gecko must be the only sailboat on the planet with a rudder and tiller on the "bow."
Lew Flagg, via email
---
Big mistake
Looks like Richard King might need a bit of education on boats. In the March/April issue on page 42 in his article on Holly Martin there is a picture of Martin standing on her boat the Gecko... okay, Gecko is a double ender and for landlubbers that could lead to some initial at a distance confusion on which is the bow and stern. However, and this is the error, Holly is standing on the STERN, not the bow. The rudder plainly visible is a very big clue.
Please run a correction next issue so you can repair your credibility. That aside I very much enjoy your magazine and look forward to each and every issue.
Tom Sullivan
Rangeley, ME
The bad news was that we made a terrible mistake in the caption noted above. The good news is we clearly have some very careful readers. Thank you for setting the record straight!  —The Editor
---
A dog and magazine fan
I just want you to know how much I value your magazine. I look forward to its arrival of every other month, and re-read each issue. I am an old man now with a new German Shepherd dog. No boat now. But I can relive the past with your outstanding magazine. Thank you.
Lyman Pope Jr.
Jackson, NH
---
Dolphin debate
Yesterday I received MBH&H's March/April issue with the story about the Dolphin 24. I was interested since I often sailed with an owner of a Dolphin in the mid-1960s. Some points in the article are not completely accurate. Rather than being an evolution of Finistere, S&S design 1497 is a slight revision of the Shaw 24 (Trina was the first) design, which was published in the April 1958 issue of Yachting (see below). A comparison follows: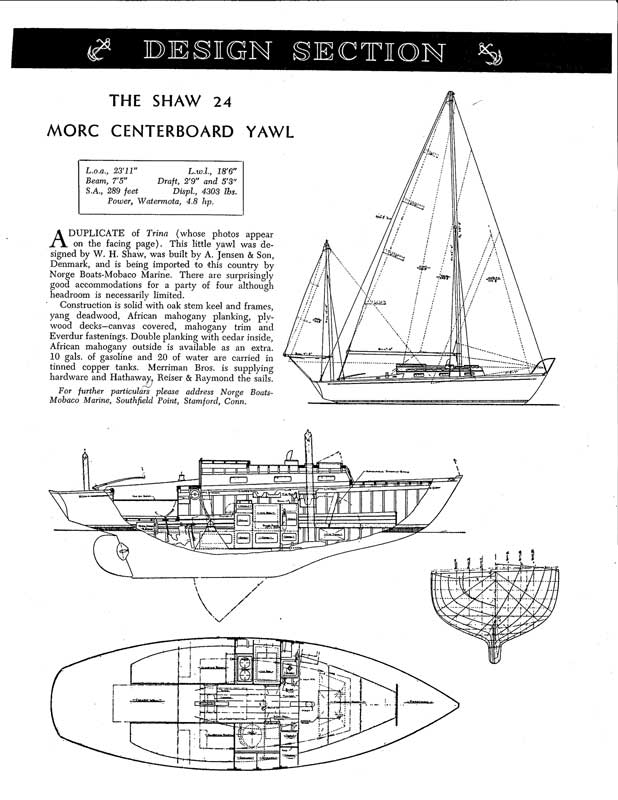 Dolphin Shaw 24
LOA: 24' 23'11"
LWL: 19' 18'6"
Beam: 7'7" 7'5.5"
Draft: Hull 2'10" 2'9"
Draft CB Down: 5'2" 5'3"
Rig: Sloop Yawl
Jay Paris, via email
---
Another take on speed
I want to thank Doug Hylan for his timely letter to the editor and MBH&H magazine for publishing it. Mr. Hylan's long career as a boatbuilder and designer in Maine lends credibility to his opinion that the quest for more speed with today's large powerboats is running headlong into the inconvenient truth of climate change. Non-displacement powerboats need to consume a lot of fuel to keep themselves on a plane, as if they are going up a steep hill all of the time. Wanting to go up that hill at ever higher speeds is not in alignment with our growing need to reduce fossil fuel emissions. 
This fact may not be welcomed in all parts of our country but here in Maine there may be an opportunity for builders and boaters to lead the way to more planet-friendly boating trends. On a sunny day in Maine the scenery is too beautiful and the lobster buoys are too numerous to go 40 knots, and on a foggy day it is too dangerous. Mr. Hylan suggests that there is no reason for a yachtsman to be in a hurry to get from Bar Harbor to Camden, and I would add that's what cars are for. I remember well the 1960s and 1970s when two of the most notable features of a car were its engine size and top speed. We managed to outgrow that obsession in favor of less polluting vehicles and I believe it's time we apply that wisdom to our cherished boats.
Grant Hughes
San Diego & Bernard, ME