Eastport
Looking Back, Looking Forward
By Mimi Bigelow Steadman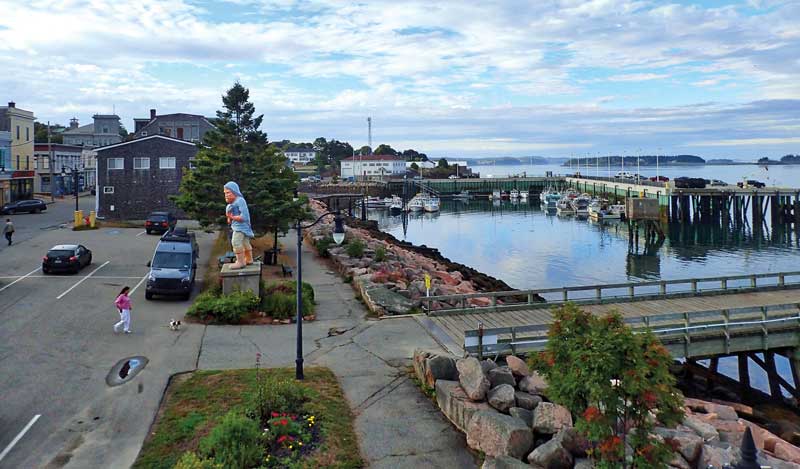 Maine's easternmost and smallest city has seen boom times and gloom times. New growth may lie on the horizon. Photo by Rick Steadman
On a late-August Saturday morning, the drizzly wind gusting across Eastport's massive breakwater couldn't stop locals from fishing for mackerel, pollack, and herring. Lined up along its edge, couples in folding chairs jigged their rods, oldsters helped youngsters, and solo men and women reeled in multi-hooked lines wriggling with fish.
We'd just arrived in town, having driven past the Pleasant Point Passamaquoddy Reservation and across a causeway onto Moose Island, where Eastport perches. Seeing the activity on the breakwater, I wondered whether folks might be making up for lost time: For most of the summer, it had been off-limits because of the presence of the 785–foot cruise ship Riviera. Sidelined by the pandemic, it spent two months here, sheltering from hurricane season farther south. Some Eastporters initially feared the massive vessel might bring the virus, but by the time it set sail on August 1, an unlikely friendship had blossomed between the skeleton crew of 131, who were quarantined on board as a precaution, and locals, who weren't allowed near the ship.
"It all happened through Facebook," explained Tessa Ftorek, Eastport native, indefatigable hometown cheerleader, and a dean emeritus at Washington County Community College. "The crew found our information and news page," and a two-way conversation ensued. Eastporters even sent small gifts to the Riviera for crewmembers with whom they'd connected. "They're back in Europe now," said Ftorek, "but we're staying in touch."
Blessed with the East Coast's deepest natural harbor, the country's easternmost city has long welcomed sizable ships. A busy maritime center in the 1800s, it had become "the second busiest port in the country, behind New York, by the turn of the 20th century," Ftorek noted.
Beginning in the 1870s, when Maine's once-lucrative sardine industry began in Eastport, the waterfront also thrummed with dozens of canneries as well as factories turning out fish byproducts, roll-top tins, and other ancillary goods. No part of the fish was wasted. Heads and tails became fertilizer; scales were used to make pearl essence for cosmetics. "We could tell by the smell what was being processed in those plants," Ftorek said, recalling her teen years working in a cannery. "Some days the air smelled like fertilizer. Others, it smelled like nail polish."
In the decades following a mid-1900s peak, the industry slowly succumbed to a double whammy: Consumer tastes turned from sardines (actually small herring) to tuna fish, and catch quotas plummeted. Eastport's last cannery closed in 1983. Today, salmon is farmed in pens just offshore, and commercial fishermen bring in such catches as lobsters, scallops, and urchins.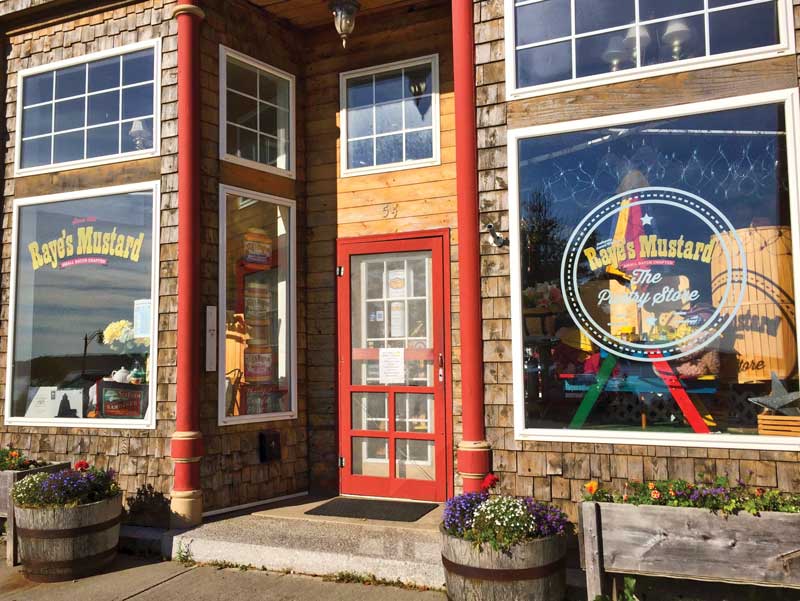 Dating from the sardine industry's glory days, Raye's Mustard has boosted Eastport's economy since 1900. Photo by Mimi B. Steadman
One product from the sardine's heyday remains: mustard, often added to the canned fish to both preserve and flavor it. In 1900, an enterprising 20-year-old Eastporter named Wesley Raye opened a mustard factory. "We called it factory mustard," Ftorek remembered. "My mother would send me to buy a gallon jug for a quarter."
About 30 years ago, as the sardine industry faded, Wesley's descendants introduced a line of flavored varieties aimed at the gourmet market. Today, Raye's Mustard is thriving under the stewardship of fourth-generation family member Kevin Raye and his wife Karen.
"It's the last cold stone-ground mustard mill in North America," Kevin Raye said. "We still use the original Second Industrial Revolution machinery. If Wesley walked in today, he could run it."
The Rayes plan to preserve this living history as part of a new museum, slated to open within the year. Focused on the sardine industry and mustard, it will feature 120 years' worth of memorabilia, a theater, a demo kitchen, and the mill itself, operating as usual.
Downtown, in the Raye's Mustard Pantry Store, I selected several jars from shelves laden with the company's two-dozen-plus varieties, and smiled at the sight of gallon jugs of the original mustard lined up on the floor. Eastport's Water Street historic shopping district is also home to multiple galleries, Sweeties Downeast candy store, and S.L. Wadsworth & Son hardware and gift store, which opened as a chandlery in 1818.
I also noticed a number of empty storefronts, but some of the handsome old redbrick buildings are receiving the TLC they need. A bellwether in rescue and restoration efforts, the Tides Institute & Museum of Art has repurposed eight structures on Water and nearby streets as exhibition and event spaces, artists' studios, and residences for its artists-in-residence program. The museum's extensive collection of contemporary and historical pieces celebrates the border region and its cultures. A small group of civic-minded women purchased another downtown building, restoring it as The Commons Eastport, which now houses a gallery of fine local craft on the ground floor and two elegant rental suites upstairs.
"As recently as the 1970s, this was a bustling center of commerce, with department stores, shoe stores, all kinds of stores," Kevin Raye told me. "People came by boat from nearby Canadian isles like Campobello and Grand Manan to shop. The border was porous—almost irrelevant." Those days are gone but, "the future is bright," he declared, as new Eastporters are joining the community.
Also a real estate broker, Raye said 2020 had been the most successful year ever, due in part to the pandemic. "I've had clients from every state. It's not only retirees. With the advent of remote work, younger families are moving here, bringing kids to the schools. They're using goods and services. Homes are being renovated. Eastport has been discovered, and I don't see it being undiscovered."
✮
Contributing Editor Mimi Bigelow Steadman lives on the Damariscotta River in Edgecomb.
---
If You Go to Eastport
On the Water
Chris Gardner, Director of the Eastport Port Authority, advises visiting boats to approach via Head Harbour Passage. While slips inside the breakwater are reserved for seasonal commercial and recreational vessels, visitors may tie up at well-protected floating docks just outside the breakwater, on the north side. Daily rental includes access to power and water. Advance reservations are strongly encouraged (207-853-4614). Those arriving from Canada can clear in through Eastport's U.S. Customs Office (207-853-4313).
Hiking and Paddling
Wending its way along the waterfront, a paved walkway provides views across the bay to nearby Canadian islands including Campobello. At Shackford Head State Park, trails lead through 90 wooded acres to small beaches, coves, and a dramatic rocky headland rising 173 feet above sea level. Tessa Ftorek, a Registered Maine Sea Kayak Guide, says paddling in the currents and tides off Eastport is not for novices, and urges those interested in ocean kayaking to engage a local guide. She also recommends kayaking on one of the nearby lakes as an excellent alternative.
Dining
Said to be Maine's oldest diner, the WaCo Diner has stood beside the harbor since 1924. Forget about that town in Texas—the name of this warm and neighborly spot is pronounced wack-o, a mash-up of the founders' last names. Nearby, The Old Sow Grill is another family-friendly eatery serving traditional fare and fresh seafood. Just down the street at the Quoddy Bay Lobster fish market, a seasonal take-out window offers a wide selection of seafood favorites; the lobster rolls and chowder earn raves. A landmark food stand next to the breakwater, Rosie's Hot Dogs has been the place for delectable dogs, onion rings, and fries for five decades.
Shopping
Water Street is flanked by appealing shops and art galleries. Raye's Mustard Pantry Store is a must-stop, not only for the array of palate-tickling mustards, but also for gifts and mementos. A few doors down is S. L. Wadsworth & Son, owned by the same family since it opened in 1818. Originally a chandlery, it now deals in hardware, gifts, and souvenirs. Across the street, The Commons Eastport gallery features creations by nearly 100 local artists. The top floor of this beautifully restored building houses two luxury two-bedroom rental suites with a balcony affording harbor and bay views. We didn't want to leave. At Sweeties Downeast, sugary treats include homemade fudge. In an old bank building, Eastern Maine Gallery displays Don Dunbar's stunning photographs of the area's wildlife, seascapes, and landscapes.
---
Be sure to call ahead to confirm the status of any COVID-19 regulations and closures prior to visiting these businesses 
Share this article:
2023 Maine Boat & Home Show

Join Us for the Maine Boat & Home Show!
Art, Artisans, Food, Fun & Boats, Boats, Boats
August 11 - 13, 2023 | On the waterfront, Rockland, Maine
Click here to pre-order your tickets.
Show is produced by Maine Boats, Homes & Harbors magazine.