Wesmac Super 46
A special boat for ocean research
By Stephen Rappaport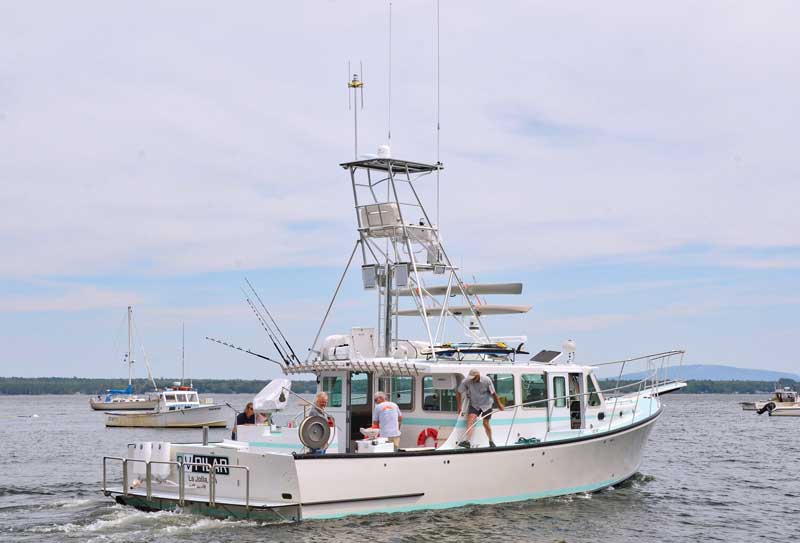 Just off the dock on her maiden voyage with Capt. Linda Greenlaw at the helm, the RV Pilar heads off on the first step of her trip to the west coast, via Florida where she was loaded onto a freighter for passage through the Panama Canal to her home port of La Jolla, California. The stainless steel tuna tower, side and bow rails, and hand rails on the aft fishing platform were all custom fabricated. Photo by Stephen Rappaport
Over more than three decades, Wesmac Custom Boats in Surry, Maine, has developed a reputation for building boats that combine traditional downeast looks above the waterline with modern, highly engineered underbodies. They are as well suited to commercial lobster fishing far offshore as they are to swiftly and comfortably carrying competitive sportfishing enthusiasts out to the deep-sea canyons where trophy-winning tuna and swordfish lurk.
The same qualities that draw fishermen to Wesmac—rugged construction, sea-kindly hulls with a good turn of speed, meticulous attention to systems, finish and detail—also make for excellent small scientific research vessels. Two such vessels launched recently are the Pilar, which was built for a California philanthropist and splashed in July, and the 54' Reid W. Harris, launched earlier in the spring for the state of Georgia's Department of Natural Resources.
The Pilar is a "Super 46," an extra-wide version of Wesmac's standard 46-footer, with a 17' 1" beam. The boat is powered by a 1,400-horsepower MAN diesel that gives a cruising speed of 20 knots and a GPS-verified top speed of 25.5 knots. The engine was chosen specifically for its fuel efficiency—about 50 gallons per hour at cruising speed for the 60,000-pound boat—as well as for its low emissions and quiet operation.
The Pilar's owner said the boat will serve a diverse mission. First, it will be available for charter at low or even no cost to researchers seeking a "state-of-the-art, high-tech platform" for studies of the health of the ocean's pelagic region while leaving "a minimal carbon footprint;" and second, as a base for tag-and-release programs that track pelagic fish such as sharks and tuna and their migratory patterns. Whatever data is collected aboard the Pilar will be shared in educational programs available to schools and the public, designed to promote a better understanding of the oceans.
The Pilar was designed to work offshore—her 1,500-gallon fuel capacity gives a range of some 600 miles at cruising speed—and is fitted out to work off the coast of her home port in Southern California safely and comfortably. The boat is equipped with a quick gyro stabilizer set amidships beneath the pilothouse to reduce motion in a seaway, a 12kW Northern Lights diesel generator, and a 500-gallon-per-day water maker that will help keep the crew clean and hydrated on extended trips.
The vessel has an extensive suite of communications and electronic navigation gear. At the helm, three 16-inch high-definition displays provide information from a Simrad open array antenna radar with built-in target tracking, a three-channel sonar, and the boat's mechanical and electronic systems. Those systems include autopilot, an automatic radio direction finder, and a night vision camera. In addition to its VHF radio, Pilar is equipped with satellite telephone and Internet systems.
The interior is simply finished, with Marinedeck cork cabin soles and Corian countertops in the full galley located in the pilothouse, but still features glowing cherry trim, drawers, and cabinet doors. Accommodations include two cabins, one with V-berths, and a separate head with shower.
The deck gear and layout reflect the vessel's research mission. A custom fabricated stainless-steel tuna tower tops the wheelhouse and is fitted with a helm and engine controls. Another set of controls is mounted in the cockpit aft. The boat is also equipped with a sturdy custom stainless bow pulpit and full-length deck rails, and has a specially-designed fishing platform on the transom that incorporates rugged railings to keep the crew on board while working in a seaway. Fishing gear includes a 40-foot "green stick" for tuna fishing, a hydraulic Bandit reel, a 500-gallon live well with bait station in the cockpit, and at least 18 stainless-steel rod holders mounted on the wheelhouse cabintop above the cockpit.
Wesmac skipper Linda Greenlaw delivered the Pilar on its own bottom to Florida where the boat was loaded on a freighter and shipped through the Panama Canal to its homeport of La Jolla, California.  
---
Stephen Rappaport is a writer and editor, has lived in Maine for more than 30 years, and is a lifelong sailor.
---
Wesmac Super 46
LOA: 46' 9"
LWL: 44'
Beam:  17' 1"
Draft: 5' 6"
Displ.: 60,000 lbs.
Fuel capacity: 1,500 gal.
Power: MAN V12-1400 Diesel
Builder: 
Wesmac Custom Boats
Stainless 46' steel rail & bow pulpit:
Pipe Dreams Marine
Tuna tower:
Esposito's Welding and Fabrication
Aft fishing platform rails:
DC Fabrication
Electronics furnished and installed:
L&L Electronics
Share this article:
2023 Maine Boat & Home Show

Join Us for the Maine Boat & Home Show!
Art, Artisans, Food, Fun & Boats, Boats, Boats
August 11 - 13, 2023 | On the waterfront, Rockland, Maine
Click here to pre-order your tickets.
Show is produced by Maine Boats, Homes & Harbors magazine.