Sunbeam V
Ready for the next decade
By Laurie Schreiber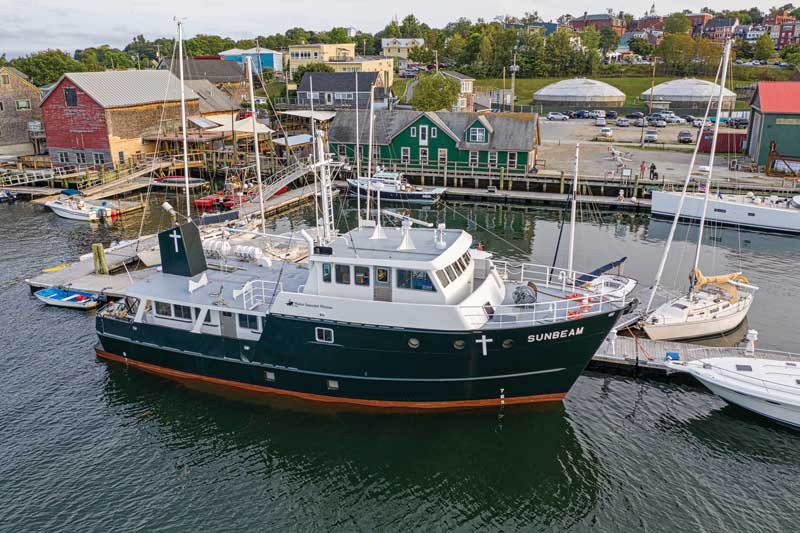 Maine Seacoast Mission's telemedicine vessel, Sunbeam V, is seen here at the Front Street Shipyard after an extensive refit. The boat returned to its new homeport in Northeast Harbor, Maine, in October. Photo by Billy Black
More than a year after Maine Seacoast Mission's telemedicine vessel, the Sunbeam V, was sent to Front Street Shipyard in Belfast, Maine, for an extensive refit, the ship returned to its new homeport in Northeast Harbor, Maine, and soon embarked on its rounds to Maine's offshore islands.
In a typical year, the return of the Sunbeam, a vessel that is beloved on the islands where the ship regularly travels, would have been a matter of great celebration.
The pandemic curtailed festivities. Indeed, folks weren't even allowed onto the boat when it visited their ports, as they usually are for socializing and for the famous cookies baked by the ship's steward, Jillian (who goes by one name).
But on Oct. 2, 2020, when Sunbeam V made its way into Northeast Harbor, eight other boats organized a little boat parade to greet the vessel, despite the cold, sodden day.
"It was a nice welcoming feel," said Sunbeam V's captain, Mike Johnson.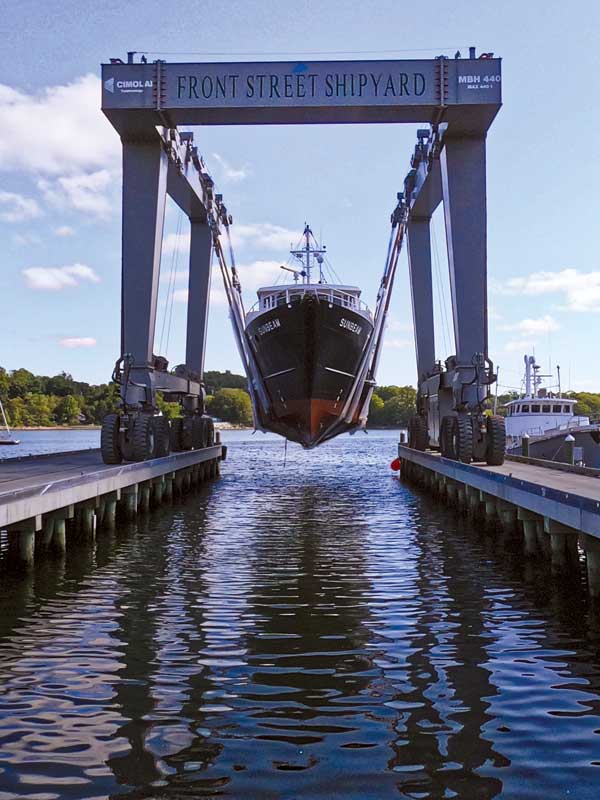 Rehab included removing corrosion of the steel hull, adding new barrier coatings, and equipment upgrades. Photo courtesy Maine Seacoast Mission Maine Seacoast Mission, founded in 1905 and until recently headquartered in Bar Harbor, Maine, provides medical and dental care to underserved coastal and island communities, as well as pastoral and spiritual support for those seeking it. The mission has always had a boat to serve the islands, including Sunbeams I through IV.
The 75-foot-long Sunbeam V, built by Washburn & Doughty Associates, a shipbuilder in East Boothbay, Maine, has been delivering healthcare and other vital services between Maine's islands and the mainland since its launch in 1995. One of its most important services is a telemedicine program, which includes state-of-the-art equipment and an exam room aboard the boat. The boat is also equipped with a salon that serves as a meeting place for fellowship, meals, meetings and, sometimes, weddings and funerals. With its steel hull, the Sunbeam often serves as an icebreaker, helping to clear harbors and protect moored boats from ice damage.
The mission hired Front Street Shipyard for the boat's first ever major maintenance period. The vessel arrived at the Belfast yard in May 2019. The project involved removing the accommodations in order to reach all areas below deck. The ensuing inspection revealed that what was initially thought to be incipient hull corrosion extended throughout the boat.
"It was just superficial surface corrosion, but it was enough that we wanted to fully address it," said Johnson, who supervised the refit.
Corrosion in a steel-hulled boat is to be expected and can't be completely corrected, he explained. Boats inherently do not have a lot of R-value in their insulation because there's not enough space for the six to eight inches of insulation that might be found in a house. So heating the interior cabins of a steel hull in the winter, given the chilly temperatures outside, results in condensation on the inside of the steel, which slowly degrades the coating.
After sandblasting the hull, Front Street mitigated the situation with added insulation and new barrier coatings to ensure the steel would stand up against rust in the years to come.
"Coatings from the last 25 years have improved dramatically," Johnson said. "So we're able to slow the process but not eliminate it."
The yard also completed cosmetic upgrades and interior redesigns in the wheelhouse, bunk houses, galley, and salon. Technicians updated mechanical and electrical systems as needed. Two generators were replaced; the new ones take up about half the volume of the old ones, and are more fuel efficient and much quieter.
"So anytime we're on an island where we don't have shore power, or we're at anchor, it's so much more pleasant to sleep with a quieter generator," Johnson said.
Bridge electronics were upgraded.
"We've kept up with the electronics to some degree over the years, but we made a dramatic jump," Johnson said.
For example, the boat previously lacked an automatic information system (AIS), also called a transponder system. It automatically sends out a signal with the boat's position, speed, course, and name, so that information can be picked up by other vessels. The system is very useful during low visibility. Another improvement is new radar that provides an overlay image on the boat's chart plotter.
"So you can see what's supposed to be there and what's actually there on the same screen," he said. "In limited visibility, that's a significant improvement."
A new vessel monitoring system monitors internal boat conditions such as bilge level, temperature, and tanks levels in real time. It automatically alerts the helm if there's a problem.
"It's a significant upgrade," said Johnson. "The biggest feature of this is that you can access it on your cell phone, so when the boat's at dock, it will send you an alarm message if something goes awry, or you can dial in."
Delivery was originally scheduled for May 2020, but the pandemic slowed the project a bit.
The mission raised $1.5 million for the refit and ancillary costs such as air flights to Matinicus in order to continue services to the islands. The mission also ran a 34-foot wooden downeast-style cruiser—appropriately named Moonbeam by a vote of Maine schoolchildren—to serve the islands through 2019.
Sea trials off Belfast went smoothly, said Johnson.
"I'm astonished, for a project this size and how disruptive it was to the boat, that we haven't had any significant issues since we've taken delivery," he said. Of Front Street Shipyard, he added, "It's phenomenal how complete they were with the job. They wanted the boat to be right when they delivered it. And it is. They're a talented group."
Front Street Shipyard president JB Turner noted the ship's critical role in the health and well-being of Maine island communities.
"Having the opportunity to update and upgrade the capabilities of Sunbeam V will have a direct benefit to our fellow Mainers, which makes Front Street Shipyard's entire crew proud," he said.
Anticipating the ship's return, the mission's island health services director, Sharon Daley; its island outreach director and chaplain, Douglas Cornman; and other mission leaders consulted with Maine Centers for Disease Control officials to discuss health and safety protocols while operating during the pandemic. Island residents knew they wouldn't be allowed on the boat immediately; flu shot clinics and other business will be conducted with proper precautions onshore.
But that didn't stop kids from running down to the boat when it stopped at Frenchboro. On Isle au Haut, several lobstermen were on the dock to greet the vessel.
"People were definitely happy to see the boat again," said Johnson. "A lot of people have mentioned, over the years, that just seeing the boat in the harbor is comforting." 
---
MBH&H Contributing Editor Laurie Schreiber is also a Mainebiz staff writer and has covered topics in Maine for more than 30 years.
---
Sunbeam V
Length: 75'
Beam: 21'
Draft: 7'
Engine: Caterpillar C-18 diesel with 454 hp,
installed by Billing's Diesel and Marine
in 2011 (not part of the refit)
Cruising speed: 10 knots
Hull: Steel
Builder 1995:
Washburn & Doughty Associates
Refit:
Maine Seacoast Mission:
Share this article:
2023 Maine Boat & Home Show

Join Us for the Maine Boat & Home Show!
Art, Artisans, Food, Fun & Boats, Boats, Boats
August 11 - 13, 2023 | On the waterfront, Rockland, Maine
Click here to pre-order your tickets.
Show is produced by Maine Boats, Homes & Harbors magazine.