Mavis
Ready for the next 100 years
By Gretchen Piston Ogden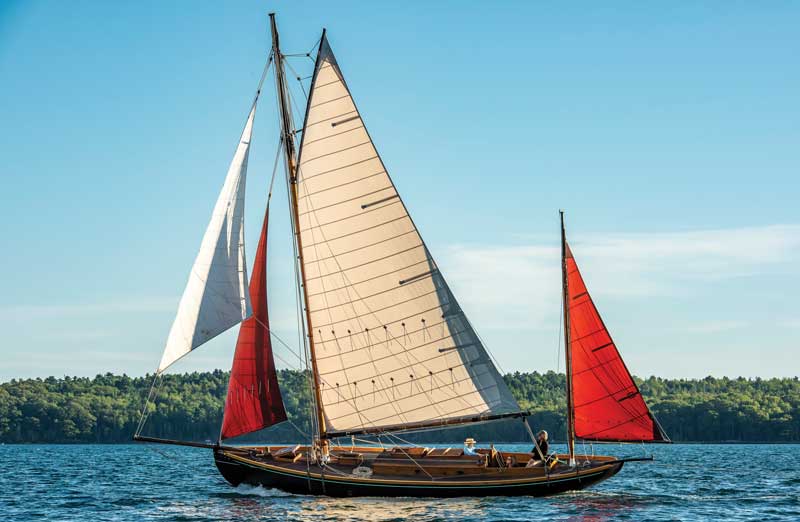 A hallmark of Kearney's designs is a handsome hull that moves comfortably and can maintain decent speeds while looking good from any angle. Photo by Benjamin Mendlowitz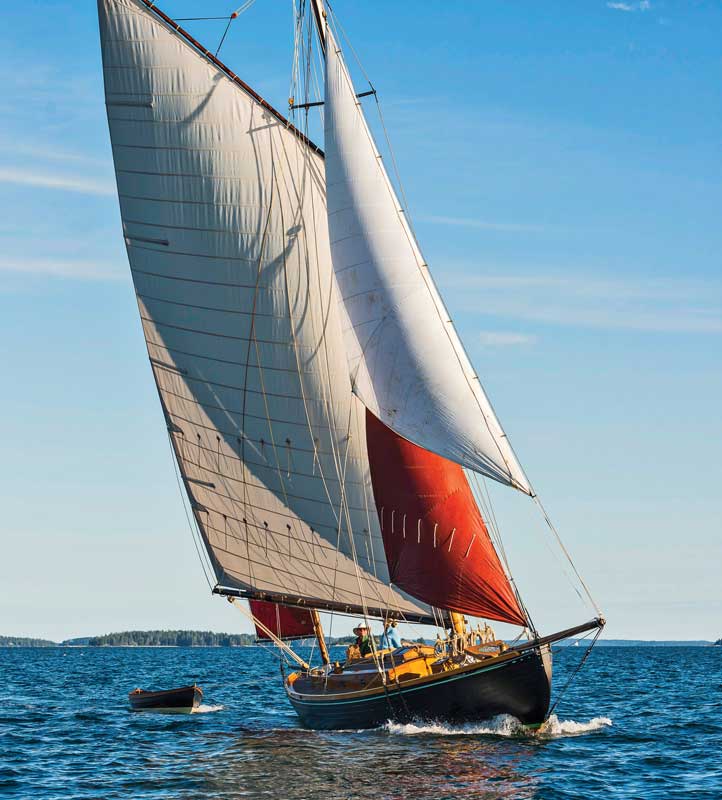 Hawkins spent years restoring Mavis. He launched the rebuilt hull in 2015, and then spent four years restoring the interior and building the rig. The sails are a mix of old and new, hence the different colors. Photo by Benjamin Mendlowitz When Ron Hawkins bought Mavis, the 38-foot double-ended Irish yawl had been out of the water for nearly a dozen years. It was stored under a tarp in owner Ronald Van Heeswijk's yard, awaiting a next chapter. Hawkins, who grew up in Camden's passenger schooner trade and spent much of his life immersed in the world of wooden boats, got the boat under cover and wired up the ends to keep the sheer, but it was another few years before he could move it indoors and begin work in earnest.
"Among many other things, I was working as a tugboat captain with a company in Belfast," Hawkins said, which precluded having lots of time to take on a big project. When he went to on-call status with the company, that helped free up more time for Mavis. "I've spent about 15 years working on her, but not full time."
Hawkins knew as well as anyone could what he was getting into. So why take on such a monumental project, singlehanded and on a limited budget?
"It wasn't about me," he said. "My primary interest was in her pedigree and history, which definitely made her worth saving."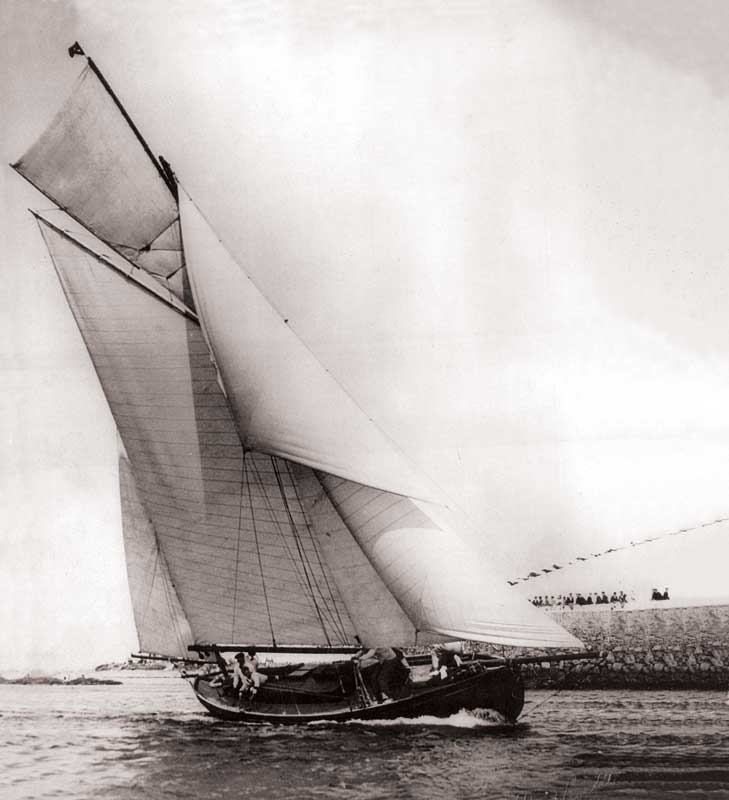 Mavis, almost certainly with designer/builder John B. Kearney at the helm, winning the Skerries Regatta in 1928. Kearney and Mavis participated in regattas and passage races on Ireland's east coast for nearly 30 years. A copy of this photo, along with two racing medals won by Mavis, hangs on the wall in Ireland's National Yacht Club, where Kearney was vice commodore. Photo courtesy National Yacht Club
Many would agree. Mavis, launched in 1925, was a pinnacle of the yacht-design career of Irish builder and designer John Breslin Kearney (1879-1967). Born into a boatbuilding family, Kearney was the eldest of four sons, and, when not in school, he worked at his father's boatyard in Ringsend, in Dublin, Ireland. He studied yacht design via correspondence courses; by 1897, when he was but 18, he had designed and built himself a 15-foot sailing dinghy. It must have seemed clear that a career drawing yachts was in his future. But while he apprenticed in boatbuilding at the port of Dublin, where he qualified as a master shipwright, his skillset was such that much of his work centered around building the port itself.
In addition to his "day job" as construction supervisor for the Dublin Port, Kearney kept designing and building wooden boats. He spent some 18 months of nights and weekends building the 36-foot gaff yawl Ainmara to his own design, and then campaigned the yacht successfully around Ireland.
His love of sailing was such that in an effort to boost Irish sailing culture during a fallow period for the sport, he created the 17-foot Dublin Bay Mermaid in 1932. To enable young people to own one, he designed the Mermaid so it could be built for about the same cost as a motorbike. Nearly 200 of the clinker-built sailing dinghies were constructed, and the class is still going strong today.
"Kearney was extremely capable," said Hawkins, adding that Mavis was the third boat Kearney designed and built for himself.
When asked what makes Mavis special, beyond the boat's obvious beauty, Hawkins said, "She is a very nice sailing boat. Kearney's ability and insight is evident in her performance, balance, and sea-keeping ability. She's a double-ender because she's a rule-beater, designed to fit the 10-ton (cubic measurement) rule. The deck measurement is from stem to sternpost; stern overhang is not included. This maximizes the waterline length in the given volume, which leads to increased speed." That competitive edge was made evident by Kearney's many successes on the Irish racing circuits.
Kearney owned and raced the boat for 25 years, until he was 85, then he passed Mavis on to avid sailor Paddy O'Keeffe in 1951. O'Keefe later sold the boat to Desmond Slevin, a ship's doctor.
"When the doctor moved to New York, he had her shipped over on a freighter named Royal Oak," Hawkins told me. "That's where Ronald [Van Heeswijk] found her."
A Dutchman with a small-boat background, Van Heeswijk was looking for a boat to live aboard. He found the Mavis in Port Jefferson, on Long Island.
"I saw the canoe stern and figured I knew canoes back in Amsterdam, so I'd be able to handle her myself," he said. He bought the boat from then-owner Ken Lauden, and after some refitting and a two-year stint in Florida, he brought Mavis to Maine, where they were a familiar sight around Penobscot Bay for many years. "The boat sails so well, we hardly ever used the engine," he said.
Hawkins, who is the boat's sixth owner, said, "Ronald had done a ton of research on her, which was a factor in why I was interested. He pretty much picked me to sell to and even let me pay over time. He understood Kearney's contribution to the Irish sailing tradition and industry, and I think he knew I'd honor that."
"I was going for authenticity—to reestablish the authentic shape. And the more I dug in, the more I found. I'd say something like 65 to 75 percent of the actual original fabric is left. All the planking is original except the garboards, that's a big deal for a 90-year-old boat. I didn't have to take any planks off the boat, I replaced the stem without removing them. She was built using typical European construction—sawn frames alternating with steam bent. All the steam-bent frames are original, but the sawn frames needed attention."
To save the iron keel, Hawkins removed it, needle-gunned it, then faired and fiberglassed it. The keel bolts and all the steel floors were also replaced. "She's stronger now than when she was built," he said. "I've added diagonal bronze straps and bracing, lots of things you won't see but they add a lot of strength." He replaced the house top and built a new hatch, but the house sides, coamings, and skylights are original.
Hawkins first relaunched Mavis in July 2015, some 20 years after he first got the boat, even though the project was not yet finished. Donald O'Keeffe, Paddy's nephew, who had crewed on Mavis in Ireland in his teens, had emigrated to the United States, where he worked as a naval architect with Burger Yachts in Wisconsin.
"Don was turning 80 and my uncle (Donald Hawkins) was turning 95. I wanted to be sure they got a chance to experience her," Hawkins said. "Don came all the way here from Wisconsin just for the launching, and got to drive the boat. He was thrilled."
"She didn't leak a drop that first relaunch," Hawkins said, "but the project was far from finished. It still needed a rig and an interior."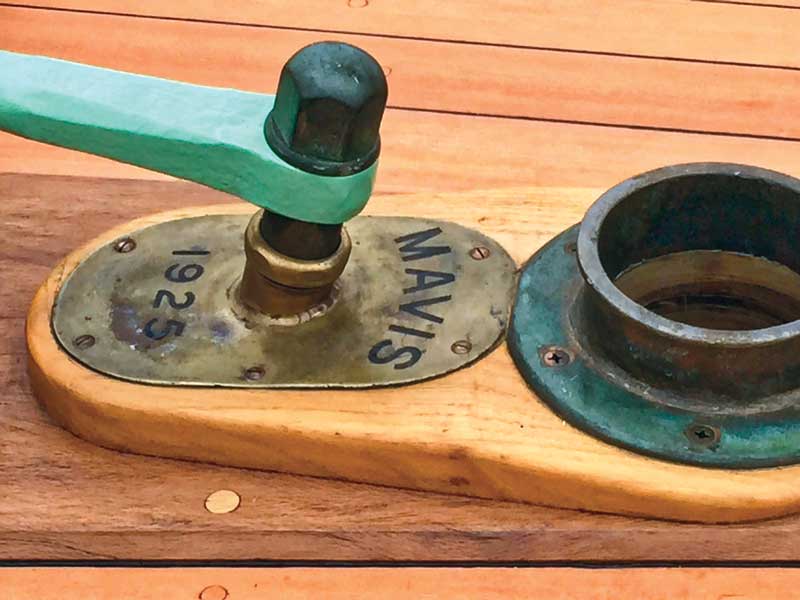 Rather than a total rebuild, Hawkins strove to retain as much original structure and hardware as possible. Photo by John K. Hanson Jr.
He might not have known it then, but Hawkins would keep going for another five years. He built a new 44-foot-long mainmast "as large as would fit in the mast hole" himself, and spliced the standing rigging as well. The interior is mostly original and reinstallation is still in progress "I still have a ways to go on that," he said.
"I was concerned that I'd overbuilt the rig when I redid it," Hawkins said, "but it has worked out great." Currently, the sails are a mixture of used and new; the new mainsail was built by Grant Gambell of Gambell & Hunter in Camden. Over the course of the restoration project, Rockport Marine provided Hawkins with help and valued support.
The boat went back in the water during the summer of 2020, then Hawkins and his partner Denise Pukas put Mavis through her paces. They cruised up to the Brooklin area to rendezvous with his brother's black-hulled, gaff-headed sloop Vela, built and launched in 1996. Vela had been sold, so the brothers wanted a chance to sail together before she went to a new owner.
When asked if he would do it again, Hawkins said, "The journey is its own reward. You need to really enjoy the process of a project like this or you shouldn't even think about doing it. I have no real idea what it cost, but I did it on a budget. I had the skills and the time, and a lot of what it took was time."
Van Heeswijk said he couldn't have found a more fitting person to take on the challenges of preparing Mavis for another 100 years.
"Mavis is, I think, one of Kearney's most beautiful creations, and Ron has done the absolute ultimate job on her. The level of detail he went to is just amazing," he said. "I'm glad I waited for the right person to sell her to."
John Kearney's Irish eyes are most certainly smiling as well.  
---
Gretchen Piston Ogden is a freelance editor, writer,  life-long sailor, and former Managing Editor of this magazine.
---
Mavis
LOA (including bowsprit & boomkin): 48'
LOD: 39'
Beam: 9' 5"
Draft: 5' 6"
Designer/Builder:
John Breslin Kearney (1879-1976)
Launched in Ringsend, Dublin, 1925
Restoration:
Ronnie Hawkins
Mainsail:
Gambell & Hunter Sailmakers
Share this article:
2023 Maine Boat & Home Show

Join Us for the Maine Boat & Home Show!
Art, Artisans, Food, Fun & Boats, Boats, Boats
August 11 - 13, 2023 | On the waterfront, Rockland, Maine
Click here to pre-order your tickets.
Show is produced by Maine Boats, Homes & Harbors magazine.