Hood 57 LM
Collaboration produces 57-foot stunner
By David R. Getchell, Jr.
Photos by Billy Black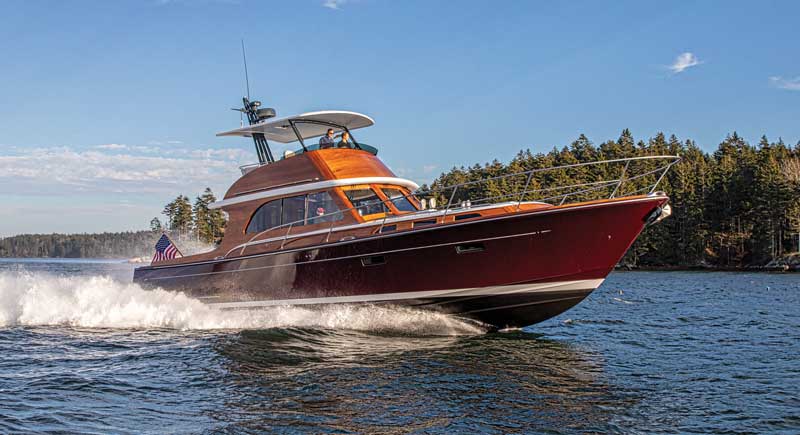 Sleek rounded trunk cabin, rakish pilothouse, streamlined flybridge, and brightwork for days: this boat is a real looker no matter where you look.
One of the most complicated yacht projects launched in Maine this year started out, as such things often do, as a simple conversation. "We were approached by an interested customer who liked the looks of some boats we'd done before," said designer Chris Hood. "We were initially talking about restoring a fairly small boat for him, but as we got into more details about what he wanted, things escalated pretty quickly. Before long he asked, 'Well, how about 57 feet?' All I could say was, 'Umm, sure!'"
Hood drew up initial design sketches to reflect the owner's wishes. The hit list included classic downeast powerboat looks, with added panache and stylish rake and flare to the bows. The client wanted broad side decks for easy access to a "rumble seat" up on the foredeck. He saw the boat as primarily an entertainment platform, with cruising accommodations for four as a secondary goal. As the list of desired features grew, the need for a bigger team to tackle the project soon became apparent.
Hood hooked up with proven players in the yacht world. Stephens Waring Yacht Design of Belfast, Maine, produced detailed design, construction, and engineering drawings. Lyman-Morse in Thomaston, Maine, took on the build, applying innovative construction techniques that helped move this full-custom project forward at an accelerated pace. The team dove headfirst into a lavish undertaking that evolved into an exercise in what could possibly be possible.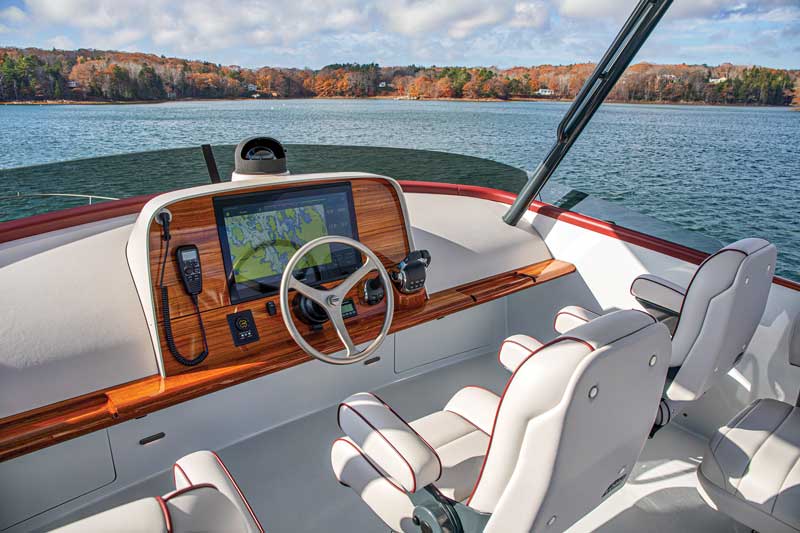 The low windshield up on the flybridge proves quite welcome on a vessel capable of some 45 mph.
"We were seeking a fresh expression of classic themes for a downeast-style powerboat," said Stephens Waring's Bob Stephens. "The look became more streamlined and stylized as things progressed." What they ended up with displays the familiar proportions of a lobsteryacht, but super-sized and leavened with just a hint of 1960s Egg Harbor sportfisherman. There's also a certain something else that strikes the eye as just so right when you see the Hood 57 LM in person.
Take, for instance, the teak trim that runs clear around the front and sides of the trunk cabin, a single swathe of brightwork that extends well aft onto the pilothouse. It's clearly a highly stylized element, but one that harks back to the trunk cabin treatment of a 1920s Herreshoff daysailer.
"One of our key guiding principles," said Stephens, "was to bring a sense of restraint to an obviously opulent boat." Details that reflect this restrained approach include a matte bead-blasted finish to the bow rails and circular flybridge stairs, a surprisingly subtle look as opposed to bright polished stainless tube work. Matte-finish titanium fairleads and pop-up cleats were 3D-printed at the Lyman-Morse Fabrication shop.
The owner is also a committed car enthusiast, and he specified numerous auto-style touches throughout the boat. There's a sports-car-ish helm station, with a hooded instrument binnacle that evokes a classic Jaguar or Mercedes (maybe except for the phalanx of LED electronics screens). There's a single-lever throttle control for the twin 1350-hp Volvo-Penta diesels, and a joystick to take the worries out of close-in maneuvering. And yes, there's an old-school round steering wheel, because, well, car guy.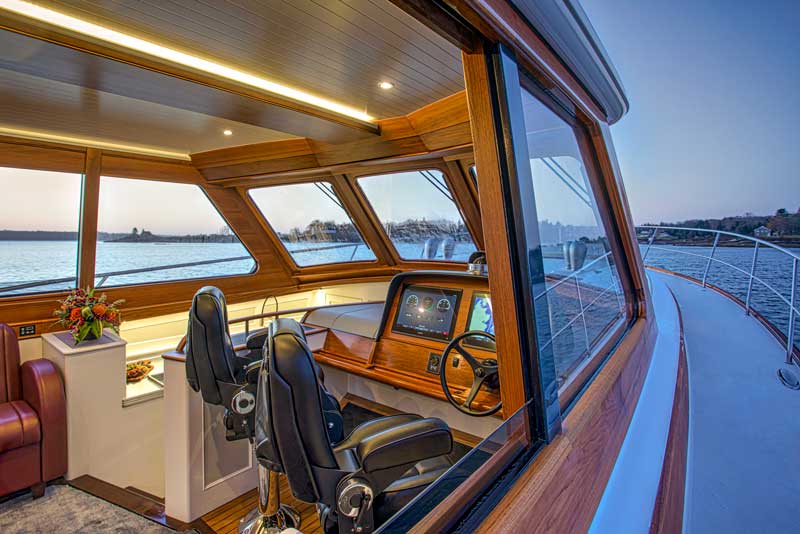 The automotive-style main helm station is surrounded by strawberry-blonde woodwork that lends a warm glow to the main salon, seen here through a retractable side window.
Other automotive touches include cushy tuck-and-roll couches in the main salon, done by Alfred's Upholstery of Sanford, Maine. These look like something straight out of Ike Eisenhower's favorite Cadillac. Then there are the chromed chevron-shaped drawer pulls, which hint heavily of '57 Chevy.
The interior features a roomy main salon with those Caddy couches ranged around the sides. Strawberry-blond-colored teak woodwork suffuses the interior with a warm glow, brightened by white ceilings and large retractable windows to port, starboard, and aft. The galley sits a couple steps down from the salon, but is left open above so the cook can whip up lunch while visiting with everybody on board at the same time. Said chef would be working on a custom pewter countertop and induction electric range.
The aft cockpit is equipped with dual-facing bench seats, but these aren't your basic boat perches, it's a multi-talented modular seating area. One touch of a remote control raises a low coffee table between the seats to dinner-table height, and the table can then expand to seat more people. Another poke at the remote and a bit of fiddling with the seatback cushions, and you've transformed the whole shebang into a wide, flat sun platform. The owner plans to serve up sumptuous meals from a flip-out electric BBQ.
How this boat looks is one thing, but how it got built proves equally interesting. Lyman-Morse used a modular assembly system that made the build process more efficient and helped control costs. Construction employed modular assemblies built up in parallel work bays, which were then sistered together by big overhead cranes. LM started with construction jigs cut by CNC routers. Then they produced four pre-assembled parts: a bottom hull module (roughly 50 x 15 feet), two topsides sections (port and starboard), and finally a curved transom assembly.
Weight control and overall strength were key priorities for this large, high-powered yacht. Massive cored fiberglass stringers stiffen the hull and support the interior fixings and drivetrain elements. The crew worked diligently to minimize the weight topsides, which helped balance the weight of other onboard systems.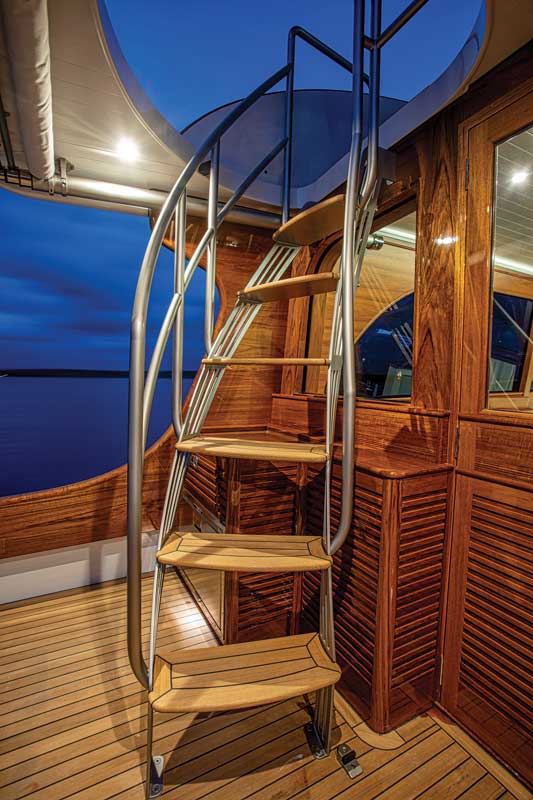 Circular flybridge stairs save space in the cockpit, and feature a subtle bead-blasted matte finish.
The hull itself is built up of a hybrid wood-composite structure, with tongue-and-groove fir planking sandwiched between inner and outer layers of fiberglass. Topsides sections are cored plywood with 6mm-thick teak veneers on the cabin sides and wrapping around the flybridge. There's a stout carbon-fiber girder reinforcing the pilothouse roof.
As for power, Hood said that the compact size of the Volvo IPS pod drive system helped open up considerable space elsewhere in the vessel. This particular project was Lyman-Morse's first build using IPS pod drives. Volvo engineers specced out the engine beds and pod drive mountings, which simplified installation (and subsequent maintenance and/or repair) of such a muscular powertrain. Extensive soundproofing under the floors and decks will minimize noise and vibration.
And thanks to some 2700 horses eager to gallop with one shove of the throttle, the Hood 57 LM is a formidable runner indeed. Imagine barreling up the coast at the speed of a fast multiple-outboard-powered sportfish boat, but riding in a 66,000-pound vessel with all the comforts of a palatial home, and you begin to get some idea of the depth of experience this boat delivers.
Throughout the whole build process, the owner's directions to the team came down to a simple mantra: "Do what you guys think is best. What we want to end up with is a really, really special boat." Take a long, lingering look at the Hood 57 LM sitting dockside or arrowing across the bay, and there simply can't be much doubt about the success of that guidance. 
---
Dave Getchell is the former Associate Publisher of this magazine. He's now devoted to riding his fleet of bicycles and pursuing all manner of interesting boats.
---
Hood 57 LM
LOA: 57' 3"
Max beam: 17' 6"
Draft: 4' 10"
Displ.: 66,000 lbs.
Power: Twin Volvo-Penta D13 twin-turbo diesels, 1350 hp each
Designers:
C.W. Hood Yacht Design
Stephens Waring Yacht Design
Builder:
Lyman-Morse
Share this article:
2023 Maine Boat & Home Show

Join Us for the Maine Boat & Home Show!
Art, Artisans, Food, Fun & Boats, Boats, Boats
August 11 - 13, 2023 | On the waterfront, Rockland, Maine
Click here to pre-order your tickets.
Show is produced by Maine Boats, Homes & Harbors magazine.