The Healing Power of Winter Paddles
By Dianna Emory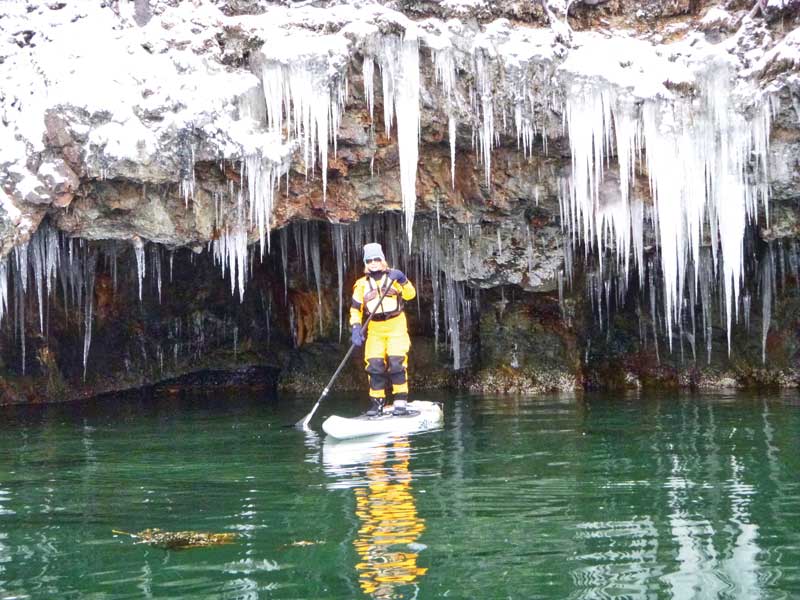 The adventurous author enjoys Frenchman Bay in January. Photo courtesy Dianna Emory
The magical waters of winter bays offer healing potential as deep as the ocean. Cold weather paddleboarding (in a dry suit), as well as kayaking, frostbiting, or jaunts along an icy shoreline, can ease the pain of physical, emotional, and spiritual challenges as effectively as summer adventures. For me, paddleboarding is the greatest elixir—a sport where I can connect with the magnificence of the ocean and her creatures, keep my body strong, build a treasure trove of memories for a time when this activity is not an option,  interact with others or be alone, and inspire volunteerism on behalf of the natural world when back ashore.
At fourteen degrees, ice stalactites hang off Frenchman Bay's jagged cliffs, as I paddle into an easterly chop. This aerobic activity has already produced a good sweat. Two years ago, following a never-smoker, stage four lung cancer diagnosis, this same expedition meant pushing my board through extensive shore ice before reaching open water. Desperate to get on the bay for an exhilarating paddle, I persevered. Uphill trail running, climbing, and skiing challenged my compromised breathing in a way that aerobic paddling didn't.
As I scoot along now, paddling hard while watching for dangerous shell ice or submerged ice chunks, I say my thankfulness prayer for the world and her creatures and am reminded that, even when we are unable to get outside, we can retrieve memories of cherished experiences whenever we want. When we face any adversity—whether medical crisis, relationship difficulties, or any other trauma—we can pull the details of those times close to us, examine them carefully, and transport ourselves to a more comfortable space.
Close by, a solitary loon offers an intimate connection, as he floats between the swells, seemingly oblivious to my presence. My mind's eye captures the bold black and white markings, the gleam of his sienna eyes, and his distinctive bill, as I am reminded that he might have paddled this bay for more years than I. The details of this loon and the sparkling bay around him can return whenever wanted, as they are now embedded in my memory.
Slowing down, I stroke toward Mount Desert's Ovens, impressive caves created by ocean storms. I think about their history, the thousands who have peeked inside them, and of how much more important the salvation of the ocean is than what happens to each of us. Determined to do all that I can to make a difference to this world, I am convinced that is why I have been kept here since my bout with childhood cancer 70 years ago. The waters and the lands around them have sustained me, and I want to give back. You can do that, too.
Through the clear water, I search for last summer's nursery of hundreds of sand dollars.  A few are now scattered about in 15 feet of water, but most have moved. Paddling into The Ovens, I paw into the rockweed, searching for crabs and other creatures, hoping that the green crabs have not devoured all. They are here in increasing numbers thanks to global warming, and are a great threat to much that the ocean holds. These thoughts are punctuated by the beauty of the sparkling snow that covers the shore, the presence of the flocks of eiders, buffleheads, paired loons scattered between the waves, and the seal who follows, occasionally leaping dramatically from her salty home. I call her Cody, in honor of my marine biologist friend, lost to ALS not long ago. In my mind's eye, I capture the bay and her creatures, saving them for a time when ocean jaunts are not possible. Everything shifts into perspective, as I am carried away from cancer's current threat, knowing that there are much more important things to focus upon.
Today I am energized and filled with wellness, as I paddle out of The Ovens and across the bay, thanks to a remission brought on by targeted therapy. Great credit also goes to the natural world, the love of family and friends who share activities on water and land, and volunteerism on behalf of our threatened world—no matter how tough the going is, getting outside oneself to make a difference is hugely beneficial. I am reminded of this, as I consider the changes in this patch of ocean—the jellyfish blooms and red tides that are larger, the depletion of fish and resultant decline of the seabird population, and the different aquatic plants. Our treasured oceans need help desperately, and there are numerous places where we can have impact.
The bay promises endorphin-releasing exercise replete with remarkable views and wildlife sightings that put any worries in perspective. Regardless of whether you paddleboard or choose another activity, a couple of hours on the water can elevate your mood, strengthen your body, and provide a meditative experience. It can also lower your blood pressure and help you to cope more effectively with whatever comes your way. Much research confirms that we need exposure to the natural world, the merits of outdoor exercise over indoor activities, and the negative impact of a sedentary lifestyle. The opportunity to engage with the natural world at whatever level we can is a great gift—something I learned as a childhood cancer patient and a message I passed on to my own mental health patients for decades.
When at our healthiest or during lower periods, there is always a way to boost our energy and our moods through engagement with our winter bays. When possible, we employ the waters to strengthen our bodies.
Today, I paddle at endorphin-releasing speed into the freshening breeze, capturing memories of the movement of the waves, the creatures, and the crystalline shoreline. I reflect on the many adventures shared with loved ones on the oceans, near and far, knowing that those recollections are within easy reach whenever they are needed, and that many more expeditions await. I think of how we live in a symbiotic relationship with our waters, and how much is gained when we reach outside ourselves. The joy that we find on our bays can follow us throughout our lives in so many ways, providing a source of renewal from active engagement or the retrieval of memories. 
---
Dr. Dianna Emory, an MDI resident, has volunteered for conservation-related organizations when not engaged directly with the environment.
Share this article:
2023 Maine Boat & Home Show

Join Us for the Maine Boat & Home Show!
Art, Artisans, Food, Fun & Boats, Boats, Boats
August 11 - 13, 2023 | On the waterfront, Rockland, Maine
Click here to pre-order your tickets.
Show is produced by Maine Boats, Homes & Harbors magazine.