GreenRail
Surfboard maker rides a green wave
By Laurie Schreiber
Photographs by Nick LaVecchia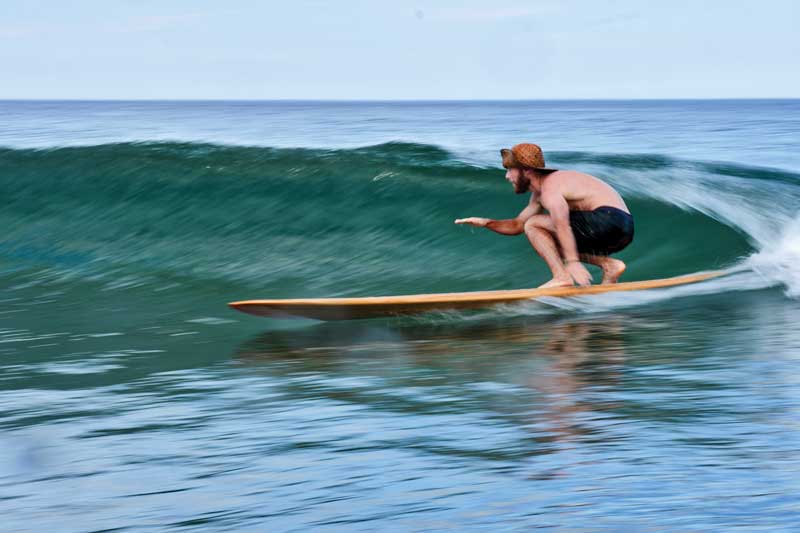 Growing up in New Jersey, Mike LaVecchia was like many suburban kids, building ramps and hitting them on skateboards and BMX bikes. As a young adult, his love for the board migrated to snow and then to surf.
Today, he's the owner and "chief thinker and tinkerer" of Grain Surfboards, a York, Maine, designer and maker of wooden surfboards. Innovation and sustainability have been pillars of the business since he started in 2005. The focus is on sustainable wood production using traditional hand-built techniques, this in an industry that decades ago largely went to plastic foam materials.
Now the company has doubled down on sustainability with the development of the GreenRail surfboard. The design combines wood construction with a perimeter rail made of 100-percent recycled plastic, called polyethylene terephthalate, or PET. The perimeter rail is the most important part of the board. It connects with the waves, which makes it key to good performance.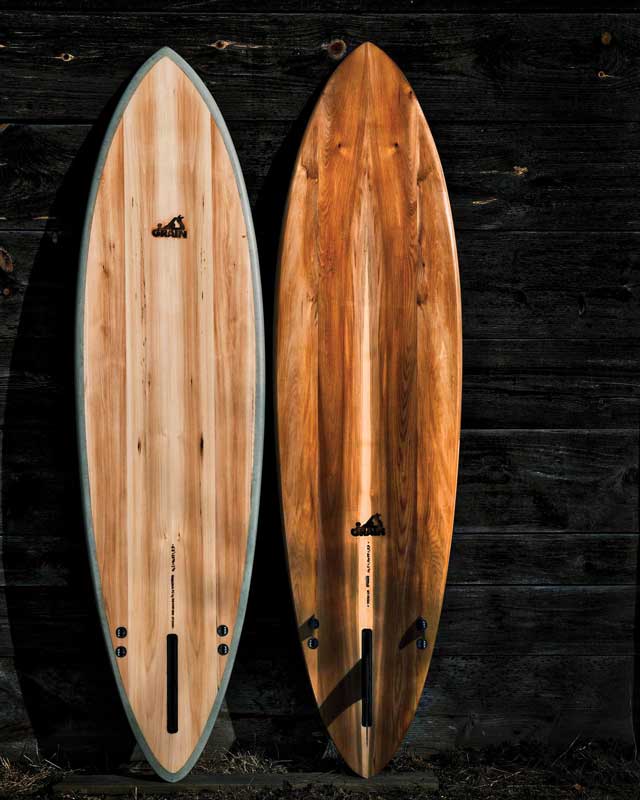 Grain Surfboards' new GreenRail board, on the left, features a rail fashioned from recycled plastic.
The use of PET saves on the time it typically takes to mill multi-segmented wooden rails. This lowers the price point and makes the product more accessible to a broader customer base.
"We've always been on the lookout for different materials that help us meet our goals," said LaVecchia, who maintains a socially responsible approach to running the company, with practices such as folding in waste wood from other industries and saving every shaving to reuse or recycle.
Experimentation is also a theme. Through his previous work on and around boats, LaVecchia developed a love of cedar as an excellent choice for watercraft. But he had some PET material hanging around the shop and thought it might be worth figuring out a use for the recycled plastic.
The middle of a surfboard from nose to tail, with its gentle curvatures, is relatively easy to build from wood. But the outer rail continually changes along the board's length. When created from wood, its complex curves involve 10 or 11 pieces individually shaped and fitted together. Every model and size requires a different configuration.
"We realized that, from a manufacturing standpoint, the most time-consuming part of building a board is the perimeter," said LaVecchia.
LaVecchia came to the intersection between board-making and woodworking through his pastimes and his career. He discovered snowboarding when the sport was in its infancy; several years later, at age 17, he moved to Vermont to work for the industry leader, Burton Snowboards. Over the next 12 years, he did everything from building boards to managing a team of professional snowboarders.
Then he shifted gears to follow his passion for being on the water. He obtained a U.S. Coast Guard captain's license, operated a commercial sailing vessel on Lake Champlain, and explored the East Coast by water from the Caribbean to Maine.
In 2001, with his knowledge of vessel operations and his wooden boat experience, he jumped at the opportunity to manage the construction of the 88-foot replica of the Lois McClure, a sailing canal boat launched in 1862, a project of the Lake Champlain Maritime Museum in Ferrisburgh, Vermont.
During that time, surfing caught his attention. He and his brother began traveling to York, Maine, as a surfing destination. "Eventually we decided we were tired of driving back and forth," he said. "We found a cool place for rent and decided to give it a shot. We thought we were just coming for the summer."
They stayed, and soon settled on a farm, just a couple of blocks from the ocean, where LaVecchia set up a woodworking shop to adapt his knowledge of wooden boat construction to design and build surfboards for himself. LaVecchia originally didn't intend to start a business. But after he had built a handful of boards for family and friends, newspaper stories about his boards began to appear and orders started coming in. Grain Surfboards was born. The handcrafted nature of his boards stood in contrast to the mass-produced foam boards that have dominated the industry for decades.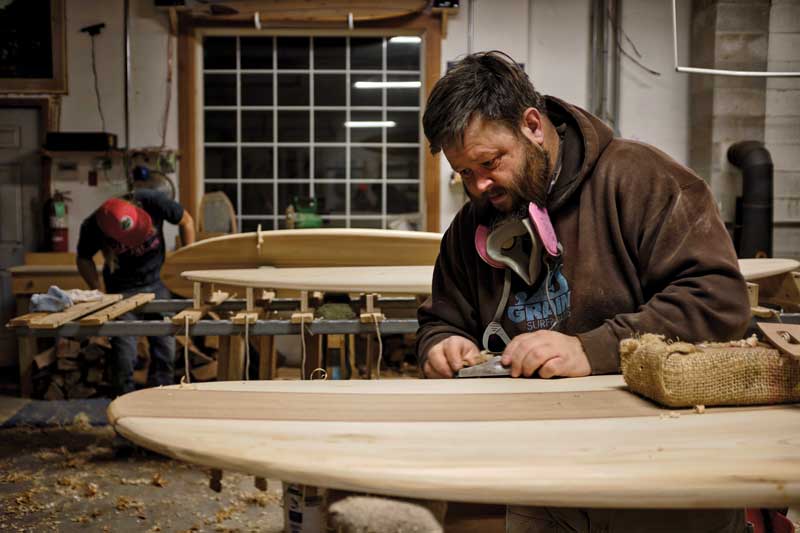 Grain Surfboards founder Mike LaVecchia, seen here, takes pride in the handcrafted nature of his product, which stands in contrast to mass-produced foam boards.
Today, Grain combines 3D modeling technology with hand-built woodworking techniques and uses softwoods sourced from Maine mills and forests that practice sustainable harvesting. The company sells boards and DIY kits and plans, shipping worldwide and hosting weeklong workshops at its York shop and a second shop in Amagansett, New York. Typically, one employee spends half a year on the West Coast driving a mobile workshop—a repurposed school bus and trailer—to teach classes and leverage the large West Coast surfboard market. LaVecchia and his team of nine full- and part-time employees expect to build about 60 surfboards this year, up from 40 per year. He attributed the growth to a pandemic-driven increase in outdoor recreation.
When the Maine government shut down non-essential businesses early in the pandemic, LaVecchia and his team had time to finalize their ideas around the plastic rail, incorporated by heating and bending the lightweight extruded plastic along the perimeter, then shaping it by hand. The process proved far less time-consuming than building a wooden rail. And that cut the price by about half.
The GreenRail debuted in July 2020—precisely the time when folks sheltering at home were trying new outdoor adventures such as surfing.
Ever the tinkerers, the company soon plans to come out with a new model, called a Glider—a longboard meant to go fast in a small to mid-size surf.
"We have a drive to keep innovating, but it's less about financial gain and more because we love the process," he explained. "We love experimenting and prototyping—and sharing that with everyone else."
LaVecchia is big on boating, fishing, and outdoor recreation of all types. But surfing, he said, has its own special feeling.
"When you're surfing on a wave, you're riding this energy in the water that's traveled thousands of miles from where it was created," he said. "Catching that wave and surfing it unbroken is a feeling you can't get in any other sport." 
---
MBH&H Contributing Editor Laurie Schreiber is also a Mainebiz staff writer and has covered topics in Maine for more than 30 years.
---
GreenRail 
Boards:
Fish: 5' 4" to 7' 2"
Mid-Length: 6' 5" to 8'
Longboards: 8' to 12'
Big Wave: 6' 9" to 12'
Bodysurf: 4' to 4' 6"

Builder:
Grain Surfboards
Share this article:
2023 Maine Boat & Home Show

Join Us for the Maine Boat & Home Show!
Art, Artisans, Food, Fun & Boats, Boats, Boats
August 11 - 13, 2023 | On the waterfront, Rockland, Maine
Click here to pre-order your tickets.
Show is produced by Maine Boats, Homes & Harbors magazine.