French & Webb Levant 15
Nimble, trailerable daysailer
By Art Paine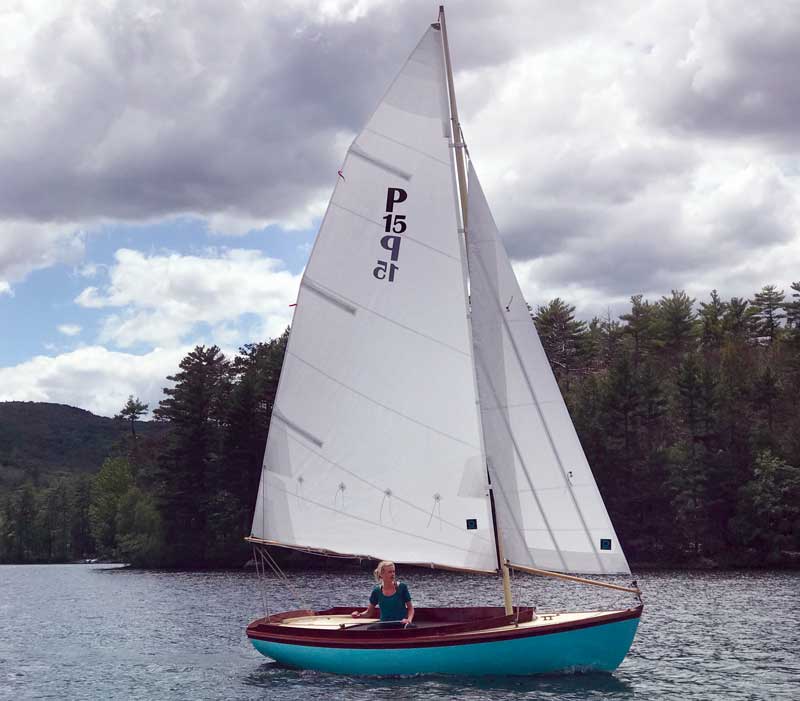 The Levant 15 has an extraordinarily clean rig. You can pull the sails in almost on center, and pinch this little gem—for a while—right up into the wind. Photograph by Polly Saltonstall
The Levant 15 is a trailerable, fixed-keel sailboat; a recent Chuck Paine design that is now being built and offered at French & Webb in Belfast. The second model was launched last summer.
With a trailerable sailboat, performance includes how easy it is to tow and launch. The Levant 15 is a keelboat, but with a very shallow draft of just under 2 ½ feet. It arrived at the launch trailed behind an everyday Subaru. The boat, all-up, weighs about 1,000 pounds. With an extendable trailer, Cecile Zoey got into the drink in no time.
The Levant 15 is the mid-sized version of a theme Paine has been developing for several years since his "retirement." He aspires to create modern boats that artistically evoke Nathanael Herreshoff's most famous small boat designs, but with very little maintenance. With the exception of the missing steam-bent ribs, and plank lines, the Levant 15 and the Herreshoff 12½ are quite similar. Make no mistake, however; they are a far cry from identical twins. Paine's modern spinoff has significant alterations to the hull, involving such basics as displacement, deadrise angle, and the all-important element of wetted surface. The designer owns a 1937 Herreshoff 12½ that he loves dearly, and he objects to pundits who assume that the Levant 15 is a close copy.
The big surprise for the onlookers on launch day was not the ease of hitting the water, but the cumulative effect of Paine's design alterations. The most conspicuous change is that the Levant has a separate foil-shaped ballast keel and a diminutive, vertical, transom-hung rudder. Along with other modern specifications—lighter weight, smoother skin surfaces, smaller appendages, lightweight carbon mast and unstayed rig—one might expect the boat to perform well. What astounded observers at that first test sail was that the Levant reached hull speed in just six knots of wind.
This is a wooden boat that's cold molded, which yields a tough, smooth, leak-proof hull. There was no bailing after the launch, but that was just the first notably modern touch. Clever little inventions made the boat quick and easy to rig. The carbon mast only weighs 22 pounds, so it was easy for Paine to erect, even with a tender shoulder. The spar is held in place with a pretty bronze collar hinge, one of many vintage-styled fittings that hark back to the rugged quality yachtsmen appreciated in the previous century.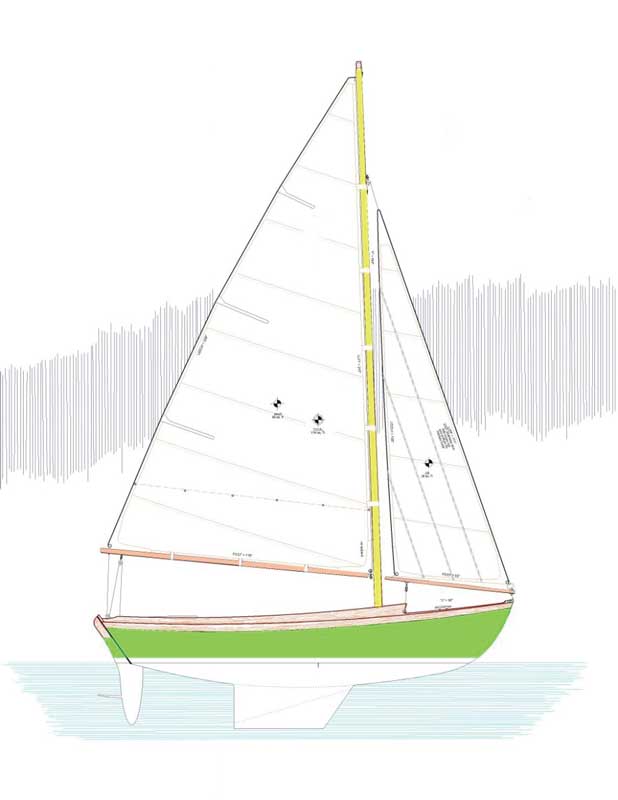 Above the surface the Levant 15 looks much like a Herreshoff 121/2, but below the water line you can see a huge difference in wetted surface. Courtesy Chuck Paine The word levant is derived from the French word lever, to rise. Todd French, who chose the name because it evokes a blend of wind and water, hopes that this and similar traditional small keelboats will spell a renaissance for the sailboat industry. He has invested considerable energy fashioning elaborate molds and tools, and has trained a workforce to economically create the wood composite parts. Levant 15s will sport hand-fitted, varnished seats and transoms, and optional hand-molded wood sheer strakes. As with the Herreshoff Company a century ago, these embellishments will be offered in teak or other woods, including mahogany. French and Webb already has built two Levant 15s. The first model is sailing out in San Francisco.
One invention that accounts for both a quick getaway and efficient sailing was that the mainsail attaches to the mast with soft, Velcro mast hoops. The jib furls up and stores on a tiny roller furler—now you see it, now you don't.  And as with many traditional knockabouts, the jib swings on a wooden jib-boom rendering the boat self-tacking. Paine demonstrated this by short-tacking every few seconds directly to windward, as if up a narrow canal. At one point he blew onlookers' collective nautical minds by strapping in the sails and ignoring the tiller. All by itself, the boat zigzagged its way—very fast—up into the wind.
Cecile Zoey can spin on a dime. "She feels the epitome of delicacy in your hand," French said. "She can be sailed literally with your fingertips." By some magical symbiosis, combining a clean wireless rig with hardly any drag, perfect NACA waterfoils underneath, and a low center of gravity, the boat's ability to accelerate is phenomenal. It occurred to me, a sailboat racer, that this boat performed on a par with my twice-as-large Luders 16. Well, maybe not so quick that she'd prevail over an Olympic course. But if they ever do sailboat drag racing over a standing quarter mile, you'd best not insult a Levant 15 at a red stoplight-buoy!  
---
Contributing Author Art Paine is a boat designer, fine artist, freelance writer, aesthete, and photographer who lives in Bernard, Maine. He is also the twin brother of Chuck Paine.
---
Levant 15
LOA: 15'
LWL: 12' 1"
Beam: 5' 5"
Draft: 2' 4.5"
Displ.: 1000 lb.
Sail Area: 114 sq. ft.
Designer:  Chuck Paine
Builder:  French & Webb
Sailmaker:  Quantum-Thurston
Share this article:
2023 Maine Boat & Home Show

Join Us for the Maine Boat & Home Show!
Art, Artisans, Food, Fun & Boats, Boats, Boats
August 11 - 13, 2023 | On the waterfront, Rockland, Maine
Click here to pre-order your tickets.
Show is produced by Maine Boats, Homes & Harbors magazine.