Tripp 45: A modern wood-composite daysailer
By Art Paine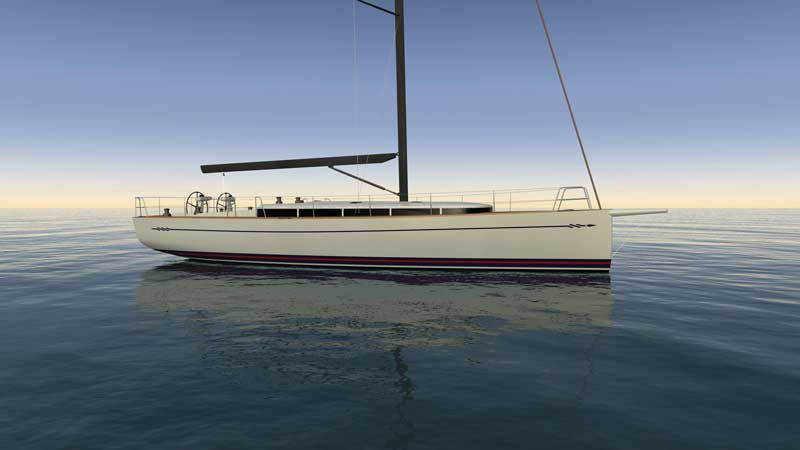 The owner of the new Tripp 45 had a clear mandate: "It should have some classical elements, but the design should also convey speed and the ability to move well through the water, much like a Ferrari on land. I would like to sail this boat for a long time, so ease of sailing, both short-handed and single-handed, means that simplicity and ergonomics are important. Finally, although we will do a lot of day-sailing, the yacht is to be beautifully appointed with comfortable weekend cruising accommodations for two couples." Image courtesy Rockport Marine
Traditional wooden yachts, both new builds and restorations, have been a focus in the past at Rockport Marine: replicas of historic brigs, coasting schooners, a Bermudian three-masted school ship, and sleek double-planked racing yachts. But that's not all they have up their epoxy-stained sleeves. The yard's latest project, a speedy 45-foot day-racer with a retractable keel designed by Bill Tripp Jr., stands out in stunning complement to these usual traditional builds.
Tripp has become known for large, rectilinear, and uncluttered yachts, featuring clean decks and stylish cabins sided with uninterrupted dark-tinted windows. His designs also are known for  producing top-notch speeds, even in yachts that are not destined for racing. His vision for this design was influenced by a visit to the owner's home, which strongly indicated an affinity for modern architecture—clearly Tripp's designs were the perfect fit.
Tripp's hulls differ only in minor aspects from the currently accepted "shape of speed," including a plumb stem and stern, a nearly flat sheer, a wedge-shaped platform to the deck, and a vertical fin keel with bulb at the bottom. But unlike modern "box-rule"  racers and ocean racers, which often require a deep keel to offset a huge expanse of sail, this new boat now under construction at Rockport Marine will have a lifting keel. Although the owner plans to race and cruise in New England where adapting a boat for shoal-draft conditions is not usually an issue, this boat's home harbor is a well-silted river in western Connecticut.
Modern boatbuilding tends to rely upon quite a lot of subcontracting. This keel, its enclosure box, heavy lead bulb,  and hydraulic mechanisms, was subcontracted to Fiber Mechanics, a company in England, and will be shipped to Maine for installation.
Rockport Marine President Sam Temple said that he and Tripp were excited to work together on the project. While Tripp usually specifies carbon and foam composites for hulls, this design will incorporate an engineered balance between wood, carbon, and foam. The hull layup will be a sophisticated take on traditional cold-molded construction, including wood laminates, a foam core, and layers of carbon. Cold-molded wood, Tripp noted, has ideal mechanical properties and is "the most efficient way to build a one-off." As early as 1991, he designed Aurora, a cold-molded boat built at Brooklin Boat Yard. After repeated ocean passages, and an occasional stumble due to her 10.5-foot fixed keel, "she's still going strong," Tripp said.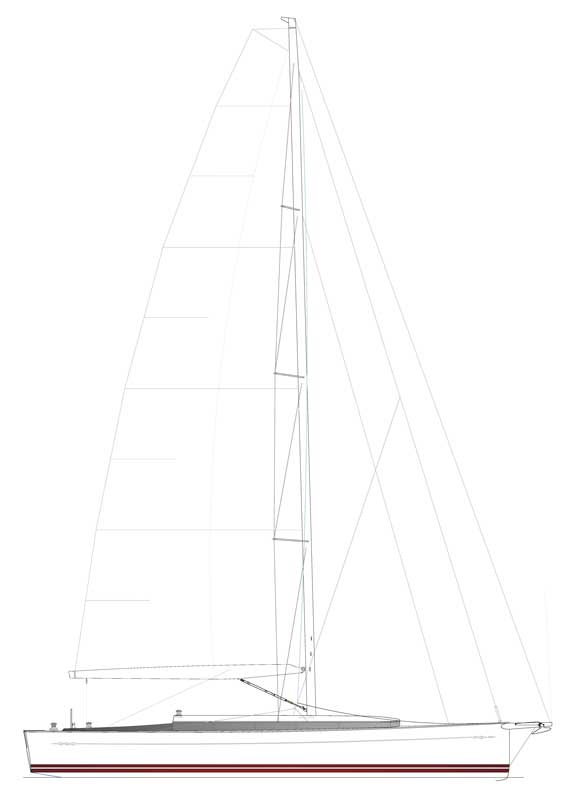 "This is a special kind of collaboration that is a true joy for us" said designer Bill Tripp, "to create a boat that we too would like to sail." Image courtesy Rockport Marine
I was able to make a COVID-friendly weekend visit to view Tripp's new creation in the work bay at Rockport Marine. The nearly finished hull and deck were impressive. The boat's angular shape stood in marked contrast to the fiberglass Hinckley Sou-wester in the adjacent bay, the Concordia Yawl outside, and Sonny, a 1935 Sparkman and Stephens racing sloop tied up at the dock. In addition to the flat sheer, a striking feature for the deck is that instead of curving in, it runs in a straight line from midships back to the wide transom. A low cabin house with fairly flat roof provides easy footing and a broad field of action for crew. When the crew gangs up on the weather rail, a phalanx far off centerline, stability will be greatly enhanced. The cabin house is quintessential Tripp, sided by a continuous row of rectangular panes with curved and tinted glass. Sam Chamberlin, Rockport's in-house designer, said that each pane will join its near neighbor by nothing more than a bead of Sika elastic caulking.
This boat is intended for daysailing primarily, but also for fully crewed and double-handed racing. There will be one high-aspect ratio rudder for steering, and twin helms on deck, a setup that encourages a clear view of the luff of the jib from both windward and leeward.
A broad, rather high freeboard hull makes for lots of room below. There is volume sufficient for two cabins with a head, and an expansive main cabin to boot. The box for the lifting keel works into the plan nicely and doesn't create a significant intrusion. In keeping with an openness to the unconventional, the plan is to finish the interior in pickled white ash, contrasted with white paint, and with bright varnish on much of the laminated Sitka spruce joiner structure, such as carlins and stringers. This triad of colors, in combination with those ranks of windows, will create a bright and airy look that departs from the aged brown mahogany of your grandfather's ocean racer.
Nearly all Tripp designs feature teak decking, but some clients have objected to this use of a tropical resource. "We're trying to work our way out of that," Tripp said. Working with this Maine shipyard with its deep familiarity around wood, he learned that old Friendship sloops had cedar decks. He also was familiar with the weight-saving cedar decks installed on 73-foot Bolero more than 40 years ago. That classic Olin Stephens racing yawl was restored at Rockport Marine in 2010. The deck on the new Tripp boat will be Alaskan yellow cedar with gray spline lines.
The systems will be ultramodern. The auxiliary "sail-drive" engine is a 45 horsepower Nanni that will sit atop a "pancake" electric generator, which will recharge a 48-volt pack of lithium-ion batteries. It will be possible to reverse functions, allowing the batteries to spin the drive shaft. I can envision enjoying this silent motor to glide up a pretty river in Connecticut after a daysail or a Wednesday night race.
This boat won't look like your typical New England daysailer. At least the mainsail will be quadrilateral, to a small degree, like granddad's gaff rigger. But the sails will likely be black. Still, while the drawings look radical, I've noticed that when Tripp's designs are built and on the water, they look gorgeous and go fast.
Plans call for launching the vessel in late spring 2021.
---
Contributing Author Art Paine is a boat designer, fine artist, freelance writer, aesthete, and photographer who lives in Bernard, Maine.
Tripp 45
LOA:  45'
Beam:  13' 2"
Draft keel down:  9' 2"
Draft keel up:  6' 5"
Designer:
Tripp Design Naval Architecture
Builder:
Rockport Marine
1 Main Street, Rockport, ME
207-236-9651; rockportmarine.com
Share this article:
2023 Maine Boat & Home Show

Join Us for the Maine Boat & Home Show!
Art, Artisans, Food, Fun & Boats, Boats, Boats
August 11 - 13, 2023 | On the waterfront, Rockland, Maine
Click here to pre-order your tickets.
Show is produced by Maine Boats, Homes & Harbors magazine.