Precisely Maine
These artists pare Maine down to its essential elements
By Carl Little
Treworgy photos courtesy the artist • Van Campen photos courtesy the artist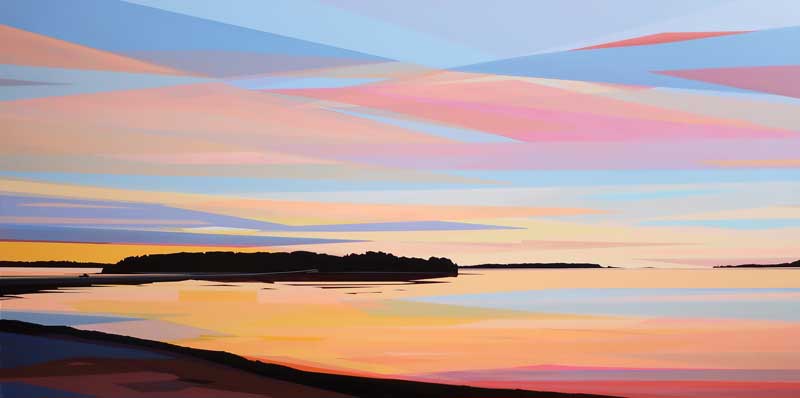 Using her signature hard-edge approach, Greta Van Campen transformed a Maine coast landscape into a stunning geometric patchwork. Mackworth Island Sunrise, 2020, acrylic on canvas, 22 x 44 inches. Collection of Dan Flack and Jesse Weisshaar
In the 1920s, a loose-knit yet formidable group of painters responded to America's modernization and industrial development by making it a subject of their work—art historians have labeled them "Precisionists." The likes of Charles Sheeler, Charles Demuth, Elsie Driggs, George Ault, and Ralston Crawford rendered factories, skyscrapers, and bridges with inspired dynamism, distilling them into pared-down shapes and colors. While owing something to Cubism and Futurism, Precisionism came to be considered the first American-made modern art movement.
A century or so later, Maine painters Mary Alice Treworgy and Greta Van Campen are carrying on that Precisionist tradition. But while their predecessors celebrated a mostly urban world, Treworgy and Van Campen focus on Maine's coast and islands, various buildings, and a famous lighthouse. They look at the world around them with an eye for its innate geometry, transforming their surroundings into brilliant compositions via a kind of abstracted realism.
How did these two painters come to adopt a Precisionist approach? Treworgy didn't learn about Precisionism until long after she had developed her own signature pared-down style. A friend gave her a copy of a 1991 catalogue, Ralston Crawford and the Sea; from then on, she has noted, she "worshipped at the Precisionist altar."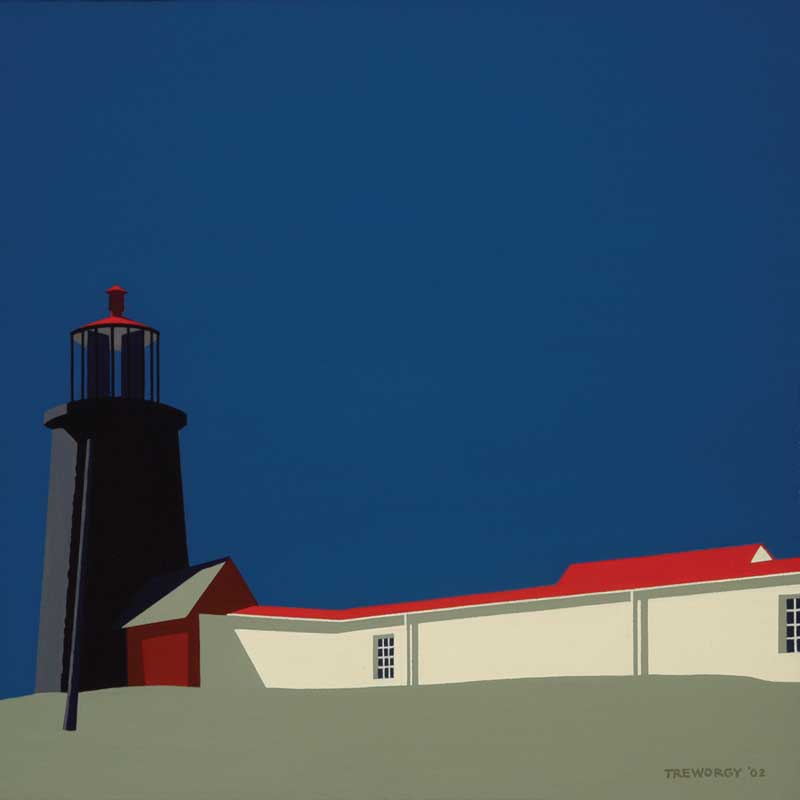 Of Monhegan motifs, the lighthouse is Mary Alice Treworgy's favorite. In her mission to render the essence of a subject, she simplified the structure. Monhegan Lighthouse Before Storm, 2002, oil on linen, 12 x 12 inches. Private collection
Van Campen's connection is personal: the aforementioned George Ault was her great uncle. Her grandmother had some of his paintings in her house and she remembers as a child looking at them. She didn't actually develop her hard-edge approach till around 2011, but you've got to believe some kind of osmosis took place in those early viewings.
Treworgy has her own remarkable pedigree: She is the great-granddaughter of the famed board-game creator Milton Bradley. Born in Baltimore in 1936, she majored in advertising and product design at the Massachusetts College of Art, later using the skills gained there to launch a successful career as a graphic designer—and to help develop her Precisionist style.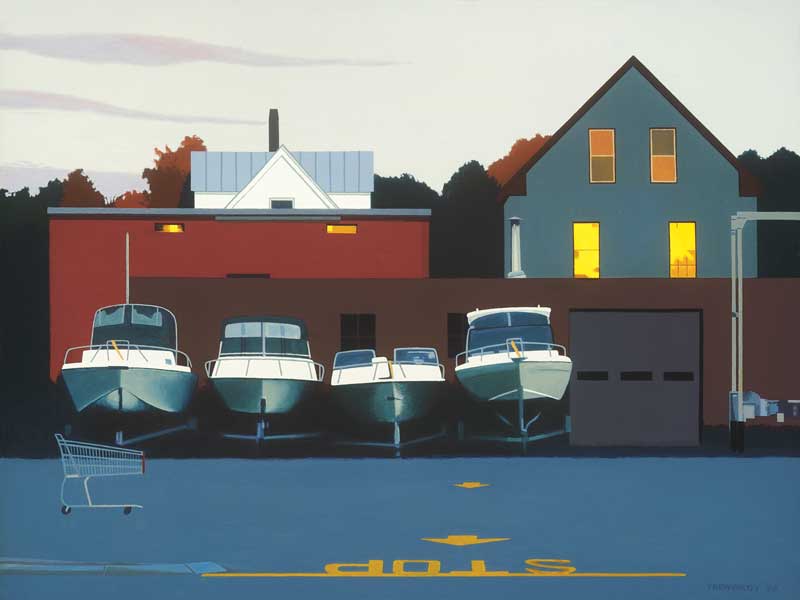 Like the Precisionists, Treworgy is drawn to industrial sites, including a well-known boat sales and service business in Brunswick. Mary Alice Treworgy, Bamforth Marine, 1999, oil on linen, 18 x 24 inches. Private collection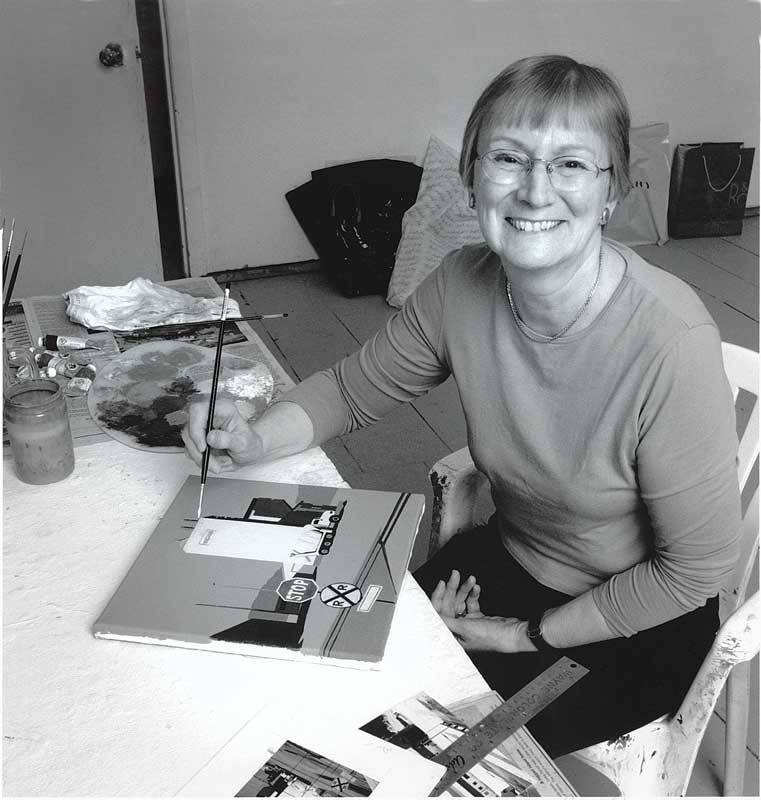 Treworgy at Vermont Studio Center in 2007. The painter completed four residencies at the prestigious art center in Johnson, Vermont. Photo by Howard Romero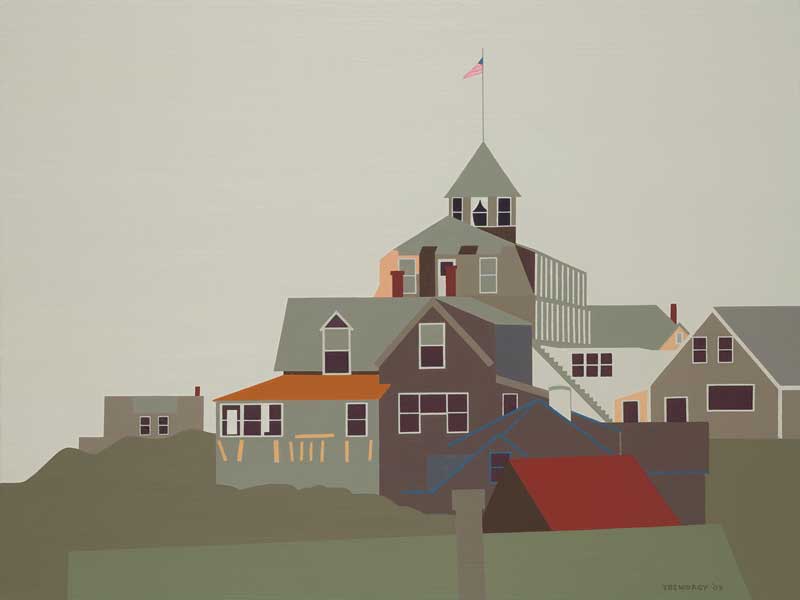 This view of the Island Inn and surrounding houses on Monhegan echoes Mont-Saint-Michel on the Normandy coast. Mary Alice Treworgy, Mont Saint Monhegan, 2003, oil on linen, 18 x 24 inches. Private collection
In 1971, Treworgy moved from Boston to Brunswick with her husband, Austin, and their three children. All along she made art, but after the kids were grown and out of the house, she took it up full-time. Studies with Thomas Cornell and Joseph Nicoletti at Bowdoin College, workshops with Wolf Kahn and others, and residencies at the Vermont Studio Center helped her become a distinguished artist (her work was juried into three Portland Museum of Art biennials).
Treworgy painted various scenes in the greater Brunswick area, drawn to architecture and, like the Precisionists before her, industrial sites, including Marriner Lumber, Bath Iron Works, and Dragon Cement. Bamforth Marine, 1999, is a tightly constructed view of four powerboats huddled along a wall. A lone shopping cart, lit-up windows and directional arrows, and the word STOP painted on the tarmac conjure a stage set.
Over the years Monhegan became Treworgy's main muse. From her first visit in 1991, she was smitten. Joining a long line of island-infatuated artists she managed to find her own stylistic niche through her Precisionist approach, which helped gain her a place in the pantheon of Monhegan painters. She turned more and more to "seemingly arbitrary colors" as a way to emphasize "the drama of the architecture."
Treworgy was especially taken with the island's lighthouse and its surrounding buildings. In her mission to get to the essence of a subject, she simplified the structures. "I believe that leaving out unimportant parts of a landscape results in a more emotional response," she once said. "One feels the place versus looking at all the clinical data." In that respect she echoes something the great Precisionist painter Sheeler said: "I just don't want to see any more than is absolutely necessary of the physical materials that go into a picture."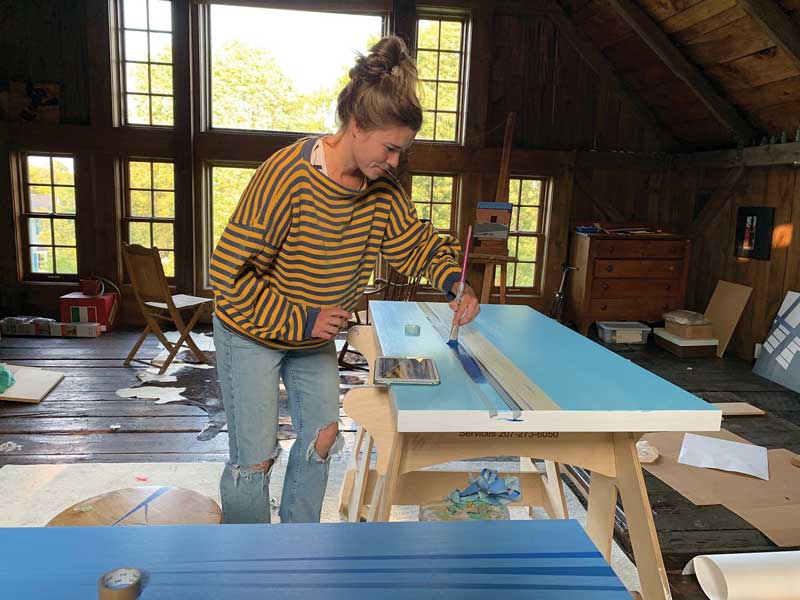 Van Campen painting in her Thomaston studio.
Van Campen grew up in Thomaston and now lives there with her partner Mike Silverstein, a boatbuilder at Lyman-Morse, and their one-year-old daughter Noa, two houses down from her first home. Her parents, Susan and Tim Van Campen, are both well-known artists and influenced her direction. She studied visual art at Bowdoin and later taught in Chicago where she was an assistant to artist, actor, and playwright Tony Fitzpatrick.
Returning to Maine in 2010, Van Campen launched a Kickstarter campaign to "paint her way" across America. She bought a car and for the next year and a half crisscrossed the country. While traveling and painting she found her artistic mojo, translating what she saw in her head into stunning acrylic paintings on panel using clean, definitive lines and vivid colors.
Like Treworgy, Van Campen has done her fair share of architectural studies—barns, houses, rooflines—but in recent years she has devoted much of her attention to coastal Maine views. In the remarkable Mackworth Island Sunrise, she offers a landscape in which sky, water, clouds, island, and silhouetted point of land are fashioned from sharp-edged planar shapes. It's as if she ran the scene through CAD software.

A sailboat race inspired this pared-down seascape. Greta Van Campen, Regatta, 2018, acrylic on canvas, 20 x 60. Private collection
Van Campen usually works from photographs she's taken on hikes and walks; like Treworgy she often invents the color scheme. In Regatta, a group of sailboats clusters on the straight-line horizon beneath a broad unblemished sky. The painting brings to mind some of the sailing images of the German-American artist Lyonel Feininger (1871-1956) who called his abstracted views "world-enraptured configurations," a description that fits much of Van Campen's work.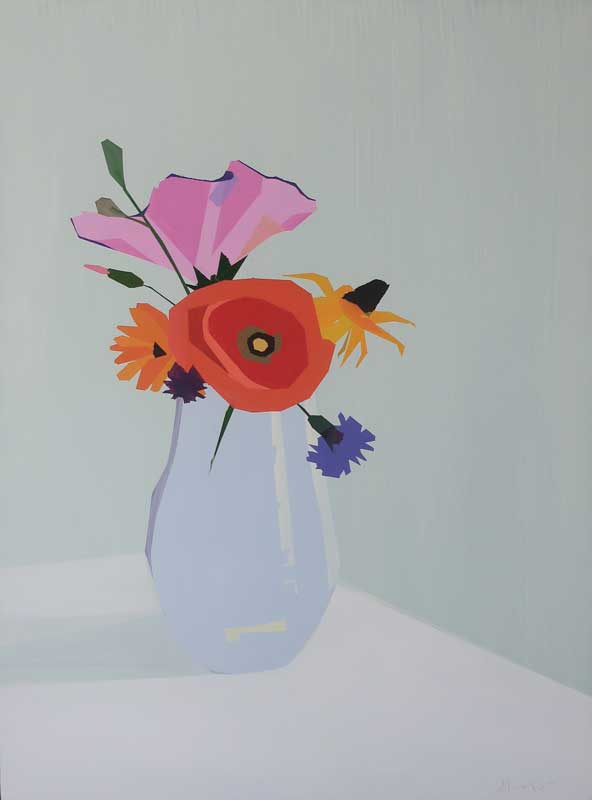 Van Campen brings an abstract-realist eye to her floral studies. Bouquet with Poppy, 2019, acrylic on canvas, 14 x 11 inches. Private collection
Van Campen's daily life has changed little since the coronavirus took over. "I was mostly at home in the studio anyway," she noted. Finding time in the studio "more like work than usual," she turned to painting quick bright watercolors as a "happy escape from feelings of stress and uncertainty." She often feels a bit frazzled these days, but as she explained, that might have more to do with being a new mom than with the shutdown.
For Treworgy, the pandemic has been a fraught experience. It has been a challenging year because of continual health issues with her husband, Austin, and COVID-19, which has disrupted their lives significantly.
Certainly, the original Precisionists had their challenges: World War I, the 1918 flu pandemic, the Depression. Like them, Treworgy and Van Campen find some comfort in their work. In turn, their art helps us appreciate Maine in a new way, highlighting its essence and thereby offering some light in a dark time.  
---
Carl Little's Mary Alice Treworgy: A Maine Painter (Marshall Wilkes) will be published early next year. He lives and writes on Mount Desert Island.
Prints of some of Mary Alice Treworgy's paintings are available through the Lupine Gallery on Monhegan Island and also at Treworgy's website, www.maryalicetreworgy.com. Van Campen is represented by Dowling Walsh Gallery in Rockland, Maine, and Octavia Art Gallery in New Orleans and Houston. You can see more of her work at www.gretavancampen.com.
Share this article:
2023 Maine Boat & Home Show

Join Us for the Maine Boat & Home Show!
Art, Artisans, Food, Fun & Boats, Boats, Boats
August 11 - 13, 2023 | On the waterfront, Rockland, Maine
Click here to pre-order your tickets.
Show is produced by Maine Boats, Homes & Harbors magazine.