Lots of Boat Action Despite Pandemic
By Polly Saltonstall
New boat launches
Pandemic shutdown or not, Maine yards were busy last summer finishing up boat projects.
Brooklin Boat Yard splashed the long-awaited Wheeler 38, a modernized replica of Ernest Hemingway's Pilar. The new boat, named Legend, was reverse engineered by Bill Prince Yacht Design, to look like a classic cruiser, but is totally modern under the hood. (See our story in May/June 2020, Issue 164 and our video at maineboats.com/video.) The yard also launched Rascal, a 50-foot, Jim Taylor-designed, racing/cruising sloop that draws its lineage directly from previous Jim Taylor 49-footers Dreadnaught and Blackfish.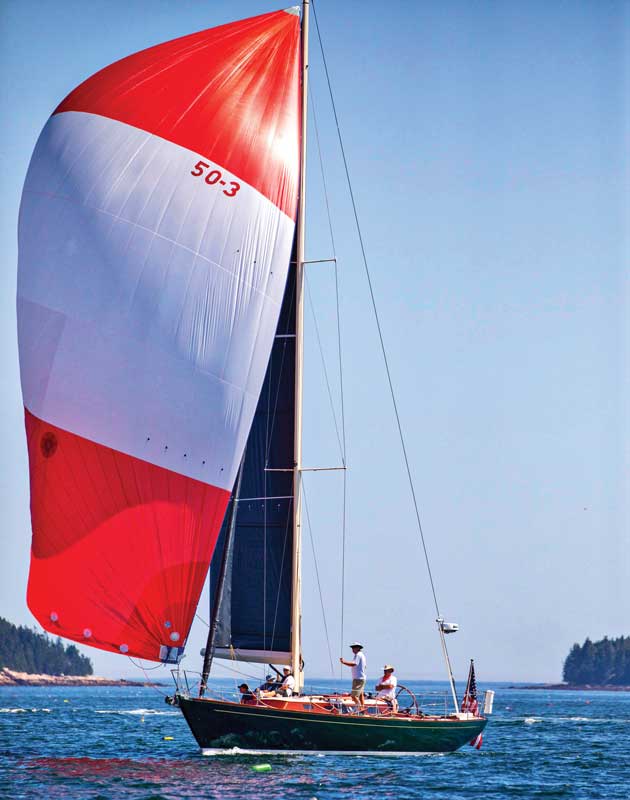 Rascal under sail. Photo by Billy Black
Usually when Brooklin Boat Yard launches a boat, the waterfront is so crowded that folks feel like half of downeast Maine has shown up to see the new boat hit the water, wish the new owner well, and maybe have a beer or two. But in these times of COVID-19, the launching of Rascal was subdued. The crowd was limited to just the BBY crew and close friends of the new owner. Mid-morning on July 29, the small group made speeches, smashed a bottle of champagne on the keel, and—with a mask-muffled round of cheers and applause—lowered Rascal into the water. The work on the boat went at a blistering pace to make the informal deadline of the annual Eggemoggin Reach Regatta. Even after she hit the water, the crew and her owner had just three days to get her ready for the race on Saturday, August 1. At the end of the day the work paid off as Rascal took first place in the Spirit of Tradition Class on corrected time besting a 10-boat fleet of which nine had been built by Brooklin Boat Yard.
At Front Street, the Maine Seacoast Mission's beloved 75-foot island support vessel, Sunbeam V, which had been on the hard for a year-long refit, went back into the water. The vessel underwent extensive hull maintenance, cosmetic updates, and equipment upgrades. (See an MBH&H video at maineboats.com/video.)
---
New boats on the drawing board
Meanwhile projects still on the boards in Maine yards include a new outboard-powered Hinckley 35. Michael Peters Yacht Design designed the optimized hull shape with wider chines and strakes providing lift and stability for outboard-powered speeds up to 48 mph. With a carbon fiber hull laminated with post-cured epoxy, the new design has a lifetime hull warranty.
The 35 features a new Hinckley innovation, the ClearView™ single-pane windshield, which positions the driver with best-in-class visibility in all directions from the joystick controls of the varnished-teak helm station. It will also feature saloon settees and a deep cockpit, with a teak and holly cabin below.
Responding to Pulsifer Hampton admirers who wanted a faster boat than the current 29-hp Hampton, builder John Lentz teamed up with Jesse Lowell to design a new version of the classic launch. Longtime assistant to Dick Pulsifer, Lentz took over the business a few years ago.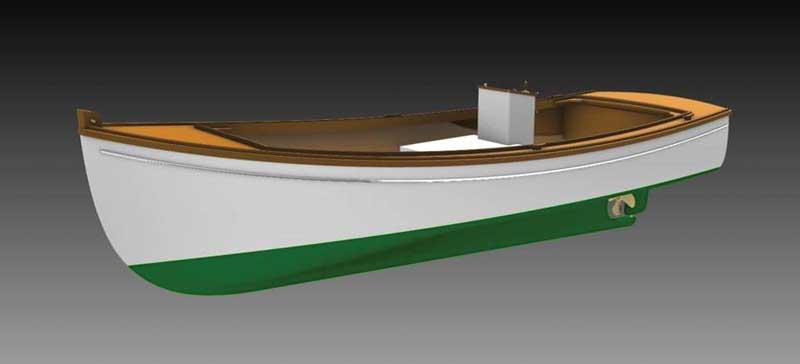 A drawing of the new Hampton XL
While bigger engines have been installed in the Pulsifer Hamptons in the past, the resulting increase in speed was small as the hulls just were not designed to go very fast, Lentz said. "I asked Jesse Lowell to see if he could make some changes below the waterline to improve performance with larger engines. Ultimately this resulted in a new hull design intended for larger engines that I'm calling the Hampton XL as it's a foot longer and a foot wider than the Pulsifer Hampton."
Lowell eliminated the built down hull on the current design in favor of a skeg giving a little more planing surface aft, added some flare to the bow and sharpened the turn at the bottom of the transom. The fit and finish of the new XL will be identical to the current Pulsifer Hampton.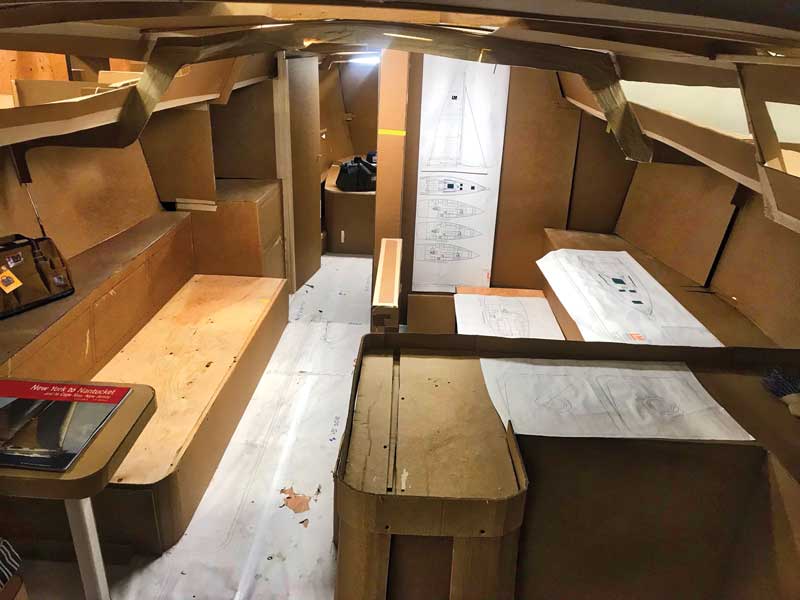 A mockup of the interior of the LM46. Photo by Polly Saltonstall
In Thomaston, work was well underway on hull No. 1 of the LM46 at Lyman-Morse Boat Yard. The project, a collaboration between Lyman-Morse founder Cabot Lyman, his son and company president Drew Lyman, and Kiwi designer Kevin Dibley, will produce a high-performance, cold-molded yacht with the comfort and ambiance of a wooden boat but delivering 10 knots of speed under both sail and power.
A tour of the project in early summer showed a handsome yacht with clever uses of space. The yard had constructed a full-sized carboard mockup of the boat to help translate and, on occasion, adjust design concepts to reality. A spring 2021 launch is planned. (Read our March/April 2020 design story.)
---
Pandemic leads to boating surge
Boat rental, sales and club operations around Maine saw a surge in demand this summer as more customers sought ways to enjoy the outdoors without being around other people.
Shane Ellis of Ellis Boat Co. in Southwest Harbor, on Mount Desert Island has a fleet of 10 cruising motorboats, ranging from 28 to 40 feet long, that can be rented by the week. While he lost bookings at the start of the pandemic he told a reporter at Mainebiz that he was able to rebook with different clients as the state began to open back up.
"I rebooked everything with different clients," he said. Many wanted to get out of the city. "Except for the loss of mid-June to mid-July, the business has been busier than past seasons, except it's been a later season."
Moose Landing Marina in Naples and its sister marina, Yarmouth Boat Yard, also saw a jump in business, according to owner Steve Arnold. Boat sales were up more than 60 percent, rentals were up 45 percent, and memberships in the Freedom Boat Club of Maine, which has a location at Fore Points Marina in Portland as well as at Yarmouth and Moose Landing, hit record levels, he said. "A lot of our activity came from first-time boaters, who required a bit more instruction and hand-holding, which we were happy to provide," he said. Interest in the Freedom Boat Club has been so strong that the club is opening a fourth location in South Portland next spring.
Once people get out on the water, they get hooked, Arnold said. It's a whole other way of experiencing the state.
Port Harbor Marine, headquartered in South Portland, was also among the many marinas and dealers seeing a huge uptick in business. The boat club business was up 28 percent over last year and rentals were up 60 percent over last year, according to the company's president, Rob Soucy. Customers included more Maine residents than usual, including more younger people, as well as more women.
---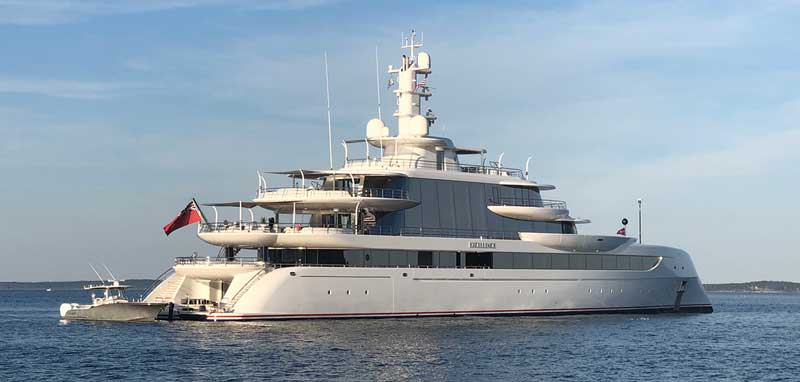 The 262-foot yacht Excellence
Summer of the superyachts
Not only did boat rentals and sales see a huge surge this summer as pandemic shutdowns sent more people out on the water, but more super yachts than ever cruised along the Maine coast.
Normally in the summer many mega yachts head across the Atlantic to the Mediterranean. But when Europe shut the door to people with American passports, many of those yachts sailed downeast instead.
Too big to fit inside many small harbors, they moored slightly offshore in many places—luxurious floating homes, loaded with water toys such as jet skis, paddle boards, fancy electric hydrofoil boards and small sailboats. In Portland, where the new Fore Points Marina has docks built specifically to serve the large yachts, they were able to tie up and stay for a while, or load up with fuel and provisions.
Any boat over 250 feet long entering the midcoast between Boothbay and Mt. Desert Island is required to bring a pilot on board to help with navigation. In a normal year, the pilots might see two yachts this big, said Pen Bay Pilot David Gelinas. This year they saw eight, which is an impressive number when you consider that there are only perhaps 100 or so yachts in the world in this category, he said. And many of the yachts visiting Maine this summer stayed for a month or more. These superyachts as well as a dozen or so more yachts over 100 feet long visited Kennebunk, Portland, Blue Hill, Camden, Bar Harbor, Boothbay and other ports, including Islesboro, where the 452-foot Rising Sun, which belongs to music mogul David Geffin, spent a chunk of time.
Other yachts spotted along the coast and their reported owners included Excellence, 262 feet, car dealer Herb Chambers; Infinity, 290 feet, Eric Smidt, CEO of Harbor Freight Tool Co.; Mogambo, 242 feet, Whatsapp founder Jan Koum; Dreamboat, 295 feet, Arthur Blank, co-founder of Home Depot; Kismet, 312 feet, Shahid Khan who owns the Jacksonville Jaguars sports team; Sixth Sense, 242 feet, Carnival Cruise CEO Micky Arison; Fountainhead, 288 feet, Sears CEO Eddie Lampert.
Gelinas said he and his fellow pilots were treated well by the crews on the yachts. "The crews were really great to work with; they were eager for our input on where to go to minimize impact on fishing gear, and careful to steer around each and every lobster pot."
He noted also how diligent they were about following COVID-19 safety guidelines. One yacht even had a private onboard COVID-19 testing facility.
As for what the passengers did while in Maine. According to Gelinas, some never went ashore. Others were quite active, looking for places to kayak or hike.
"To be quite honest," he said, "they wanted to do what most people do when they come to Maine. It's just their method of doing it is grossly different than your method or my method."
In Portland, the new Fore Points Marina installed a 545-foot floating face dock, specifically to serve super yachts, billing itself as New England's newest super yacht destination. And this summer, the big yachts came in droves.
"It's definitely the start of something new," said guest experience manager Katherine Meservier.
Fore Points can accommodate yachts ranging from 25 feet to 630 feet, with 150 regular slips and 12 to 15 super yacht berths. A key attraction is the marina's ability to provide in-slip fueling, at a rate of over 90 gallons a minute, Meservier added.
Gelinas and Meservier both expect at least some of the boats and their owners will return to Maine in future years.
"They've let us know that we are now a stop on their map," Meservier said.
---

Land racers line up for a start. Photo by George Williams
Ice boaters race on land
A group of ice-boat sailors, unwilling to wait for Maine's lakes and ponds to freeze over, adapted their craft for land-sailing and held the first club-sanctioned land yacht regatta in the east Sept. 11-12.
Twenty competitors, from as far away as Long Island, New York, and southern Connecticut, showed up for the three-day event, which was held on the long runways at the former Loring Airforce Base in northern Maine.
Bill Buchholz, a Midcoast boatbuilder organized the event under the auspices of the Chickawaukie Ice Boat Club (iceboat.me).
While most of the racers simply adapted their ice-boats, adding wheels and brakes, a couple of sailors, including Buchholz raced purpose-built land-yachts. There were two courses, a seven-mile run that circumnavigated the entire runway flight line and a shorter two-mile run. Built during the Cold War, Loring was an important Strategic Air Command base with two runways designed to accommodate large bombers and tanker aircraft. The base closed in 1994.
The racing was close, with leads changing many times during any given race. There were no collisions, Buchholz added, but there was some "carnage," especially on Sunday when the wind picked up. "Blowouts and slow flats, one broken mast, quite a few cooked bearings and one actual de-wheeling" he said, noting that one racer crossed the finish line holding up the sail after his mast came down near the end of a race—he came in first anyway.
Buchholz did not clock his speed, but on Sunday he estimates he hit upwards of 50 miles per hour. "Then I hung a sharp right and blew a tire."
The racers have already reserved Loring for another land-regatta next year on the first weekend after Labor Day.
---
Schooner captains honored
Surrounded by fellow windjammer captains, crew and friends, Captains Doug and Linda Lee were honored recently for a combined 100 years of windjamming experience by the Maine Windjammer Association. Helping honor the Lees were the Schooner Heritage's new owners Ben Welzenbach and Sean Grimes, long-time crew members, licensed captains and fellow mates abord the schooner for the past seven years.
In bestowing the Lifetime Appreciation Award on the Lees, Captain Barry King of the Schooner Mary Day noted Doug Lee's ability to solve any problem, build and fix any windjammer equipment or system, and the courage to build the industry as the founding member of the Maine Windjammer Association. Linda Lee was recognized as one of the first female windjammer captains in Maine to empower female crew members to become licensed captains.
Doug and Linda's careers have spanned the re-building and sailing of the Schooner Isaac H. Evans and then design, building and sailing of the Schooner Heritage. In addition, in partnership with fellow windjammer captain, John Foss of the Schooner American Eagle, the Lees bought and built the North End Shipyard, specializing in servicing the entire windjammer fleet.
---
Shark trackers
The Maine Department of Marine Resources has teamed up with the Atlantic White Shark Conservancy and the Massachusetts Division of Marine Fisheries in a research effort to track the presence of great white sharks in Maine's inshore waters. The project will involve the placement of 20 passive acoustic receivers by Maine DMR science bureau staff in near-shore Maine waters that will capture data from tags placed on great white sharks in research conducted by DMF since 2010. Currently about 210 great white sharks have been tagged in the on-going research. 
Current data shows that approximately 20 percent of the white sharks tagged in DMF's study migrate to the Gulf of Maine. "This effort will provide a much better understanding of when they are in our waters, what their habitat use is, and how those change over time. This work is important from a public safety standpoint and it will provide valuable biological information," said Maine DMR Commissioner Patrick Keliher.
Data will also be provided to AWSC which will upload it to their Sharktivity app. The app provides users with a recap of shark activity detected by receivers, in addition to shark sightings and alerts. The app also allows users to upload their own photos and locations of sharks they spot. For information and app downloads: atlanticwhiteshark.org/sharktivity-app.
---
Shark encounter
A couple of lobstermen fishing off Stonington did not need acoustic receivers to inform them of shark activity. They saw a big one firsthand. According to a report in the Ellsworth American, the men were hauling lobster gear off the northeast corner of Isle au Haut, aboard the 38-foot boat Daddy's Girls on the morning of Saturday, Sept. 5, when they had a close encounter with a huge one.
They were fishing two traps connected by a groundline, one of the fishermen told the American. He hauled one and then "I looked in the water and it was all white." When he hauled the second trap onto his boat's rail, right behind it came a huge shark, 12-15 feet long and "as big around as a 55-gallon drum," he estimated. "You couldn't get your arms around it, but you wouldn't want to."
The shark rose up out of the water and tried to take a bite out of the trap, according to the newspaper's account. The creature then let go, sank back into the water, rose up again as if it were going to leap into the boat. Then it disappeared. Even though it was a beautiful day, the two men hauled just a couple more strings of traps before calling it a day and heading back to unload Daddy's Girls' catch at the Greenhead Lobster Co. pier. "I don't like sharks," one of the fishermen told the newspaper. "Never did."
---
Second life for boat fiberglass
The Rhode Island Marine Trades Association, which has been piloting a Fiberglass Vessel Recycling Program since January 2018 has received a grant from NOAA to expand the program to Maine, Massachusetts, Connecticut and Washington State.
The RIMTA Foundation, which is developing a sustainable financial model for fiberglass boat recycling, will use the federal funding to help the other states replicate its recycling program. In 2016, RIMTA and the Rhode Island Sea Grant Program pioneered a method of utilizing fiberglass boat material in the production of cement. Over the past two years, the trade association's Rhode Island fiberglass boat recycling program has recycled more than sixty tons of fiberglass materials using the new process, successfully diverting old boats from infinite burial in landfills or from being scuttled and polluting the oceans.
---
Plastic's fantastic long life
Microplastic fiber pollution in the ocean impacts larval lobsters at each stage of their development, according to new research. A recent study published in the Marine Pollution Bulletin reports that the fibers affect the animals' feeding and respiration, and they could even prevent some larvae from reaching adulthood.
Young lobsters grow to adulthood through four stages, and the researchers found that the physiology of each stage determined how the animals interacted with plastic fibers. The youngest lobsters didn't consume them, but the fibers accumulated under the shells protecting their gills. In experiments where the larvae were exposed to high levels of fibers, the youngest were the least likely to survive.
The more mobile, older lobster larvae ingested particles that remained in their digestive systems. This could be problematic for lobster larvae coming of age in the ocean. Fresh plastics often leach chemicals, and their surfaces can foster potentially toxic sea life.
"Plastic particles have been found in almost every animal in the ocean," said David Fields, a study author and a senior research scientist at Bigelow Laboratory. "If an animal can fit something in its tiny little piehole, it's probably going to—and that can have repercussions for the animal and potentially for the food web."
---
Maine companies and tidal energy
ORPC, Inc., a company with expertise in microgrid development and marine renewable energy systems that generate power from rivers and tidal currents, has partnered with Downeast Machine & Engineering of Mechanic Falls, Maine,­to build the structural components for its second commercial RivGen Power System device.
ORPC will install the device in Igiugig, Alaska, in 2021, as part of a multi-year project. The first RivGen device, also constructed and assembled by Downeast Machine, was installed in the local Kvichak River in 2019. When completed the Igiugig project will feature two RivGen devices, smart grid controls and electronics, and an energy storage system, resulting in baseload power supplied from renewable river energy and a 90 percent reduction in the community's use of diesel fuel. 
ORPC is Maine-based, with headquarters in Portland, an operations center in Eastport, and an engineering laboratory in Brunswick. Downeast Machine's headquarters is in Mechanic Falls and its fabrication facility is in Leeds. The company provides design, fabrication, and industrial maintenance services.
Share this article:
Digital Edition Available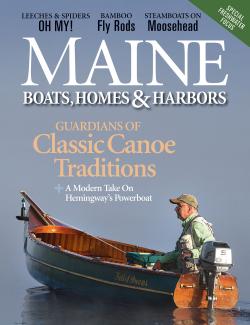 Can't get to the store to buy your magazine? We deliver the stories of Maine's coast right to your inbox. Sign up here for a digital edition.