The History that Lies Beneath
By Christine O'Connor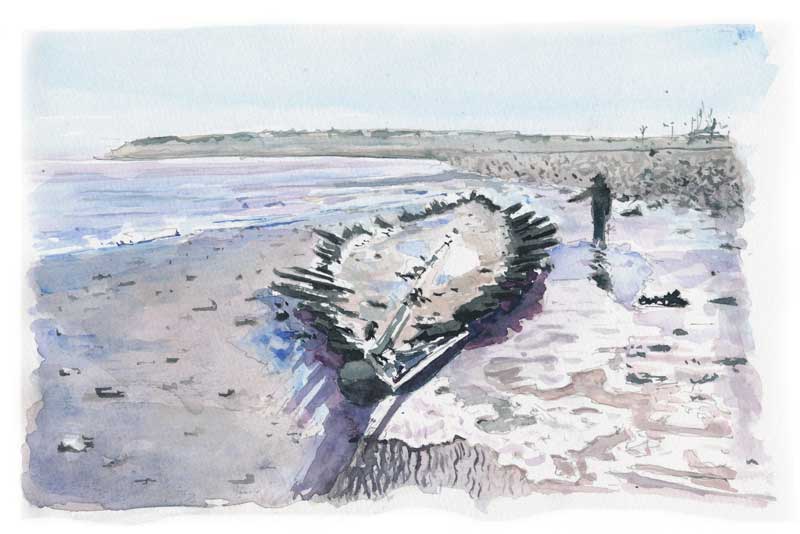 Illustration by Ted Walsh
This past spring, after a night of high seas and breaking waves, the remnants of a longboat reemerged on a beach in York, Maine. It's only the skeleton of a ship now, but  centuries ago, it sailed the seas. Its sudden reappearance made it into all the papers. They said it dates back to the early 18th century, a reminder of the history that lies beneath.
Not much is known of the ship—of how it came to be there, or what became of her crew, but it's speculated that a storm ran her aground. Judging by her hull, she was probably around 60 feet in length with a 15-foot beam. She could have been a coaster or a clipper, a sloop or a schooner, but whichever, she was most certainly a trading vessel.
The ship was discovered on Short Sands, a beach in York. Every year at the end of summer the town hosts a bonfire on the beach. One final blast of light and warmth as the long, fat days of summer disappear.
One such night years ago, my cousin Michael stretched his arm toward the sea, and with one eye closed, placed his thumb over that barely visible line where both time and space are endless.
"Do you know that the horizon is a constant 13 miles away?" he asked, his face awash in the glow of the fire. "We learned about it in the scouts."
I shook my head.
"No matter how far we advance, it will always be 13 miles away, it will always be unreachable."
For Michael, a future engineer, such scientific certainties may have been attractive notions. But that night was the start of something different for me. I wondered about the horizon's unexplainable limitlessness, and meditated on the many mysteries of the coast. How do we count the grains of sand, or comprehend the days and hours it took to create them? How is it that the mighty sound of the ocean can be found inside an empty shell, and who first held one to their ear? What unseen hand, twice a day, every day, carries the tides in and pulls them out? Why must waves always break? And by what feat of magic can an entire ship disappear, and after a good many years reappear?
A few years ago, in Ireland, an entire beach resurfaced on Achill Island. It had vanished over 30 years ago, but after another fierce storm, the ocean gave back what it took. Hundreds of tons of sand were redeposited in the area of the former beach, covering the rocks and tidal pools beneath. Where they had gone and by what force of nature they returned was anyone's guess.
Sipping on my morning coffee, I imagined the sunken ship in York launching from the vanished shores of Achill. Maybe the O'Malleys had her full of whiskey and aimed her bow toward the high seas. I thought of her crew, long gone, now watching us from the horizon's unreachable shore. Perhaps it's there, where the earth separates from the sky, that this world separates from the next.
Just recently the sands of Achill again washed away. So too, some months after she first surfaced, the ship in York disappeared deep beneath the sand, beneath the weathered, decomposed remains of rocks broken down billions of years ago. Beachgoers will inevitably cross the unseen path the sailors first took as they left their vessel behind. The smell of suntan lotion and the broadcast of an afternoon ballgame will linger above its wooden frame throughout those warm months, until they too disappear.
Like the ancients, we will again gather for a bonfire, swimming in the invisible tide of history. And as we stand barefoot before its flames, centuries, if not millennia of history will fill the gaps in our souls. 
---
Christine O'Connor is completing a collection of literary-themed essays, as well as a memoir on her grandmother and the Titanic. When not writing, she serves as chief legal counsel for the city of Lowell, Massachusetts.
Share this article:
2023 Maine Boat & Home Show

Join Us for the Maine Boat & Home Show!
Art, Artisans, Food, Fun & Boats, Boats, Boats
August 11 - 13, 2023 | On the waterfront, Rockland, Maine
Click here to pre-order your tickets.
Show is produced by Maine Boats, Homes & Harbors magazine.