Henry Peabody
and Early Views of Lighthouses and the Coast
By Earle G. Shettleworth Jr.
All images from The Coast of Maine (1889)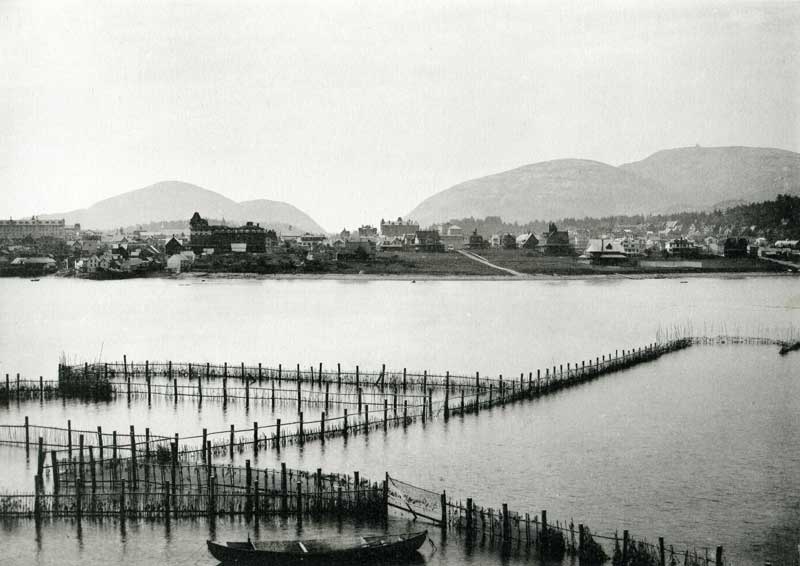 Henry Peabody's The Coast of Maine (1889) included his photos along with chapters written by well-known authors. The section on Mt. Desert Island, which includes this view of Bar Harbor from Bar Island, is by Susan Coolidge—best known for the 1872 children's novel, What Katy Did. She found most of the island lovely, but was unimpressed with the village of Bar Harbor itself, calling it "an irregular huddle of shanty-like shops and ungainly tenements…dominated over by monstrous hotels and of the same flagrant architecture."
From the eve of the Civil War to the present, Maine's extended coastline and its lighthouses have been a favorite subject for photographers. The daguerreotype, the earliest form of popular photography, arrived in Maine in 1840, but the first known lighthouse photograph was not taken until 1858. That year an unknown photographer captured an image of the keeper's house and tower of the iconic Portland Head Light in Cape Elizabeth.
The newly available technology of glass negative and paper print used to create this 1858 picture was employed the next year by Portland photographer William H. McLaughlin when he was commissioned by the federal government to photograph all of Maine's lighthouses. Of the 43 lights at the time, McLaughlin visited 42—Pond Island being the possible exception.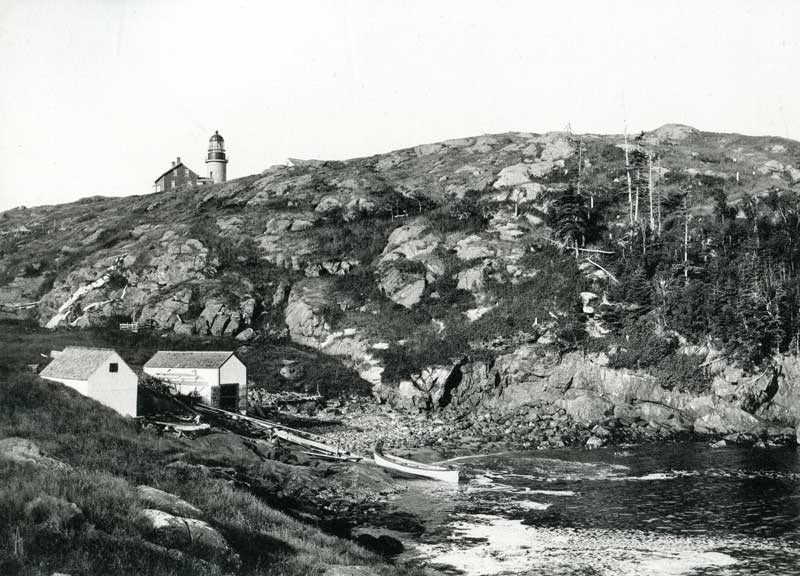 This image of Seguin Island and its life saving station is included in a chapter about an 1813 sea battle between the American brig Enterprise and Boxer, a British brig that had been terrorizing the coast. After a fierce battle the Americans emerged victorious, but the captains of both ships died in the fight.
The extensive territory that McLaughlin covered in 1859, coupled with the physical challenges that he must have encountered, makes this group of images remarkable. Transcending his initial charge of recording federal property, McLaughlin made the first portraits of Maine light stations, giving a realistic view of their construction, both crude and finished, as well as of the harsh terrain inhabited by the brave individuals who operated them.
After the Civil War, Maine landscape photography became more widespread; its popularity due in part to the growing number of summer visitors who wanted modestly priced pictorial souvenirs of the Maine coast. Local photographers met this need by producing numerous stereo views, cabinet photographs, and mounted prints.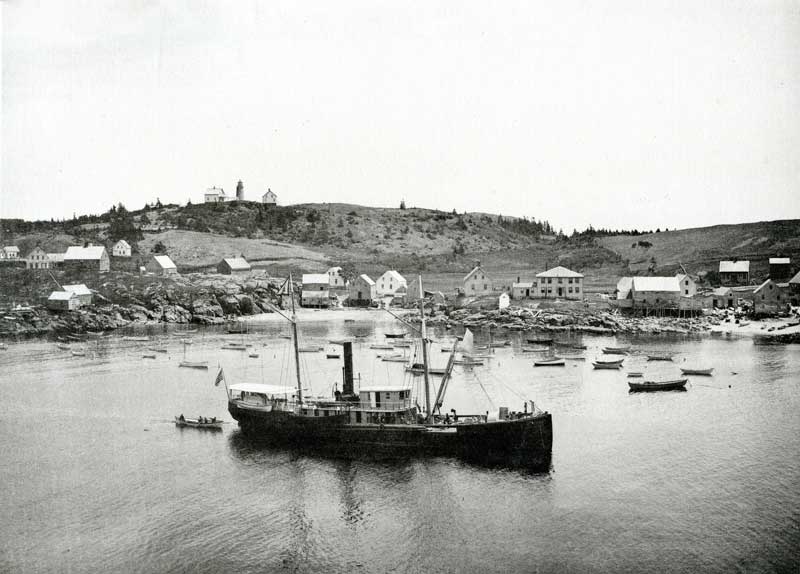 This view of Monhegan as seen from Manana shows the lighthouse steamer Iris, on which Peabody traveled down the coast, at anchor in the small fishing port. Note the dories and small fishing smacks at their moorings.
In the 1880s, Maine lighthouse photography was taken to a new level by Henry G. Peabody. Born in St. Louis in 1855, Peabody graduated from Dartmouth College in 1876 and did graduate work in electricity and architecture at M.I.T. His early career was devoted to electricity and photography, but his preference for the latter won out in 1886 when he opened a studio in Boston.
For the next seven years, Peabody employed his talented eye and finely honed technical skills to make striking images of Maine lighthouses and related coastal scenery. His photographs found a ready market as mounted prints, and as illustrations for such tourist brochures as Souvenir of York Beach, which he self-published in 1888, and New England's Seashore, which was issued by the Boston and Maine Railroad about 1890. He also provided illustrations for Samuel Adams Drake's 1891 book The Pine Tree Coast. The appearance of Peabody's photographs in these publications was made possible by recent advances in photo-lithographic printing.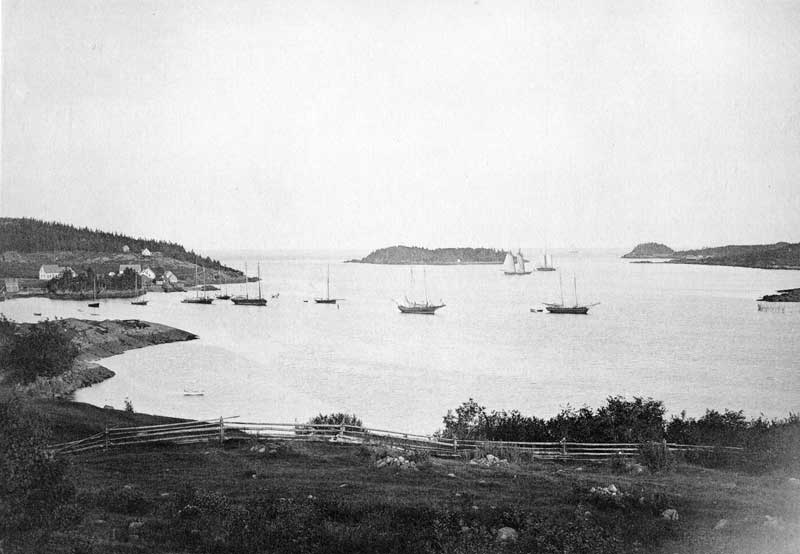 The introduction to Cutler and Little Harbor was written by Arlo Bates, who was born in East Machias, graduated from Bowdoin, and went on to become editor of the Boston Sunday Courier and then an English professor at MIT. In his account, he mentions large patches of white painted on rocks at the entrance of the harbor to guide pilots in the "darkness of foggy weather." If you squint you can just see one of the patches on the island in the background.
Peabody's love for the Maine coast is best embodied in an elaborately produced oblong folio volume entitled The Coast of Maine, which he published in Boston in 1889. The previous summer he had traveled on the lighthouse steamer Iris to take, in his words, "views of many of the more inaccessible places along the coast of Maine." The result was a book containing 50 high-quality photogravure plates of scenes from Campobello Island in New Brunswick to the Isles of Shoals on the Maine-New Hampshire border. Sixteen of these full-page plates depict Maine lighthouses from West Quoddy Head to Boon Island. Peabody's photographs were accompanied by poet John Greenleaf Whittier's introduction and 12 essays by such noted New England writers as Celia Thaxter and Samuel Adams Drake. Whittier praised Peabody's illustrations by stating that "the photographic views here presented will give to those unacquainted with the scenery of eastern New England an idea of its beauty and grandeur."
In 1891 Peabody published his Representative American Yachts, another handsome oblong folio book containing 100 photogravures of yachts that reflected the growing enthusiasm for this form of sailing, both by yachtsmen and the public. The popularity of this book resulted in three additional printings between 1891 and 1895.
Peabody devoted the balance of his career to photography. During the 1890s he did promotional photography for eastern and western railroads and took pictures of Mexican architecture. Beginning in 1900 he produced images for the Detroit Publishing Company, which transformed them into color post cards. By 1902 he had moved to California, where he spent the rest of his life, dying in Glendora in 1951 at the age of 95.
Today Peabody's original photographs of Maine reside in the collections of the Maine Historic Preservation Commission, the Peabody Essex Institute, Historic New England, and the Library of Congress. The Coast of Maine remains a tribute to his high standards of photography and book design. Rare copies are treasured by those fortunate to own one.  
---
A native of Portland, Earle G. Shettleworth, Jr. directed the Maine Historic Preservation Commission from 1976 to 2015 and has served as Maine State Historian since 2004.
Share this article:
2023 Maine Boat & Home Show

Join Us for the Maine Boat & Home Show!
Art, Artisans, Food, Fun & Boats, Boats, Boats
August 11 - 13, 2023 | On the waterfront, Rockland, Maine
Click here to pre-order your tickets.
Show is produced by Maine Boats, Homes & Harbors magazine.