Expand Your Cruising Horizons
Practical advice for Down East Loopers
By Leigh and Peter Phillips
All photos courtesy Leigh and Peter Phillips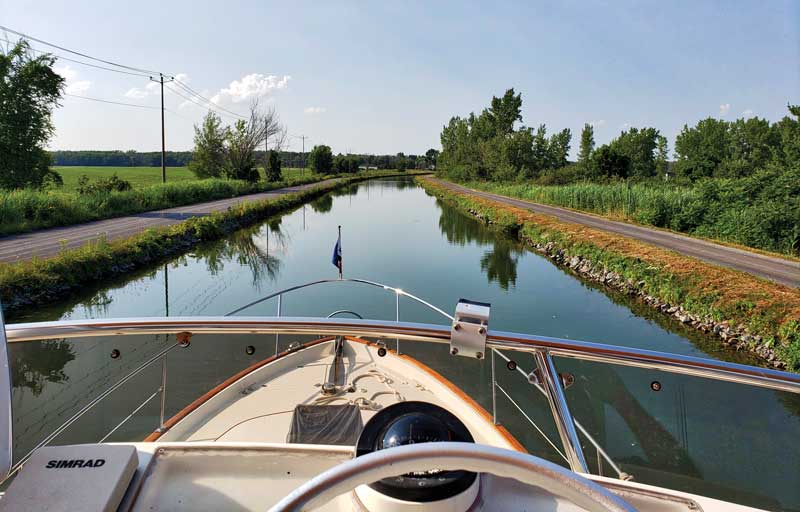 The Down East Loop is a trip of contrasts, ranging from the tranquil Richelieu River and canal—seen here, with the Quebec countryside to port and a bike path to starboard— to the broad St. Lawrence with cliffs and picturesque village churches along its shores. The seaway then leads to historic Quebec City, which feels like a European city.
We purchased our 1997 Legacy 40, Hermita, from a couple who had themselves bought the boat for the specific purpose of doing both the Great Loop and the Down East Loop. Having cruised on Lake Champlain in Vermont and along the Maine coast (mainly in Penobscot Bay) and the areas in between for more than 40 years, the idea of the Down East Loop intrigued us.
We took Hermita up the St. John River and its reversing falls in New Brunswick, Canada, in 2018, and then decided to take on the challenge of the Down East Loop. That represents a round trip on the water that circles from a starting point on the Maine coast, down the New England coast, up the Hudson River, through either the Thousand Islands or Lake Champlain to the St. Lawrence Seaway, out and around the Gaspé Peninsula, through the Canadian Maritimes, down the Nova Scotia coast, and back to the starting point in Maine. After 45 days, 30 locks, and 2,025 nautical miles in July and August 2019, we completed the loop, and the trip, which exceeded our expectations.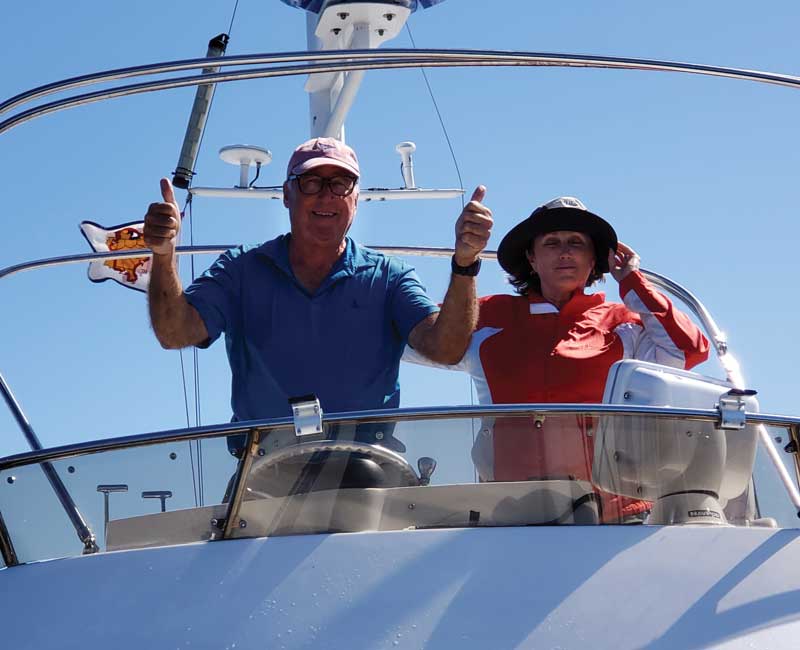 Arriving back in Rockland, Maine after traveling 2,025 miles through Canada and back.
Doing the Down East Loop does require preparation and planning, but it is manageable. We found Down East Circle Route (A Complete Cruising Guide) by Cheryl Barr to be a useful—and constant—reference, despite being published in 2003. The Waterway Guide Northern 2018: Cape May, NJ to Maine including the Hudson River by Waterway Media was also a good resource. Anyone planning to make this trip should also acquire cruising guides for the Hudson River, and depending on the route, for Lake Champlain or the Thousand Islands. Having already cruised most of the U.S. portion of the loop, we elected to take the shorter route through Lake Champlain, and spent three-quarters of our time cruising the Canadian waterways and coast.
Make sure that your chart plotter has the Canadian charts. Our Garmin had both the U.S. and Canadian charts, but our Furuno did not. We kept a set of paper charts on board as additional reference, as well as a road atlas for exploration on land and for crew-change logistics.
Canadian tidal and current information can be found on the web site https://tides.gc.ca/eng/data/predictions/2019. The currents on the St. Lawrence River can be strong, with high water not meaning slack water. It is best to do the loop clockwise as the St. Lawrence's outgoing current lasts longer than its incoming flow, and boaters will want to take advantage of favorable currents when traveling along the river.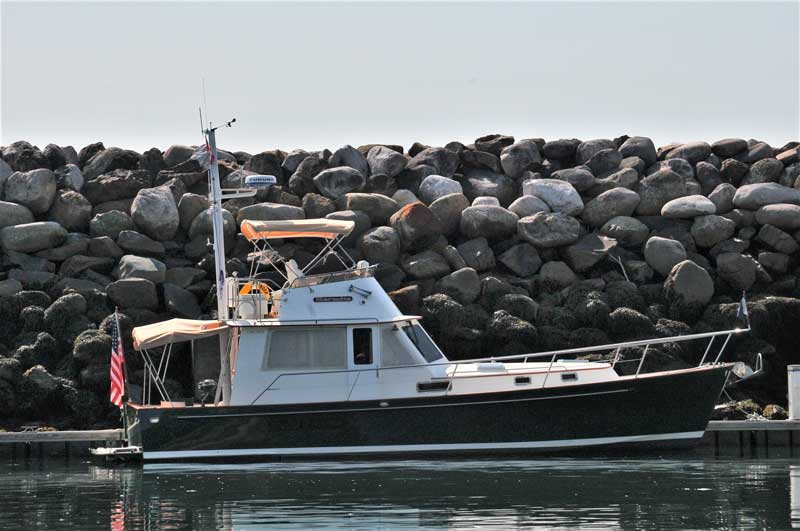 Hermita tied up at Cap-à -l'Aigle, a man-made harbor, one of many typically found on the St. Lawrence.
There is a lot of freighter and cruise ship traffic on the upper end of the St. Lawrence, and it will want to track and possibly communicate with you, so consider having an international AIS system on board. A radio ship-to-shore FCC license was required to use the VHF in Canada. We also bought a satellite phone. We had heard that cell phone service was limited north of Quebec City, but found there was quite good coverage except in some areas of Nova Scotia. Internet connections were available whenever we stayed at a marina, though occasionally it was out of service or weak. We were still glad to have the phone in case of an emergency occurring out of cell service range.
Be sure to notify your insurance company about your plans. Our coverage was limited to navigating the U.S. coastline and required an additional $200 endorsement for navigating in Canadian waters.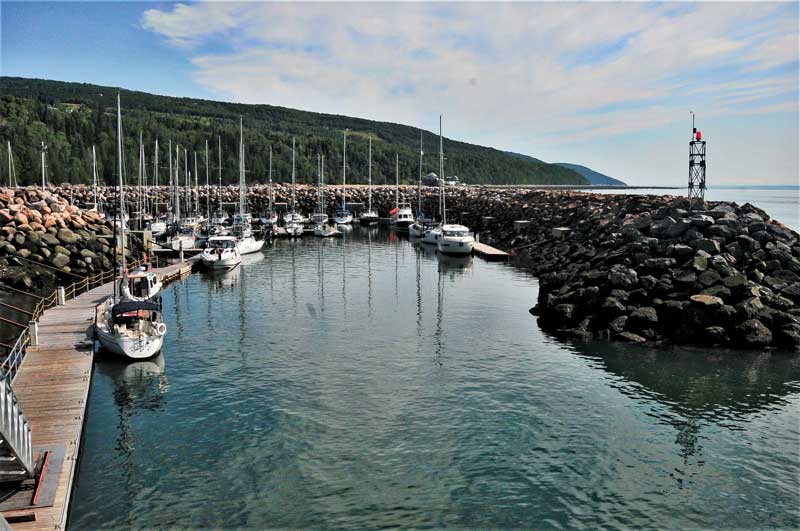 Cap-a-l'Aigle Harbor, Quebec, Canada.
Information, including operation times and transit fees, on the Champlain Canal system, with its 14 locks between the Hudson River and Lake Champlain, is online at http://www.canals.ny.gov. For the Richelieu River – Chambly and Saint-Ours Canals, which take you from Lake Champlain to the St. Lawrence River at Sorel, Quebec, and have greater bridge clearance, but less draft than the New York system, visit https://www.pc.gc.ca/en/lhn-nhs/canaux-canals.
Go to marinas.com/browse/lock/CA/NS for information on the Canso Canal lock from the Northumberland Straits and the St. Peter's Canal lock to the Bras D'Or Lake. All of the locks are automated, except the nine Richelieu/Chambly locks, which still use hand-cranked equipment from the 1800s. The Canadian park service staff manning these locks were very helpful, even arranging overnight dock space, if needed. Be sure to have enough fenders and consider using boards to hang outside them. It took about three locks before we got the hang of the process, and just two of us could handle a lock without crew. Work gloves are recommended for the New York lock system as the lines are slimy from hanging in the water, unlike the Canadian lock lines which are coiled up on land after each use.
It is extremely important to check the clearance of every bridge along the way. Hermita had a 22-foot clearance height, which was too high for a few of the bridges. We were able to lower our antenna mast to clear them all, even with our flybridge. Our 13.5-foot beam, and 3.75-foot draft made it possible to easily navigate the locks. At just 40 feet long, we were among the larger cruising boats, but we were able to fit into a slip at all of the marinas, even the smaller ones.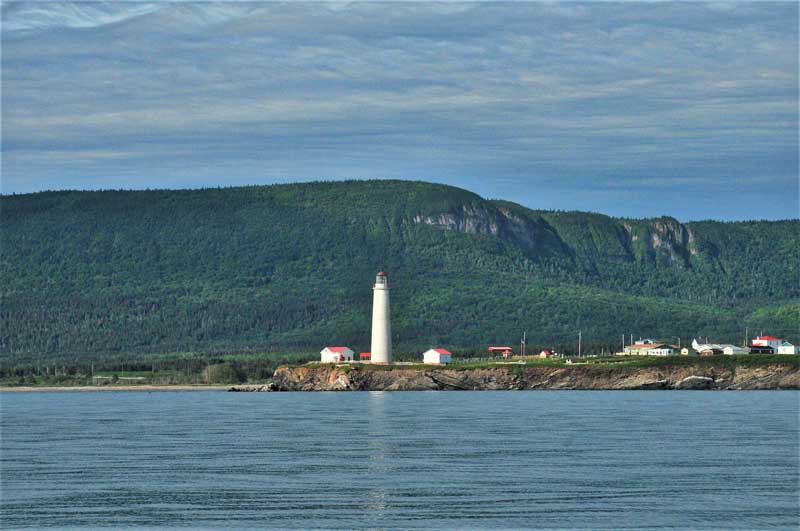 Cap des Rosiers lighthouse is the tallest in Canada, located on the north shore of the Gaspe Peninsula.
When you enter Canada, you will need either to call in to a Canadian Border Services Agency Telephone Reporting Site or present yourselves to a CBSA Direct Reporting Site (see the CBSA web site at https://cbsa-asfc.gc.ca for more detailed and updated information). We entered at a direct reporting site in Lacolle, Quebec, where we tied up to a CBSA dock. Peter, as an owner, first went ashore to present our passports, and the rest of us were then asked ashore to confirm our identification. Check the CBSA web site for the allowed amounts of alcohol, produce, and tobacco which you can bring into Canada, and be prepared to answer questions on what you have and whether you are carrying any guns. A boat inspection is possible. For a fee, you will receive a cruising permit for the duration of your time in Canada. Keep this document in a safe and accessible place, in case you are boarded by Canadian authorities for inspection. We were actually stopped by the Royal Canadian Mounted Police (on boats, not horses) off Nova Scotia. They did not board or inspect us, but did want to see our permit.
You must also purchase a Department of Homeland Security sticker to re-enter the United States at https://dtops.cbp.gov/, and download a new U.S. Customs & Border Patrol entry app called "CBP ROAM" to your phone. Though you should check CBP's web site for any updates on the U.S. re-entry process, we uploaded each passenger's passport information plus passport picture to the app. After crossing into a U.S. cell service area, the uploaded information was sent through the app to the CBP office (open 24/7). A CBP agent then held a video conference through the app to verify the uploaded information. Once the verification was complete, Hermita and crew were allowed entrance into the United States. This process requires a good 4G connection, which took us a while to find. If you can't get a good connection off the eastern Maine coast, you will have to check in at the nearest CBP location.
For further information, resources, and advice from other cruisers who have done the Down East Loop, we recommend the web site for America's Great Loop Cruiser's Association at www.greatloop.com. Hermita's previous owners gave us their AGLCA burgee, which helped us connect with other "Loopers" (the designation for those who complete either Loop) along the way.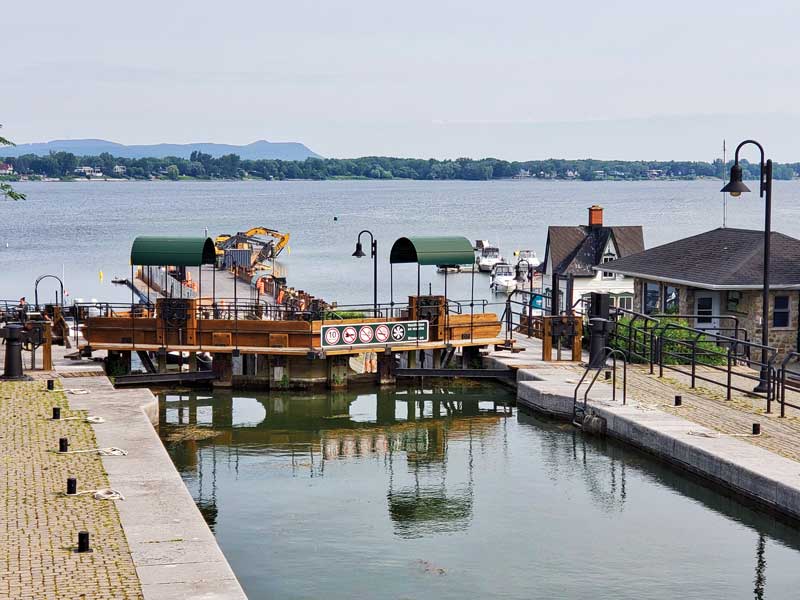 Traveling on rivers and canals means going through locks. This hand cranked lock (one of three dropping 45 feet) enables passage from the Richelieu River into Chambly Lake.
There are two routes to take from the Hudson River to the St. Lawrence River, one through the Erie Canal and the second through the Champlain Canal system, which is shorter by about a week. Having lived and cruised on Lake Champlain, we can recommend it as a beautiful, historic, and generally interesting area to cruise, but you will miss the Thousand Islands and Montreal on the St. Lawrence, which are also well worth seeing. We planned to travel between 30-60 miles a day, but factored in lay days in case of serious fog and stormy weather or to stay in a port longer.
Fuel was readily available, as most ports were fishing harbors. Though we had emergency provisions on board, food markets and hardware stores were an easy walk or short cab ride away. (Uber and Lyft are now available in Quebec after new legislation was passed in the fall of 2019.) A knowledge of French in the bilingual Canadian provinces is helpful, but not essential. Even in the more remote Gaspé Peninsula harbors, someone understood English or we used a translation app.
We mainly stayed at marinas or yacht clubs where the fees for slips, reserved a day or two ahead, were reasonable. With few exceptions, the shower, laundry, and other amenities available at these Canadian facilities were clean and more than adequate. Many of these facilities offered standard boatyard services or could help find a mechanic if needed. The Canadian staff were consistently friendly and accommodating, providing local information on what to see and where to eat, and occasionally offering rides, even once giving us a car, to get to a store. Since there were few natural harbors on the St. Lawrence, we did not gunkhole until New Brunswick and the rest of the Maritimes, especially on the Bras D'Or Lake in Cape Breton.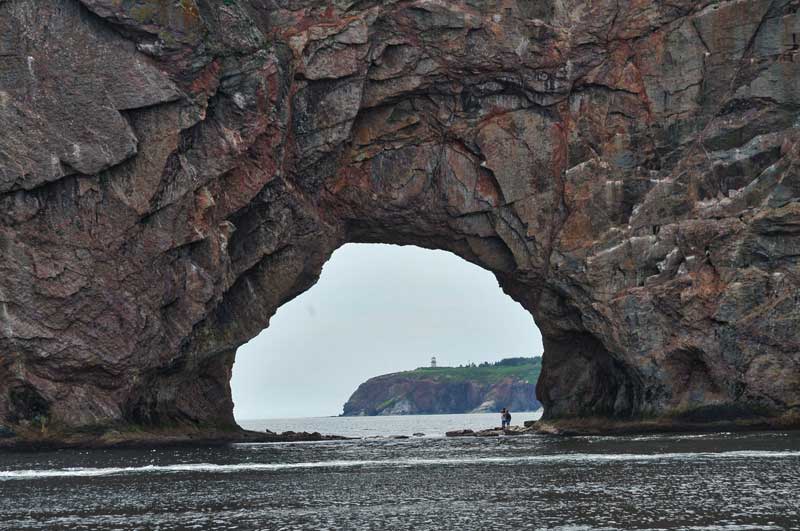 Perce Rock off the eastern end of the Gaspe Peninsula.
Everyone asks what was the best or most interesting part of the trip. Honestly, we cannot point to one or even a few most memorable highlights. Every day was a new experience and adventure, during which we might see incredible scenery, whales or porpoises surfacing or jumping in the waters around us. There were amazing gardens, museums—large and small—covering everything from contemporary art to all things maritime, cultural and historic sites, beautiful churches or a fjord, great food from pastries in Quebec City to fresh oysters on Prince Edward Island, bagpipes and Celtic music, and so much more, all while meeting so many hospitable people.
With our eyes opened to a new world of cruising, we are already planning to expand our horizons, with another trip to revisit and explore the maritimes, and venture farther to the southern coast of Newfoundland, and even France—or at least, the French territorial overseas collectivity of the islands of Saint Pierre and Miquelon off Newfoundland. If you are looking to expand your cruising horizon, become a Down East Looper and maybe we can meet you in this part of France.  
---
Peter Phillips grew up spending summers and learning to sail on Penobscot Bay in Maine, while Leigh learned to sail during her summers on Buzzard's Bay in Massachusetts. Their first date was sailing on Peter's C&C 25 on the Chesapeake Bay in Maryland, and they have been sailing and cruising together, and with their three children and their families, ever since.
Boat travel between the U.S. and Canada was suspended in the spring of 2020 in response to the COVID-19 pandemic. Travelers should check on the border status before making the trip.
Share this article:
Digital Edition Available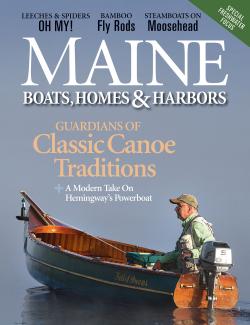 Can't get to the store to buy your magazine? We deliver the stories of Maine's coast right to your inbox. Sign up here for a digital edition.