Dysart's Great Harbor Marina
All the Comforts of Home
By Laurie Schreiber
Photos by Laurie Schreiber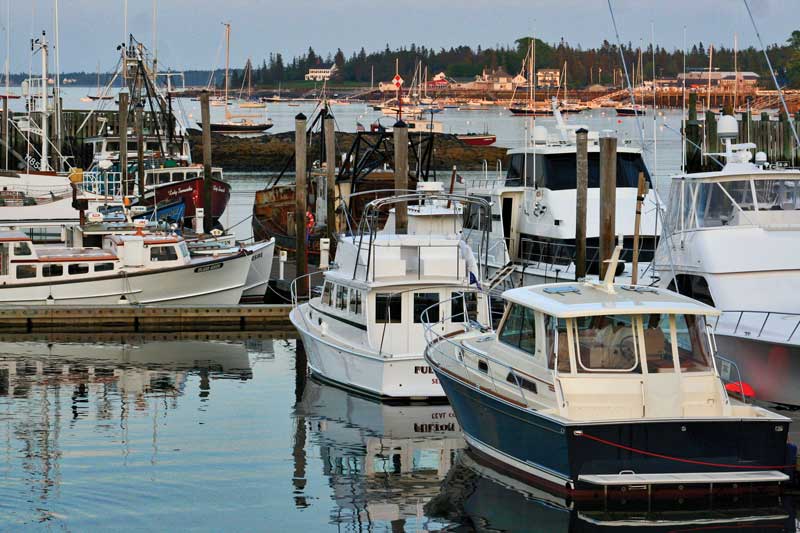 Dysart's Great Harbor Marina is a hub of boating activity in Southwest Harbor.
Who wouldn't want to cruise into Southwest Harbor? One of midcoast Maine's smaller communities, it is located on Mt. Desert Island, and boasts a charming downtown featuring eateries, lodgings, and galleries. It's in the heart of Acadia National Park, easily accessible via a shuttle bus called the Island Explorer.
All of this is within a short walk of Dysart's Great Harbor Marina, a thriving, family-owned facility with a full complement of services. The marina features spectacular views that include lobsterboats, world-class yachts, racing one-design fleets, and eagles that alight atop the pilings. These assets include owner Edward Dysart and the managers, Jane and Micah Peabody.
"It's like being the mayor of a small town," said Micah, who manages the docks, including yachters who return annually, people who live aboard and stay all year, newcomers, fishermen, and vessels from government agencies such as the Maine Marine Patrol.
The social scene has a small-town vibe. Boat dogs hang around the marina office overlooking the docks. Folks lounge and schmooze at picnic tables outside. Jane and Micah keep a pot of coffee on hand in the morning. Sometimes boaters bring pizza or other offerings for general consumption.
The managers are on-site all day throughout the boating season and available during the winter. Their cell phone numbers are posted by the door and they live just minutes away.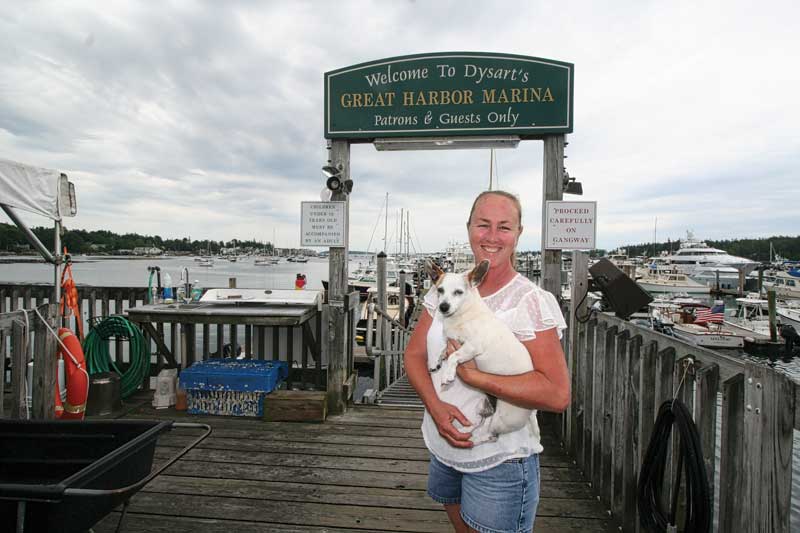 Manager Jane Peabody offers a friendly face and helping hand to all manner of boaters.
"We take a lot of pride caring for everybody," said Jane, who manages the office.
In addition to dockage, the marina's infrastructure includes a long, two-story building that houses retail and service businesses.
The property started out as a sardine factory, which was built around 1885 by John T.R. Freeman, according to Traditions and Records of Southwest Harbor and Somesville, Mount Desert Island, Maine, published by Mrs. Seth S. Thornton in 1938. The factory went through a couple of owners who added machinery, extended the building, and increased output. Eventually, it became the Stinson Canning Co., an important employer for local residents that, at its peak, produced 200,000 cases of sardines per year. Work slowed in the 1980s as competition for sardine herring grew, as did local tourism, which pulled workers away. The harbor, whose shores were home to top boatbuilders such as the Hinckley Company and Morris Yachts, became a popular stop for yachters. After the factory closed in 1986, its buildings remained empty until 1991.
The property was purchased by a group of investors including Hinckley and principals of Dysart's, a fuel distributor headquartered in Bangor, Maine, that also owns travel and truck stops throughout Maine.
The Dysart family had a summer home above the property and saw an opportunity to cater to boaters, said Ed Dysart, the company's president.
But the infrastructure was in terrible shape. The deck of the wharf was replaced and part of the factory building was torn down. The remaining structure was partitioned and renovated for lease to retail and service businesses. The investors installed a ramp and docks.
Then nothing happened.
"We were way ahead of ourselves," Dysart said. "It took a long time to catch on."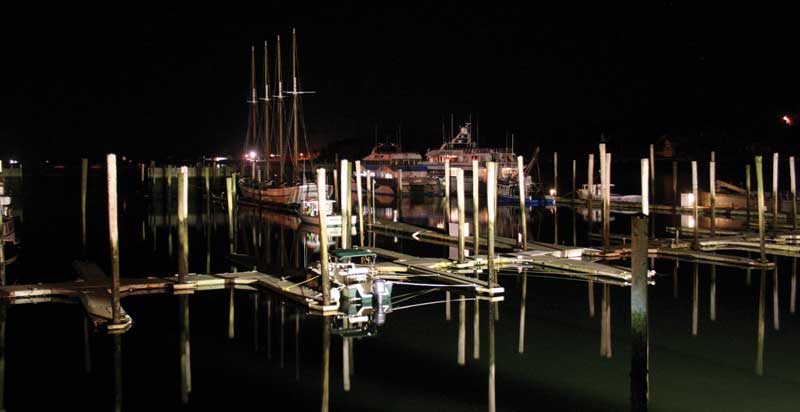 An evening scene at Dysart's in the off-season.
Eventually, yachters saw the potential of walking off their boats to shore. Now the marina is central to transient cruisers making their way between southern waters and Acadia or farther north to Canada. The facility includes floating concrete docks with 150 berths, accommodating boats up to 180 feet or more. There are private showers and restrooms, picnic tables, barbecue grills, laundry machines, ice, fuel, fresh water, power, mail and shipping services, pump-out facilities, a restaurant and bar, and shoreside accommodations for rent. Over the years, the marina has installed a wind attenuator and a breakwater to soothe rough conditions in a storm.
Hinckley sold its share a number of years ago; the facility is now owned by Ed Dysart, his brother Tim Dysart, and his son Rory Dysart.
Micah and Jane are known for running a tight ship. Micah most often can be found on the docks helping boaters and organizing boats.
"It's like a giant puzzle, figuring out who fits where," he said.
Growing up in Houlton, in northern Maine, he learned to sail on area lakes and went to work at Sugarloaf Ski Resort. In 2001, he took what he thought would be a temporary job at Great Harbor.
That summer, he met Jane, who grew up in the West Indies sailing with her parents. She was crewing on a Hinckley 70 that sailed into Southwest Harbor for service work. A year later, they married and started running the marina.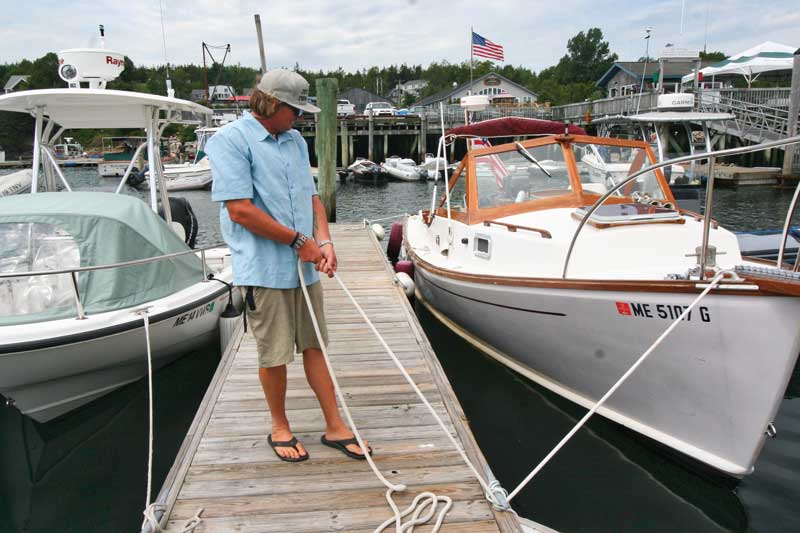 Dysart's dock manager Micah Peabody keeps the dock scene running smoothly.
The two (who have since amicably divorced) work every day from 7 a.m. to 7 p.m. during the peak season from May 1 to the end of October.
Their services are myriad and nuanced. An older boater might want to berth closer to shore. Those inexperienced with the harbor might need help navigating lobster traps. Once on shore, boaters want to know where to get provisions and how to find the Explorer bus.
About 30 people, many coming from the south to beat the heat, live on their boats from June to September, said Micah.
"They splash in the spring and use their boat like a floating home," he said. "It's like an extended family."
"They come back and you say, 'Welcome home' and they say, 'It feels like home,'" said Jane. "We get Christmas cards and handwritten messages every season. Some of them end up buying summer homes here."  
---
MBH&H Contributing Editor Laurie Schreiber is also a Mainebiz staff writer and has covered topics in Maine for more than 30 years.
---
Dysart's Great Harbor Marina
11 Apple Lane, Southwest Harbor, ME
207-244-0117
Share this article:
2023 Maine Boat & Home Show

Join Us for the Maine Boat & Home Show!
Art, Artisans, Food, Fun & Boats, Boats, Boats
August 11 - 13, 2023 | On the waterfront, Rockland, Maine
Click here to pre-order your tickets.
Show is produced by Maine Boats, Homes & Harbors magazine.