Brooklin
Boatbuilding capital of the world
By Bill Mayher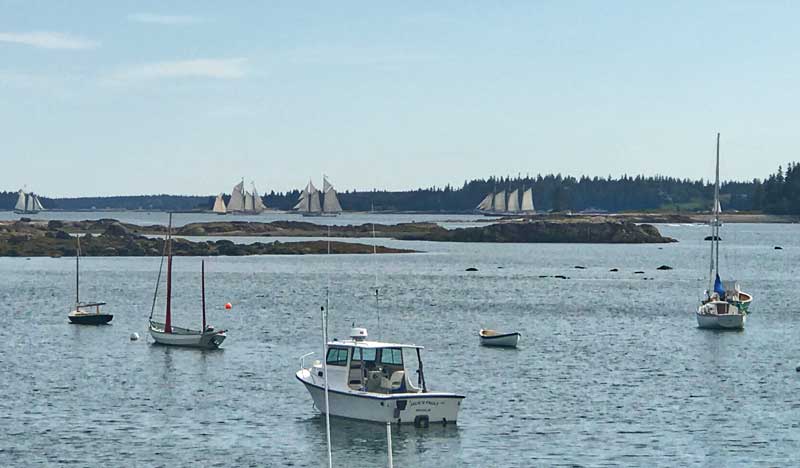 Schooners are a common sight in Eggemoggin Reach, viewed here from the dock at Brooklin Boat Yard. Once a summer the entire windjammer fleet gathers off Brooklin for a gam.  Photo by Polly Saltonstall  
One of the first things visitors see driving along the road from Blue Hill into Brooklin, Maine, is a small sign that says the town is the "Boat Building Capital of the World." It was hung there by the late Jimmy Steele who, over his lifetime, built more than 200 double-ended peapods in a shop up his driveway.
Jimmy was a man with a wry sense of humor and many enthusiasms, and although it's hard to believe that a town of 800 at the end of a remote peninsula in downeast Maine could be the capital of anything, the words still ring true. Brooklin has a lot of boatbuilders famous for their energy and talent and the boats they build.
So if you come to Brooklin as a visitor, especially on a boat, boatbuilding shops are what there is to see. Over on the Benjamin River you could start with Benjamin River Marine then go next door to Hylan & Brown. In Center Harbor there is the Brooklin Boat Yard, an outfit that employs more than 60 highly skilled craftsmen. Up the road is the Eric Dow Boat Shop and to the west, Eric's brother Wade's yard where he once built more than 80 Bridges Point 24 sailboats—and still maintains a good many of them.
Out on the Flye Point Road is Brion Rieff Boatbuilder, a designer and builder of custom wooden boats and farther out on the point on the shore of Herricks Bay is Atlantic Boat Company, an amalgamation of Flye Point Marine and lobsterboat builder Duffy and Duffy, both of which were started in Brooklin. On the road to Blue Hill is Eric Jacobssen's North Brooklin Boats, which builds and repairs small tenders and dinghies.
So like I said, there are a lot of boatbuilders in town, but additionally there are several media companies focused on classic boats. Notable of these, located on the north shore of Great Cove just east of Center Harbor, is WoodenBoat Publications, which produces WoodenBoat magazine, Professional Boatbuilder, and The Small Boat Journal. WoodenBoat has a long all-tide dock and float that makes visiting by dinghy an easy proposition.
While on the WoodenBoat campus, visitors should stay clear of the editorial offices housed in the white brick mansion, but they are encouraged to visit the barn that houses the goings-on of the WoodenBoat School and check out the WoodenBoat store, which sells an intriguing selection of nautical books, apparel, and navigation equipment.  Another company with a small retail shop is NOAH Publications, which
exclusively represents the photographs of Benjamin Mendlowitz, best known for his Calendar of Wooden Boats. More recently, offcenterharbor.com, a membership website that produces classic boat videos, was founded by five local Brooklinites, one of whom is me.
Years ago the late Joel White, perhaps Brooklin's most famous designer/builder, said to me that Brooklin was "an up and doing town." By this Joel meant it wasn't merely a summer colony or a retirement destination, it was a place where people actually did things. That sort of energy was important to Joel and remains important to the rest of us, explaining, among other things, the 4:30 a.m. fisherman rendezvous in the Baptist Church annex and the buzz of energy around the General Store at coffee break time.
Sailing into Center Harbor from Eggemoggin Reach, the first thing you'll notice is the fleet of a dozen or more wooden Beetle Cats and Herreshoff 121⁄2s moored off the Center Harbor Yacht Club. Originally founded to serve the residents of the adjacent Haven Colony, the club recently opened its membership more widely and even began offering sailing classes to year-round youngsters.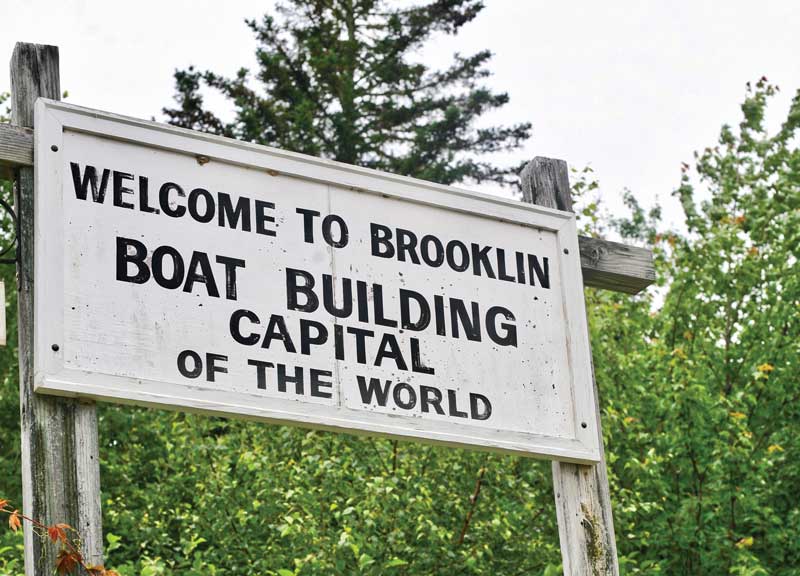 The late boatbuilder Jimmy Steele made and installed this sign on the road from Blue Hill into Brooklin. Whether the claim on the sign is true or not, the town is home to quite a few boatbuilding operations. Photo by Basha Burwell
Farther in, Center Harbor is rightly famous for its fleet of wooden boats, most of them maintained by the Brooklin Boat Yard. But it is so choked with moored boats that anchoring safely inside is nearly impossible, so visitors should either anchor in deeper water outboard of the yacht club fleet or call the boatyard at 207-359-2236 to inquire about renting one of their moorings.
Over the years, the boatyard has been hospitable to visitors leaving dinghies at their floats for short periods and viewing the interesting projects going on in the shops. But it must be said that the local boatyards are busy places; this fact must be respected by vacationing yachtsmen who show up with time on their hands and a yen for chatting. So after a quick look-see it's best to be on your way up the hill and then to the right along Reach Road for the 10-minute walk for the ice, wine, beer, and other cruising essentials available at the General Store. If time presents, enjoy a drink and a meal at the Brooklin Inn.
Besides Center Harbor, the Benjamin River, and the fishermen's harbor at the end of Naskeag Point, there is Herrick Bay, home to Atlantic Boat, a sprawling yard that builds downeast fiberglass boats of one model or another and has a remarkable 60,000 +/- feet of covered boat storage space. Yachtsmen can usually pick up a yard mooring or anchor off the yard's dock and float. Once ashore, visitors can go out the driveway and turn right for a short walk to The Look Out, a historic and mildly eccentric hotel and restaurant with sweeping views of Blue Hill Light and Jericho Bay.
So there's stuff to do in Brooklin, for sure, and a night spent in Great Cove might be rewarded by the chance to anchor in the company of one of the historic schooners that often call into the cove for the night. But remember that Brooklin is, above all, a quiet place with is own rhythms and desires, so go easy on us, and be rewarded with an evening of memorable repose.
---
Bill Mayher lives in Brooklin, Maine, and is one of the founders of the maritime web site offcenterharbor.com.
Share this article:
2023 Maine Boat & Home Show

Join Us for the Maine Boat & Home Show!
Art, Artisans, Food, Fun & Boats, Boats, Boats
August 11 - 13, 2023 | On the waterfront, Rockland, Maine
Click here to pre-order your tickets.
Show is produced by Maine Boats, Homes & Harbors magazine.