Boat builds & wind tunnels
By Polly Saltonstall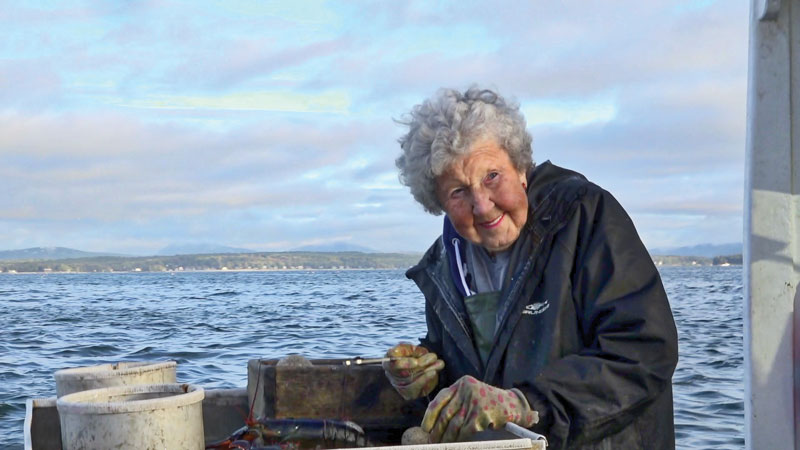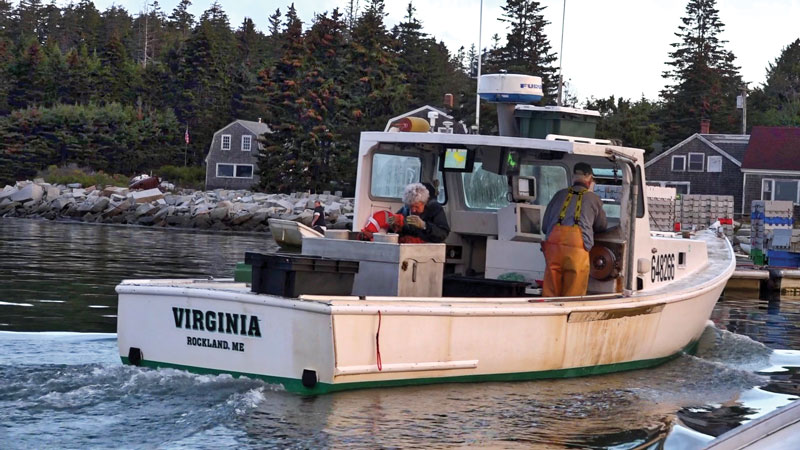 100 years old and still hauling
Join us all in wishing Virginia Oliver a happy birthday. The midcoast resident turned 100 in June. But here's the kicker: she still has a commercial lobster license and goes out three days a week or so with her 77-year-old son Max Oliver to haul traps. According to the Rockland Historical Society, she's the oldest fishing license holder in Maine. We're willing to bet that she's the oldest person in the world who still fishes for lobster!
Filmmaker Dale Schierholt and Historical Society board member Wayne Gray produced a wonderful documentary about Oliver, called The Lobster Lady. Thanks to retired lobsterman, Dick Carver, also a Historical Society board member, the filmmakers were able to follow the Olivers on the water and film them in action.
Virginia started lobstering with her older brother in 1928 when she was 8 years old. She and Max fish on a boat named the Virginia. Weather permitting, they go out three times a week. Each has about 200 traps.
She was supposed to be the grand marshal of the Maine Lobster Festival in Rockland this summer, until it was cancelled as a result of the COVID-19 pandemic. But the short film is even better. It follows her out on the water as she explains her long connection to the sea and lobstering. Her father was a lobster dealer and she later fished with her husband until his death. She and Max have been fishing together for about 13 years. 
As she bends over and deftly puts rubber bands around the claws of each freshly caught crustacean, Oliver says she's gotten plenty wet, but never seasick. The secret to her longevity? "I'm busy all the time doing something," she told the filmmakers. "You've got to keep busy. You've got to keep working. It's not easy." In addition to piloting the boat, she fills the bait bags and measures the lobsters to make sure they're legal.
There are two versions of the film, an 8-minute one and a 30-minute one. Find both HERE.
Virginia's birthday was June 6. Friends and family organized a socially distant drive-by party and the film was shown on a local cable channel.
The Lobster Lady from Dale Schierholt on Vimeo.
---
Green surf's up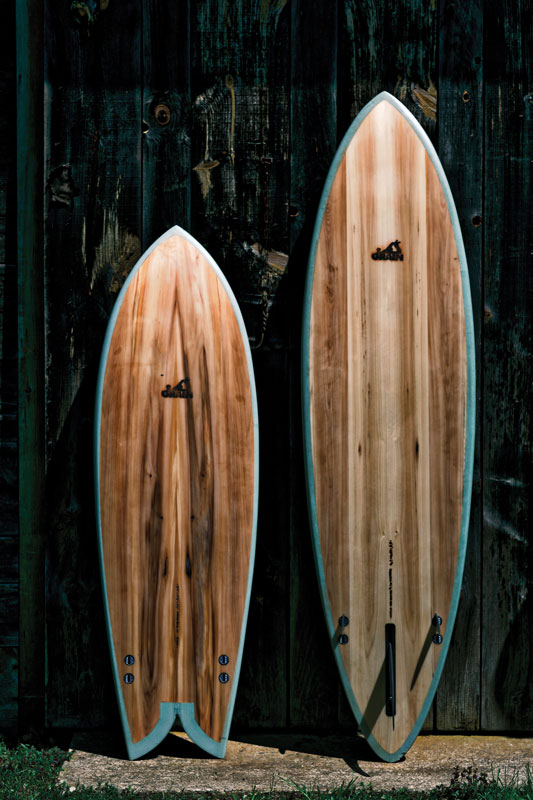 When Mike LaVecchia started Grain Surfboards in 2005, he positioned the business as a leader in sustainable wood production by using traditional hand-built techniques, in an industry that had largely gone to plastic foam materials.
Now the York, Maine, company has doubled down on sustainability while also broadening its customer base through a lower price point, with the development of the GreenRail board.
The design combines wood construction with a perimeter rail made of 100 percent recycled plastic, called polyethylene terephthalate or PET.
LaVecchia said he and his team had been tinkering with PET plastic for years. The pandemic gave them time to dial in the final touches of the design.
When created from wood, the complex curvatures required along a surfboard's perimeter involve 10 or 11 pieces individually shaped and fitted together. Every model design and size require a different rail configuration.
The plastic rail is made by using solid lengths of lightweight extruded plastic that's heated and bent along the perimeter, then shaped by hand. The process is far less time-consuming, LaVecchia explained. And that shaves the price: all-wood boards cost $2,000 to $2,400, compared with about $1,200 for the hybrid model.
The perimeter rail is the most important part of the board, connecting with the waves and making it key to good performance.
LaVecchia's background includes working for Burton Snowboards in Vermont, operating a commercial sailing vessel on Lake Champlain, and managing construction of an 88-foot wooden schooner by the Lake Champlain Maritime Museum in Ferrisburgh, Vermont.
When he started Grain, he adapted his knowledge of wooden boat construction to surfboard design and construction. Grain also sells kits and plans, and offers workshops and private classes.
The GreenRail debuts at a time when folks sheltering at home are trying new things—like surfing.
"The response has been great. We've got a couple of orders already," LaVechhia said.  —By Laurie Schreiber
---
Great Island becomes a Safe Harbor
Great Island Boat Yard in Harpswell has changed hands. As of Monday, June 15, the yard joined the stable of marinas owned and managed by Safe Harbor Marinas, according to a news release from Safe Harbors. In addition to Great Island, the company also acquired Sportsman Marina on the Alabama Gulf Shore, bringing its network of boating facilities to 100 across 22 states.
Great Island had been run by Steve and Stephanie Rowe, who left high-powered corporate jobs at General Electric when they bought the yard and moved to Maine in 2005. They grew the small marina, modernizing the facilities, and expanding services to include refits, systems work, and even rebuilds, in addition to storage and maintenance. (Read a profile of the yard at maineboats.com/print/
issue-134/yard-for-all-seasons). After a fire destroyed the main office building, the Rowes built an efficient new structure, along with new storage sheds over the years, giving the yard almost 80,000 square feet of storage space, with capacity for over 200 boats, in addition to 65 seasonal slips and 45 moorings in the marina. The yard employs about 30 people.
---
New Wesmac will be used for research
Wesmac Custom Boats has launched a new 54-foot vessel that will be used for marine research by Georgia Department of Natural Resources. Named the Reid W. Harris, the vessel and its crew will conduct ecological and other coastal studies in the waters off the coasts of Georgia, Florida, and the Carolinas, according to an article in the Ellsworth American.
Wesmac has been involved with the project for about two years, Bill Grindle, the company's general manager, told the American. The Surry-based company got wind of the project in an email from the director of Georgia's Department of Natural Resources Coastal Resources Division. "He and his captains knew that they wanted a rugged downeast-style boat," Grindle said. More particularly, the agency wanted a 48-foot to 56-foot fiberglass boat. According to Grindle, stability and "crew safety" were considered key elements of the boat's design.
---
The Reid W. Harris is a standard
Wesmac 54 with a waterline length of 51' 6", a beam of 17' 6",  and draft of 6'. With a fiberglass hull and foam-cored fiberglass pilothouse and forecabin top, the boat displaces about 65,000 pounds. With plans to tow a small midwater trawl net from the hydraulic winch mounted on the afterdeck, the boat has plenty of power—a 1,000-horsepower Caterpillar diesel turning a five-blade 38-inch-by-33-inch propeller. In sea trials the Reid W. Harris had a top speed of 21.5 knots and a cruising speed of 18 knots.
The vessel is named after the late Reid Walker Harris, a Georgia native and state legislator who was a principal author of several environmental laws including Georgia's Coastal Marshlands Protection Act of 1970. He was credited as an early adopter of the concept of ecology and environmentalism, according to the article in the Ellsworth newspaper, and published the book And the Coastlands Wait, about the creation and adoption of the 1970 law.
---
New Brooklin Boat build
Brooklin Boat Yard is finishing up work on a new 50-foot, Jim Taylor-designed, racing/cruising sloop, named Kestrel. The sloop is an evolution from previous Jim Taylor 49-footers Dreadnought and Blackfish. The previous two boats were designed primarily for racing; Kestrel is designed for ease of sail, comfort, and "cruisability."
Probably the most notable evolutionary design change is the addition of 2 inches of topside freeboard and subsequent 1.5-inch addition to the height of the deck house. From the outside these changes won't be immediately evident as Kestrel's lines, dark green hull, and varnished mahogany house sides, cockpit coamings, and toe rails will keep the exterior appearance similar to her older sisters. Where these extra inches will really count will be down below with additional overall space, comfort, and headroom, the latter of which will be appreciated by the boat's owner and his family who all tend toward the tallish side.
Kestrel is designed to be easy to handle, with sail control lines close at hand in the cockpit, powered winches, a powered traveler, and a Bamar mainsail in-boom furling system. The spar and rig package is from Offshore Spars and the sail package is by North Sails.
Plans called for a July 2020 launch, just in time to tune-up for the Eggemoggin Reach Regatta, one of the few Maine races not cancelled this summer as a result of the pandemic.
---
Cruise ships take refuge in Maine
Eastport got a new high-rise this summer, a floating one at that, with the June 14 arrival of the 785-foot, 15-story high cruise ship Oceana Riviera at the downtown breakwater. The huge cruise ship was more than four times taller than the Washington County city's tallest buildings, according to an article in the Island Institute's Working Waterfront.
The vessel, with 131 crew members aboard, took refuge downeast after being sidelined by the COVID-19 pandemic. Like dozens of other cruise ships affected by a federal "No Sail" order in effect since mid-March, the Oceana Riviera had been anchored off the coast of Miami. The owner, Norwegian Cruise Line Holdings, wanted to move the ship from the hurricane prone area before the start of the 2020 hurricane season. The move to Eastport required approval from the state, CDC, U.S. Customs, and Coast Guard.
Oceana Riviera's crew members still on board were among an estimated 100,000 crew who remain stranded on cruise ships at or near the port of Miami, according to the Working Waterfront. Once the ship arrived in Eastport in mid-June, those on board were not allowed ashore. The vessel was designed to carry 1,250 passengers.
The long-term parking agreement involves docking fees of just under $50,000 a month, according to Chris Gardner, executive director of the Eastport Port Authority. The net revenue will be used to pay down the authority's $2 million share of the debt incurred for rebuilding the breakwater, Gardner said—the aging breakwater collapsed in 2017 due to structural issues. Norwegian Cruise was negotiating in late July to bring an even bigger vessel, the 848-foot Norwegian Sun to Eastport to dock at the Port Authority's cargo terminal at Estes Head, Gardner said. But those talks were complicated by questions about how to get the ship's crew home from Eastport. CDC rules make moving crew around in the United States difficult, he explained.
The ship operator "may be forced to pull both vessels out of Eastport and go to Europe because it's much easier to get the crew off and home there," he said.
---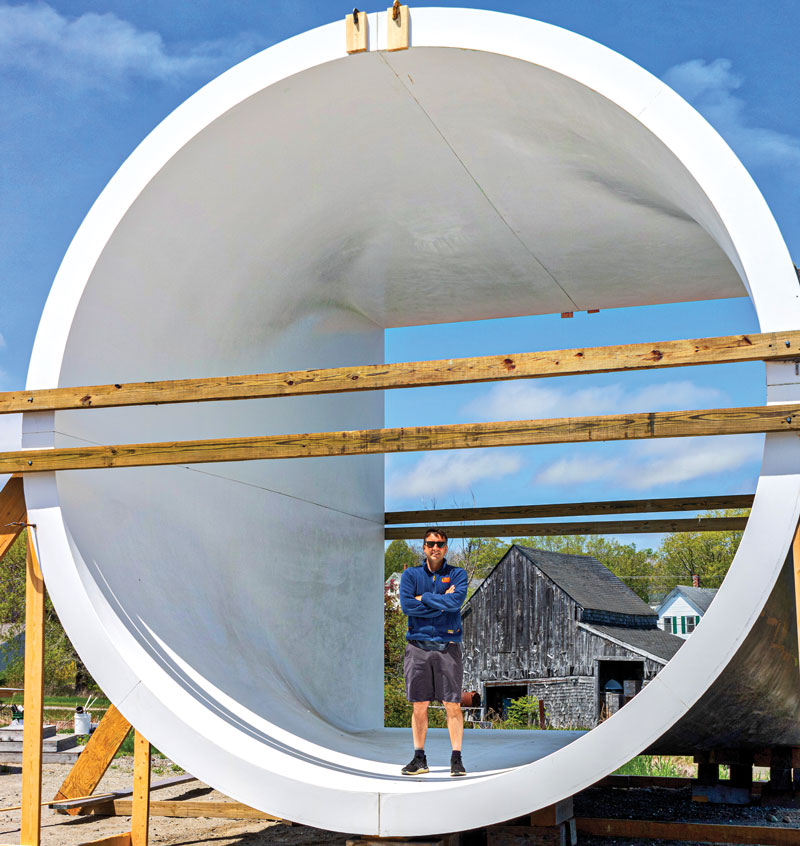 Latest LM launch? A wind tunnel
Talk to Drew Lyman about the future of his boatbuilding business and he will tell you how proud he is of the company's success at diversifying and finding new work outside the marine world.
"It's a logical thing," says Lyman, president of Lyman-Morse, which is based in Thomaston and also operates the former Wayfarer yard in Camden. "We can apply the technology we use in building high-end boats in other projects."
A recent example is a 16'x 30' composite wind tunnel. Lyman-Morse Technologies, the company's research, development, and prototyping division, won the contract from a specialist manufacturer in the business of designing and providing custom wind tunnels to customers worldwide. This tunnel is destined for a major academic research facility on the East coast of the United States where it will be used to support aerospace research projects.
"Given the many advanced skills and trades needed to build a world-class custom yacht, technology, defense, and aerospace firms recognize the value in what we do," said Andy Smith, Vice President of Lyman-Morse Technologies. "We hope to be doing more of these."
Steve Crane, composite division manager, and his team approached the wind tunnel project as they would any boatbuilding project. In-house designers used 3D-modeling software to finalize the design and engineering data. This data was inputted into a CNC machine to cut the mold frames to the exacting tolerances required for the intended performance of wind tunnel. The composite team built a mold, and laid in the composite layers. To finish the inner surface, the inside of the tunnels includes a layer of gelcoat. When assembled the wind tunnel will be 30' long with a 16' diameter. 
"Whether building a church steeple for the town of Camden, producing a Radome prototype, executing projects for the Department of Defense, or designing and building an automated boathouse door, boat cradle and controls for a marine railway, LMT has been sought out for their clean technology, precision and high-tech capabilities utilizing advanced composites," said Lyman. "We thrive on this kind of work."
---
Maine expansion for Navatek
The marine systems engineering firm Navatek has started a three-phase expansion by moving into 4,800 square feet of new laboratory and shop space on the first floor of Building D at the Portland Co. Marine Complex, at 100 West Commercial St., Portland. It's the first step in what property owner Phin Sprague envisions as a 21st-century working waterfront that will provide sustainable, quality employment for professionals and highly skilled tradesmen.
In September, Navatek will take over 7,560 square feet of office space. And plans are underway to construct additional office space that will be ready for occupancy in September 2021. The company also leased space in Bangor.
Navatek, which also has offices in Hawaii and Rhode Island, won an $8 million Navy contract last year to improve the design and construction of small watercraft that can operate safely at high speed in rough seas. The three-year project involves collaboration with Front Street Shipyard of Belfast, which will build the test hulls and collaborate on at-sea testing, and the University of Maine Advanced Structures and Composites Center.
David King, Navatek's senior VP, said the company plans to increase its staff to more than 60 this year, with room to grow to 120 in the new space.
---
New, old maps
For the past 40 years Penobscot artist and editor Jane Crosen has been creating a series of hand-drawn maps of Maine coastal and lake regions, printed as posters, cards, chef aprons, T-shirts, and floursack towels. Her latest work is an updated edition of a 140-year-old atlas, which she calls "a fascinating time capsule of Hancock County in the last glow of a 19th-century coastal economy."
Compiled and published by George N. Colby, the original Atlas of Hancock County, Maine, 1881 was drawn in Ellsworth, Maine, and engraved and printed in Philadelphia; only 350 copies were printed. Colby's maps (based on actual surveys and U.S. Coast Survey charts) are remarkably detailed, locating homes and cemeteries, mills, shipyards and brickyards, steamboat wharves, schoolhouses and post offices, mines and granite quarries. However, the original atlas did not present the maps in a consistent order or include an index, making it hard to find places, Crosen said.
While the original edition of Colby's atlas has been archived digitally, Crosen felt it was important to keep in print such an important documentation of downeast Maine's cultural landscape. Digitally printed by Downeast Graphics in Ellsworth, Crosen's new Coastwise Geographic Edition of Colby's historic Atlas of Hancock County includes all the archival maps arranged geographically around the Union River watershed, then west to east "as schooners would sail coastwise downeast with the prevailing winds." The expanded layout includes a preface on the life and times of the atlas, and a bibliography of sources. Where space allows, the maps are accompanied by period photos and excerpts from a contemporary Survey of Hancock County, Maine, which was published in 1878 when the maps were being drawn.
The new edition includes an index correlating historic place names with  current ones. It is available in many local stores, and HERE.
---
Fatal shark attack in Harpswell
The Maine Marine Patrol was looking for sharks off the coast of southern Maine after a fatal shark attack near Bailey Island in Harpswell at the end of July. It was the first shark fatality ever in Maine.
Julie Dimperio Holowach, 63, of New York, was swimming with her daughter about 15-20 yards from the shore of the island, where she has a summer home, when the attack occurred. People who witnessed the incident helped bring Holowach to shore by kayak. She was pronounced dead by EMS personnel.
DMR Commissioner Patrick Keliher confirmed that, after consulting with Massachusetts Department of Marine Fisheries Senior Scientist Gregory Skomal, Ph.D, the shark involved in the incident was a great white shark. Skomal was able to identify the shark through a tooth fragment.
The only other confirmed shark attack in Maine waters occurred 10 years ago near Eastport, and that shark was reported to be a porbeagle. Although shark attacks in Maine waters are rare, Keliher said, people should use caution when swimming or paddling in areas where there are schooling fish or seals. "Seals feed on fish and sharks feed on seals," he said. "We urge swimmers and others recreating in or on the water in the Casco bay region, and in particular near Bailey Island to be aware of their surroundings and to avoid schools of fish or seals, which attract sharks."
Around the time of the attack, several seal carcasses had been found with large shark bites, and following the attack, there were reports of shark sightings, prompting the state to implement swimming restrictions at a number of state beaches.
Skomal told various media outlets that great whites have always been present in Maine waters, but as the species has rebounded due to conservation measures, sightings likely will become more common. Most unprovoked great white shark attacks are cases of mistaken identity, he said. The attack on Holowach, who was wearing a wetsuit at the time, was likely made by a shark attempting to feed on what it thought was a seal, he said.
---
Portland boat franchise honored
Captains Bruce White and Matt Wilder, owners of on-water service provider Sea Tow Portland/Midcoast, have been honored with Sea Tow's "2019 Franchise of the Year" award.
Franchise of the Year is awarded annually to the Sea Tow location that most exemplifies the company's high standards of service and operation, according to a news release. Sea Tow CEO Joseph Frohnhoefer said that Wilder and White's impact on the boating community both near and far was hard to beat. "They're everything we look for in a Sea Tow captain and more."
Over the years, White and Wilder have helped debut a number of new programs for both Sea Tow and its nonprofit arm, the Sea Tow Foundation. Two years ago, the duo unveiled Portland Sea Taxi. They have also partnered with local organizations such as the Maine Island Trail Association.
Share this article:
2023 Maine Boat & Home Show

Join Us for the Maine Boat & Home Show!
Art, Artisans, Food, Fun & Boats, Boats, Boats
August 11 - 13, 2023 | On the waterfront, Rockland, Maine
Click here to pre-order your tickets.
Show is produced by Maine Boats, Homes & Harbors magazine.