Significant builds, a new breed of ferry, and some goodbyes
By Polly Saltonstall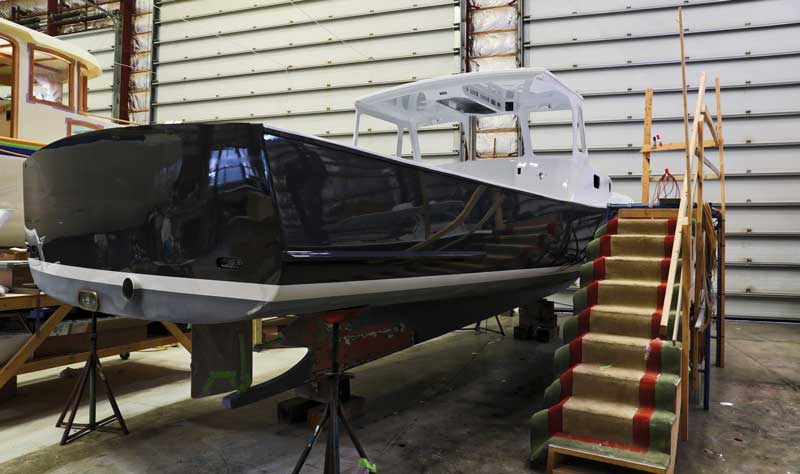 The Holland 32 under construction at Gamage Shipyard.
Big milestone at Gamage Shipyard
Gamage Shipyard is having a back to the future moment this summer. The South Bristol yard is launching its first new boat builds since 1981.
Based on the Damariscotta River, Gamage has focused on boat storage, repairs and refits, and marina services for the past 40 years. The new builds, a Holland 32 and a 42-foot Flowers trawler, which were scheduled to be launched this summer, are a transition back to the 149-year-old yard's boatbuilding roots. It's part of a long-term plan, according to manager Mike Tatro.
"When I took over the yard five years ago, the owner and I batted back and forth on direction of the yard. He started talking about developing a brand. This yard has a long history of building boats. That's the brand we need to get back to," Tatro said.
The Holland is intended to showcase the yard's potential.
Tatro acquired an older Holland 32 hull that his crew then stripped down to the bare bones. After Belfast builder Glenn Holland fabricated a new cabin and deck, the Gamage crew fitted the boat out as a downeast-style commuter and/or pleasure boat. It will have a full head with hot and cold water, a galley with refrigeration, and berths for two people. The boat will be powered by a V8 350-hp Yamaha diesel engine. Tatro expected that it will have a top speed of around 30 knots and a cruising speed of 25-26 knots.
The spec boat is currently listed for sale with Gray & Gray Yacht Brokers.
Tatro describes the Flowers design as a cross between a Lord Nelson Victory Tug and a northeast trawler. It is being built for a client in South Carolina.
Albion and Menzies Gamage began building large wooden sailing vessels in the early 1850s. Over the next 50 years, the brothers built more than 88 sail- and steam-powered boats. Menzies Gamage's son Elliot bought the yard in 1911, but there was little activity on the land until 1924, when Elliot's cousin, Harvey Gamage, bought the property, leaving an apprenticeship in an East Boothbay boatyard to set up business for himself. From 1924 to 1976, Harvey oversaw the construction of more than 288 sailboats, powerboats, draggers, scallopers, and windjammers.
Rory Cowan, a long-time summer resident in the area, bought the yard in 2000 and proceeded to invest in substantial new infrastructure. He hired Tatro, who brought years of boatbuilding experience to the job, in 2014.
---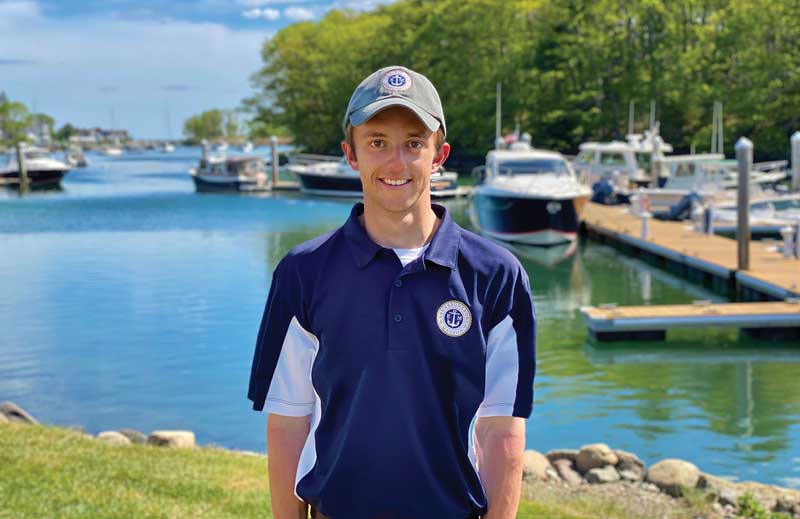 Ryan Giggey
From dock boy to dock boss
Things tend to come full circle in life. For over 36 years George Giggey has kept his 30-foot Catalina sailboat at the Yachtsman Marina in Kennebunkport, Maine. He spends summer weekends at the marina, sailing, tinkering on his boat, and fishing. He's regularly joined by his family, including grandson, Ryan Giggey, now a junior at Merrimack College in Andover, Massachusetts. Ryan can't remember a summer where he wasn't on the docks, assisting his grandfather with small boat projects. Through those visits, Ryan learned to love the water. He cherished his Maine coast adventures, learning to boat and fish. His summer memories at the marina include meeting President George H. Bush, and then President George W. Bush a few years later. But his most cherished memories are the ones spent with his grandfather—the first time he took the helm, the big striper fish they caught, learning to tie knots, how to navigate out on open water, and so on.
All that experience around boats has become more than just a hobby for Ryan. This summer will mark his fifth year working at the marina, where he's always the first employee to be brought on each season and the last to leave. Now 21, he has taken on the role of dockmaster at the Yachtsman. In his role, he collaborates with Operations Manager Shawn Dumas and Marina Manager Cathy Norton to ensure all customer needs are met. Throughout the summer, he oversees 10-12 dockhands, who provide concierge service to the marina's customers.
"Today I walk those docks with a different purpose. Instead of just being at the marina to go boating, I am there to help others," he said. "I remember when I first got hired and a customer was on the docks with his son and grandchildren. The kids were just 5 or 6 years old and they reeled in a decent size fish right by their boat. The look on the grandson's face as he and his grandfather took photos together reminded me of all the memories I have at the marina with my grandfather. I love that I can help our customers create amazing memories like those."
---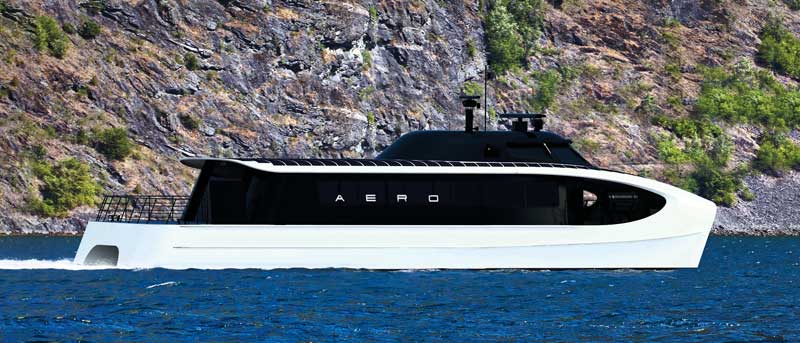 The first ferry built would be a carbon fiber, low-emission, 75-passenger vessel that would server Islesboro and Belfast. Photo courtesy Arcadia Alliance
High-speed commuter ferries
If all goes as the project's backers hope, commuters to and from islands in Penobscot Bay could one day be riding on super-efficient high-speed ferries built in Belfast, Maine.
Arcadia Alliance, which is a partnership between Front Shipyard in Belfast and the Norway-based Brodrene Shipyard, has submitted a proposal to the Maine Department of Transportation to build at least two low-emission, carbon fiber, high-speed passenger ferries at the Front Street facility.
The first ferry, powered by an efficient diesel engine and with the capacity for 75-passengers, would commute between Islesboro and Belfast, according to Erik Grimnes, Arcadia's vice president of sales and marketing. The second ferry would be all-electric. Once built, it would replace the first one on the Islesboro route, while that first ferry would move on to serve other island communities in Penobscot Bay. The ferries would be capable of going as fast as 35 knots, Grimnes said.
Towns around the bay including Belfast and Islesboro, as well as organizations including the University of Maine and the Maine Technology Institute, have endorsed the concept, which is now pending with the Maine Department of Transportation.
"We are excited about this," said Grimnes. "We have a way to go, but it feels like the time is right."
The proposed timeline calls for work on the first ferry to begin in 3-5 months and the passenger service to being in 21-23 months. Arcadia has been in talks with various communities around the country about building high-speed ferries, but as of this spring, none have signed on the concept. Maine could be the first, Grimnes said. The first ferry carries an estimated price tag of $3.8 million, and the second all-electric one would cost $4.8 million. The proposal states that the project will create as many as 75 new jobs in Belfast.
In addition to promoting the coastal economy, the initiative would support Governor Janet Mill's Climate Council Initiative, Grimnes said.
The proposal calls for DOT to invest in these ferries rather than the traditional, high-maintenance steel car and passenger boats, which are much less efficient and require more crew. Islesboro is scheduled to get a new ferry in 2024, according to Earl Mackenzie, an Islesboro resident who started and ran for many years a passenger transport service between the island and the mainland and has been involved with consortium backing this new project. The idea would be to keep the old car ferry but move much of the passenger traffic to the more efficient carbon fiber ones, he explained. Brodrene has built carbon fiber ferries that are now in service in Europe.
In a statement printed in the online news organization PenBay Pilot, MDOT spokesman Paul Merrill said the state agency needs more information before it can move ahead with additional studies.
"We're continually evaluating new technology in vessel design and lower emission propulsion. It's also worth noting that, currently, the U.S. Coast Guard will not allow the use of a carbon fiber ferry to transport vehicles, which is a major need for the islands we serve," he said.
"Any innovation we pursue needs to demonstrate that it can provide valuable service and environmental benefits while saving taxpayer money."
---
Help keep islands clean
Consisting of more than 240 islands and coastal properties, the Maine Island Trail has grown over 32 years thanks in large part to the volunteer stewardship of its mostly privately-owned, uninhabited islands. What started as a simple, grassroots agreement between island owners and visitors willing to lend a hand has gradually become more organized. A program of Island Adopters came first, eventually followed by a corps of some 30 volunteer Monitor Skippers who volunteers to the islands.
In this Coronavirus season, however, group-based activities may not be possible. Instead, MITA will rely heavily on individuals to conduct stewardship work using their own boats. The organization is asking its 6,900 members, and anyone else who is so inclined, to clean up the islands and report their activities via a simple web form. They have dubbed this effort "A Call to Oars!"   
Participants will download the Maine Island Trail App, visit islands where they can do so safely, carry trash off, and send a brief web-based report back to MITA at MITA.org/report.
"This is an important undertaking," notes MITA Executive Director, Doug Welch. "Between our large-group cleanups and small-group outings, MITA logged over 2,300 hours of group-based volunteerism last year. We cannot afford for that effort to just disappear in 2020."
---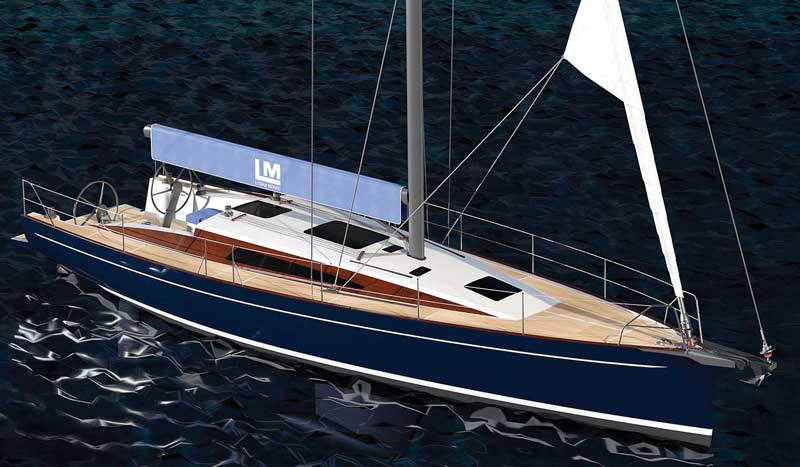 Construction has begun on the first LM46.
New build at Lyman-Morse
Construction is under way at Lyman-Morse on the new LM46 performance sailing yacht (see MBH&H March/April 2020). The collaboration between Lyman-Morse founder Cabot Lyman, his son Drew, and Kiwi designer Kevin Dibley is a departure from the company's recent history of custom boatbuilding and will produce a high-performance, cold-molded yacht with the ambiance of a wooden boat but delivering approximately 10-knots of speed under both power and sail.
Lyman-Morse's mission for the LM46 is to return sailing to being about sharing time with friends and family. "The goal for the LM46 is simple: To have you sailing within five minutes of stepping aboard, and to be able to step off within five minutes of picking up your mooring," explained Cabot Lyman.
A powerful cruising rig that includes swept-back spreaders and 1,183 square feet of sail, including a square-top main, gives the LM46 an impressive turn of speed. The wooden hull, 43' waterline length, and 13'5" beam makes the yacht easy to handle, both under sail and power.
---
Lobstermen want help in court battle
The Maine Lobstermen's Association is calling for a half-million dollars in donations to help it "save" the state's lobster industry from potential extinction.
The association says it needs help defending the fishery in a federal court case brought by conservationists who want stronger protections of the endangered North Atlantic right whale.
Conservationists contend the whales can be injured or killed by entanglement with lines attached to traps. But Maine lobstermen argue there is little proof that their lines have been to blame in recent whale deaths.
Recent court rulings in three separate cases have sided with conservationists, finding that the federal and state governments have violated the Endangered Species Act by allowing some fisheries, including lobster, to continue. A fourth lawsuit that specifically targets Maine's lobster fishery is pending.
---
Bye-bye Evinrude
The Evinrude brand of outboard engines, has been discontinued, according to a press release from BRP, which owns Evinrude as well as a number of other marine-related brands. The company was started in 1909 by Ole Evinrude, who is credited with inventing the first commercially markable outboard motor.
"We will discontinue production of Evinrude E-TEC and E-TEC G2 outboard engines. Our Sturtevant, WI, facility, will be repurposed for new projects to pursue our plan to provide consumers with an unparalleled experience on the water," the release stated.
The changes come as COVID-19 has set back the outboard engines business "obliging us to discontinue production of our outboard motors immediately. This business segment had already been facing some challenges and the impact from the current context has forced our hand," said José Boisjoli, President and CEO of BRP.
BRP has signed an agreement with Mercury Marine to support boat packages and continue to supply outboard engines to its boat brands, the release added.
"We will continue to supply customers and our dealer network service parts and will honor our manufacturer limited warranties, plus offer select programs to manage inventory. These decisions will impact 650 employees globally," according to the release.
---
Over the bar
Stonington lost one of its most iconic characters last May, with the passing of boatyard owner and operator, Harlan Richard Billings.
Born and raised in Stonington, he grew up in Burnt Cove on "The Point" where you would most likely find him hanging out and about the shore, according to his obituary. In his youth he passed up thoughts of a Coast Guard career when his father asked him to help out at his recently purchased boatyard, Billings Diesel & Marine Service. Together they laid the foundation that enabled Harlan to grow the yard into one of the most well-regarded boatyards on the coast of Maine.
Harlan was one of a kind. His gruff laugh and enthusiasm for life will be missed on the waterfront.
---
New adventures
After nearly 20 years, 100+ issues of the magazine, lots of boat shows (ours and others) and who knows how many new boat launchings, we are sad to announce the departure of Associate Publisher Dave Getchell, Jr. He has been a key player in many aspects of our operations over the years, and we wish him the best in his new adventures. 
Share this article:
Digital Edition Available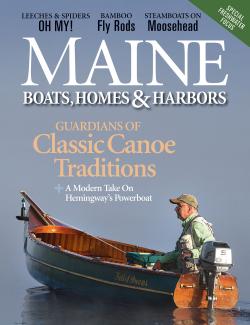 Can't get to the store to buy your magazine? We deliver the stories of Maine's coast right to your inbox. Sign up here for a digital edition.