From Sail to Power
One Man's Journey
By Bill Mayher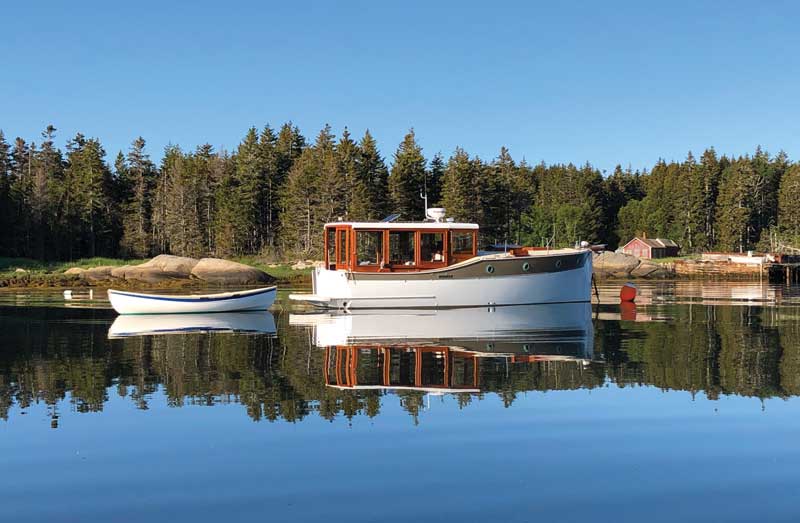 The Fairchild Scout 30' Scooter that flipped the author from a sailor to a powerboater has proven to be comfortable both for cruising and for short outings. The author says she's named Scooter because she's not too fast. Photo by Maynard Bray
Somewhere in early 2018 my regular winter boat fantasies took a yank to the right and I started dreaming in earnest about powerboats. As a lifelong sailor, such a turn was quite a departure, especially given that I was still in love with the Concordia 31, Vital Spark, that I had owned in partnership for nearly 25 years.
Yet dreams are dreams and must be honored, so in short order I found myself traipsing through brokerage listings just to see what was out there. Nothing serious, I told myself, just a look-see.
Well, when it comes to powerboats, there was plenty of material to traipse through: trawlers, Downeasters, sport fishermen, lobsteryachts, lobsterboats, tugs of one variety or other, you name it. Inboard, outboard, outdrive. Fast ones and slow ones. Gas or diesel. Wood or fiberglass. Really expensive, just plain expensive, or all the way down to cheap enough but with problems. A lot to think about. But with iPad at the ready and a mug of coffee close at hand, this kind of thinking seemed good to me, even exciting.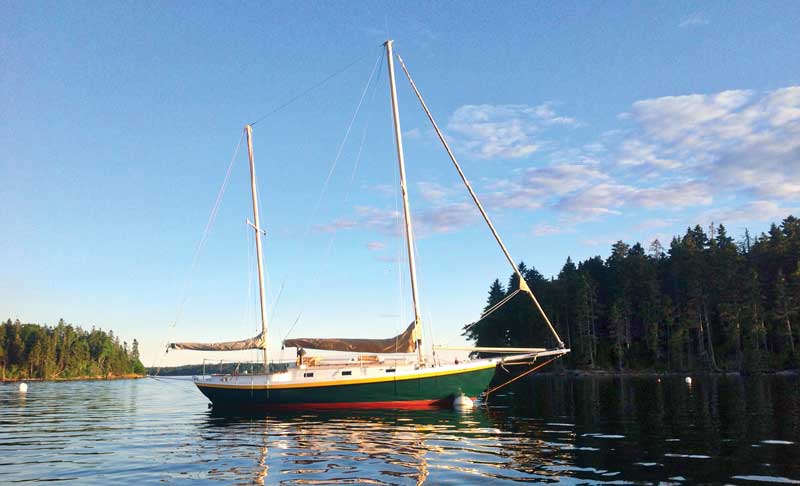 The Concordia 31 Vital Spark, was the author's pride and joy for close to 25 years. Photo by Bill Mayher
My first consideration was speed, and pretty quickly I decided that going slow would be fine. There are certainly advantages to this. Economy was a big one. Then there is the noise level. Go fast and you've got a roar all the time. Go slow and it's more of a chugga-chugga situation. Finally, by going slow you can end up with a boat built for comfort not for speed, like my grandmother's Buick. Go slow and you can avoid some hyper-powered deep-V monstrosity. Go slow and you can get a trawler that's seaworthy and commodious.
But the real reason I could stay in the slow lane is that my home harbor on the Eggemoggin Reach lies smack in the middle of some of the sweetest cruising grounds in Maine. Go west on the reach and you're in East Penobscot Bay with its virtually infinite island delights. Go east and there is Swan's Island and the Bass Harbor Bar and Mt. Desert beyond. With scores of anchorages within 15 miles of home, going slow would be good enough.
With a powerboat you get to stay in a straight line most of the time, instead of tacking back and forth. Powerboats also draw less so you can go closer to the shore and the scenery than in a sailboat. Even though I was still in the "just looking, honey, nothing to worry about" stage, the advantages of a powerboat were building up in my mind at an alarming rate. If things kept up like this, I admitted to myself one evening, I might even have to buy one of these contraptions.
Nevertheless, things would have remained in the purely theoretical zone if I hadn't begun to focus in on an actual boat model. Early in my search I had come across several peculiar little ships for sale called Scout 30s. In the 1970s and 1980s, Fairchild Yachts had built a number of fiberglass-hulled Scouts in San Diego. Designed by Ben Ostlund, with plumb stems and square housetops, they looked like something from the 1920s. It was a retro look I found especially appealing, but I didn't take things any further that that until, horror-of-horrors, a Scout listed by my friend Annie Gray came up for sale just down the coast.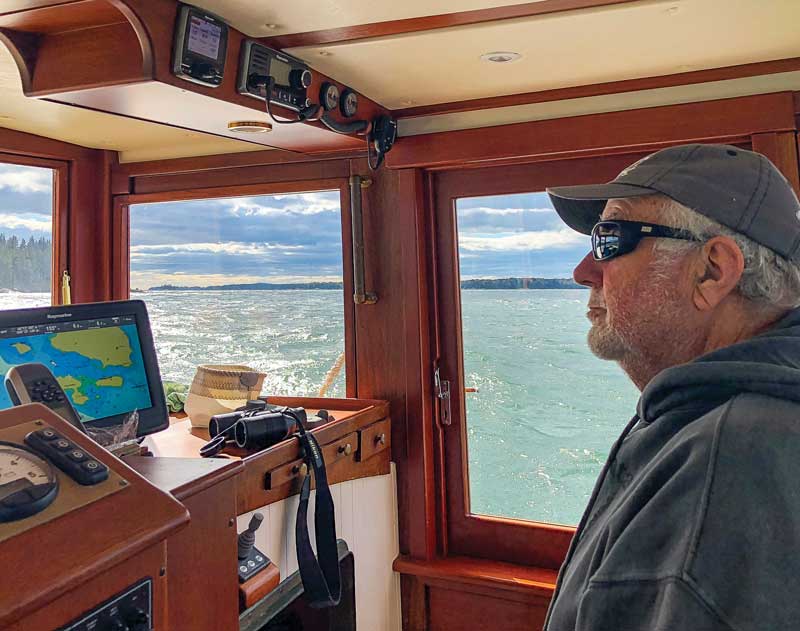 With all those electronic screens close at hand, the author knows exactly where he is, no matter the visibility out the window. Photo by Benjamin Mendlowitz
As I looked closer into this particular Scout, I noticed that she had windows and a sliding door completely surrounding her pilothouse. Plus she had a little diesel heater to take the morning chill off in August and extend my boating season from mid-April through mid-November. She would be that rarest of all kind of boats: A genuine season extender providing more bang for the boating buck.
I also noticed (and who could miss this?) that she had been recently rebuilt right down to the last hose clamp—a new 75-hp Yanmar diesel along with every sort of pump and valve, new tanks and batteries, and new electric panels, and new drive shaft, and cutless bearing, and propeller. A new depth sounder and a GPS that interfaced with her new radar. New stove, new fridge, new head, new lighting system with those fancy new bulbs.
No matter the fog outside the windows, I would know where I was. I would be comfortable no matter the outside temperature. And just as important, I would have a view of everything from her helm seats or that settee of hers with the big pillows.
In a sailboat, the sailing is fine. No doubt about it. But at the end of day, at the edge of dusk, swinging at anchor in some spruce-clad cove when the wind is down and the Mt. Gay rum is close at hand, when all one desires is to stretch out in the cockpit and take in the wonderment of it all, along come the mosquitoes to celebrate your good fortune, sending you below for a port hole's view of the precious evening's light. 
With all this heavy thinking and equal measures of romance, I bought the boat and named her Scooter.
As for Vital Spark, I sold her to my partner's daughter. My partner for many years, he had been good to me in terms of money. This allowed me to pass his generosity on to his daughter—a fitting closure to a precious circle of friendship.
Buying a boat is rarely a rational enterprise. There is too much emotion involved. And as we have seen, too much romance. It took a month of use the following spring to show me what I had really gotten myself into. Lucky for me, she seems just right. With her narrow beam, round bilges, and 2,000 pounds of lead ballast in her long keel, she rides so easy in a seaway that her motion reminds me of a sailboat's and I have enjoyed taking her around our familiar cruising grounds no matter the weather.
Closer to home, I love the ease of getting her under way and, with her button-activated windlass, her ease of anchoring. Often when I am in the midst of a writing project, I take her off the mooring to anchor in the lee of the Torrey Islands, a voyage of something like 15 minutes. There I am free of distractions, free to make a cup of coffee, free to sneak below for a snack or a nap, and free to get down to work for as long as my attention deficit disorder will allow. The gentle rocking of the boat, the swoop of gulls, and the shifting light across the water suits me better than a desk sequestered in some windowless garret. It soothes my mind and it pulls the world into sharper focus. 
---
Bill Mayher lives in Brooklin, Maine, and is one of the founders of the maritime web site offcenterharbor.com.
Share this article:
2023 Maine Boat & Home Show

Join Us for the Maine Boat & Home Show!
Art, Artisans, Food, Fun & Boats, Boats, Boats
August 11 - 13, 2023 | On the waterfront, Rockland, Maine
Click here to pre-order your tickets.
Show is produced by Maine Boats, Homes & Harbors magazine.