Rice Brothers'
Legacy of Lightships
By Roger Moody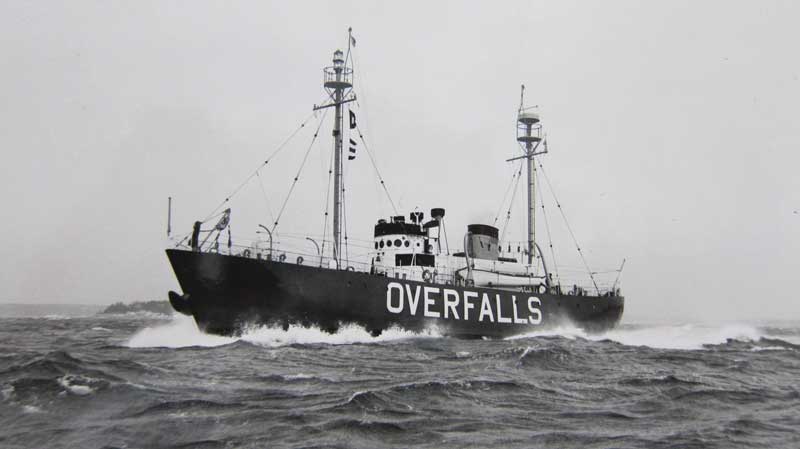 Overfalls, shown here undergoing sea trials in 1950, was one of four lightships built at the Rice Brothers yard in East Boothbay, Maine. Of those, three are still in existence. Photo courtesy Robert Rice
In 1983, the 150-year lightship tradition in the United States ended when the last two lightships, which marked the Nantucket station, were retired. Of the 15 lightships surviving in the United States, three were built in Maine by the Rice Brothers Corporation in East Boothbay. All three are now in museum settings and have been designated as National Historic Landmarks.
Although the first American lighthouse dates to 1716, when the Boston lighthouse was built on Little Brewster Island, the use of lightships in this country began in 1820 when a lightship was placed off Willoughby Spit in Chesapeake Bay, Virginia. Lightships, essentially floating versions of a lighthouse, were moored over dangerous reefs or marked harbor approaches where a permanent lighthouse could not be constructed. A total of 179 lightships were built between 1820 and 1952. The highest number of lightships on station at any one time was 56 in 1909. By 1965, the number of lightship stations had been reduced to 33. Eventually light buoys and actual lighthouses replaced most of these floating aids to navigation.
Lightships were uncomfortable and dangerous work places for the sailors who manned them. Until the 1930s, the ships' hulls were often wide, shoal draft, and of light displacement, which resulted in rolling and violent pitching while on station. These characteristics were exacerbated by storms that could blow the ships off their expected location, regardless of the type of anchors used. This exposed the ships to accidents in the roughest weather—more than 150 serious collisions between vessels and lightships have been documented. All lightship hulls were painted red (except the 1920 black-hulled Huron, which was based in the Great Lakes) with the name of the station painted in white. Because lightships often changed stations, individual vessels were identified not by their name, but rather by their hull numbers.
Frank, William, and Henry Rice began building boats in East Boothbay as the Rice Brothers Company in 1892, and organized as the Rice Brothers Corporation in 1921. Between 1921 and 1950, four lightships were constructed at the yard, among many pleasure vessels and work boats. During WWII, the yard built many submarine chasers and minesweepers.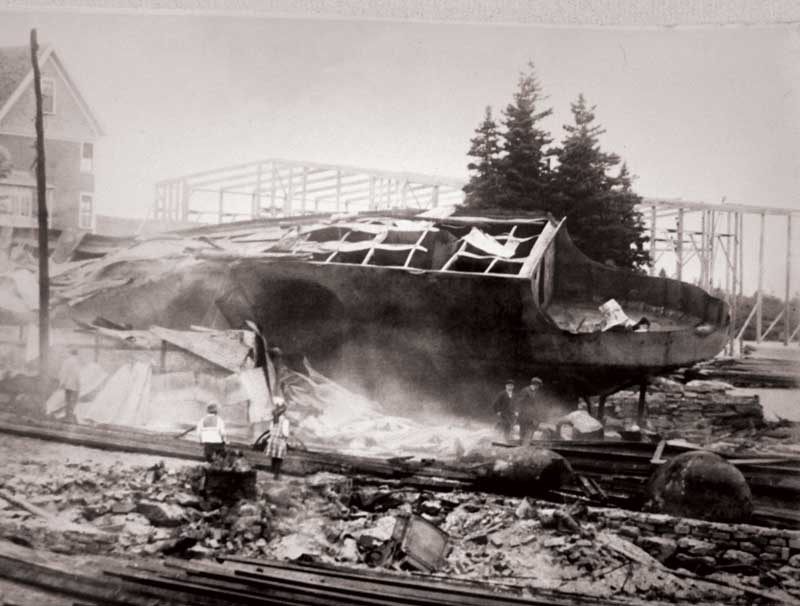 In 1917 a disastrous fire at the Rice Brothers yard destroyed Poe's initial hull. The lightship was then rebuilt and launched in July 1921. Photo courtesy Robert Rice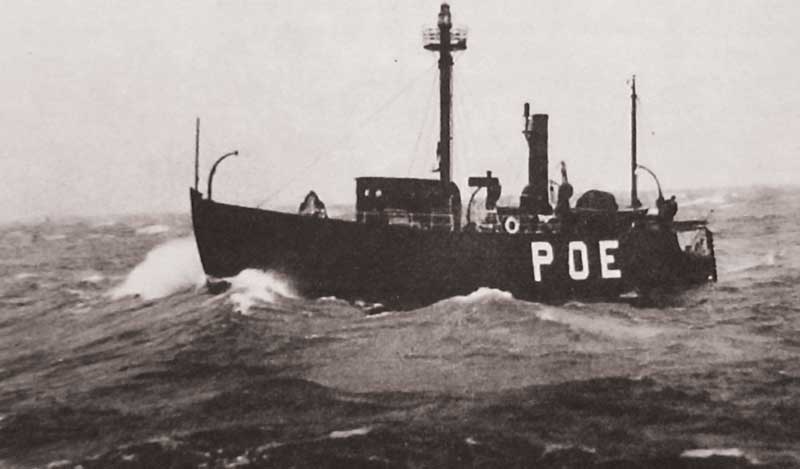 The completed Poe lightship on station at Poe Reef, Lake Michigan. Photo courtesy Robert Rice
Rice Brothers began building the Poe (Vessel 99) for the U.S. Lighthouse Service in 1916, but the steel hull and other parts of the vessel were destroyed by fire in 1917. The lightship was then completely rebuilt and launched in July 1921. She was 98' LOA, with a 22' beam and 10' 7" draft, a single acetylene lens lantern, and a mast for a riding sail. Construction cost was $97,220. The lightship specifications called for the vessel to have no engine, so she had to be towed to Lake Michigan's Poe Reef, near Mackinac Strait at the east end of South Channel and Bois Blanc Island, where a reef close to the middle of the channel historically caused problems for shipping. The lightship Poe served at Poe Reef from 1921-29 and then was moved to Grays Reef in northeastern Lake Michigan where she was stationed from 1929-1936. Then from 1937-1942, her station was at the mouth of Chesapeake Bay near Overfalls, Delaware; she was decommissioned and sold in 1955.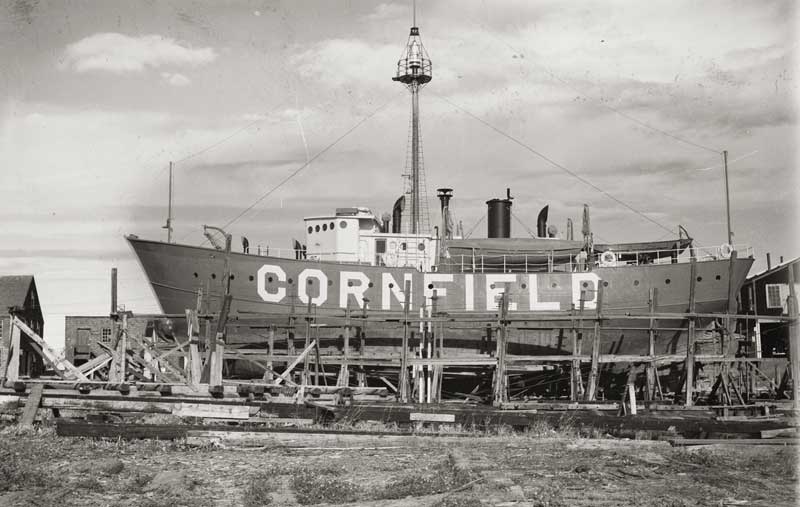 Cornfield, shown here under construction at the Rice Brothers yard, served in several places, including for a time at the entrance to Boston Harbor. Restored and renamed Overfalls, she is now on display in Canalfront Park, in Lewes, Delaware. Photo courtesy Penobscot Marine Museum
The next lightship built at Rice Brothers was Cornfield (V118) in 1938. The yard's winning bid for the project was $223,900. Cornfield was 115' LOA, with a beam of 26' and draft of 13.4', a steel hull, diesel power, two deckhouses, a single lantern mast, and foghorn. She displaced 412 tons. Electric power for the lantern, foghorn, and extensive radio equipment was supplied by two 10-kW diesel generators. She was the last riveted-hull lightship—all subsequent lightships had welded steel hulls. To provide protection against sinking in the event of a collision, Cornfield's hull was divided into a number of water- and oil-tight compartments, as was the space above the main deck. The last lightship designed by the U.S. Lighthouse Service, she was stationed from 1938-57 at Long Sand Shoal off Cornfield Point, Old Saybrook, Connecticut. Renamed Cross Rip, from 1958-62 she was stationed at Cross Rip, Massachusetts, near Martha's Vineyard. Between 1962 and 1972, renamed again as Boston, she marked the entrance to Boston Harbor. After about 40 years of neglect, she was restored in 2010 and renamed Overfalls in honor of the lightship station closest to Lewes, Delaware, where she is now on display in Canalfront Park.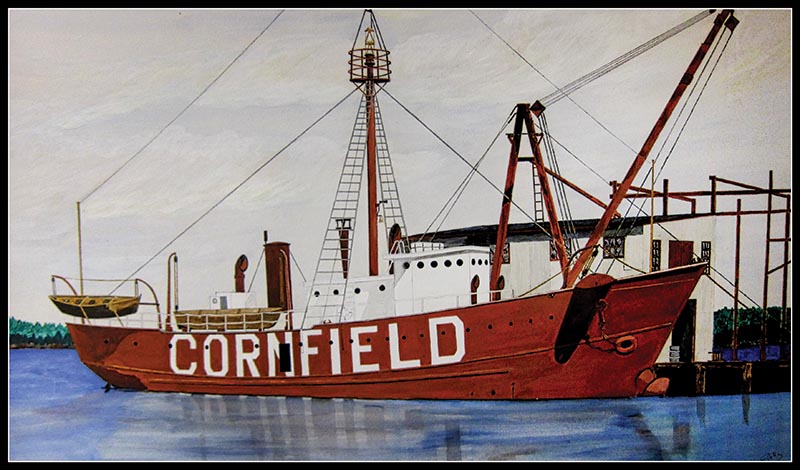 Robert Rice, whose family ran the Rice Brothers Corp., painted this "portrait" of Cornfield. Photo courtesy Robert Rice
In 1950, Rice Brothers built two more lightships, Columbia (WAL-604) and Overfalls (WAL-605)—WAL stands for Coast Guard Anchored Light. These letters were used for existing lightships after 1939 when the Coast Guard took over the Lighthouse Service. The Coast Guard itself built the final two lightships at its Curtis Bay, Maryland, yard: in 1950 the lightship WAL-612 and in 1952 the lightship WAL-613 (after 1965, all lightships were re-designated WLV, which stands for Coast Guard Light Vessel).
Columbia (WLV 604) was commissioned in 1951 and the 128' lightship replaced the aging LV-93, which had been in service on the Columbia River in Washington state since 1939. The Columbia River lightships guided vessels across the Columbia River Bar in an area known as the "Graveyard of the Pacific" from 1892 until 1979. Columbia's crew consisted of 17 enlisted men and one warrant officer who served as ship's captain. Everything the crew needed had to be on board, especially in winter when weeks of rough weather prevented supplies from being delivered.
Life aboard the lightship was marked by long stretches of monotony and boredom intermixed with riding out gale-force storms. The crew worked two- to four-week rotations, with 10 men on duty at all times. Columbia was the fourth and last lightship stationed at the mouth of the Columbia River, and the final lightship to be decommissioned on the U.S. West Coast. The lightship was retired in1979 and was replaced by an automated navigational buoy that has also been retired. The lightship is now a part of the Columbia River Maritime Museum in Astoria, Oregon, tied to a wharf on which the retired navigational buoy that replaced her also is located.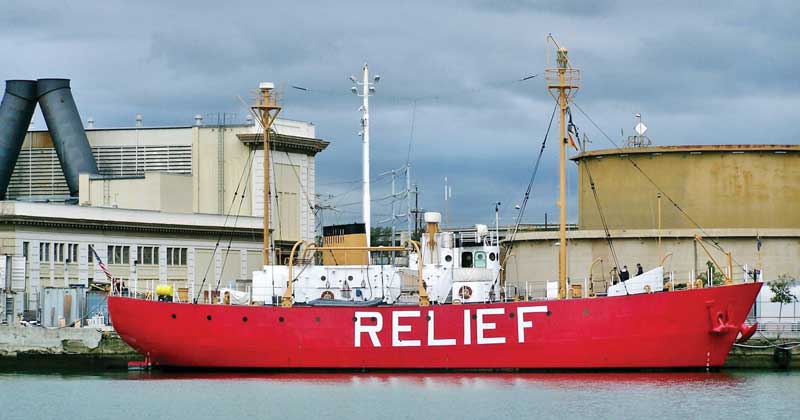 Launched in 1950 and dubbed Overfalls, WLV 605 served at several stations along the East Coast before being shifted to the West Coast where she was renamed Relief because her job was to stand in for other lightships when they went in maintenance. Today she is docked in Oakland, California, and is open to the public. Photo courtesy Dennis Jarvis
The lightship Overfalls (WLV 605) was launched in East Boothbay on March 4, 1950, just sixteen days after Columbia, and delivered to the Coast Guard on February 11, 1951. The ship has a welded steel hull 128' long, with a beam of 30 feet, a hold depth of 21.4' and is registered at 400 gross tons. Above-deck features include a steel deckhouse, a breakwater fore, and two steel masts on which its lights are mounted. She also historically carried a fog signal and bell, both operated by hand. She began service at the light station Overfalls at the entrance to Delaware Bay, serving until 1960 when the station was discontinued. (The Overfalls Shoal is named because for an underwater waterfall, known as an overfall, which is a steep underwater drop-off associated with a strong current. As the water passes this drop-off, it creates turbulence on the surface.) 
WLV 605 was then was placed on station on the west coast where she served at Blunts Reef, 4.5 miles off Cape Mendocino, California, until 1969. She was assigned to relieve other lightships on the Pacific coast when they were off station due to maintenance requirements and consequently named Relief. The lightship was retired from service in 1975 and decommissioned the following year. Acquired in 1986 by the United States Lighthouse Society, the lightship was moved to the Oakland Estuary where, for the next 15 years, volunteers spent thousands of hours to restore her. Now docked alongside FDR's presidential yacht Potomac on the Oakland waterfront, just west of the Oakland Ferry Terminal, Relief is open to the public.
The Rice Brothers yard built a wide range of vessels, from sailing yachts to workboats. In this early shot from 1919, a passenger steamer and steel trawler are under construction, and the new lifeboats for one of them are lined up along the shore. Photo courtesy Penobscot Marine Museum
The Rice Brothers Corporation, after a distinguished 64-year history led by two generations of Rice family members (founders Frank, William, and Henry, and second-generation Baxter, Donald, and Carl), ceased operations in 1956. The site is now part of the Washburn & Doughty shipyard in East Boothbay. 
---
Roger Moody is a retired municipal manager, school business manager, and county commissioner who writes about maritime and boating history.
Share this article:
2023 Maine Boat & Home Show

Join Us for the Maine Boat & Home Show!
Art, Artisans, Food, Fun & Boats, Boats, Boats
August 11 - 13, 2023 | On the waterfront, Rockland, Maine
Click here to pre-order your tickets.
Show is produced by Maine Boats, Homes & Harbors magazine.