Two Traditional Canoe Builders
Bound by a Common History
By Peter Van Allen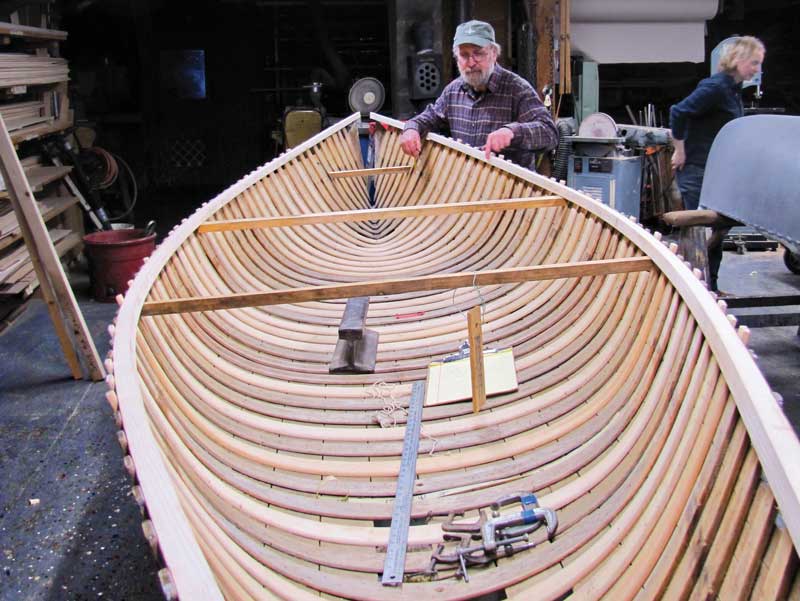 Rollin Thurlow of Northwoods Canoe Co. examines the ongoing restoration of a 16-foot "rowing peapod" built by Old Town Canoe Co. in 1948. The canoes, which had two rowing stations, were stable, rowed nicely and could carry a large load. This boat had been in steady use at a summer camp in Maine for 70 years. Photo by Peter Van Allen
Many of us grew up with canoes like these. Wood-and-canvas, dark green on the outside with worn, stained interiors; big enough to hold a small team of campers and some waterlogged, canvas-covered portaging rucksacks. 
They were commonplace at summer camps in Maine, northern Wisconsin, and Minnesota. Hundreds of thousands of them were produced, going back to the 1880s and the early heyday of recreational paddling. Many were built in Maine, at Old Town Canoe Co., E.M. White, B.N. Morris, and E.H. Gerrish, to name some of the more prominent builders. Those companies are either gone or no longer produce wood-and-canvas canoes. But today in northern Maine, wood-and-canvas canoes are still being built by hand by two craftsmen in the tiny town of Atkinson, where Rollin Thurlow and Jerry Stelmok, old friends and former business partners, have shops three miles apart. They've cultivated a customer base that stretches from coast to coast, with avid fans like Barry Moskowitz, a federal judge in San Diego.
"In 2002, I used a Rollin-designed and -built Atkinson Traveler 17-foot canoe on a trip on the West Branch of the Penobscot. Needless to say, I fell in love with it," said the longtime customer of both builders. "In 2003, I paddled a 20-foot E.M. White canoe built by Jerry on the Allagash and fell in love with that as well. I ordered a 16-foot guide canoe from Jerry and paddled it on lakes here in San Diego with my daughter and friends naming it Chesuncook. My daughter graduated from college and moved away, so I needed a solo canoe. I had Rollin build an American Beauty, a 13-foot version of the Atkinson Traveler. The canoe is 38 pounds and the canvas is filled with ambroid glue to save weight. It is perfectly balanced so I could pick it up and place it on my 2000 Volvo sedan."
The smell of cedar and shellac
It's a typical mid-winter day in Maine as I head into Atkinson, 10 miles east of the largest town in Piscataquis County, which is Dover-Foxcroft, population 4,047. One minute it's sunny and the next there's a snow squall. On each side of the road, crusty snow is piled four feet high. The GPS squawks that I missed my turn—but there's no visible road or turnoff.
At last, using dead reckoning, I find the entrance to Northwoods Canoe Co.; it's marked by a mailbox topped with a scaled down model canoe. Here, Rollin Thurlow works out of a post-and-beam barn that he built from wood harvested by his dad. I open the door to the woodshop and am hit with the smell of cedar and shellac. Light pours in through big windows and it's toasty warm from the woodstove. Thurlow, an energetic 71, greets me amid a few rows of boats in various states of restoration.
"GPS doesn't do so well in Atkinson," said Thurlow, who has a gentle demeanor, sports a beard, and is dressed in jeans and flannel shirt. 
He gives me a tour of the shop, where they build or restore about 25 boats a year. There are century-old canoes in various states of restoration and new canoes in progress. "Molds" of historic canoes from E.M. White and other builders hang in the rafters—a new canoe can literally be built around these forms. Dozens of parts of other molds, or forms, are stacked under workbenches. In the painting room, a fresh coat of yellow paint cures on a restored canoe. On one workbench there is a catalog of color schemes and designs authorized by Old Town Canoe Co. Under cover outside the barn are racks for drying wood. On the opposite side of the barn a dozen canoes are stacked on racks in a massive carport-type space.
Even as legions of DIYers flock to Instagram and other social media sites to post their own canoe builds or boatbuilding efforts, Thurlow has resisted the call of social media. 
"Our biggest downfall is social media," he said, and smiled as if he couldn't resist the punch line, "because we don't have any."
Building wood-and-canvas canoes remains an old-school pursuit, at least here in Atkinson. 
Back in the main workshop, Thurlow's lone full-time employee, Elisa Schine, is pulling hundreds of small, bronze cut tacks from the cedar ribs and battens in a century-old canoe. The Wesleyan University graduate first met Thurlow when he visited a camp where she was a counselor in Grand Lake Stream, Maine.
"Rollin made a [canoe] rib with an axe," she said. "After that, everyone was basically in awe." As she spoke, she bowed down in mock worship toward Thurlow. 
Initially, Schine went on to work in San Francisco, but she hadn't forgotten about her days canoeing in Grand Lake Stream. She called Thurlow to see if she could come work with him one summer. "I was going to come out for a couple months. It's now been seven years," she said.
She and her husband, a school teacher, have made their home here in northern Maine.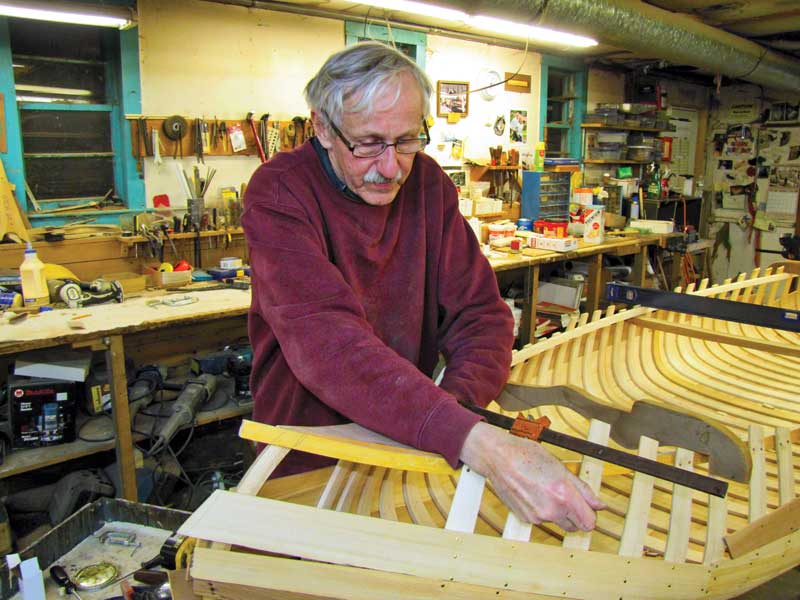 Jerry Stelmok of Island Falls Canoe Co. fits a deck into a new Old Town 11-foot Trapper model. Photo by Peter Van Allen
Two lives built around canoes
Thurlow, who graduated from Orono High School and then Maine Maritime Academy, was an officer in the Navy, and served on an ammunition resupply ship in the Tonkin Gulf. After the Vietnam War, he wanted to return to Maine. Fondly recalling childhood afternoons paddling canoes of all kinds, he longed to get back to wooden boats. 
His eventual business partner, Jerry Stelmok, a native of Auburn, Maine, was enlisted in the Naval Reserve, serving two years of active duty in an operations office in Newport, Rhode Island. He, too, wanted to get back to Maine.
Thurlow and Stelmok became friends through their wives, Andrea and Debbie, who had been college friends. (Stelmok has since remarried.) In the early 1970s, Stelmok and his wife and then later Thurlow and his wife headed to Lubec, where the budding canoe builders studied at The Boat School, which was housed in an old lifeboat station at the time.
The school taught wooden boatbuilding techniques at a time when both the canoe industry and the larger boatbuilding industry had already converted to fiberglass boats, which were billed as lower maintenance and more affordable.
At the time, "it was the only wooden boat program in the country," Stelmok said. "It was a real vocational school. We had dreamers and hippies." He had always loved canoes and was happy to learn the old-school building techniques. 
There, in Lubec around 1974 Thurlow and Stelmok made the connections and decisions that would guide each for the next four decades. 
Two canoes in the workshop at Island Falls Canoe Co: the one in back is a restored 18-foot Old Town OTCA sponson canoe. The canoe in front is a new build, based on an Old Town OTCA scaled model that salesmen would take around to show potential customers. It was built by Jerry Stelmok. Photo by Peter Van Allen
Serendipity by the waterside
The school's chief instructor, Clint Tuttle, also turned out to be Stelmok's next-door-neighbor. At the time, Tuttle owned Island Falls Canoes, which Thurlow and Stelmok would eventually buy. Through Tuttle and other school connections they met legendary canoe builder Mick Fahey (1906-1985), as well as Garrett Conover and Alexandra Conover Bennett, Registered Maine Guides who led canoe tours in Maine for decades. 
Also at that time, they met Charles FitzGerald, an entrepreneur and business owner who at one time owned more than a dozen Bowl and Board stores, selling hand-crafted wooden products from Bar Harbor to New York City. (Today, the store in Bar Harbor is known as Into the Woods.)
Events conspired in favor of the young canoe builders. Tuttle came into school one day bearing two magazines. One was the very first issue of WoodenBoat, which launched in 1974 and was being published about two hours away, in Brooksville, Maine. The other was the issue of The New Yorker that featured John McPhee's article (and later book), "Survival of the Birch Bark Canoe."
"That was pivotal," Stelmok said. 
After they graduated from The Boat School, Tuttle sold Thurlow and Stelmok his business, Island Falls Canoes (which today is owned by Stelmok). They weren't sure where they'd run the company, being short on space in Lubec. But FitzGerald, the entrepreneur, was buying up abandoned farms in Atkinson. He agreed to let them live in a couple of old farm houses in exchange for fixing them up. Atkinson also was closer to the nascent canoe company's Northwoods customers. 
The two couples, the Thurlows and the Stelmoks, moved to Atkinson. They started building a range of canoes, including designs from E.M. White. They built a customer list, many of whom were recommended by the Conovers, including Barry Moskowitz, the judge from San Diego, who has become a lifelong customer and friend.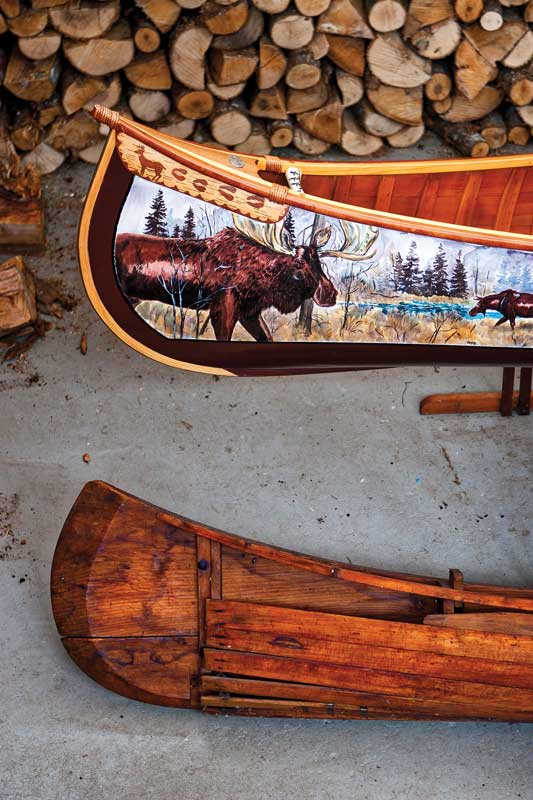 Wood-and-canvas canoes of the 1800s were commonly decorated with Native American or wilderness motifs. At bottom, the basic framework for a wood-and- canvas canoe relies heavily on a lightweight material, northern white cedar. Photo by Donnie Mullen
Though they built or restored hundreds of canoes, it wasn't an easy life. Both couples by now had small kids—Thurlow has two children and Stelmok has three. 
Island Falls Canoe went dormant for a time while Thurlow worked building houses. In summers, Stelmok worked in the Bowl and Board store in Bar Harbor. He built spice racks, he wrote, and pursued artistic interests. Both their wives supported the families with teaching jobs. Thurlow and Stelmok collaborated on a book The Wood & Canvas Canoe, which was published in 1987 by Tilbury House. They have since published other books on canoes. 
Eventually, they were able to return full-time to building canoes, but decided to work separately. Stelmok kept the Island Falls name and Thurlow began building under the Northwoods Canoe banner. They were helped by a grassroots interest in historic canoes, as evidenced by the creation of the Wooden Canoe Heritage Association, which also published the magazine, Wooden Canoe. 
"I became member No. 9," Stelmok said proudly. The Wooden Canoe Heritage Association "was a big factor in our survival, as were Garrett and Alexandra Conover. Traditional guides used the E.M. White canoes I built. There was some publicity, but it was mostly word-of-mouth. I built 30 canoes a year at that point."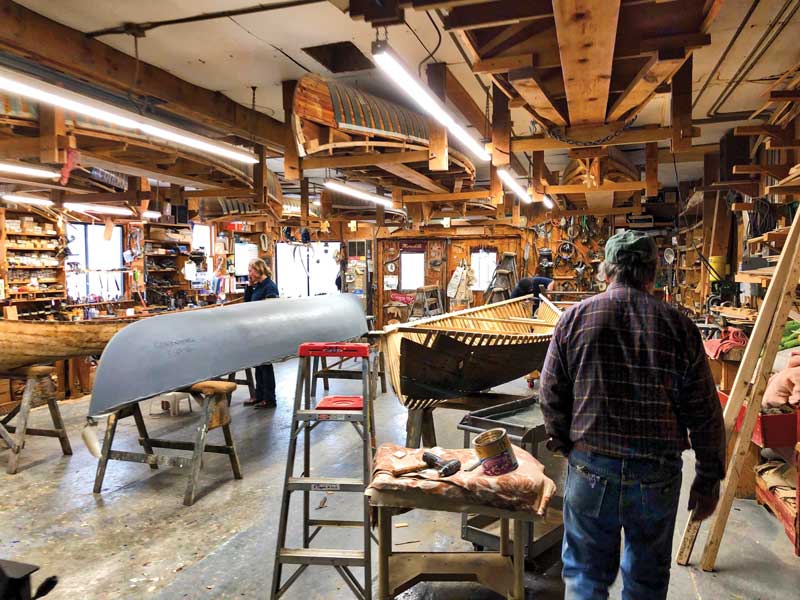 At Northwoods Canoe Co., Elisa Schine works on a restoration of an E.H. Gerrish canoe that dates to 1895. The workshop, which smells of cedar, resin and woodsmoke, has a range of restorations and new builds in progress. Overhead are molds for various canoe models, the designs for which date back 100+ years. Photo by Peter Van Allen
Succession planning 
It's late afternoon in Atkinson by the time I visit Stelmok's workshop, in a low-slung former toy factory. Snowshoes and deer antlers line the wall. There are racks with Old Town canoes stacked to the ceiling. There's also a half-scale canoe—a recently built replica of an Old Town canoe modeled after the ones salesmen took on calls. 
Thurlow and Stelmok have separate shops several miles from one another. Each builds or restores about 25 canoes a year. Each has one full-time employee. Each wants to scale back his work and spend more time on other projects—for Thurlow, traveling, for Stelmok, writing and pursuing his artwork. Each says he'll likely keep building canoes as long as his health allows. Stelmok is 72; Thurlow is 71. Neither has a succession plan or a clear idea of what will happen to his business. Each claims the other is a better businessman and more likely to keep things going. 
Stelmok laments that their core customers are getting old and are no longer buying canoes. He's vaguely aware of the DIYers on Instagram and social media, but waves them off as having "shallow interest." Stelmok's employee has no interest in taking over the business.
Schine at Thurlow's shop seems a likely candidate to take over Northwoods Canoe, though when the conversation comes up it seems an unresolved question. And likely will remain unresolved for the time being.
"So many people come in here and say, 'This is what I want to do when I retire.'" Thurlow said with a satisfied smile. "I'm doing it."
"And," said his helper Schine, "he's doing it 40 hours a week."  
---
Peter Van Allen is editor of Mainebiz.
For More Information:
Island Falls Canoe Co.
Jerry Stelmok
Founded: 1975
220 S. Stagecoach Road, Atkinson, ME
207-564-7612
Northwoods Canoe Co.
Rollin Thurlow
Founded: 1984
336 Range Road, Atkinson, ME
207-564-3667
Share this article:
Digital Edition Available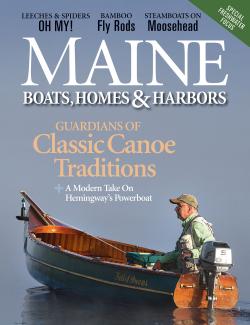 Can't get to the store to buy your magazine? We deliver the stories of Maine's coast right to your inbox. Sign up here for a digital edition.