Boats Sales, Slips, and Service
By Polly Saltonstall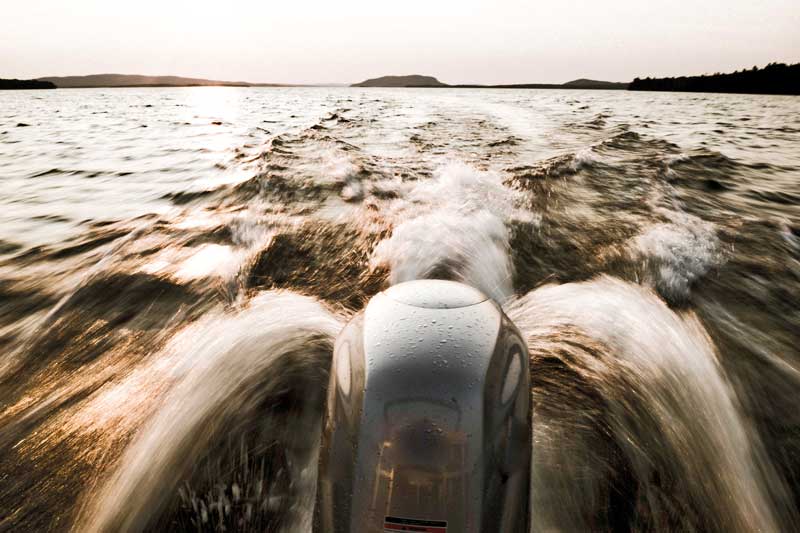 Moosehead Lake, at 38 miles long and 18 miles wide at its widest point, covers 76,000 acres and is a boater's paradise. "I can run from one end of the lake to the other on the busiest weekend of the year and never have to veer my course to avoid another boat. Moosehead Lake is God's country," said Moosehead Marina's Mark Gilbert II. Photo by Heather Perry
Perched in a quiet inlet on the Moose River in Rockwood, about halfway between the north and south ends of Moosehead Lake, Moosehead Marina has become a major hub of boating activity in the last few decades.
The site had been a boating hub since the early 1900s, but when Mark Gilbert Sr. bought it in 1996, all that remained were a battered Quonset hut and three run-down wooden buildings connected to the lake by marine railways. Since then he and his son, who is also named Mark (and who goes by Mark Gilbert II), have expanded the business substantially. Today, Moosehead Marina is the only marina on Moosehead Lake offering new and pre-owned boat sales, plus boat slips, a full-service yard, 30,000 square feet of inside storage, 50,000 square feet of outside storage (with 18,000 additional square feet going in this fall), and transport services, according to Mark Gilbert II. The marina's on-site service facility can handle boats up to 37 feet long. The business is also an authorized dealer for MerCruiser and Yamaha, as well as for electronics from Garmin and Fusion. The business has four to five employees in addition to the Gilbert father and son.
Mark Gilbert Sr., 59, got into the marine business in 1979 right out of high school. He and his brother-in-law Rodney Folsom started a business they called East Cove Marine, which was a basic boat-repair facility located in Greenville where the steamship Katahdin is now berthed, according to Mark Gilbert II, 33.
Around 1984, the pair purchased the Beaver Cove Marina, a few miles down the road. At the time, the marina had no buildings, just a concrete marina with boat slips. Folsom and Gilbert Sr. quickly built a shop, and an office building with an apartment above. That, said Mark Gilbert II, "is where I grew up. It was pretty idyllic."
Gilbert Sr. and Folsom built up the business, selling Wellcraft and Sport-Craft boats, Mercury outboards and Mercruisers, and eventually Yamaha outboards. They added Sea Ray in 1992, accepting their first truckload of the boats at the Bangor Boat Show that year, according to Mark Gilbert II. For years in the 1990s they earned No. 1 for Sea Ray customer satisfaction in the entire state, he added.
Around 1997, the two men amicably went their separate ways. The elder Gilbert began improving the marina in Rockwood, and eventually Folsom sold Beaver Cove and went into the real estate business. He runs the Folsom Realty Group in Greenville.
"We ran the marina that first year just as it was, in the mud, and stored 25 or 30 boats," said the younger Gilbert. "But my father had a lot of faith and trust from people in the banking establishment, and in 1998 we broke ground on a 60' x 100' Murox steel building." The new building, equipped with radiant heat and an overhead crane system became a service space. Next came construction of a 100' x 100' storage building with inside racks stacked three high. Storing boats on the racks is done with a big 30,000-pound capacity forklift.
In their second year at the new site, the Gilberts were able to store 130 boats. Today, Moosehead Marina cares for between 320 and 360 boats annually. Most recently, Mark Gilbert II said they have built an 18,000 square foot parking lot for storing more boats outside.
Those numbers likely will climb, thanks to the purchase of the former elementary school and its grounds in Rockwood. When the Gilberts got the building, it was full of school supplies, which they generously distributed to area school systems. The gym will provide indoor storage and a place for technicians to work on boats during the winter. Some of the building may also be used for an indoor showroom.
In recent years, the yard has upped considerably the number of new boats sold to customers on the lake. That's because in 2015 the Gilberts created a retail partnership with Moose Landing Marina in Naples, and Yarmouth Boatyard in Yarmouth, both owned by Steve Arnold. That has enabled them to dramatically increase the brands they sell to include StarCraft, Sweetwater, Aqua Patio and San Pan pontoons, Regal, Ranger Tubs, Pursuit, Sea Fox, Cutwater, and Eastern. "It's the coolest thing we could have ever done," said the younger Gilbert. "Now we have the ability to offer these boats to our customers on Moosehead Lake, warrantee them, take care of them. It just works well."
But while he sells a lot of new boats to people on the lake, the younger Gilbert's own boat is a relative classic. His first boat, as a youngster at Beaver Cove Marine, was a 12' Smoker Craft with an 8-hp Yamaha. Today, when he and his wife Deidre can find time to get out on the lake, which is not as often as they'd like, they ride in a Wellcraft 2800 that his father sold new in 1989. The marina took the boat back in trades twice, and in 2016 the Gilberts bought it from the business for themselves.
"It's in exceptional condition and it's all we need right now," Gilbert said. "Once in a while we will run a Ranger Tug, Starcraft pontoon, or a Regal if we happen to have one available for sale. Thankfully those boats don't often stay around for long."  
---
Polly Saltonstall is editor of this magazine.
For More Information:
Moosehead Marina
21 Northern Road, Rockwood, ME
207-534-4400; moosehead-marina.com
Share this article:
2023 Maine Boat & Home Show

Join Us for the Maine Boat & Home Show!
Art, Artisans, Food, Fun & Boats, Boats, Boats
August 11 - 13, 2023 | On the waterfront, Rockland, Maine
Click here to pre-order your tickets.
Show is produced by Maine Boats, Homes & Harbors magazine.