The joy of the first spring boat ride
By John K. Hanson, Jr.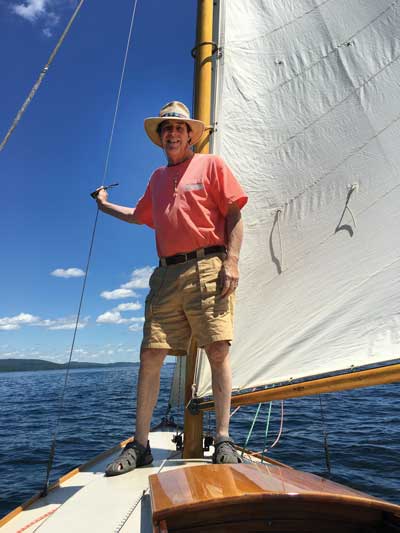 Oh the temptations of early spring! When I wake up, the sun is out and I can see the mountains off to the east. At the end of the day when I leave work, the sun still has not set, and the Rockland Breakwater shimmers in the distance beyond the seductive ripples of blue water in Rockland Harbor. Surely it is time to uncover a boat, at least the little one, and go for a ride.
But no, by the time I have gone back into my house for a heavier coat, and a hat, the northerly wind has built up, just a little bit, and heavy grey clouds signal that snow will come soon.
March is temptation; it teases me. And I know I'm not the only one who feels this way.
In many Maine households, two venerated catalogs take pride of place on the kitchen table, Johnny's Selected Seeds and Hamilton Marine. Late winter is the time of planning and starting work, both for the garden and in the boatshop. At my house, seedlings are beginning to show small green leaves in pots placed in south-facing windows. Oars and paddles are getting a coat of varnish in the shop. While it may be too cold and wet to turn over the dirt in the garden beds, or to launch the canoe, there is always much to get done.
When I get tired of my own set of chores, I love to prowl boatshops and boatyards. The energy at these places at this time of year is almost intoxicating for a boat-obsessed guy like me. Everywhere the winter's work is just steps from completion. And some yards have even begun to launch boats for the more-hardy among us.
Soon, the air will warm up and the wind will lose its edge. I'll get my boat into the water, and the engine will start right up. There is nothing quite like that first boat ride when spring teasing finally has ended. Joyous. 
Share this article:
2023 Maine Boat & Home Show

Join Us for the Maine Boat & Home Show!
Art, Artisans, Food, Fun & Boats, Boats, Boats
August 11 - 13, 2023 | On the waterfront, Rockland, Maine
Click here to pre-order your tickets.
Show is produced by Maine Boats, Homes & Harbors magazine.