Express Lane to Heaven
The Original Nathanael Herreshoff/Joel White Catspaw
By Ben Emory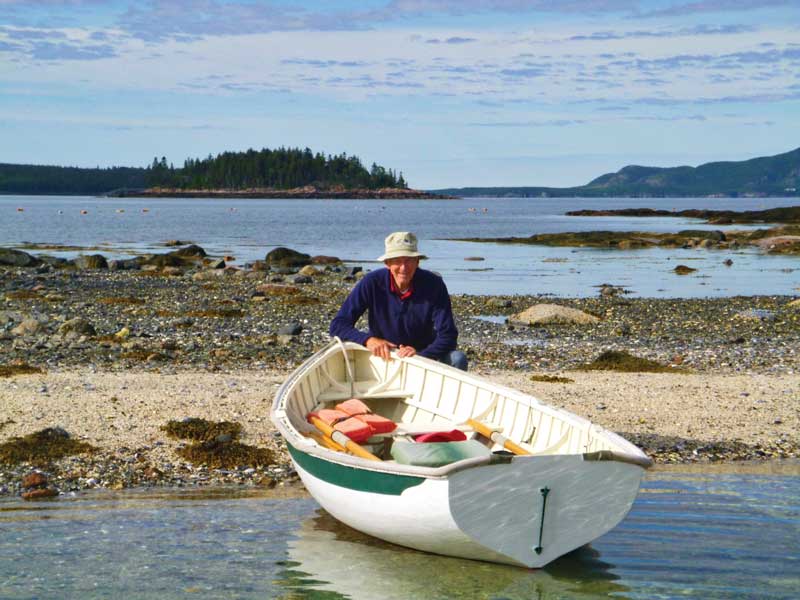 The author's catspaw dinghy is the very first one built by Joel White. Here he admires the lines while on the beach at Stave Island in Frenchman Bay. Photos courtesy Ben Emory
If life allowed only one watercraft—canoe, Concordia, mega-yacht, or whatever—what would it be? My answer for 40 years has been my catspaw dinghy. The very first one, built by the late Joel White of Brooklin Boat Yard in 1978, she epitomizes waterborne pleasure, simplicity, and beauty.
I wanted to acquire a good rowing boat that also had a rudder, centerboard, and a quickly-stepped mast. She should be fun to row, useful for teaching sailing to my then-young children, and good for picnics to nearby islands. Having been around the Brooklin Boat Yard ever since I was a young child, I knew that White, boatbuilder, designer, and expert in traditional watercraft, was the obvious person to provide such a boat. On a chilly fall day, we stood at his drafting table and discussed possible designs. White promised to do more thinking.
By total chance, soon thereafter I read a National Fisherman clipping which reviewed Mystic Seaport's just-published monograph entitled Building the Herreshoff Dinghy, the Manufacturer's Method. The newspaper's photograph showed a beautiful rowboat under sail with the caption, "The Herreshoff Dinghy sails as well as she rows. The pretty tender is as capable as she looks." This 11 ½-foot little boat was a replica built by Mystic Seaport in 1975–76. The original had been built in 1905 as a lifeboat for Nathanael Herreshoff's America's Cup Defender Columbia.
When White saw the monograph, he agreed that this design would be most suitable. We discussed minor modifications. The lines would remain unchanged, but the size would be expanded 10 percent to increase load carrying capability, making her 12' 8" long. Instead of the overlapping plank edges of lapstrake construction, she would be smooth planked to provide better abrasion resistance on Maine's rocky beaches. The daggerboard would be replaced by a pivoting centerboard to allow it to pop up should it strike bottom, and the sail with a boom would be replaced by a spritsail. That would eliminate a low, head-crunching boom and enable the spruce spars—mast and sprit—to be short enough to stow within the boat.
I had been adamant that the cedar, oak, and mahogany should have a simple paint job to make maintenance as easy as possible, but on a visit to White's shop I was greeted by the transom gorgeously varnished, the flawless reddish-brown grain glistening. White had found a superb piece of mahogany. Although he was willing to paint it, he wanted me to see it varnished before deciding. To cover such beauty with paint would have been criminal. The transom and also the lovely mahogany thwarts stayed varnished for many years until too many long seasons afloat took their toll.
White also dressed up the boat's appearance beyond my original plain vision by painting the sheerstrake dark green with the green terminating in graceful curves just short of the ends of the planks, the ends being white like the rest of the topsides. That green accent endures to this day, for it much enhances the visual delight.
When I wrote a blog about the dinghy for offcenterharbor.com, Dave Tew of Boothbay Harbor posted: "I didn't know the first catspaw was designed for you. You and Joel should get the express lane to heaven for that alone." When WoodenBoat saw the boat taking shape, the magazine ordered another built on the same molds so that every stage of construction could be recorded for publishing in the still available booklet How to Build the Catspaw Dinghy—a Boat for Oar and Sail. Thanks to this publication numerous boats have been built to the design.
My son Thor unwittingly named the boat at age two-and-a-half on the gray April morning when we launched. "My ocean, my ocean," he kept saying. We realized that Thor still did not distinguish between the words "boat" and "ocean." We had not yet chosen a name, and instantly we decided that should be it:
My Ocean.
In use, My Ocean has been a joy. The spritsail is quick and easy to rig, and the boat is fun to sail. Pleasure from My Ocean's sailing simplicity as a change from larger, more complex craft has not diminished in the slightest. She is wonderful for sailing explorations into shallow coves and ledge-studded areas. Sometimes we tow My Ocean as our tender when cruising. Although big and heavy for a yacht tender, she tows beautifully. Despite all the other fun, I derive the greatest pleasure from long rows. She has provided innumerable, exhilarating oar-powered adventures with endless enjoyment of wildlife and scenic beauty.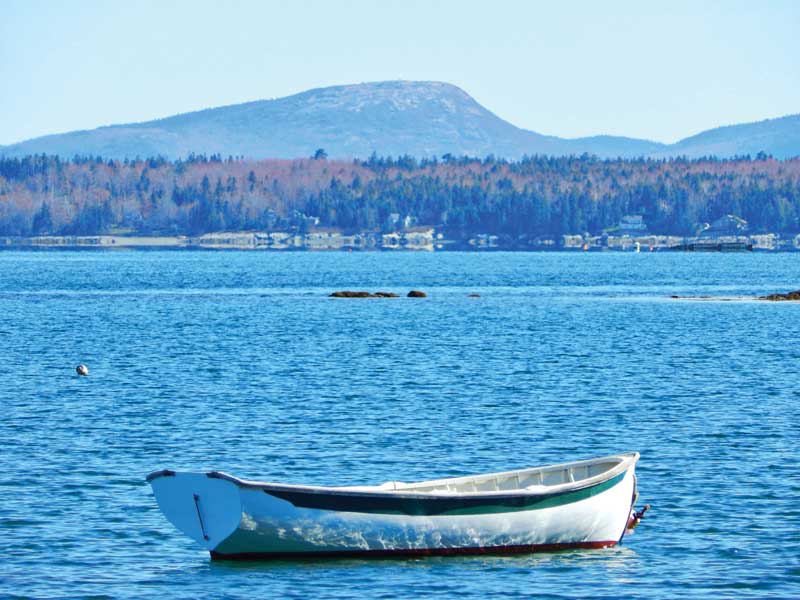 The catspaw dinghy on its mooring with Schoodic Mountain in the background—nautical art and nature's art all in one photo.
In the boat's first summer my oldest daughter Kristin, age six, began single-handing while I stood on the float calling instructions. One comical afternoon Kristin's charming great uncle, an avid sailor well into his eighties, came down on the float to watch, became thoroughly intrigued, and began bellowing all sorts of orders that contradicted mine to the bewildered child. I went silent to avoid total confusion.
A few years later my youngest daughter Chafee, also age six at the time, steered My Ocean under my supervision in a local informal race for all kinds of sailboats. I still love the photograph taken that day of her grinning at the tiller, long hair blowing in the wind.
What more can one ask of a boat? Sails, rows, family times and solitary times, quiet hours of annual painting, the beauty of Herreshoff lines and Joel White's construction. These all have been part of the pleasure of four decades with My Ocean. She is a classic, a work of art, an inspiration to enjoy our coast every day possible, and a storehouse of treasured memories.
---
Ben Emory splits his time between Salisbury Cove and Brooklin, Maine. His book Sailor for the Wild—On Maine, Conservation and Boats was recently published by Seapoint Books.
Share this article:
2023 Maine Boat & Home Show

Join Us for the Maine Boat & Home Show!
Art, Artisans, Food, Fun & Boats, Boats, Boats
August 11 - 13, 2023 | On the waterfront, Rockland, Maine
Click here to pre-order your tickets.
Show is produced by Maine Boats, Homes & Harbors magazine.