David Graeme Baker
A master realist explores the angst of youth
By Carl Little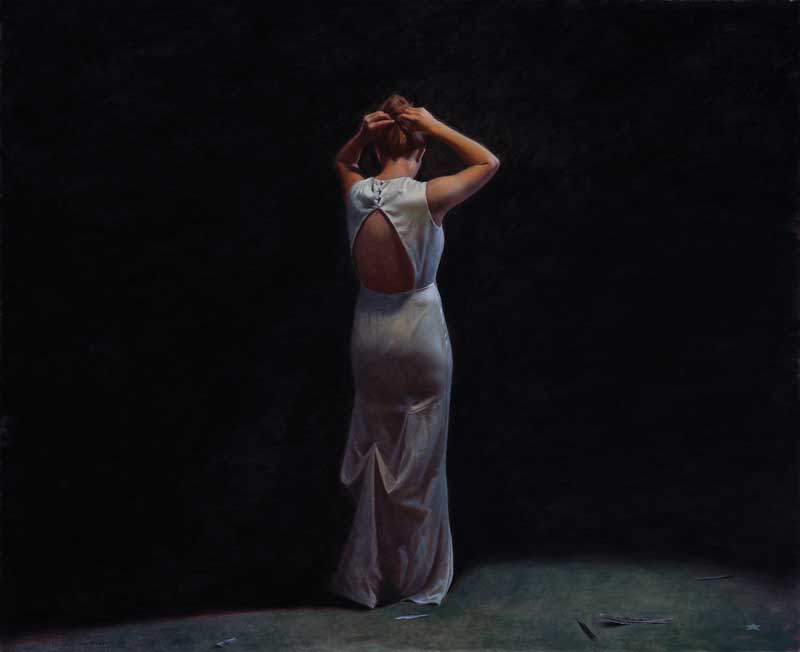 Baker's female figures sometimes display a provocative sensuality, as in Gravity, 2016, oil on linen mounted on panel, 35 x 43 in. Photo by Ken Woisard
In David Graeme Baker's tightly composed realist paintings, young people pose in intriguing, often provocative and intimate situations—two teenage girls in prom dresses sit on a couch under a basketball hoop, a pregnant woman stands in a field of snow, a woman in a flowing dress is swallowed up by a dark interior, and so on. These portrayals often walk the line between innocence and experience, offering moments resonant with a sense of transition.
Baker's deliberate and exquisite use of light heightens the feeling of drama, of a scene on the stage of life. The settings—a classroom, a stairway, a bedroom, the porch of the local VFW hall—add to the story as do the objects he places in the scene, be they children's toys or a pickup truck. Brilliantly orchestrated, the canvases have gained him a place in the first rank of American realists.   
His images are often triggered by scenes he sees while driving around—delivering work to a midcoast gallery or exploring his home territory of Hancock, Maine. "There will be that seed that starts when I'm out in the world," Baker said. Looking into yards and parking lots along the way, Baker imagines the stories unfolding there. Once he walked by a used clothing store and spied a wedding dress priced at $10. "Not only is there one hell of a story behind that dress, it's beautiful," he said. The flowing white apparel appears in several of his canvases.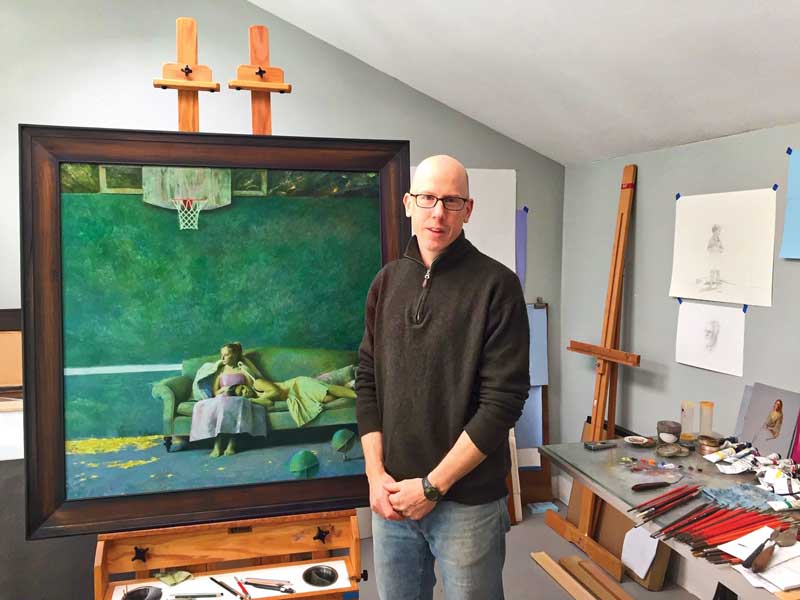 David Graeme Baker in his studio in Hancock, Maine. On the easel is Meridian, 2018, oil on linen mounted on panel, 41 x 40 in. Photo by Carl Little
Once he starts a painting, it can take a long time to finish. "I cycle through these stories and narratives—and my own anxieties and neuroses and life mix into it." By the time the painting is done, the image may tell a completely different sort of story. Sometimes there are modifications at the 11th hour as Baker tries to "dig a little bit more" out of a scene that doesn't have quite as much as he thought it did—or had more than he could handle and needed to be steered in a different direction.
For the painting Particle and Wave, Baker found his subject close by, a neighbor he had been painting since she was about five. When she became pregnant, he asked if she would pose for him. "I had visions of the way Andrew Wyeth followed models throughout their lives," the painter noted.
Baker set the scene in a nearby field, the woman in a dark overcoat and boots standing in the snow, her face in profile lit by winter sunlight. "Like most of my figurative pieces now," he explained, "I will take a lot of photographs because models don't want to spend the time posing—in this case, outside, in the winter, when they're pregnant."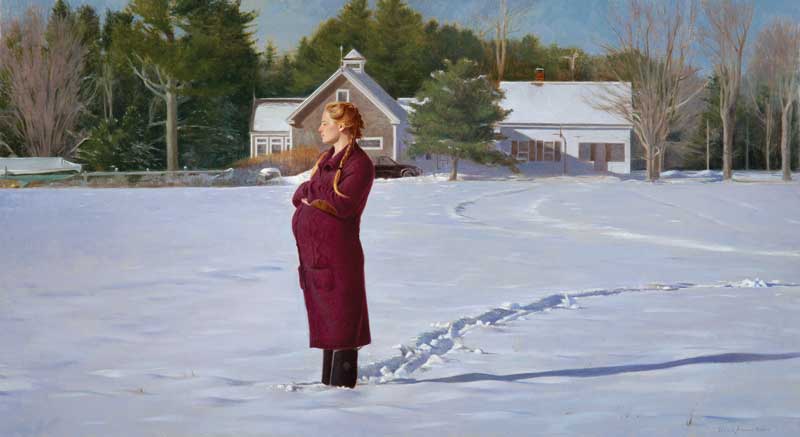 Baker captures a moment of introspection in Particle and Wave, 2018, oil on linen mounted on panel, 24 x 44 in. Photo by Ken Woisard
After making many drawings from the photographs of the young woman, Baker painted a small oil study, a way for him to lose himself "into some kind of made-up narrative" in his own mind. Among the changes between the study and the final painting is the addition of a braid, which falls across the model's shoulder and arm. Again, Baker was thinking of Wyeth, whose well-known portraits of Helga Testorf include several that focus on her braided hair. The braid, says Baker, is "youthful but not child-like. It conveys something about the young adult."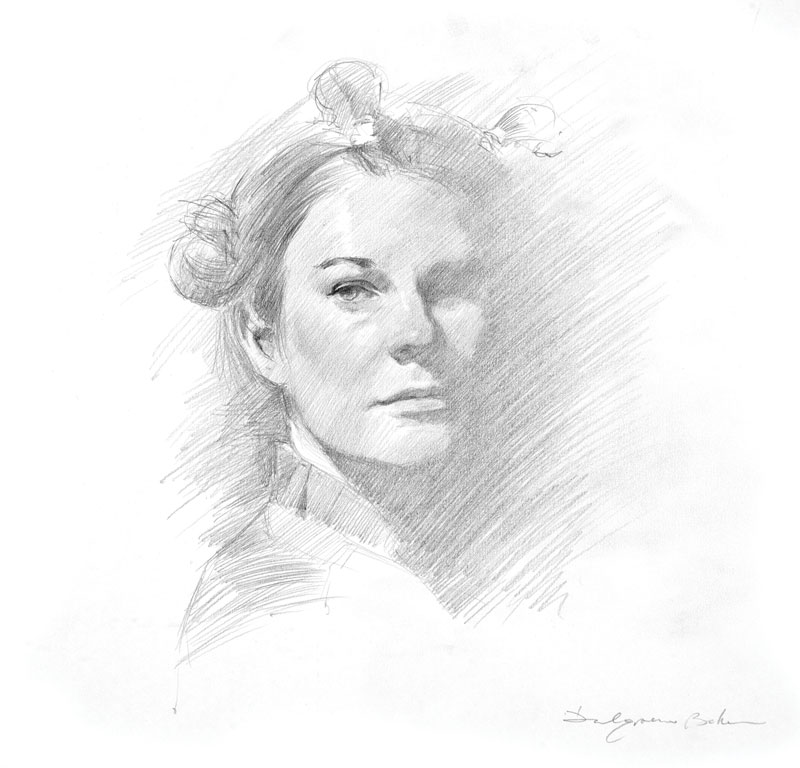 Baker is a master draftsman as witness his Study for Sparrow, a portrait of his wife Sarah. Graphite on paper, 2012, 10 x 10 in. Photo by Ken Woisard Baker's wife, Sarah, came up with the title, borrowed from quantum mechanics, that light and matter behave both as particle and wave. The painter felt it hinted at some of the transitions going on in the woman's life "and that people can be multiple things at the same time." While he sometimes has the painting's title and narrative in mind from the beginning, on other occasions he will arrive at the end and find himself stumped, asking, "What does this mean to me?"
In another painting, Meridian, two young women in what might be prom dresses occupy a couch. The original version was entirely different, in orientation, setting, and palette, which was dark. Baker put the painting aside. "I didn't like where it was going," he recalled. Then a year or so later, he hit upon an alternative storyline. He had been walking his black lab Zizou by some tennis courts on Hancock Point and was struck by a corner where there was a basketball net and a green backboard edged by trees. The space felt like a room and Baker imagined teenagers retreating there. So, he set the couch with the two young women in that space.
Like many of Baker's paintings of young adults there's a sense of sadness, of teenagers lost in thought about their lot in life—confused, forlorn, even forsaken. "I don't know if it's me or it's Maine, or it's me plus Maine," said Baker, "but I feel like I see that melancholy everywhere."
The title Meridian refers to the white line on the backboard that replicates the tape at the top of the tennis net, but it also evokes other meanings, such as the imaginary north-south line on the Earth's surface connecting the two poles. This geographic angle is underscored by two schoolroom globes set on the ground near the teens.
The painting has a still life quality to it, with people and objects arranged carefully. Baker remembers that one of his first art projects while an undergraduate at Wesleyan University was about juxtaposition and how context is everything. "When you set one thing next to another, they start a kind of visual dialogue," he noted. It's not something he does consciously, but rather as part of the process of assembling the imagery in his paintings.
As is often the case with Belfast, Maine, painter Linden Frederick's paintings, Baker's work compels the viewer to create her or his own narrative. He said one of his collectors has created a story to go with a painting he owns. Baker has also had authors use his paintings as book covers, most notably the late Claudia Emerson, whose poetry collection Late Wife, with one of Baker's painterly interiors reproduced on the cover, won the Pulitzer Prize in 2006.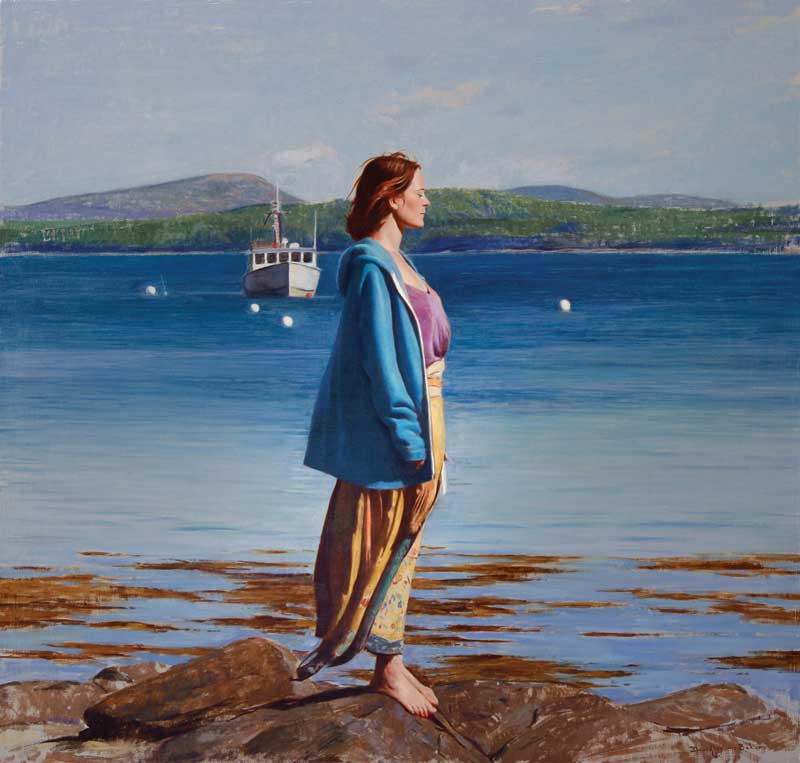 With its evocative title, Bellwether, 2019, is set on Hancock Point looking north-northeast toward Schoodic Mountain. Oil on linen mounted on panel, 20 x 21 in. Photo by David Baker
For the most part, Baker has avoided the cliché Maine landscape—no lighthouses or crashing waves so far, although a few recent paintings, including Bellwether, are set on a rocky shoreline. It's not a deliberate avoidance on his part; in fact, there's a part of him that still wants to do some classic Maine views, but he doesn't have time to get to them because, as he explained, "the stuff right in front of me is too interesting."
Baker and his wife moved from the Philadelphia area to Maine in 2000 when she was appointed director of admissions at College of the Atlantic. They had two sons, Finn and Corin, now 15 and 13. Finn is spending his sophomore year in Germany while Corin attends the Hancock Grammar School. Sarah left COA in 2013 and now works as internal communications specialist at the Jackson Laboratory.
The Bakers did some major rearranging of their house in recent years, moving David's studio to the north side to capture the best light while creating a new kitchen space with extra windows and what the painter calls a "mid-life crisis" Gaggia coffee machine. Baker frames most of his work himself, on work tables and in the basement, which he describes as a "total dungeon."
A painting of a small blonde boy on a rocky seaside ledge sat on Baker's easel in early December, a commission for a family from Winter Harbor. He is working from photos of the child and has set up a computer monitor near the easel that helps him zoom in on details of the scene. He has also recently been contacted by his alma mater Wesleyan about painting a couple of presidential portraits.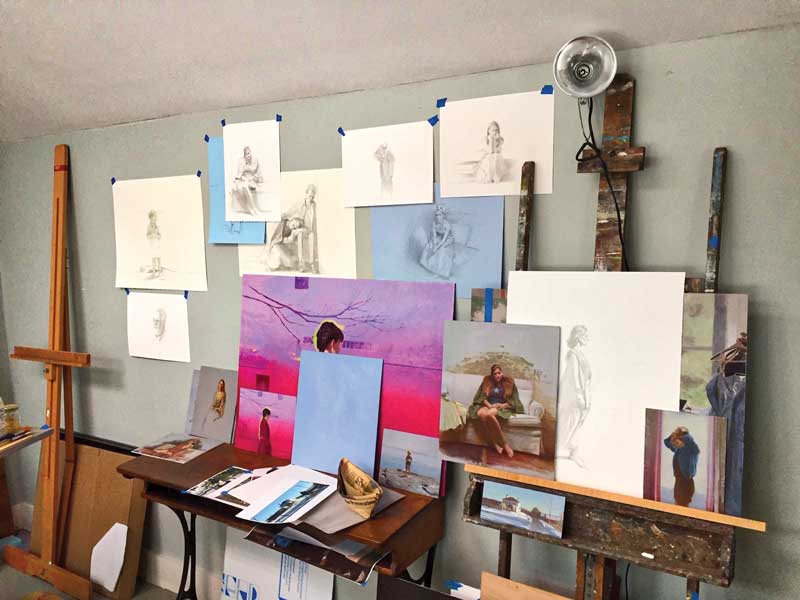 An assortment of drawings fills a wall of Baker's studio. He will often make dozens of detailed sketches in the process of developing a painting. Photo by Carl Little
Family members often appear in Baker's paintings. "They don't mind, so far," the artist said with a smile. He also draws on neighbors, COA students, and various babysitters.
Baker expressed sadness and frustration about the current state of politics and the world as it affects his children. He is proud of his son Finn, who has taken on the issue of racism in soccer while studying in Germany, but wishes he could be as carefree a teenager as Baker was. And Baker sometimes turns off the television when the news is on to protect his other son. "Yes, I want Corin to be aware of global warming, but I don't want him to panic to the point of not being able to enjoy his childhood."
"Rather than clean, iconic meta-images or narratives," Baker has written, he views his paintings as being "more purposefully modest, tangled, personal threads that function as springboards for empathetic contemplation." In person and in paint, this artist speaks to us of angst and ardor, of young lives lived and sometimes lost. In this regard, he has established a special place for his paintings in the universe of Maine and American art.  
---
Carl Little's latest book is Paintings of Portland, co-authored with his brother David. He lives and writes on Mount Desert Island.
David Graeme Baker is represented by Artemis Gallery in Northeast Harbor, Page Gallery in Camden, and Quidley & Company on Nantucket. View his work at www.davidgbakerpainting.com.
Share this article:
2023 Maine Boat & Home Show

Join Us for the Maine Boat & Home Show!
Art, Artisans, Food, Fun & Boats, Boats, Boats
August 11 - 13, 2023 | On the waterfront, Rockland, Maine
Click here to pre-order your tickets.
Show is produced by Maine Boats, Homes & Harbors magazine.