Susie and Benji
By The Editors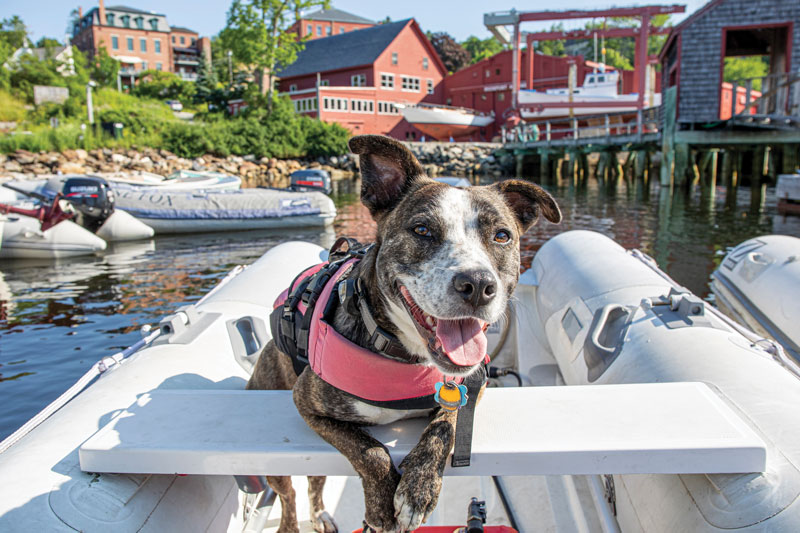 Susie. Photo by Billy Black
For more than 30 years, this column has celebrated some of the otherwise unsung heroes of the boating world: the four-footed friends who keep us company on the water, keep our feet warm at work, and sometimes hold down the foot of the bed at home.
Susie, a one-year-old rescue pup from South Carolina, who ended up in the loving home of top-notch marine photographer Billy Black and his wife, Joyce, is a great example; as is Benji, a 3-year-old miniature Australian labradoodle who belongs to and works with Washburn and Doughty President Katie Doughty-Maddox.
"Our job in boatyards is to take photos of the folks doing the skilled labor rather than fixing or building boats ourselves," said Black. "Susie is instrumental in getting good results since she always makes people smile. She loves people and her work. Say hi to Susie when you see her!"
Susie loves visiting boatyards with Black, including Rockport Marine, where the above photo was taken.
Benji
In East Boothbay, Benji can be found in the Washburn & Doughty office, where his job includes keeping an eye on the front door.
"He's our official greeter. He's really happy when people come in," said Doughty-Maddox. "He also comforts people when things are tough." In addition, Benji is skilled at napping, and is very good at extracting stuffing, both from his toys and from cushioned items around the office.  
Share this article:
2023 Maine Boat & Home Show

Join Us for the Maine Boat & Home Show!
Art, Artisans, Food, Fun & Boats, Boats, Boats
August 11 - 13, 2023 | On the waterfront, Rockland, Maine
Click here to pre-order your tickets.
Show is produced by Maine Boats, Homes & Harbors magazine.