Past, Present & Future Aboard America
By Ken Textor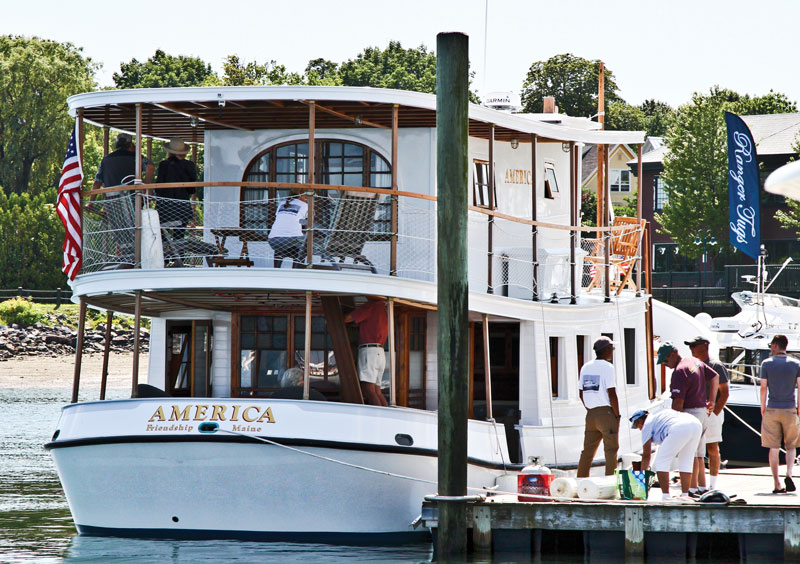 Classic lines and enduring woodworking drew a steady stream of onlookers to the 58' 6" America during the Maine Boat & Home Show in Rockland last summer. Photo by Peach Frederick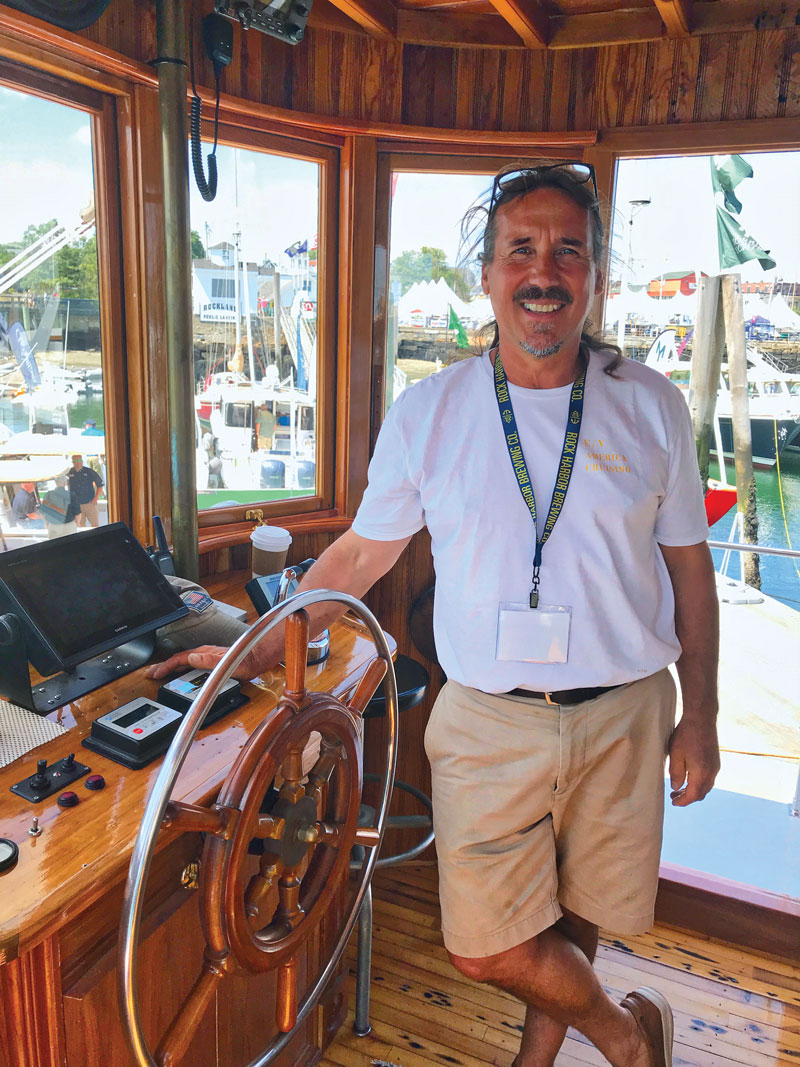 Living his lifelong dream, Tom Joyal mans the wheel in America's carefully replicated pilothouse. Photo by Polly Saltonstall Tom Joyal has been heading for a rendezvous with a boat like his 58' 6" powerboat America since he was 14 years old. "There's a lot of everything from my life in this boat," the 53-year-old architectural salvage expert said of his 19th century-style dream boat. "We're still working on it, too."
The ongoing work is no surprise given the complexities of the boat, which is driven by two Volvo Penta electric motors, but also contains two diesel generators for keeping batteries charged, plus a solar/electric system for domestic hot water and some other recharging duties. There is also propane for the four-burner cook stove and several space heaters in each of the four staterooms. And, of course, there's full plumbing for two full and one-half bathrooms (heads), along with both AC and DC electrical circuits for other modern conveniences and computer devices.
Despite this modern technology, one look at America says anything but "modern." Indeed, its appearance both inside and out harkens back to Joyal's inspiration, a mid-1800s, steam-driven passenger vessel called Comet, which served the Casco Bay area and elsewhere before disappearing into the mists of history 100 years ago. In fact, America itself almost disappeared before Joyal heard about it as a half-finished hull, lying in a field near a Penobscot Bay boatyard whose original customer could not finish the project.
The hull design is based roughly on Maine sardine carriers that once plied the coast from Yarmouth to Lubec, supplying some 25 canneries in an industry that died in the late 20th century. The hull consists of four layers of Atlantic cedar, cold-molded together with epoxy to a final thickness of 1 3/4 inches, and backed up by 2 x 2-inch, laminated Douglas fir ribs at about 20 inches on center. At critical junctions in the bilges, as well as the bow and stern, the major timbers are backed up by sturdy, lightweight tungsten gussets, contributed by the original owner, who was in the wholesale tungsten fabrication business.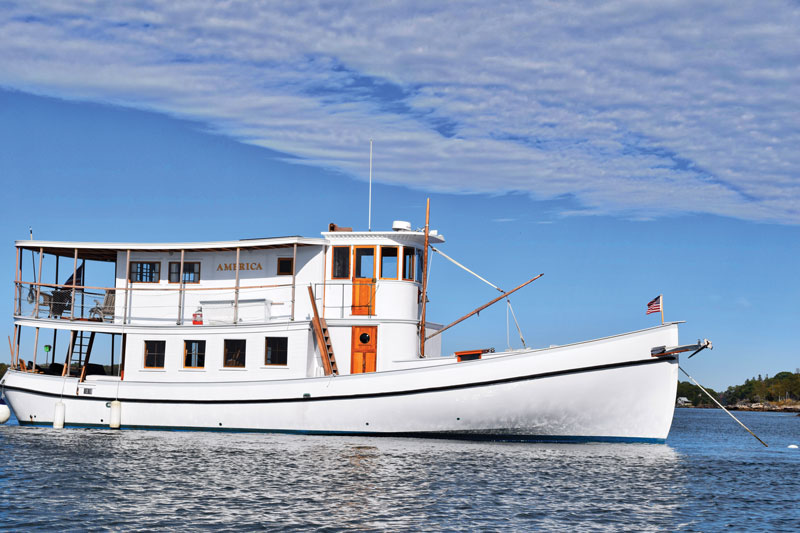 At her mooring in Friendship Harbor, America awaits the next trip down the coast in the fall of 2020, plus summer day-trippers when warm weather returns. Photo by Ken Textor
"I was impressed with how well built it was," Joyal recalled of his first trip in 1993 to Brooklin Boat Yard, where the hull had been constructed. "It had been just sitting in a field for two years but I knew I had to have it," he said.
With no immediate plans for the hulk, Joyal had it trucked back to Kennebunk later that same year, where it sat covered up for 13 more years while Joyal continued to build his architectural salvage business, the Old House Parts Company.  Inspired in 2016 by old photos of Comet and the success of his business, he turned his attention full-time to what would become America (Joyal sold the architectural salvage company to a long-time employee in 2018).
Joyal went on a self-taught journey to complete the boat, with its beam of 17' and draft of 3'8" in his own style. Using wood species such as angelique, mahogany, and salvaged cypress, he built the pilothouse and general superstructure based solely on old pictures of Comet. The finished product looks like a well-maintained classic old boat.
"An old (marine) surveyor thought it had to be a salvaged pilothouse, not built from new," Joyal noted. "That was a pretty big compliment to me."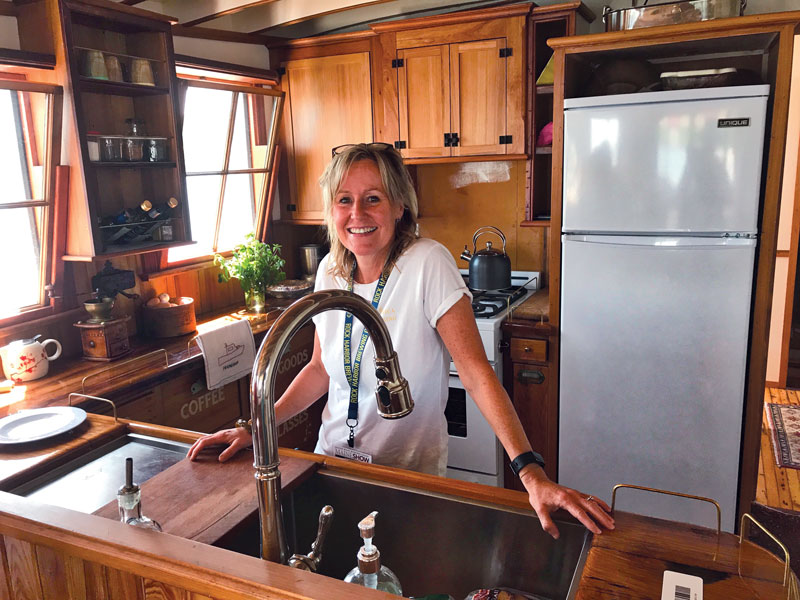 Amid the period-correct 19th century details of America's galley is a 20th century propane stove. Tiffany Joyal wisely requested this modern convenience, and she got it. (Below) Even with all the systems and upgrades ongoing aboard America, Tom and Tiffany still find time to relax and enjoy a good rad aboard their dream boat. Photos by Polly Saltonstall
The boat's galley also draws compliments, mostly due to its 19th-century look. Although Joyal's wife, Tiffany, requested a modern propane stove, the cabinetry, countertops, sink, and even the coffee grinder are period-correct, acquired mostly from Joyal's salvage business. Throughout the boat, period-correct touches range from antique stained glass windows to sliding doors in the style of old barns.
But all that antiquary stops when it comes to the boat's mechanicals. Although electric engines are nothing particularly new on boats, installing two 60 kW (roughly 80 hp) sail-drive electric engines in a powerboat is unusual. Joyal says the choice of sail-drives was in part to eliminate long, space-consuming prop shafts and associated equipment. America cruises at about six knots.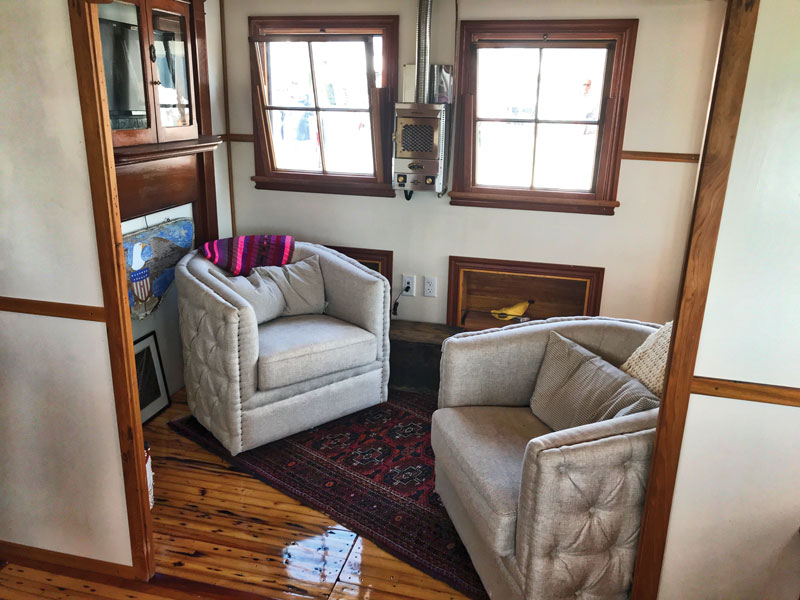 With the two-story boat's total living space of some 875 square feet, finding additional room for the 550-gallon water tanks, the 100-gallon black water tanks and the 660-gallon diesel fuel tanks was a project. Fortunately, the 38-ton boat's voluminous design easily accommo-dated all that, plus a bank of 32 batteries weighing in at 57 pounds each. Even with all that weight, Joyal loaded up America with two additional tons of lead ballast, to which another two or three tons of lead ingots will likely be added.
Joyal said the shakedown voyage in early 2019 indicated the boat sat a little high and tender in rougher seas, hence the additional ballast. Some electrical and steering bugs also were discovered and rectified, leaving the Joyals to realize their ultimate dream of becoming owners of a liveaboard tour boat with a cause. "When you cruise with America," said Joyal, "you are supporting American heroes. A portion of our proceeds goes to bringing veterans and their families out on the open water."  
---
Ken Textor has been living on, working on, writing about, and cruising in boats along the Maine coast since 1977. He lives in Arrowsic.
E/V America
LOA:  58' 6"
Beam:  17'
Draft:  3' 8"
Propulsion:  2 diesel generators, charging batteries to run 120 kW electric motors
Crusing speed:  6 knots
Designer/Builder/Operator:
Tom Joyal, Friendship, ME
207-229-4910
Share this article:
Digital Edition Available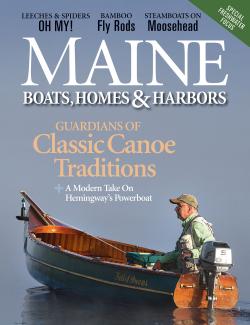 Can't get to the store to buy your magazine? We deliver the stories of Maine's coast right to your inbox. Sign up here for a digital edition.