Gouldsboro
Home to Artisans and More
By Mimi Bigelow Steadman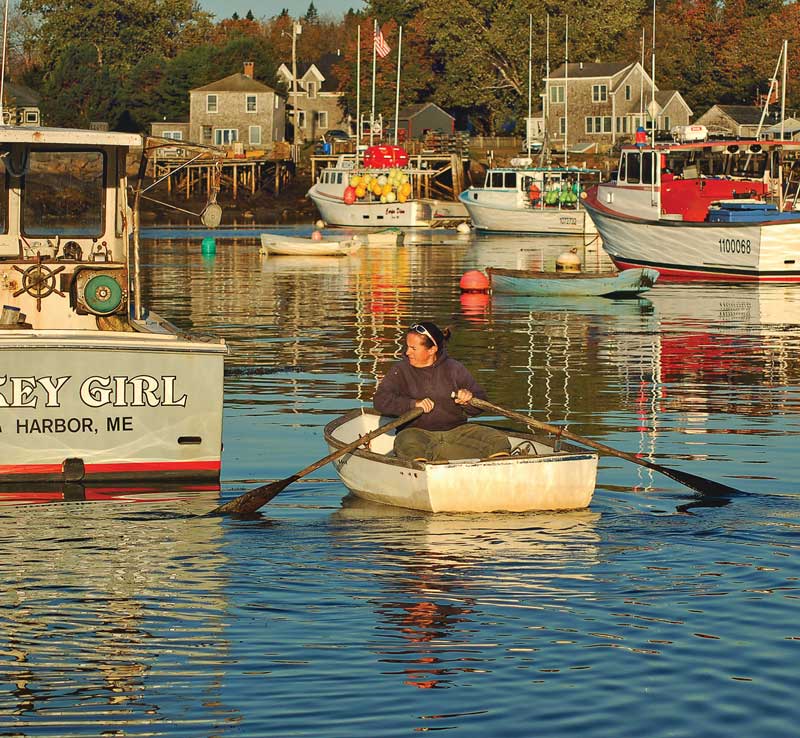 U.S. Bells' Dick Fisher (below) has been sand-casting bronze wind-chime bells in Gouldsboro for five decades. His Prospect Harbor foundry is located up the road from Corea Harbor (above), which is a village in Gouldsboro. (Above) Photo by Letitia Baldwin (Below) Photo by MImi Steadman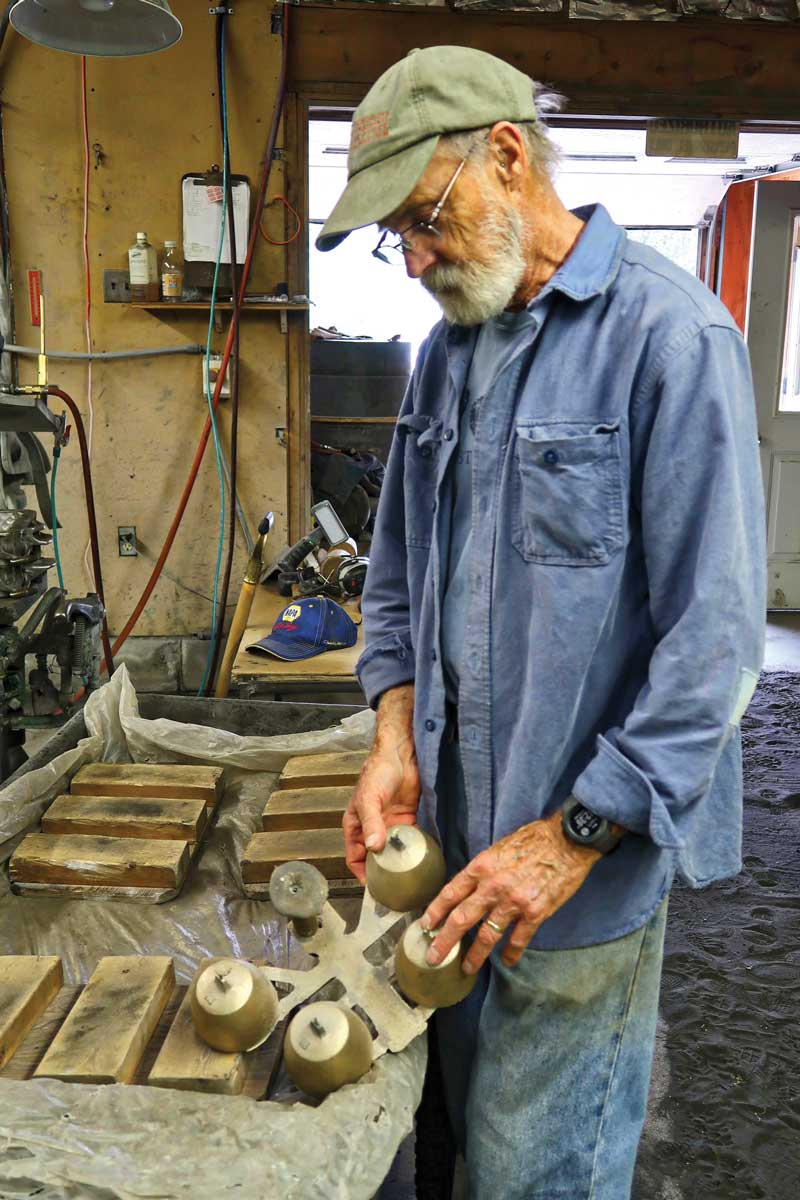 Woolly fog hung low on the waters surrounding Gouldsboro's corrugated perimeter. Just across Frenchman Bay from Mt. Desert Island, this unspoiled chunk of downeast coast is graced at its lower tip by the spectacular Schoodic section of Acadia National Park. It was definitely a feel-your-way-on-the-bay day. And that meant it was a perfect day for gunkholing ashore, visiting artisans who call Gouldsboro home.
The wipers swept polka dots of drizzle from the windshield as we meandered along Route 186. Our first stop was Lee Fusion Art Glass. In a diminutive white-clapboard building that was once a post office, shelves of brightly colored bowls and plates offered a respite from the gray outside. Co-owner Sheldon Bickford explained how he makes the dishes—which bear doily patterns or blueberries, lupines, and other Maine images—by arranging powdered, colored glass between two pieces of plate glass which he fires in a kiln.
A few miles away, the road curved around a former general store whose windows glowed with light from a collection of ceramic lamps. Home to Maine Kiln Works for more than 40 years, the building showcases the craft of Dan Weaver. I admired the rich hues of his robust bowls and slender vases, and wished I could remodel a bathroom to accommodate one of his porcelain sinks.
Near the junction of Routes 186 and 1, we ducked out of the rain into Dulse & Rugosa. Claire Weinberg's sweet-smelling shop overflowed with festively wrapped discs of soap and other skin-care products containing botanicals she grows and seaweed she and her daughter gather on Gotts Island, off Bass Harbor.
"This area is seaweed central," Weinberg replied when we remarked on Maine's booming seaweed businesses. She mentioned nearby Springtide Seaweed Farm, and we were soon heading for the repurposed sardine cannery where Sarah Redmond operates a seaweed farm, seed nursery, and processing facility. Arriving unannounced on a Saturday morning, we only took a peek at kelp drying in a greenhouse.
A few days later, I spoke on the phone with Redmond. She told me about her nutrient-rich culinary seasonings, explaining that "People aren't familiar with what to do with seaweed, so we make it easy for them." I learned that Redmond is a bellwether in the state's seaweed farming efforts, actively sharing her experience. "There's so much potential for us to produce seaweed here," she declared. It's a winter crop, she noted, grown when other ocean-related businesses are quiet, and yields a harvest in the first season. The varieties she grows include alaria, dulse, and sugar and skinny kelp.
At the peninsula's southeastern tip, we came to U.S. Bells and Watering Cove Studio, where Dick Fisher has created beautiful bronze bells and wind chimes since the 1970s. Fisher welcomed us into his foundry and explained the multiple steps in the sand-casting process. "I like the bells' interaction with wind and nature," he observed. "They aren't just static sculpture." Fisher's inviting shop also showcases his wife's quilts, son's fine woodworking, and daughter-in-law's wood-fired pottery.
Returning to Route 1, we turned onto Old Route 1 and parked outside Downeast Mexican Takeout, whose owners hail from the Mexican state of Michoacán. Lucky to have scored one of three tables inside, we devoured a hearty burrito and walking taco before continuing to Bartlett Estate Winery. 
Established by Bob and Kathe Bartlett in 1983, it's Maine's oldest winery. Bob explained that the region's short growing season thwarted their original attempts to cultivate grapes. "But we wanted to support Maine agriculture, so we turned to blueberries, pears, and apples."
We tasted six wines and found them flavorful and pleasingly dry. Before taking a final sip of Wild Blueberry Winemakers Reserve, I raised my glass to the artisans of Gouldsboro. 
---
Contributing Editor Mimi Bigelow Steadman lives on the Damariscotta River in Edgecomb.
If You Go to Gouldsboro
Shopping
With numerous artisans' studios tucked along its byways, Gouldsboro is an ideal destination for shopping local. Looping around the perimeter of the peninsula, Route 186 leads to Lee Fusion Art Glass and Maine Kiln Works. U.S. Bells' Watering Cove Studio is just off 186, on Bay Point Road. Dulse & Rugosa is tucked into a small house on Route 1, just west of the junction with Route 186. Bartlett Estate Winery nestles in a wooded glen on Chicken Mill Pond Road, a short distance off Route 1 at the eastern edge of Gouldsboro near the Steuben town line. Springtide Seaweed Farm does not have a shop, but its culinary seasonings may be ordered from springtideseaweed.com/products/seasoning-products.
Dining
At Downeast Mexican Takeout, a bright-red food shack just off Route 1 on Old Route 1, the owners enhance their authentic Michoacán dishes with ingredients they import from Mexico. The Pickled Wrinkle draws both locals and visitors for good pub grub and perhaps some pickled wrinkles (the large, carnivorous sea snails, or whelks, often found in lobster traps), and an order of wild dulse chips.
On the Water
The town of Gouldsboro encompasses about a dozen small villages, including Prospect Harbor, Birch Harbor, Bunkers Harbor, Wonsqueak Harbor, and Corea. Unlike Winter Harbor, Gouldsboro's next-door neighbor, these small ports do not offer facilities or rental moorings for yachts. But, says Harbormaster Dana Rice, "If you're looking for places to just anchor and enjoy the scenery, it's great."
Extra Fun
If you're in Gouldsboro on a Sunday afternoon in July or August, don't miss Linwood's Jam, on Route 1 near the Gouldsboro-Sullivan town line. Old-time rock-and-roll, blues, and country performers take the stage for lively open mic sessions, and there are free red-snapper hot dogs and popcorn (donations accepted). Look for the pick-up truck on the roof of a small building next to a Ferris wheel.
Share this article:
Digital Edition Available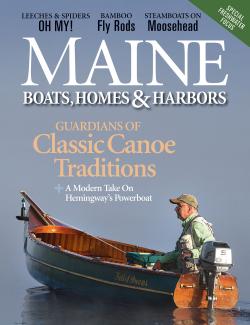 Can't get to the store to buy your magazine? We deliver the stories of Maine's coast right to your inbox. Sign up here for a digital edition.