The Backyard Boat: Gloucester Gull
A journalist channels his inner can-do
By Carl Little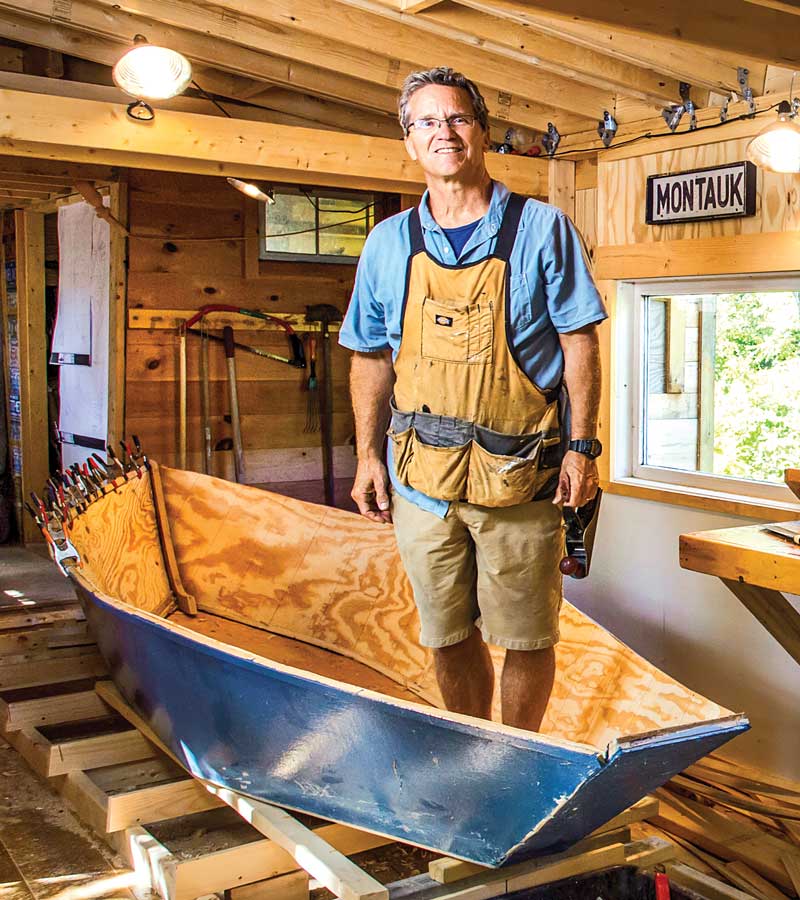 Afloat in his shed, Peter Van Allen poses aboard his partially built Gloucester Gull. Photo by Tim Greenway
The invitation to Peter Van Allen's "shedibration" last May heralded "two years of construction" and "decades of dreaming about it." The humble structure—the shed—that was the focus of that gathering in his backyard, fulfilled a double dream: to have a workshop and retreat in which to tool around, and a place in which to build a boat.
The same invitation featured several photographs of the intrepid builder. In one, Van Allen showed off a handsome wooden Hawaiian paipo, or bellyboard, which he built at Grain Surfboards in York, Maine, in 2015. Van Allen has been an avid surfer much of his life and continues to ride the waves at Higgins Beach, mostly in warmer months.
Another image showed Van Allen from above navigating the Royal River, which flows close to his home in Yarmouth, on a wooden standup paddleboard built by Kent Scovill and Kyle Schaefer, founders of Tidal Roots. Other photos showed Van Allen, whose day job is editor of Mainebiz, hard at work on his shed or taking a break on a snowy day to drink some hot potion.
The last image was the plan for a sailing vessel designed by famed Australian boatwright Iain Oughtred that Van Allen wanted to build in his new workshop. After several days studying the plans for the double-ended Whilly Tern, however, he found himself completely baffled by the "tiny notes and measurements" and unable to understand half the terminology. It didn't help matters that the text noted, "At some point it's up to the builder to interpret the evidence and reproduce the design."
Needing more guidance, Van Allen pivoted to Harold "Dynamite" Payson's directions for Phil Bolger's Gloucester Gull. With fewer parts and a more generous margin of error, the 15'6" boat felt buildable. Payson (1928-2011) lived in South Thomaston and was beloved in Maine's boatbuilding community. "His writing is very approachable—which is what I needed for my first boat," Van Allen said.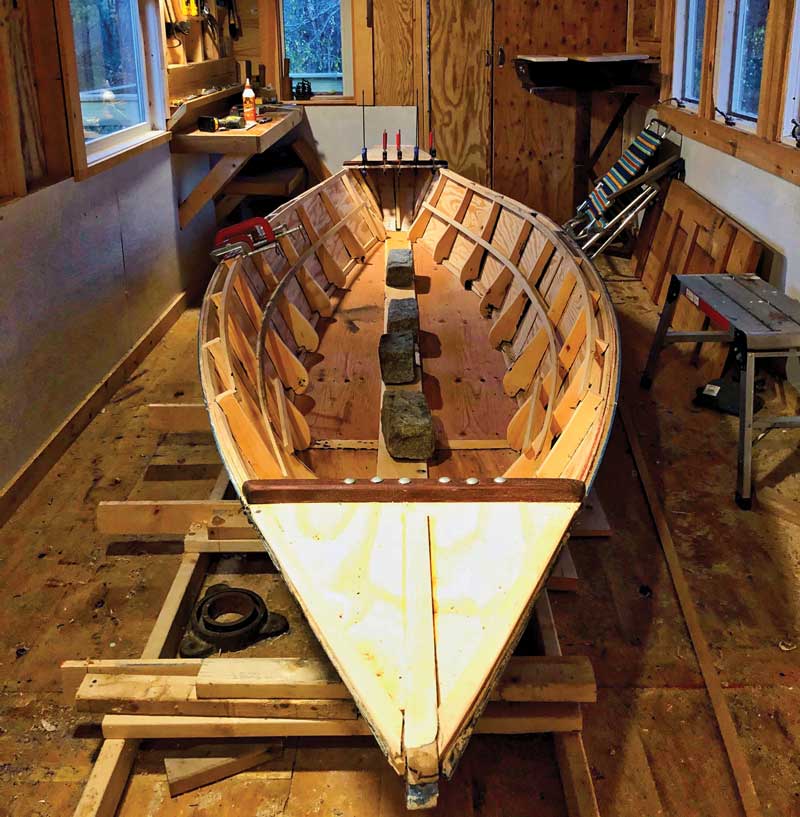 The boat as it looked in November with the interior finished. Photo by Jennifer Van Allen
He started laying out the boat in late May, building the offset, or mold ("That's kind of your roadmap," he said) and adding battens "just to get a general idea of what the shape will be." The skeletal structure resembled the articulation of the bones of a small whale stretched across the light-filled workshop.
Van Allen anticipated wrapping on the plywood ("One guy told me to do it on a humid day") and shaping the bow from white oak. After several failed attempts with pieces of oak found at the dump, he went to Day's Hardwood in Freeport and purchased a big oak plank. "The bow and the stern of the boat have to be the sturdiest," he explained.
By October, the hull was finished and Van Allen was starting to fit out the interior: ribs, inwales, seats, oarlocks, etc. He intended to make his own oars, although that seemed like a major project. With or without handmade oars, he aimed to get the boat in the water by his 60th birthday in December. "It won't be fancy," he said. "I can row it in the Royal River, keep it at the Yankee Boatyard, drag it up in the mud." And his Gloucester Gull will take flight.
The youngest of five, Van Allen was born in Iowa City in 1959. His father, James, for whom the Van Allen radiation belt is named, taught physics and astronomy at the University of Iowa. His mother, Abigail, exposed her children to art and music and introduced them to salt water, at her family's home on the South Fork of Long Island, New York. That experience led to sailing, surfing, kayaking, and, by extension, boatbuilding.
After graduating from West High School in Iowa City in 1978, Van Allen had a "long and winding" college career, eventually earning a BA in nonfiction writing from Goddard College in Vermont in 1988. While in Vermont, he embarked on a journalism career as a freelance reporter for the Barre Times Argus. In 1990 he joined a Gannett paper in Cherry Hill, New Jersey, as business reporter and later had a 15-year stint with the Philadelphia Business Journal, which is where he was when he and his wife, writer Jennifer Van Allen, decided to move to Maine. There, he became editor of Mainebiz, the weekly business journal.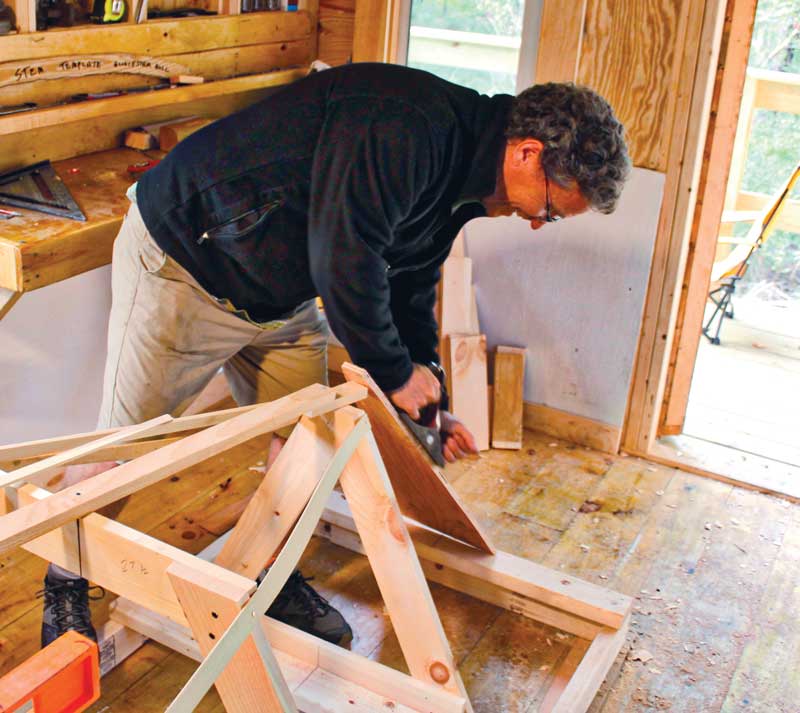 Van Allen shapes the bow of the Gloucester Gull early on in the construction process. Photo by Carl Little
Van Allen knew Maine from early in his life when two of his sisters attended summer camp. He remembers visiting the old L.L. Bean store when he was five or six—"the creaky wooden floors and jackets and flannel shirts piled on shelves up to the ceiling." He made a couple of trips to Mount Desert Island while in college, but it wasn't until his own kids came into the picture that he and Jennifer started looking for a place they could afford to rent.
For years they vacationed in Castine. Van Allen still remembers his first visit, driving down Main Street, seeing the water ahead. "It was the weekend of the Maine Retired Skippers Race and it's raining like crazy and we're in the Castine Variety and all these old salts are coming in—I just totally fell in love with it."
After moving to Maine, Van Allen immersed himself in sea-faring books, Moby-Dick and the like, but also chronicles of self-reliance, including several Rockwell Kent accounts of exploring northern lands. He subscribed to—and wrote for—WoodenBoat and visited boatbuilders and their workshops along the Maine coast. And he devoured Wooden Boats: In Pursuit of the Perfect Craft at an American Boatyard, Michael Ruhlman's account of the Gannon and Benjamin yard on Martha's Vineyard.
Van Allen also looked back at his ancestors—or maybe they gave him a nudge. His mother's father, Jesse Halsey, born in 1882, became a Presbyterian minister and accompanied Sir Wilfred Grenfell on his famous medical mission to Labrador in 1910. Halsey was named for a whaling captain uncle, brother of Van Allen's great grandfather, Captain Harry Halsey, who was a mason and "wrecking master," a salvager of shipwrecks.
Working with wood was in his genes, Van Allen noted, even though it had lain dormant for many years. His brother, Tom, built houses and his father "had a sense of how to build anything." He, Peter, was "generally the lackey" in the family, carrying lumber and swinging the hammer if he had to, but he longed to build stuff.
With these diverse sources of inspiration and relying on his own ingenuity, Van Allen embarked on the shed and boat project by taking a boatbuilding workshop at the WoodenBoat School. Traveling around Maine, he realized there were a lot of backyard builders making furniture, cabinetry, boats, and the like. He was ready to join their ranks.
The biggest hurdle was getting over the need for step-by-step, specific instructions. A moment in David McCullough's biography of the Wright brothers was the ultimate inspiration, Van Allen said. The brothers arrive on the Outer Banks of North Carolina and must build a place where they can live and keep their equipment. Van Allen lowers his voice in imitation of the famous author reading his book: "They built this shed that was 16 by 24 and just that in itself was an accomplishment." To which Van Allen said "Yes!" and returned to his shed, and boat, with a distant look in his eye.   
---
Carl Little's latest book is Paintings of Portland, co-authored with his brother David. He lives and writes on Mount Desert Island.
Gloucester Gull dory
LOA:  15' 6"
Beam:  4'
Designers:
Phil Bolger & Dynamite Payson
Plans:
H.H. Payson & Company
207-594-7587; www.instantboats.com
Share this article:
2023 Maine Boat & Home Show

Join Us for the Maine Boat & Home Show!
Art, Artisans, Food, Fun & Boats, Boats, Boats
August 11 - 13, 2023 | On the waterfront, Rockland, Maine
Click here to pre-order your tickets.
Show is produced by Maine Boats, Homes & Harbors magazine.