Sabre at 50
From high-quality sailboats to powerboat powerhouse
By Laurie Schreiber
Sabre Yachts is buzzing with activity. As the Maine-based firm enters its 50th year, business remains strong, with a backlog of orders for many of Sabre's powerboat models.
During a recent visit to the 83,750-square-foot plant in Raymond, boats in one vast section were lined up bow to stern in various stages of construction. Nearby, hulls and decks were being prepped for fiberglass lay-up. Modules  were under way for the interior of the Sabre 58 Salon Express. Woodworkers were crafting furnishings and other components. Carpenter Chuck Brown pointed out the delicate curvatures and seamless corner joinery of a window frame he was working on for Hull No. 139 of the Sabre 48. One workbench over, another master carpenter, Diane Hoffman, was mocking up drawer latches. Both have been with the company for 18 years.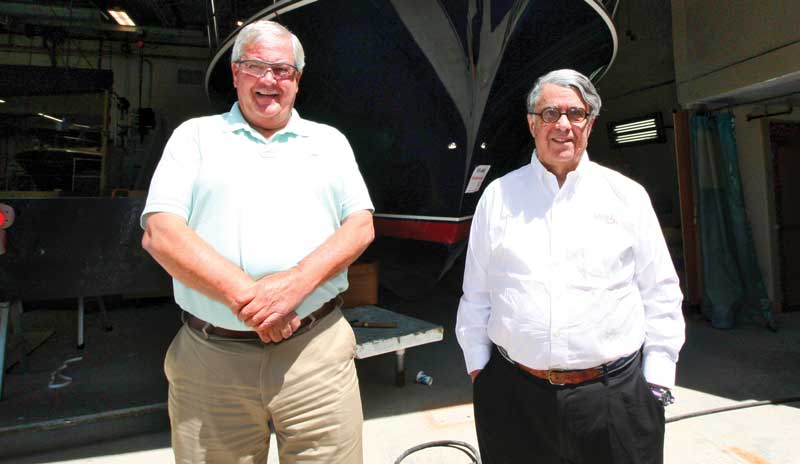 Sabre's VP of sales and marketing, Bentley Collins, left, and the company's co-owner and co-chair, Daniel Zilkha, have transformed Sabre into a successful powerboat manufacturer. Today the company employs more than 350 people in Maine, building about 120 boats a year under the Sabre and Back Cove names. Photo by Laurie Schreiber
"I've loved my job ever since the first day I started," Hoffman said. "Usually you'll find me building the more complicated components. It's creative."
Sabre's vice president of sales and marketing, Bentley Collins, has been with the company for 26 years. "It's a well-oiled machine with a lot of really talented people," he noted, surveying the busy scene. As many as 150 people work in the Raymond plant. Collins took obvious pride in the swirl of activity—the veterans with years of experience, the newcomers eager to learn, the combination of Maine prowess with state-of-the-art innovation.
The Sabre 58 is a good example of the company's status in the yachting world. The recently debuted model generated seven orders before one was even built. It's now in production both in Raymond and at the company's second facility in Rockland, allowing Sabre to ship all of the orders in the next 18 months.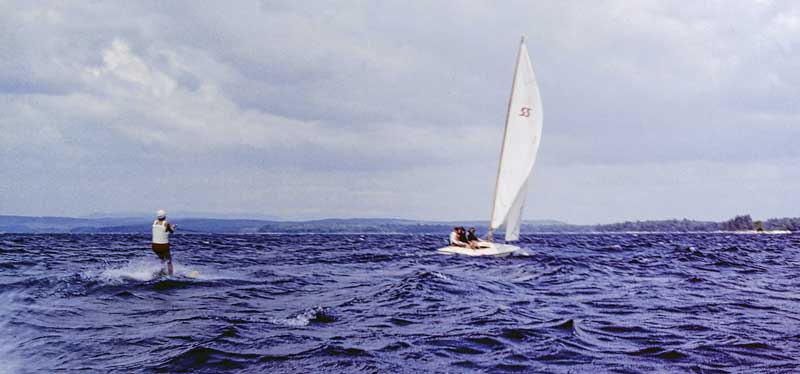 Here is one of a dozen 26' racing-style Sabre scows designed and built by Roger Hewson while he was living in Canada. At the time the project was a sideline to his building construction business. "This was before moving to Maine in 1970, and it taught me the joy of designing and building boats," Hewson said. Hewson Family photo
That rate of production is typical. The company sells powerboat models from 38 to 66 feet long in salon express and flybridge variations, ranging in price from $700,000 to $3.5 million. Over the past year, Sabre 45s came off the production line at a rate of one every 12 days. Workers were getting ready last summer to ship Hull No. 145 of the Sabre 42, and 10 more were in production or on order. There's at least a year-long backlog on most models; some models have backlogs of two years, according to Collins.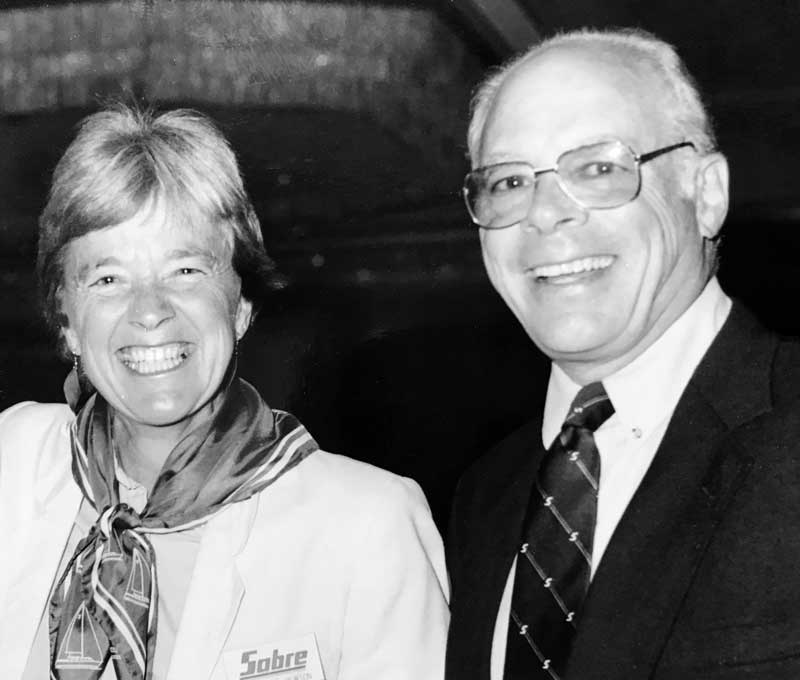 Roger Hewson and his wife Charlie moved to Raymond, Maine, in 1970 and officially started the Sabre Company with the production of the fiberglass Sabre 28 sloop. This photo was taken in the 1970s. Hewson Family photo The demand signals both a strong market and the innovative business approach of a company that has persisted for half a century and is today one of the longest-lived builders of fiberglass boats in Maine. From its start as an early producer of fiberglass sailboats through its pivot to the high-end powerboat market, Sabre prides itself on designs rooted in the reliability and performance of the traditional downeast workboat blended with the technology and amenities of modern home design. The state-of-the-art construction process includes resin-infusion technology for strong-but-light construction.
Key to Sabre's success has been continual design development, even through economic downturns, Collins said. He credited the company's co-owner and co-chair, Daniel Zilkha, for his commitment to this program.
"If you don't say, 'Here's something new,' customers just stay with what they've got," Collins said. "So we've driven our business by creating new models. And our customers have been faithful all the way through. During the last downturn, a lot of builders stopped developing new models completely and had to bow out of the motoryacht business. Whereas Daniel's philosophy was new, new, new."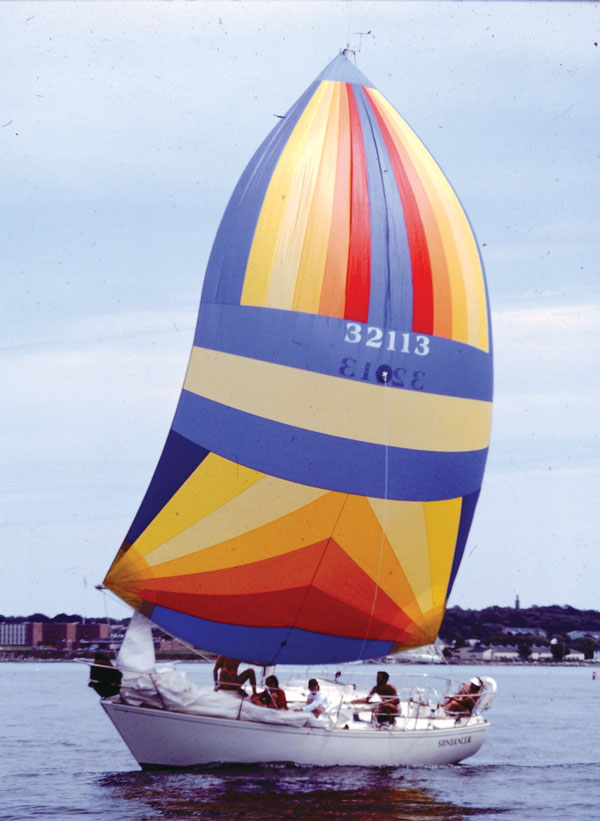 The company's first production sailboat, the Sabre 28, was an instant hit when introduced at the 1971 Newport Boat Show, with 588 built and sold over the next 15 years. Sabre built its last sailboat in 2013. Hewson Family photo
The Sabre story goes back to the 1960s, when Roger Hewson designed a 26-foot sailing scow in his spare time. Hewson, originally from Montreal, owned a construction company, but loved building boats. His called his racing model the "Sabre scow" because it was long and narrow like a sabre (as it's commonly spelled in Canada).
The sideline became Hewson's passion. He sold his construction business and researched new boat models. Smaller, high-quality fiberglass sailboats for first-time cruisers fit the bill. The Sabre 28 was born.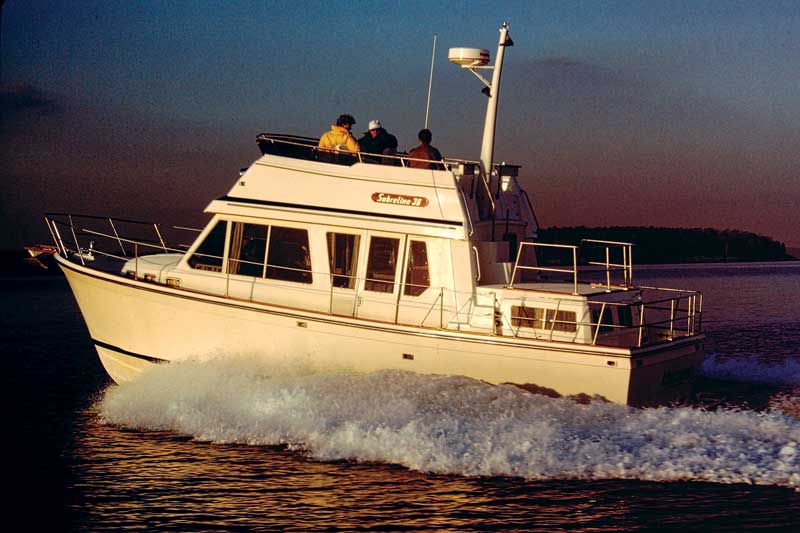 In 1988, Hewson realized that a number of Sabre owners were trading up to powerboat cruising models. His dealer organization urged him to come up with a Sabre powerboat design. That was the origin of the Sabre 36. Seen here is hull No. 1. Hewson Family photo
In 1970, Hewson and his wife, Charlie, moved to Raymond, where Charlie had family, and built a 4,000-square-foot shop, officially launching the company and the Sabre brand. With a handful of employees, he built the first Sabre 28, introducing it to the market at the 1971 Newport (Rhode Island) Boat Show. It was a hit, with 588 built over the next 15 years. Hewson subsequently designed models up to 44 feet in length. In the 1980s, Sailing World ranked the Sabre 34, 38, and 42 as first in class. In 2003, the 28 was inducted into the American Sailboat Hall of Fame.
In 1988, realizing many customers were moving to powerboats, Hewson designed the Sabre 36 "Fast Trawler," a motoryacht combining spaciousness with performance. But retirement beckoned. Thinking of his 195 employees and the potential for powerboats, he prepared a business plan designed to invite new investors. 
The timing was complicated. The industry would soon be devastated by what Hewson calls a "perfect economic storm," caused in part by a new tax on luxury goods including yachts, and a stock market downturn. The first investor to step in was a Sabre owner, Ed Miller, who had a summer home not far from the yard. Miller, president of the newly created Caribbean and South America division of Federal Express, brought in his neighbor, Daniel Zilkha, as a second investor to run day-to-day operations.
Born in Egypt and raised in Paris, Zilkha was a founding partner in the Geneva investment bank Soditic S.A. as well as founder and publisher of Art & Auction Magazine in New York. When Miller contacted him, he was living in Maine, where his wife had family roots. Zilkha didn't know anything about boats or boatbuilding. But with a finance and business background, he proved a fortuitous choice. Bringing Collins onboard, they decided to focus on the powerboat market.
"As time went by, our sailboat dealer network fell away, and our powerboat dealer network urged us to build more powerboats," Collins recalled.
Today's Sabre Yachts designs, like this Sabre 66 Salon Express, feature the latest materials and technology grounded in traditional craftsmanship. The result has been a backlog in demand. Photo courtesy Sabre Yachts
The powerboats were successful from the start. In 1995, Sabre acquired North End Marine of Rockland, then a builder of marine molds and production fiberglass parts. The company's name was changed to North End Composites; today the shop is used for the production of hulls and decks for Sabre's larger models. It's also home to Sabre's sister company Back Cove Yachts, established in 2003 to meet demand for small to medium-sized motoryachts.
Today, Sabre and Back Cove together are the largest recreational boatbuilding company in Maine, according to Collins, employing more than 350 people.
Zilkha recently stepped back from his role as CEO. President and Chief Operating Officer Aaron Crawford will take his place this January 1.
"So when people ask me what I am, I'll say I'm the CWO—chief worry officer," Zilkha joked.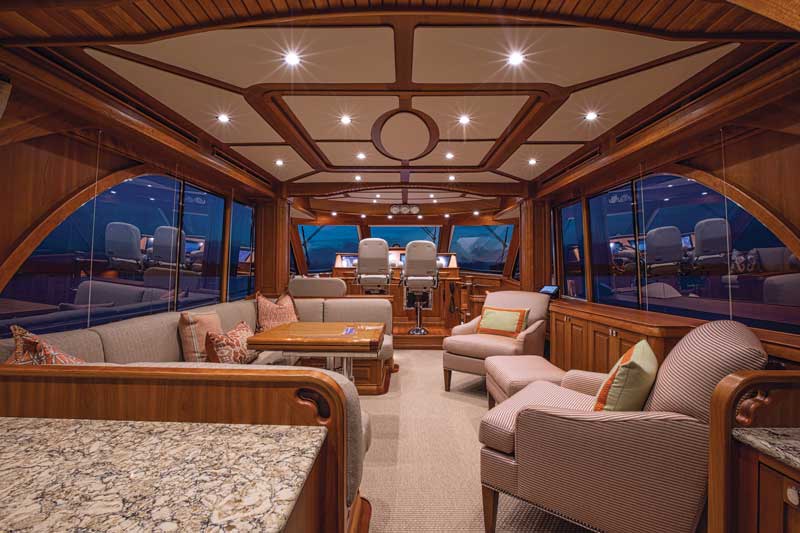 Fine woodworking, large windows, and spacious quarters combine with features like VP Glass Cockpit navigation and operations systems, Digital Positioning, and Joystick driving for a comfortable cruise aboard a Sabre Yacht. Photo courtesy Sabre Yachts
With a popular brand, a business approach designed to weather economic vagaries, and a slate of next-generation workers coming in, Sabre Yachts is looking toward its next 50 years. Collins pointed out a sign placed prominently in the shop's front bay: "Each Sabre is a precision product that must meet the challenge of the high seas."
"That's a sign Roger would have put up, back in his day," he said. "When you think back on 50 years in the boat business, we're one of those enduring brands."
---
MBH&H Contributing Editor Laurie Schreiber is also a Mainebiz staff writer and has covered topics in Maine for more than 25 years.
For More Information:
Sabre Yachts
12 Hawthorne Road, Raymond, ME
207-655-3831
Share this article:
2023 Maine Boat & Home Show

Join Us for the Maine Boat & Home Show!
Art, Artisans, Food, Fun & Boats, Boats, Boats
August 11 - 13, 2023 | On the waterfront, Rockland, Maine
Click here to pre-order your tickets.
Show is produced by Maine Boats, Homes & Harbors magazine.