Jellyfish alert, an epic swim, and lots of new and improved boats
By Polly Saltonstall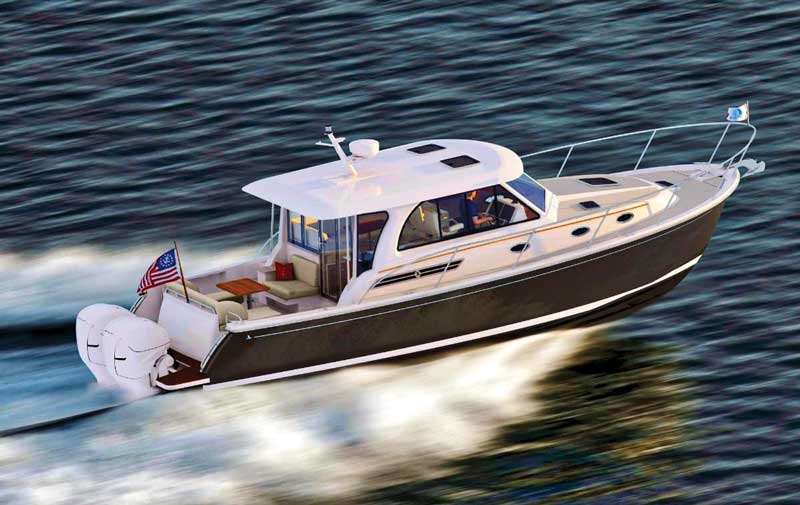 Back Cove 39O
Back Cove adds to its outboard line
Back Cove has plans for the Back Cove 39O, building on the success of the slightly smaller Back Cove 34O. The new model will have a 300 mile+ range at cruise, and a top-end speed of 37 knots with twin Yamaha 425-hp outboards. Optional power installations, currently being finalized, will provide top-end speeds in the 40+ knot range.
The 39O offers a hard back for a fully enclosed helm deck, which allows for climate-controlled comfort and an extended boating season. Indoor social spaces feature a galley-up design and side-by-side captain and mate seats opposite a U-shaped settee.
Below deck, there is a lounge, an owners' cabin with a queen-sized island berth and private access to the head and shower, as well as a guest cabin with two single beds.
Plans call for launching the first Back Cove 39O late in the summer of 2020.
---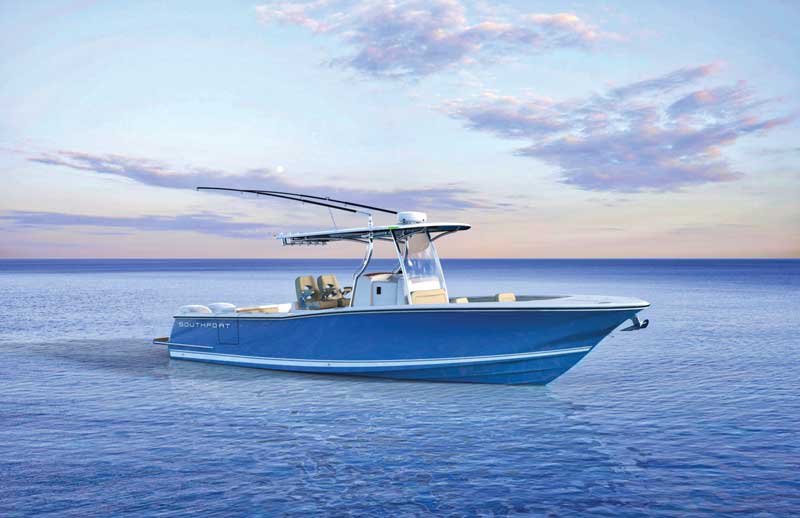 Southport 30 FE
Southport introduces new model
Southport Boats, the Gardiner, Maine based builder known for its offshore center-console and dual-console boats, has announced a new center-console model on a new 30' hull, the Southport 30 FE. An evolution of the original Southport 292, the Southport 30 FE will usher in a new style and design for Southport center consoles
The Southport 30 FE fits in the middle of the Southport lineup. "The outgoing 292 has been an extremely successful product for us, but in this competitive and ever-changing market, its layout and design were in need of a facelift" said George Menezes, Southport COO. "We also recognize that this new hull will afford us the opportunity to develop other models on this platform, including a forthcoming 30' Dual Console."
---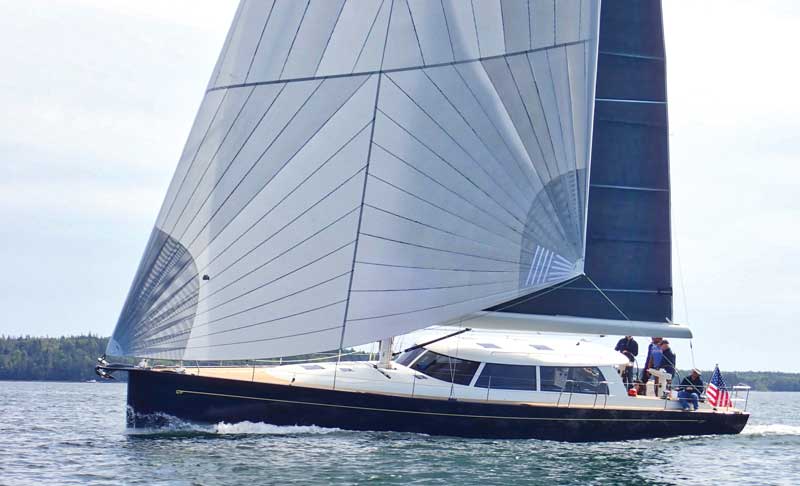 Hinckley Sou'wester 53 • Photo by Jen Sansosti
A new Hinckley sailboat
You can have your picnic (boat) and sail it too. The result of a construction partnership between Hinckley, Brooklin Boat Yard, and Front Street Shipyard, the new Hinckley Sou'wester 53 was launched at BBY in late August. Designed by Tripp Design Naval Architecture, the Sou'wester 53 features a Hinckley-built composite hull and a custom BBY-built interior. It has a single-level layout and a pilothouse with surrounding views from every direction.
The mahogany interior is finished in Herreshoff style and complemented by a teak sole with gloss varnish. The decks and cockpit have teak decking.
Front Street Shipyard of Belfast, Maine, built the deck and 360-degree wraparound pilothouse out of E-glass and epoxy resin with a foam core.
---
Portland company wins big Navy contract
Navatek LLC, a company with offices in Maine, Rhode Island, Washington D.C., and Hawaii, has been awarded an $8 million contract for research on an advanced planing hull intended to improve the safety and performance of high-speed Navy boats.
The three-year contract from the U.S. Navy Office of Naval Research is focused on pursuing new science and technology for safer hulls and hybrid-electric propulsion systems for fast boats.
Front Street Shipyard, which is working with Navatek on the project, already is building a 36-foot planing craft for the project, Maggie Craig, Navatek's deputy director of Portland operations said. Front Street will build the Navatek prototypes and collaborate on testing at-sea. The science and technology advancements from this research will benefit all the Navy's small craft programs, Craig said. The goal is to reduce injuries by those using the boats, as well as explore more efficient manufacturing processes and materials. The project also will include exploring software such as artificial intelligence that might mimic experienced boat operators, and lead to new ways to drive small craft. The University of Maine in Orono, also a partner, will research new materials for hulls and build molds on its massive new 3D printer.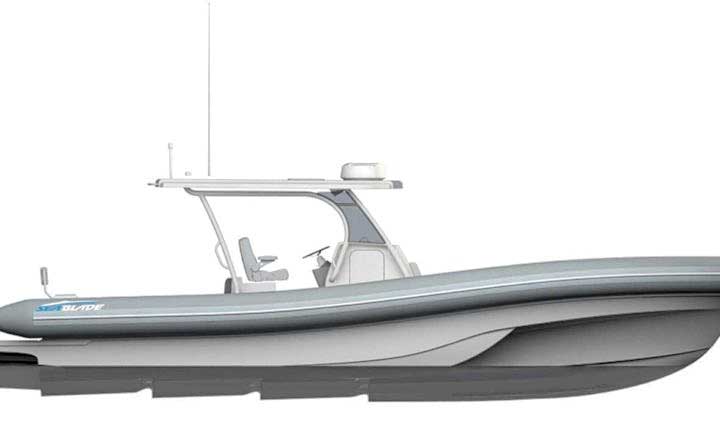 Navatek Sea Blade X
In the meantime, Front Street also has opened a new client lounge and interior design showroom. TACK studios—Yacht Interior Design of North Yarmouth, Maine, styled a 400-square-foot room overlooking the waterfront in Front Street Shipyard's Building 1.
---
Rising waters concern islanders
Many of the state's print and broadcast media participated last fall in a project to highlight the challenges and impacts of climate change. We were intrigued by one story in the Portland Press Herald about how island communities already have implemented or begun discussing proactive steps to deal with rising temperatures and sea levels.
Globally, sea levels rose 3 inches between 1993 and 2017 and continue to rise at a rate of roughly one-eighth of an inch annually as glaciers melt and seawater expands thermally as it warms, according to the National Oceanic and Atmospheric Administration as reported by the Press Herald. A 2012 NOAA study predicted that seas will rise at least 8 inches and as much as 6.6 feet by 2100, the newspaper noted. Maine's islands are micro-economies that depend on the infrastructure most vulnerable to the effects of a changing climate.
On Monhegan, residents worry that rising sea levels, with the potential for higher tides and increased storm surge, could result in salt water seeping into the island's freshwater aquifer. The town's response includes a groundwater modeling analysis to examine vulnerabilities under several sea level rise scenarios, while another study will examine existing wells to look for early signs of saltwater intrusion. Finally, another bedrock study will look at other potential locations to tap into groundwater on the island.
On Islesboro, concern about a narrow causeway connecting the two ends of the island, as well as the island's ferry terminal, has prompted the town to hire an engineering firm to recommend options—and estimated price tags—for addressing those vulnerabilities. On Vinalhaven the town has an official Sea Level Rise Committee charged with identifying vulnerabilities and proposing potential adaptation options, according to the newspaper.
---
Squishy, stinging blob ahoy
Those rising tides may also be bringing us bigger jellyfish. Boaters in the Gulf of Maine and folks along the coast recorded a high number of sightings of lion's mane jellyfish last summer. The big red jellyfish has the ability to sting swimmers and occasionally does. At least five swimmers in Maine have reported stings this year.
Jellyfish are tracked each summer by Nick Record, a senior research scientist at Bigelow Laboratory for Ocean Sciences in East Boothbay (Nick writes for this magazine as well). It's one of several crowd-sourcing projects he has set up. The others include tracking ticks, moose, and marine debris. Typically, fewer than half the jellyfish reported are lion's manes. This year, almost all of several hundred jellyfish observed were the lion's mane variety, Record said. And some of those were pretty big. A couple of lion's manes were 5 or 6 feet across, and many have been a foot and a half to 2 feet, he said.
Record takes reports about jellyfish encounters via his website, the Jellyfish Reporter.
If the citizen sightings prove true and there are indeed more large lion's mane jellyfish swimming in Maine, Record said one possible reason is that the Gulf of Maine is warming fast, and the jellyfish can grow faster in warmer water.
---
Grant will fund ferry terminal renovations
The Federal Transit Administration has awarded a $3.4 million grant to Casco Bay Lines in Portland to support continued renovations of its terminal infrastructure. The competitive grant funding is critical to ongoing terminal improvements that will enhance safety and manageability of growing passenger, freight and vehicle traffic at Casco Bay Lines, said Hank Berg, General Manager of Casco Bay Lines.
The current terminal on the Maine State Pier was built in 1988 to accommodate 500,000 passengers annually. By 2011, nearly one million people were using the ferry service each year. The company handled 500,000 pieces of freight and carried more than 36,000 vehicles last year.
---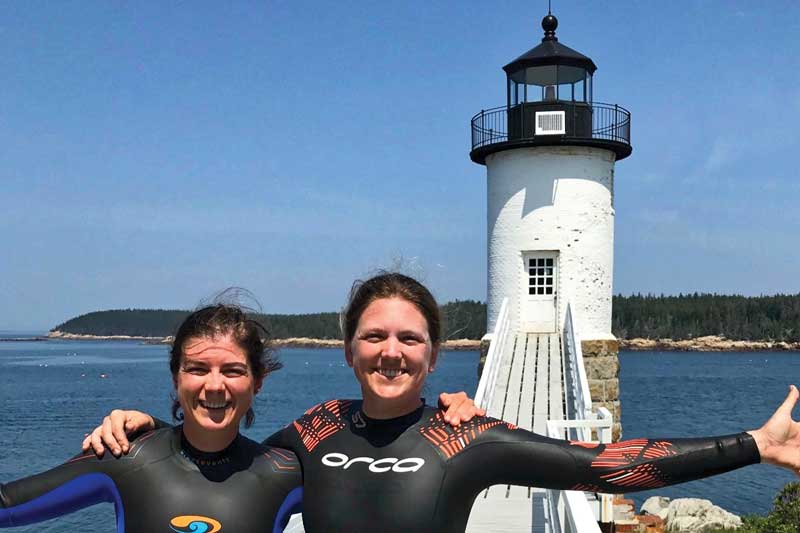 Photo courtesy GoFundMe.com
Swimming for the light
Two young women swam 18 miles around Isle au Haut last summer to promote the island's lighthouse and raise needed funds for repairs.
Molly Siegel and Allison Richards found an appreciative crowd waiting as they emerged from the water and clambered up the rocky shore in front of the light, according to a report in the Bangor Daily News.
The iconic Isle au Haut lighthouse has been in operation since 1907 and still serves as a navigation guide. It is owned by the island.
The swimmers' goal was to boost and bring attention to the Light House Committee's fundraising efforts and its plans to rehabilitate the light for another century of service. The two swimmers met their fundraising goal of $18,000.
---
Show us the money!
We've all heard the argument that cruise ship passengers spend lots of money when they come ashore. But they may spend less than was previously thought, according to a new study funded by the state of Maine and its cruise industry partner, CruiseMaine. For almost a decade Maine ports have been told that cruise ship passengers spend an average of $110 a person when they come ashore.
But, according to a story in the Portland Press Herald, a new study funded by the state of Maine and its cruise industry promotion partner, CruiseMaine, found the figure was under $62.
The study was based on surveys of 2,535 passengers coming ashore at nine Maine ports from July to November last year, though the vast majority surveyed disembarked at the big three destinations: Bar Harbor, Portland, and Rockland, the newspaper reported. The study found that 400,000 cruise ship passengers and crew spent about $29 million on their visits to Maine, according to the Press Herald. It did not break down the spending by port, nor did it differentiate between different types and size of cruise ships.
Cruise ship tourism in Maine has rapidly expanded, from 130,000 passengers in 2002 to an estimated 400,000 this year. The growth has prompted debates in some communities—especially Bar Harbor and Rockland—over how much the towns really benefit and how much future growth to allow. A previous study of passenger spending in Portland, released in 2009, claimed each passenger spent $109.68. But, according to the newspaper, that study failed to account for cruise ship occupancy, the number of passengers in a party, and for the fact that at least half of the money passengers spend on cruise line-sponsored shore excursions is taken by the cruise lines as a markup, and never reaches Maine.
---
Oyster shell recycling and reducing acidification
A group in Portland is working with restaurants there to collect oyster shells and put them back in Casco Bay in the hopes that eventually they will help reduce acidification.
Ocean to Plate to Ocean is a pilot project by the Casco Bay Estuary Partnership and Maine Coastal Program. According to an article in the Portland Press Herald, the effort was prompted by a report from the Commission to Study the Effects of Coastal and Ocean Acidification on Commercially Harvested and Grown Species, established by the Maine legislature in 2014. The goal of shell recycling is to add natural calcium sources to the water to reduce acidity and promote calcification.
The report noted that ocean acidification has increased 30 percent since fossil fuels were first used, and cites research finding that acidification hinders calcification, the process by which lobsters, crabs, mussels, oysters and clams form shells.
The Casco Bay Estuary Partnership received $99,180 in EPA funding for the project. Project partners include the Maine Coastal Program, which is running the shell collection effort; Gateways to Opportunity, which is conducting outreach for youth engagement programs; and Bigelow Labs, which is researching the use of shells to ameliorate the impacts of acidification on shellfish aquaculture.
Plans call for collecting the empty shells and letting them sit for a year to cure and kill any bacteria. The cured shells will then be ready to be dumped in the bay. The team is still developing a method for the restoration.
---
Initiative aimed at increasing lobster resilience
The National Oceanic and Atmospheric Administration and National Sea Grant program have awarded a $2 million grant to The Maine Sea Grant College Program and University of Maine to study physical and chemical changes affecting American lobster in the Gulf of Maine.
The project is one of seven new research awards intended to address critical gaps in knowledge about how American lobsters respond to environmental change and how to provide opportunities to increase economic resilience and adaptation in the lobster fishery.
In addition to Sea Grant and UMaine, awards were made to investigators at the Gulf of Maine Research Institute, Wells National Estuarine Research Reserve, Massachusetts Division of Marine Fisheries, and Virginia Institute of Marine Science, working in collaboration with partners throughout the region.
The Sea Grant American Lobster Initiative will target critically important areas of concern for the state's most valuable fishery, said Carl Wilson, director of the Maine Department of Marine Resources Science Bureau.
"It will also reinforce and amplify efforts in Maine, and regionally, to ensure the resilience of the resource, and the ability of managers to adapt to changes in the dynamic marine environment."   
Together, the research and extension components of this initiative are expected to shed light on how to preserve the important iconic fishery.
---
Lobstering and whale protection
Lobstermen might argue that one of the biggest threats to their industry these days comes from the feds.
Debate over how best to protect endangered northern right whales has been heated. Maine marine regulators backed out of an agreement last summer that would have drastically reduced fishing effort by the state's lobstermen. Meanwhile, officials at the National Oceanic and Atmospheric Administration have said major reductions in fishing lines are necessary to prevent fatal whale entanglements, and environmental groups are suing to force protective actions. According to estimates fewer than 411 of the threatened whales remain. At least eight deaths were recorded last summer, all involving whales first seen entangled in Canadian waters. In recent years as the Gulf of Maine has warmed, the whales' feeding patterns have shifted to take them further north and into the Gulf of St. Lawrence.
Maine lobstermen, while not denying the need to protect the endangered whales, argue that their gear has not been implicated in recent whale deaths and that they should not be penalized with actions that likely won't make much difference to the survival of the species.
In response to a proposed 60 percent risk reduction target assigned by NOAA in July, Maine Gov. Janet Mills wrote a letter to Maine's lobster industry, expressing support for them and calling the regulations "foolish, unsupported, and ill-advised."
"We want to protect the right whale, but to do it in the right way," said Governor Mills, "one that considers the safety of Maine fishermen and the viability of our fishing economy."
Lobstering provides direct employment for more than 4,800 Maine harvesters and supports over a billion dollars in indirect economic impact through the supply chain, including wholesale dealers, processors, gear suppliers, bait suppliers, and freight companies. The lobster industry is also a critical driver of Maine's tourism economy, which is worth over $6 billion annually to the state. NOAA rulemaking is set to begin this coming winter, for implementation in 2021.
---
Over the bar
Mark Lindsay, 75, a pioneer in high-tech boatbuilding who was known for both his top-notch sailing creations as well as his powerboats, passed away unexpectedly in September. His projects included Olympic Class Star boats, International Fireball Class sailboats, International 505s, Flying Dutchman, ocean and America's Cup racers, and more. He was known for groundbreaking construction innovations that resulted in lighter, stronger, and faster boats. In 1996 he and a partner started Boston BoatWorks, at the site of the former Bethlehem Steel Shipyard in Boston. The firm turned out a number of high-performance production and custom boats, eventually teaming up with Bob Johnstone to build the MJM line of powerboats.
Boatbuilder and yacht broker Jarvis Newman died September 1, 2019, leaving behind a legacy of wonderful fiberglass boats. He was born in 1935. After working at the Henry Hinckley Company in the fiberglass department in the 1960s, he began building his own boats beginning in 1966 with a fiberglass rowboat. His company was known for its elegant rowboats, Friendship sloops, lobsterboats, and downeast pleasure cruisers. When he sold the company in 1980, he started Newman Marine Brokerage which he ran for the next 35 years before finally retiring.
They will be missed by us all.    
Share this article:
Digital Edition Available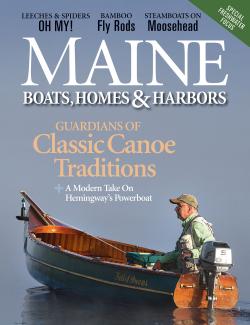 Can't get to the store to buy your magazine? We deliver the stories of Maine's coast right to your inbox. Sign up here for a digital edition.