Bucksport
Renaissance on the Penobscot
By Mimi Bigelow Steadman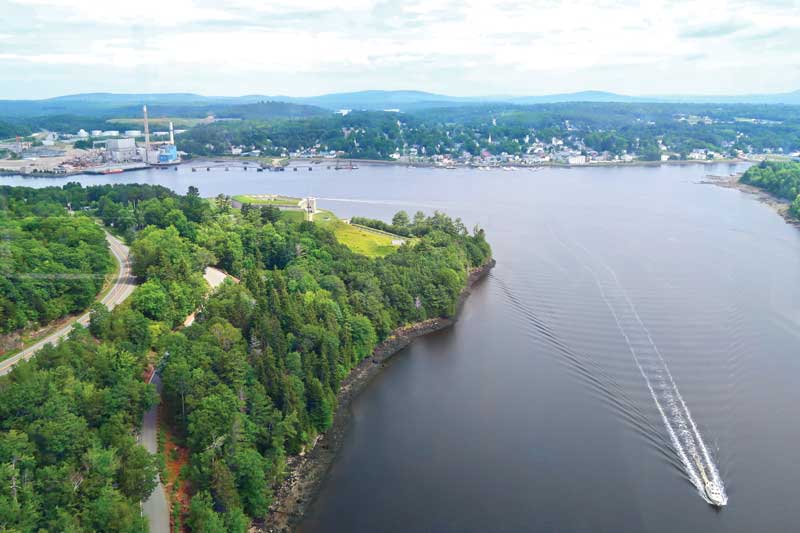 Undaunted by the closing of its eight-decade-old paper mill, Bucksport is embarking on a bright future. Photo by MImi Steadman
Forty-two stories up in the Penobscot Narrows Bridge observatory, we swiveled our heads to take in the views through the glass walls. Hazy mountains rose to the north, the Penobscot River flowed toward Penobscot Bay to the south, and, just across the way, Bucksport's waterfront hugged the eastern riverbank.
I could barely remember the last time I'd driven down the town's main street just uphill from that waterfront. Like most travelers heading to the Deer Isle peninsula or Mt. Desert, I've followed Route 1 around to the right, bypassing downtown Bucksport. But on that day last July, we turned left and discovered a flourishing community.
For more than 80 years, Bucksport was defined by its large paper mill, built beside the river in 1930. Verso Paper Corporation took over in 2006, but closed the mill in 2014, eliminating 570 jobs.
"There was a period of mourning," Town Manager Sue Lessard acknowledged. "It was the job loss, of course. But we also lost our identity as a mill town." Thanks to decades of planning, though, "we came out of the shadow of the mill with the fiscal ability to sustain the shock. And we had boots on the ground," she added, citing numerous community groups that buoyed up the town.
"That's Bucksport for you," said Brother Kenneth Leo, one of three Franciscan friars whose mountaintop monastery isn't far from downtown. Together, they run the cozy Friars' Brewhouse Taproom on Main Street, opened last year after they closed their 18-year-old Bangor bakery. It was a good time to make the move. "People are always saying they've never seen Bucksport this lively," Leo continued. "We were lucky to find a vacant storefront." Lessard echoed the sentiment, boasting that there aren't any empty spots on Main Street. "And that wasn't even true during the mill days," she declared.
Some of the vitality is thanks to Main Street Bucksport, which formed in 2014, and is a part of the Maine Downtown Center's Main Street Program. Among the organization's many local efforts is the International Maritime Film Festival, which the Main Street group hosts in partnership with WoodenBoat magazine and the Island Institute; the fourth annual event took place in September. Films are screened in the historic Alamo Theatre, which was restored by and is the home of Northeast Historic Film. Since 1999, Northeast Historic Film has been collecting and preserving film and video from around New England in its state-of-the-art storage facility in the Alamo.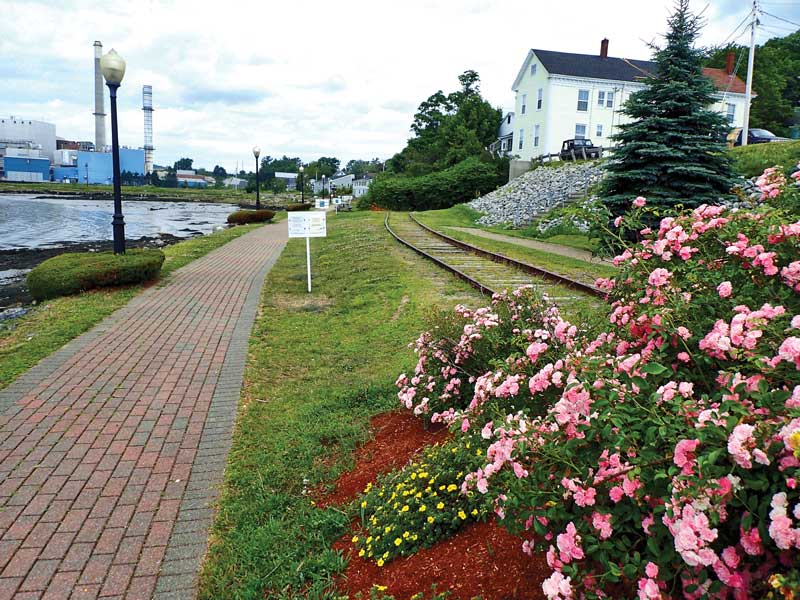 A scenic, mile-long walkway invites leisurely strolls beside the river. Photo by Rick Steadman
Steps from Main Street, a 48-slip municipal marina and dock are tucked beside a scenic, mile-long riverfront walkway. Daytime tie-ups at the dock are free; to stay more than two hours or overnight, call the harbormaster.
Visiting during the annual Bucksport Bay Festival, we found the flower-bordered, brick  path strung with vendor tents. At one, I met Jennifer Fortier, outreach and development associate for Whole Oceans, a Maine aquaculture enterprise that's transforming 100 acres of the mill site into a major land-based, Atlantic salmon-farming facility. Construction will begin by spring, she
predicted. Initially, the company plans to produce 5,000 metric tons of fish annually in indoor tanks, with plans to double that volume within a few years. Fortier said Whole Oceans will offer about 50 jobs at first, increasing to some 200 within the decade.
Everyone I talked with seemed thrilled by the prospect. Perhaps because it's an environmentally conscious reuse of a long-established industrial site, I didn't sense opposition of the sort confronting an unrelated land-based salmon-farming proposal in Belfast.
Increasing Bucksport's excitement is the establishment of Maine Maritime Academy's Center for Professional Mariner Development on a four-acre parcel of the mill site. The students, who will come for two-week recertification sessions, will be a boon for Main Street, where restaurants and shops include Verona Wine and Design's tapas bar, McLeod's Restaurant, The Local Variety, BookStacks, the Lighthouse Arts Center's co-op gallery, and Stubborn Cow Glass.
Before leaving town, we stopped at the storied obelisk honoring Colonel Jonathan Buck. On its face is the indelible outline of a leg, said to be that of a witch who cursed the town's founder back in the 1700s. These days, even an apocryphal curse can't dim Bucksport's bright future. Five years after "going paperless," its remarkable renaissance is well under way.  
---
Contributing Editor Mimi Bigelow Steadman lives on the Damariscotta River in Edgecomb.
---
If You Go to Bucksport
Dining
It would be a sin to bypass the "Holier than thou" beers at Friars' Brewhouse Taproom. Pair a pint of Whoopie Pie Porter, Monastery Ale, or St. Francis' Brown Ale with a selection from Brother Donald's French-accented menu, which features raclette, chicken-liver paté, cretons, and baguette sandwiches. Brother Stephen's "pocket bakehouse" tempts with fresh breads, whoopie pies, scones, blueberry muffins, and more. At Verona Wine & Design, at the back of the historic Heywood House, owners Mike and Colleen Gross serve delicious small plates in an intimate bistro and on the patio. McLeod's is the place for comfort food and traditional seafood dishes. Stop at Wahl's Dairy Port for a cone swirled high with their popular soft-serve.
Shopping
At Stubborn Cow Glass, stained- and fused-glass panels and Tiffany-style lamps illuminate the interior of a pint-sized antique bank building. Overlooking the waterfront, Lighthouse Arts Center displays the work of more than 50 artists and offers art classes. Hosted by Leo the cat, BookStacks is a cozy bookshop that also sells wine and "pretty good coffee." A treasure trove of fun and sassy gifts awaits at Local Variety, where you can also grab a sandwich or salad.
On the Water
The town dock and marina couldn't be more convenient to all that Main Street offers. It's free to tie alongside the dock (15 feet at low tide) during the day; to stay more than a couple of hours, or overnight, call harbormaster Mike Ormsby (207-469-5902). Overnight charges on the dock or in the marina are $1.50 per foot for boats up to 40 feet and $1.75 per foot for larger vessels. The 48 slips accommodate boats up to 42 feet (with possible space at the end of the dock for one or two larger ones). Fuel is available and, according to Ormsby, "We've got the cheapest gas prices around."
Share this article:
Digital Edition Available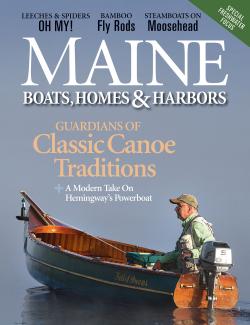 Can't get to the store to buy your magazine? We deliver the stories of Maine's coast right to your inbox. Sign up here for a digital edition.