Carvers Harbor
A warm, island welcome
By Mimi Bigelow Steadman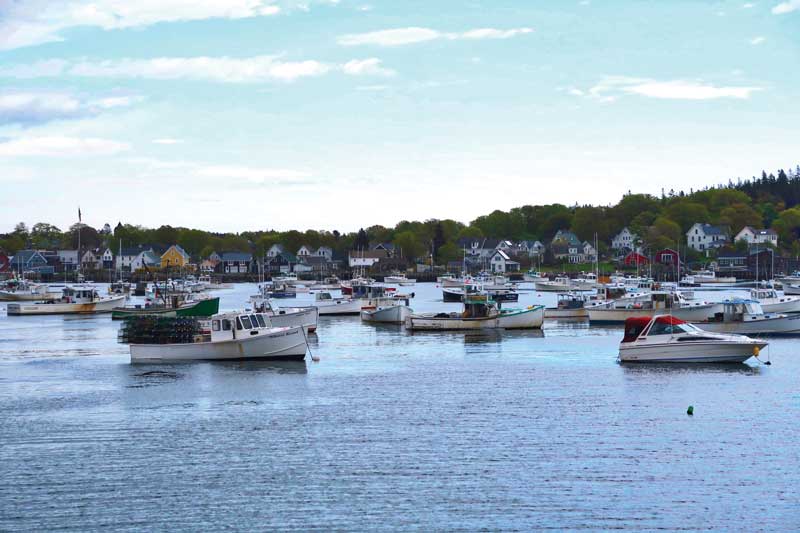 With more than 100 lobstermen and women fishing out of Carvers Harbor, finding space for cruising yachts can be challenging. Photo by Mimi Steadman
As our ferry steamed past the approach to the Fox Islands Thorofare, I thought longingly of the exquisite anchorages that lay to port: Perry Creek, Seal Bay, Winter Harbor. But the Captain Charles Philbrook held its course, continuing around through Hurricane Sound to Carvers Harbor.
While there's nothing finer than dropping anchor in one of Vinalhaven's sublime coves, the 15-mile, 75-minute ferry ride from Rockland to Vinalhaven provides a carefree way to venture into busy Carvers Harbor, where more than 100 fishermen land some five million pounds of lobster annually (second only to Stonington's catch).
Once ashore, we walked a quarter-mile up the road, past the sheds at Vinalhaven Fisherman's Co-Op and Hopkins Boat Yard, to the heart of the village. There, a massive, five-foot-tall stone eagle perches on two granite plinths. Initially part of a convocation of 22 eagles hovering atop New York City's first Penn Station, this century-old raptor came to roost on the island after that monumental building was demolished in 1963. It was originally thought the 5,700-pound sculpture had been carved from Vinalhaven's pink-tinged granite. It was soon discovered, however, that the eagle is marble, quarried elsewhere. Even so, the town went ahead and installed it in a special ceremony in 1966 and it has kept watch here ever since.
I like to think the reception given this eagle-from-away is indicative of how the island welcomes all newcomers. Sharon Mrozinski, proprietor of The Marston House on lower Main Street, confirmed my theory. When she and her husband moved here to open their antiques shop three years ago, they felt immediately embraced by the tight-knit community of about 1,200. "Everyone looks out for everyone else," Mrozinski explained. "If the lobstermen see someone go out in a kayak, and they don't see them return, they'll go looking for them, even if they don't know them."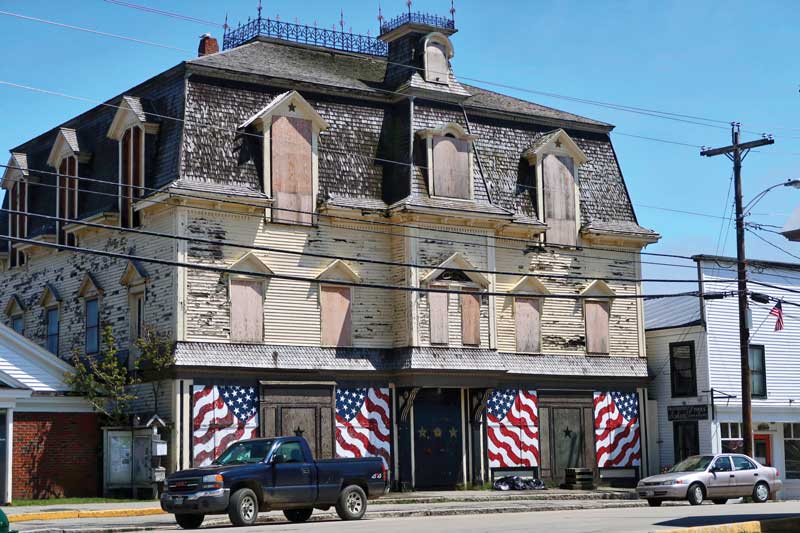 Built in 1885 as an Odd Fellows Lodge called Star of Hope, the late artist Robert Indiana's home faces an uncertain future. Photo by Mimi Steadman
Up the street at WindHorse Arts, Alison Thibault welcomed us warmly, too. Looking up from assembling her colorful, fused-glass bracelets, she offered tips on lunch spots and shopping before I could ask. She also shared her take on life here: "We have all the good points and bad points of any small town, but being on an island magnifies them. Of course, that means the good things are even better."
If you do plan to visit Carvers Harbor by private boat, the key to a warm reception is calling harbormaster Jim Knowlton in advance (207-756-0209). "The town doesn't have any rental moorings," he told me, but a few private owners keep money jars on their moorings. "Everyone's welcome," he said. "Just call me first, and we'll figure out a place for you. I got the answers, or I'll find 'em."
Knowlton is also the animal control officer. "It can be a friggin' nightmare in the summertime," he said. "I could be taking care of things in the harbor or chasing a horse down the road."
A decade after the eagle alighted in Carvers Harbor, pop artist Robert Indiana—best known for his LOVE sculptures—moved into the former Odd Fellows Lodge, a faded-yellow Victorian ark looming over Main Street. Since Indiana's death at 89 last spring, lawyers have been wrangling over the building's future (many locals hope for a community center) while the paint peels and pigeons roost in the eaves.
The sad condition of this grand old turreted edifice is especially distressing because it dates from Vinalhaven's 19th- and early-20th-century glory days, when the granite industry brought fortune to the island. The quarrying boom also drew hundreds of Scandinavian and European stonecutters. Feeling at home, the young foreigners settled down and began families. Many of their descendants live here today, paying forward the long tradition of welcoming folks from away. 
---
Contributing Editor Mimi Bigelow Steadman lives on the Damariscotta River in Edgecomb.
If You Go to Carvers Harbor
Dining
Greets Eats, a food truck parked just up the road from the ferry dock, dishes up acclaimed lobster rolls, burgers, and even lobster-topped burgers. At lunch and dinner, The Nightingale (ex-Harbor Gawker) serves appealingly eclectic dishes on a deck beside Main Street and in an all-white dining room with views of Carvers Pond. The Sandbar, a long-popular local hangout, has good pub grub. Everyone recommends the coffee at Island Spirits, which also sells fine wines, beers, cheeses, and other goodies. Tucked behind Davidson Realty, Skål is a new, Scandinavian-accented speakeasy offering drinks, small plates, and live music.
Shopping
It's nearly impossible to browse Main Street without finding a must-have treasure. Marston House's collection of primitive antiques features many gathered in France by proprietors Sharon and Paul Mrozinski. The interior of WindHorse Arts sparkles with rainbow-colored glass jewelry and small dishes made by Alison Thibault. At Go Fish, Rachel Noyes sells exceptional gifts, jewelry, clothing, and kids' stuff. Overseen by painter/printmaker Elaine Austin Crossman, New Era Gallery displays the work of numerous artists with a connection to the island. For a good read at a good price, don't miss Secondhand Prose, the library's used-book store.
On the Water
There are a few private moorings with money jars on them (average $30 per night). Tie-up at the dock is limited to dinghies of 16 feet or less. Be sure to give harbormaster Jim Knowlton a heads-up before you arrive (207-756-0209). He may be able to arrange a space at a commercial dock while the business that owns it is closed. Carvers Harbor Market, just steps from the docks, is a good place to provision.
Share this article:
Digital Edition Available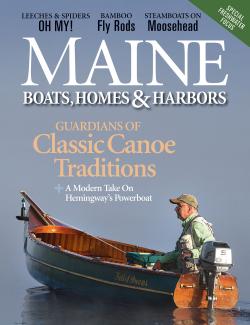 Can't get to the store to buy your magazine? We deliver the stories of Maine's coast right to your inbox. Sign up here for a digital edition.